It's Finally Cool For Girls to Geek Out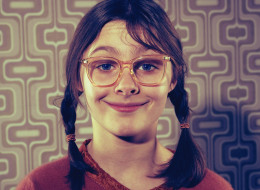 Back when I was a kid, it wasn't cool to be uncool.
Back then, the tech revolution wasn't in it's infancy; it hadn't even begun. To be called a "nerd" was to elicit scorn and its accompanying exclusion. You see, the "cool" kids had no time for those who were more interested in pocket protectors, slide rules and puzzles. This was particularly the case for girls who had a penchant for all things that were deemed "masculine" -- subjects such as math and science, in particular.
The curriculum at school did nothing to help shift perceptions of what girls and boys "should" be doing. Girls, for the most part, were steered towards Home Economics and boys were encouraged to participate in Shop. God forbid if you were female and had a burning desire to become a carpenter. Ditto in the reverse -- males who liked to cook and sew were looked at with suspicion and were often treated with downright hostility.
During this time, there was still the subtle and not-so-subtle steering of girls towards more "feminine" types of endeavours such as sewing, knitting, cooking and -- ugh -- cleaning. These areas were the supposed landscape of the XX chromosome, the domain of those who were to be relegated to a life of domestic bliss and servitude. Cooking and cleaning -- likely while barefoot and pregnant -- were the supposed aspirations for any young girl worth her salt. Conversely, young boys were supposed to like making things, building things and bringing home the bacon. That's just the way it was.
The millennial shift seemed to bring on more than just a fear of Y2K. The Internet generation was waking up and in a few years, there would be blogs to speak of, upload and download speeds to assess and apps to help both young and old manage their lives, their interests and so much more. Being "online" became a way of life and knowing how to navigate the Information Superhighway was something that got you noticed. The gender divide that was the longstanding benchmark of student life was starting to change.
Fast forward a decade or so and we've found ourselves in a world that is markedly different from the one in which "girls who wore glasses" and other "undesirables" were ridiculed and scorned. Look at any elementary, high school or university class and you'll see geeks -- girl geeks -- who wear their nerdiness with a certain panache.
In the new world order, HTML, CSS and coding are the technical currency that will make a girl (or young woman) stand out from the crowd. And it's not just high school-aged teens who are jumping on the bandwagon. There is a new trend towards teaching kids -- girls in particular -- coding skills in a growing number of cities.
How the tables have turned and the tides have shifted. What was once considered an impediment -- to be considered nerdy, uncool or, God forbid, smart -- has now become the goal of both parents who realize the value of "geeking out" and of young girls alike. As a parent, I'm both heartened and encouraged by what appears to be a societal shift in "acceptable" behaviour. Girls can be sugar and spice and everything nice and smart, to boot!
Which leads us to the obvious question that now arises: are "girl geeks" the new aspirational model for parents these days? Has the tide shifted so far that the idea of what it means to be a girl now includes the requisite "sugar and spice" as well as the ability to write some wicked code? Have we finally shed our collective fear of "smart girls" and the power that they may yield? I, as the parent of a growing girl, certainly hope so. The idea that young girls may now be able to realize their true selves -- geekiness and all -- is a time for celebration. The prevalence of digital technology and tech gadgets in our daily lives can only add to young girls' curiosity about how things work and technology in general -- both topics formerly considered outside of the realm of femaleness.
What this new reality means is that young women now have the opportunity to lead with their brains, not their beauty. The old standby of a foregone era dictated that if a woman couldn't get ahead with her skills, well...she could always rely on her looks. No more. This is not to say that this reality doesn't continue to occur; one must only look at popular cultural figures to underscore this fact. However, there is certainly less of a focus on a woman's "female charms" than there used to be and a greater acceptance of girls' and women's abilities to go head-to-head with males in the brains department. I, for one, am relieved.
Raising a girl in this day and age is hard enough and eliminating some of the biases that have challenged the female contingent will make it easier to raise the smart, confident and successful women of tomorrow. Many thanks to Tim Berners-Lee for getting the ball rolling.
This post also appears at www.multiplemayhemmamma.com
ALSO ON HUFFPOST:
Carrie Goldman's Bullying Tips For Parents
Unfortunately, the parents of most bullies are in denial. Prevent your child from becoming a bully by having a consistent, non-authoritarian parenting style. Listen closely to what your child says and be aware of what is going on in their everyday lives.

Monitor what your kids are watching on TV. Reality-based TV teaches kids that being mean gets you what you want. Bullies see their targets as "others," not as people, so kids should be taught empathy at a young age.

Volunteer at your child's school, ideally, at lunchtime or during recess. This is where a lot of bullying occurs. If you're not available during the day, you can volunteer in the evenings or after school and use this time to have discussions about bullying with other parents.

If your child is suddenly withdrawn, sad or doesn't want to go to school, they may be a victim of bullying. A lot of girls turn to cutting or eating disorders to deal with their pain. Your child probably won't want to see a counselor, but you're the parent and you need to help even if your child doesn't want to be helped.

More than 50% of bullying actions will stop within 10 seconds if someone intervenes. Bullies feed off of bystanders. If you or your child witness an act of bullying: Become a witness: Go to the school, and tell them what you or your child saw. Become an ally: Even if your child is afraid of being taunted for showing support to the victim in front of other kids, he or she can send a text message or email to the bullied child later that evening. Kids who are bullied feel isolated, so even a small action like this can make a big difference

Take screenshots of online bullying, so you can report it to the school, or even the police if the situation continues to escalate.

Enroll your child in local martial arts classes. They can learn defensive postures and how to protect themselves. Kids who learn these skills carry themselves more confidently and this might help them become less likely targets.

If you have a child who is being bullied and the teacher is dismissive, go to the principal. If the principal is dismissive, go to the school board. If you have evidence, they will take the matter more seriously because ultimately, you can go to the police.

Recent studies have shown that over time, children's brains change and become more sensitive to bullying. They become more fearful, anxious, and smaller triggers can create the same response, much like post-traumatic stress. Later in life, as adults, many of these children have trouble functioning in society as a result of bullying endured at an early age.

Create a family contract on how you're going to responsibly use all of the technological devices that your children have access to. Go to www.fosi.org/resources, for the Family Online Internet Safety Contract. You can also visit CarrieGoldmanAuthor.com, to find guidance and sample agreements.

Accepting a verbal taunt will take the power of the bully away. If someone says you're overweight, say, "Yes, you're right. I'm overweight." Using humor is very helpful.

Don't accept blame; say to yourself, "I'm fine." Compliment the bully, and ask the bully for help. For example, you could say, "You're right. I am a bad speller. Can you help me with that?" This will catch them off-guard.

1. Witness it - Pay attention to what is going on your child's life. 2. Document it - Gather evidence: take photographs, save damaged property, or even write the incident and date in a journal. 3. Re-frame it - Take care of your child psychologically; help them find a support group where they feel they can belong.
Follow Samantha Kemp-Jackson on Twitter: www.twitter.com/samkj27