Child Sexual Abuse Survivor Karlyn Percil Shares her Story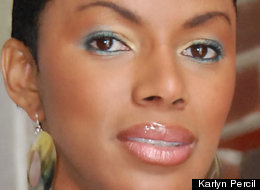 May was Sexual Assault Awareness Month in Ontario. Earlier this month, the Toronto Police teamed up with the Government of Ontario, as well as Seneca Collage's Graphic Design program, to encourage sexual abuse survivors to tell their story.
Ontario Women's Minister Laurel Broten attended the kickoff event, saying, "No one deserves to suffer in silence and up to 25 per cent of college women experience some form of sexual assault during their academic career."
Noted Bay Street banker, Karlyn Percil was also in attendance. Percil had teamed up with the Toronto Police, sharing her personal story of child abuse via a powerful public video.
"As a society, we need to fulfill children's right to be free from violence and sexual abuse. Silence is saying we deserve what happened and we don't deserve it," she said.
I recently spoke to Percil about the challenges she has faced, as well as her personal reasons for going public with her story.
Karlyn, I really admire your story. Tell me about yourself.
"I am originally from St. Lucia. I migrated to Toronto in 2003 and have been working in the financial district since I moved here. I am also an advocate for women and Girls, an extreme encourager, author, speaker and self-love advocate -- yes, it's a lot of titles! I believe that greatness lies within every woman and my goal is to provide the tools and platform to encourage every woman to tap into their inner greatness.
Women will change the world but we often hold ourselves back, we self-sabotage and we don't raise our hands. And as Sheryl Sandberg noted in her new book, Lean In, We don't 'lean in.' But until we start talking about the real reason why we don't 'lean in,' we women cannot change the world. We won't go after our dreams. We won't live a life full of love and happiness. We won't be able shift the statistics for the generation coming behind us."
Earlier this month, at the launch of the Sexual Assault Awareness Month, you spoke of your experience of being a childhood survivor of sexual abuse. Please reflect on your experience and why was it important for you to go public.
"I know first-hand about the reasons why we self-sabotage and why we don't 'lean in.' Because I did it. I held myself back. I didn't manage my career effectively. While I am successful at my job, I didn't raise my hand, or oftentimes I would but I'd put it down. I didn't sit at the table, I didn't maximise my full potential and I knew why -- I was afraid to face my own truth.
Child sexual abuse is very taboo, not only in the Caribbean where I grew up, but since moving here to Canada I have learned that the shame and stigma is here as well. We all feel it. People are still afraid to talk about it. We, the victims, suffer in silence for years; we blame ourselves and we let shame tell us who we are. But learning to forgive myself and loving myself again allowed me to see that I am not what happened to me.
I decided to go public because I don't want another young girl to go through what I have been through. And I didn't want to miss any other opportunities to go after my dreams in life. I allowed fear to dictate a lot of my steps in the past. The side effects of sexual abuse in childhood can result in suicide and physiological distress to. I had anxiety attacks but tried to convince myself that I didn't have them for fear of being labelled. But as an adult, I believe that my duty is to protect those who cannot protect themselves. Children should grow up happy, free to enjoy life and reach their full potential.
We cannot stay silent about something that can destroy lives. We cannot continue to tell young girls and boys to be all that they can be and ignore something that can take away that right to be ALL that they can be. Child sexual abuse affects over 150 million girls worldwide and 72 million boys.
It is important to talk about the things that get in the way of loving ourselves and going after our dreams. If we want girls and women to play a more active role in society, then it's time to talk about the reasons why -- at least let's talk about one of the reasons why -- they may hold ourselves back. Let's talk about shame and where it comes from."
This year's theme is was "Report Support." What would be some of the objectives to take from the theme?
"The objectives are to get victims to report any sexual assault crimes to the police and to get victims the support they need to help them through what is undoubtedly a difficult time. The Toronto Police Service works with a number of organisations, which provide support and guidance for the victims. So it's not simply about reporting it but also about getting victims the help they need, which I believe is so important; it is the only way we shift from victim to survivor."
You have been working with the Toronto Police on a video message that was launched earlier this month. Tell me about the video.
"Yes I've been working with Toronto Police Services since last year on this. My work first started with UNICEF -- they are taking a multi-pronged approach to this issue, having discussions at a regional level with Caribbean officials and partners. The video was, in some ways, to show other victims who may want to come out that the Toronto Police have trained officers who can and will help them. My role is also to share my story and to let them know that they are not alone. We often feel like we are alone when we go through these horrible experiences.
The message is also a plea to society and the communities we live in. They can help end child sexual abuse by breaking the silence by having the conversation about sexual assault with their children. It's important we let them know what it is: sexual assault is any unwanted sexual act. We need to create a culture of breaking the silence and to know that we are all part of the solution; child sexual abuse affects not only the child or the families involved, it also affects society in general."
There are many young girls and boys that may go through the experience that you went through at such a young age. What advice do you have for them?
"That it is not their fault. And if there is an adult that that they can trust, to share their story with them. There are agencies and organisations that can help them through this. The Toronto Police is committed to helping and supporting them through this as well.
And to survivors who are ok with sharing their story, I need your help. We need to protect the children. Speak out. Don't let shame tell you who you are. We are NOT what happened to us. We are survivors. We are beautiful warriors who deserve love, happiness and peace in our lives."
The Faces Of Sex Trafficking
New York City Council member Melissa Mark-Viverito places a child's shoes onto a stack children's shoes, used as a symbol for child sex trafficking, during a protest rally outside the Village Voice on Thursday, March 29, 2012 in New York. A coalition of religious and civic leaders demanded that the Village Voice stop running their adult classified section. The protesters say the section is being used by sex traffickers peddling underage prostitutes. (AP Photo/Bebeto Matthews)

This undated photo provided by New Mexico Attorney General Gary King

A 12-year-old prostitute cries in a medical center in Kinshasa, Congo, on Nov. 7, 2010, after she was stoned by another child prostitute. More than 20,000 children live in the streets of Kinshasa, a city of about 10 million. About one-third have been accused of witchcraft and rejected by their families -- a recent development in a society being undermined by poverty. (Photo credit: Gwenn Dubourthoumieu/AFP/Getty Images)

A newspaper advertising board outside a corner shop in the Lancashire town of Rochdale, England, after nine men were arrested for child sexual exploitation on Jan. 11, 2011. Greater Manchester Police arrested nine men as part of an investigation into sexual exploitation and questioned them on suspicion of rape, inciting child prostitution, allowing premises to be used for prostitution and sexual activity with a child. (Photo credit: Christopher Furlong/Getty Images)

Firefighters help rescue a prostitute after she became trapped in a tunnel from an offensive against human trafficking at the Super Frontera bar late on April 21, 2012, in Guatemala City. (Photo credit: Johan Ordonez/AFP/Getty Images)

Undated handout composite image issued Tuesday May 8, 2012, by Greater Manchester Police showing eight of the nine men who have been convicted for luring girls as young as 13-years old into sexual encounters using alcohol and drugs, top row left to right, Abdul Rauf, Hamid Safi, Mohammed Sajid and Abdul Aziz, and with Bottom row left to right, Abdul Qayyum, Adil Khan, Mohammed Amin and Kabeer Hassan. The nine men aged between 22 and 59 are convicted of charges including rape, assault, sex trafficking and conspiracy and will be sentenced Wednesday May 9, 2012 at court in Liverpool, England. The ninth man in the group, a 59-year-old man cannot be named for legal reasons. (AP Photo / Greater Manchester Police)

On Aug. 18, 2009, a bar girl waits for customers outside a bar in Sungai Kolok in Thailand's southern province of Narathiwat. The sun hasn't set, but already the music is pumping and the disco ball is rolling in the Sumtime Bar, where Malaysian men are enjoying the drinks and women available on this side of the Thai border. (Photo credit: Madaree Tohlala/AFP/Getty Images)

Chinese police watch over a group of massage girls suspected of prostitution during a June 21, 2011, raid in Beijing, part of a vice crackdown ahead of celebrations for the founding of the Chinese Communist Party 90 years ago. Rapid social and economic changes have made China "prone to corruption." and the ruling Communist Party faces a major challenge stamping out deep-rooted official graft, an official said on June 22. (Photo credit: STR/AFP/Getty Images)

A Bangladeshi sex worker takes an Oradexon tablet in a government-registered brothel in Faridpur, some 100 kilometers (60 miles) outside Dhaka on June 20, 2010. Whenever Bangladeshi brothel owner Rokeya, 50, signs up a new sex worker, she gives her a course of steroid drugs often used to fatten cattle. For older sex workers, tablets work well, said Rokeya, but for younger girls of 12 to 14 -- who are normally sold to the brothel by their families -- injections are more effective. (Photo credit: Munir Uz Zaman/AFP/Getty Images)

A man demonstrates with prostitutes and members of the Union of Sex Workers on June 2, 2012, at Paris' Pigalle square, asserting their rights to work with dignity and respect. (Photo credit: Bertrand Langlois/AFP/Getty Images)

Wendy, a Nicaraguan sex worker and member of NGO Girasoles Nicaragua (Nicaragua Sunflowers), waits for clients on a street in Managua on April 18, 2012. (Photo credit: Elmer Martinez/AFP/Getty Images)

In this Tuesday, Nov. 22, 2011 photo, Holly Smith, 33, looks out form her porch after talking about her experiences when she was caught up in a child sex trafficking ring during an interview in her home in Richmond, Va. A new report says 41 states have failed to adopt strong penalties against human trafficking, and advocates say a patchwork of differing state laws makes it difficult for authorities to target the crime. Smith said a man at a mall promised her a job after she ran away from home at age 14. She said she was swiftly brought to a motel where two adults gave her a dress, put makeup on her face and dyed her hair.
Follow Samuel Getachew on Twitter: www.twitter.com/GetachewS