Mulcair: Like a Less Popular, Power-Hungry Layton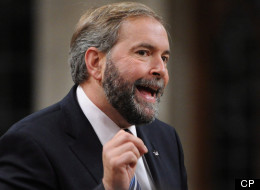 According to a new poll by Abacus Data, Stephen Harper has 34 per cent support from Canadians. This is a remarkable achievement for a leader who has been Prime Minister for the last seven years.
At 32 per cent for the NDP, the party is where it was at their breakthrough milestone electoral success with the late Jack Layton almost two years ago. Bob Rae's Liberals are at 22 per cent while Elizabeth May, who was recently chosen as Parliamentarian of the Year by Maclean's magazine, sits at 6 per cent.
In a poll done by the same polling firm The Huffington Post used for their story on the electoral destination of Generation Y, the NDP is the choice of young Canadians under 29 while the Conservatives have the advantage with older adults. Men and women were split, with the majority of men going with the Conservatives and women going with the NDP.
The poll also found out Harper's Tories lead in the vote-rich Ontario, Alberta and the Prairies while the two opposition parties split the rest.
The two leaders also enjoy a comparable favourable rating from Canadians. For a Conservative activist government which is changing the makeup and fabric of Canada, the result must be comforting for them. For the NDP, which has been mute on many leading issues and moments in Canada, its political success achieved a mere two years ago is not just a political flux but a reality -- they are contenders for power in 2015.
It seems the NDP's strategy of saying and doing little is working. While most (new) leaders use their free time kissing babies, attending events and having wide conversations with ordinary Canadians, it seems Thomas Mulcair has decided to remain invisible and it seems to work. That way, he has become an unknown political commodity outside of Quebec, yet very popular.
Perhaps, for what has always been a protest party, its leader is helping create a 'Quiet Revolution' across Canada and it seems to be a political win. What is disappointing is that Canadians are being denied a sensible alternative to Harper's Conservatives in the process.
BLOG CONTINUES AFTER SLIDESHOW
10 Little-Known Mulcair Facts
Here are some facts you may not have known about NDP Leader Thomas Mulcair. (CP)

Mulcair was Minister of Sustainable Development, Environment and Parks in Jean Charest's Liberal government in Quebec. He served in the role from 2003-2006. (CP)

Mulcair married Catherine Pinhas in 1976. She was born in France to a Turkish family of Sephardic Jewish descent. Mulcair has French citizenship through his marriage, as do the couple's two sons. (KENZO TRIBOUILLARD/AFP/Getty Images)

Mulcair left Charest's Liberal government in Quebec after he was offered the position of Minister of Government Services in 2006, an apparent demotion from Minister of the Environment. Mulcair has said his ouster was related to his opposition to a government plan to transfer land in the Mont Orford provincial park to condo developers. (CP)

Mulcair's great-great-grandfather on his mother's side was Honoré Mercier, the ninth premier of Quebec. (Public Domain/Bibliothèque et Archives nationales du Québec)

Mulcair was the first New Democrat to win a riding in Quebec during a federal election. He held the riding of Outremont during the 2008 election after first winning the seat in a 2007 by-election. Phil Edmonston was the first New Democrat to win a seat in Quebec, but his win came in a 1990 by-election. Robert Toupin was the very first to bring a Quebec seat to the NDP, but he did it in 1986 by crossing the floor. (Alamy)

Mulcair's father Harry Donnelly Mulcair was Irish-Canadian and his mother Jeanne French-Canadian. His father spoke to him in English and his mother in French -- explaining his fluency in both official languages. (Photo by Spencer Platt/Getty Images)

Muclair has voted in past French elections, but after becoming leader of the Official Opposition he said he would not cast a ballot in the French presidential vote. (Thinkstock)

Mulcair met his future wife at a wedding when they were both teenagers. Catherine was visiting from France. They married two years later when they were both 21. (CP)

Mulcair was given the moniker in a Maclean's headline, but the new leader of the NDP has long been known for his short fuse. In 2005, he was fined $95,000 for defamatory comments he made about former PQ minister Yves Duhaime on TV. The comments included French vulgarity and an accusation that alleged influence peddling would land Duhaime in prison.

Toronto Mayor Rob Ford says he has had his fair share of marijuana. "Oh, yeah. I've smoked a lot of it."

The federal Liberal leader opened up to HuffPost about his experience with marijuana in August. "Sometimes, I guess, I have gotten a buzz, but other times no. I'm not really crazy about it."

The Opposition leader's office told HuffPost this summer that Mulcair has smoked in the past but not since he was elected to office. Mulcair was elected to the National Assembly of Quebec in 1994.

Said the Tory finance minister: "Yeah, in my teenage years... a couple of times, I have to admit: I didn't like it."

The Liberal MP and Canada's first astronaut said he tried marijuana as a student in the 1970s in England. "It's not my thing. I stopped because it wasn't doing anything for me."

The premier of Ontario said she smoked pot decades ago. "I have smoked marijuana but not for the last 35 years."

Said the premier of Nova Scotia: "Like every other person I knew back in the '70s when I went to university, some of whom are actually in this room, I would have tried it, the same as other people at that time."

Said the premier of British Columbia: "I graduated from Burnaby South Senior Secondary in 1983 and there was a lot of that going on when I was in high school and I didn't avoid it all together."

The leader of the Progressive Conservative Party of Ontario admitted he's puffed in the past. "I was a normal kid, I had a normal upbringing, a normal life in university. I experimented from time to time with marijuana. It's a long time ago in the past and in the grand scheme of things."

The former prime minister of Canada told CTV News: "The answer is: I never smoked. I never smoked anything, but there was an earlier time, years ago, when (my wife) made some brownies and they did have a strange taste."

The former prime minister admitted while running for the leadership of the Progressive Conservatives that she tried weed. "And I inhaled the smoke."

Said the former NDP leader: "Yes, and some might say I never exhaled."

The former premier of Ontario said he experimented in his teens, but only twice.

The premier of Saskatchewan said he was an "infrequent" user back in university. "It didn't really do anything for me, luckily, because for some, it does lead to other things."
For instance, in what Rex Murphy described as a "government by normal means and mob rule on the streets," the NDP was visibly absent. The Montreal protests that crippled the province and its students needed an eloquent voice in Ottawa as has been the historical tradition of the NDP. While the issue was in the minds of many Quebeckers, the NDP decided to stay out of it and even ordered its many one-time young student activists and now MPs to stay out of the debate.
On the issue of Israel, the NDP via its leader is now reading the same talking points as the government. He has used his stubborn leadership style, rightly or wrongly, to mute anyone from speaking on the Israel file as he had done as an MP when he famously criticized his colleagues from speaking on a 2006 NDP Policy Resolution on Israel/Palestine.
On trade, the NDP now seems to favour free trade and has neglected its stubborn one-time opposition of NAFTA as was championed by the party's beloved veteran leader -- Ed Broadbent more famously during the 1988 Free Trade like federal election. The party is even now a champion of WTO (World Trade Organization) to make global trade the norm rather than the exception in the world.
Former leaders of the NDP have almost always brought a signature principled contribution to Canada's political journey. Tommy Douglas gave Canada Medicare; David Lewis the sacred multiculturalism Canadian policy; Ed Broadbent passionately made human rights his political life's agenda while the late and beloved Jack Layton engaged and empowered the youth while advocating for Canada's less fortunate and the environment.
Thomas Mulcair has instead distanced himself from all this and decided to "'bring the centre to us" while reminding his supporters that he is "not trying to push party away from its core ideas." The fact is he has.
Mulcair has made his party and himself invisible while moving his party so far to the right in the blind pursuit of power, and it is becoming impossible to distinguish it from the Harper Conservatives.
At the end, Canadians are the ones who are ultimately denied the opportunity to have alternatives. I bet Jack Layton would have been disappointed.
For the late beloved leader, he would have settled for continuing to be the "Conscience of the House" rather than sell the soul of the party via a short cut to power.
Follow Samuel Getachew on Twitter: www.twitter.com/GetachewS