I Hate Being Bipolar - It's Awesome!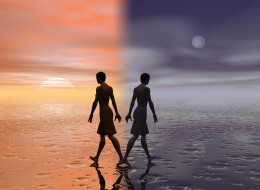 I've been diagnosed as having Bipolar II Disorder. For over a year the diagnosis had been Major Depressive Disorder. And although I spent hours, days, weeks, even months huddled under the covers wishing for a quick, tidy end to the pain, preferably one which didn't require hours of in-depth analysis into my cracked psyche, there were moments when a thought would make me throw the blankets off. The thought could be minor, like the sudden desire to make cupcakes for my kids. Or it could be extravagant and expensive like the remodeling of an entire bathroom.
Suddenly, the sad woman who struggled for a simple breath of air; that person over there with her head on the table at the food court because it was too heavy to hold up even in a public place; the chest pain, a vice tightening more and more until tears and screams begged it to release its grip; that same woman who could sleep for 19 hours a day, could now function on four. She now bounds out of bed to orchestrate the necessary lists, supplies, and venue in which to throw her daughter the most perfect birthday party.
And then, when the event is over, when nothing more can quell the sadness, the merry-go-round which is my world stops spinning long enough to shove me off, where I roll away into the dirt; dusty, battered, and bruised, too exhausted once again to stand upright.
After seeing four psychologists, two psychiatrists, and two GPs, one of the GPs, who had witnessed me begging for something, anything to stop the thunder and lightning blazing and booming from the storm cloud enveloping my head; this same man had also watched me smiling as I chatted happily about my upcoming trip to Las Vegas. For many months I was being treated for Major Depressive Disorder, and sometimes I would sit before my doctor sobbing, saying, "I can't live like this much longer," and sometimes I would be smiling because that familiar roll of ecstasy in my gut allowed me to be present. To look and see the world. Not dreary and annoying, and blinded by the shades behind my eyes. As I asked my doctor, "How come I feel okay right now but then I'll feel crappy again?" I was introduced to Bipolar II Disorder.
The DSM V describes Bipolar II as depression "with a minimum duration of two weeks" interspersed with moments of hypomania, which are classified as moments of "elation, bursts of energy, or irritability" differing from a person's state when not depressed. This differs from Bipolar I in that Bipolar I exhibits mania while Bipolar II exhibits more predominantly as depression with bouts of hypomania.
Although learning the difference between Bipolar II and Major Depressive Disorder was illuminating, I have to admit that those moments when the hypomania manifests; when I stop crying, become a member of the family again; these moments are awesome. The tightness in my chest moves down to my stomach where a ball of excitement rolls around and around. It's a mounting feeling of sorts; starts slow, and as life progresses; as the good moments overtake the bad; as the birthday party supplies accumulate in the trunk of my car, I breathe a huge sigh of relief. Many actually. The depression is gone. For now. Phew.
No precise medication has helped as of yet, but my moods are currently not bouncing all over the place like one of those tiny little rubber balls I used to play with when I was a kid; one of those little balls that's too small to catch but too fast to slow down. I still feel the rumble of excitement in my stomach at the thought of online shopping for items I can't afford, but now I recognize the feeling. It doesn't rule me the way it could. But honestly, after being unable to find joy in anything; when darkness was dominating every room I entered, that little bouncing ball is welcome to bop all around me, even if it's just for a short time.
I once heard Bipolar II as being described by Laura Bain as footwear. The hypomania is a pretty, trendy high heel, while the depression is a boring, old slipper. The analogy has always stayed with me, because although the old slipper is familiar, the glitzy high heel makes life brighter, better, faster. The slipper is floppy and trips me up. While I'm wearing the slipper, I have no stability. When I'm wearing the slipper, it's completely impossible for me to move steadily enough to catch that little bouncing ball so I can grip it tight in the palm of my hand and hold on to it forever.
ALSO ON HUFFPOST:
Celebrities With Bipolar Disorder
Actress Catherine Zeta-Jones publicly disclosed her diagnosis after seeking treatment. Though she wasn't initially going to come public (on an episode of "The Oprah Winfrey Show," husband Michael Douglas said he suspects someone at the hospital leaked information to the press), Zeta-Jones has nonetheless voiced her support for those who also suffer from bipolar disorder. In an interview with People, Zeta-Jones said there is "no need to suffer silently," and that if her speaking up encourages just one person to seek help of their own, then her experience was worth it.

The Mayo Clinic released a statement in August of 2012 that the congressman and son of the Rev. Jesse Jackson was receiving treatment for bipolar II depression, after taking an unexplained medical leave two months earlier. His wife had previously called his depression "debilitating", the AP reported.

After spending three months in a rehab facility for bulimia, anorexia, cutting and depression, Lovato also announced she'd been diagnosed with bipolar disorder. Lovato told People magazine she didn't know she had the disorder until she entered treatment. Lovato told AOL Music she plans to continue speaking out about her experience to help others. "I feel like it's no coincidence that God put me through all of this and has also given me the voice that I have. I feel like my purpose on earth is much greater than just being a singer, a musician or actress. I think it's to reach out to people and to raise awareness of these issues that not many people speak about."

The action star told E! Online he was being treated for bipolar disorder with the drug sodium valproate, Everyday Health reported. "Since I'm doing that it's, like, BOOM! In one week, I felt it kick in. All the commotion around me, all the water around me, moving left and right around me, became like a lake," he said.

The reality TV star has experienced a number of high-profile ups and downs on camera. She told People magazine that she takes medication for bipolar disorder after being diagnosed in 2008. "I don't think I'm bipolar, to be honest with you," she said at the time. "I'm just really outgoing. I think everybody thinks they're bipolar these days. You're a teenager, you have hormones. You're gonna switch up every two seconds!" But she spoke more vulnerably about her diagnosis later with E! News, saying "I struggle with it. I hate it. I grieve over it" of her diagnosis.

In 2007, Grammy-winning artist Sinead O'Connor appeared on "The Oprah Winfrey Show" to talk about her battle with bipolar disorder. She said receiving treatment for the disorder made her reborn and gave her at chance at building a new life.

After canceling a number of the band's tour dates last summer, Passion Pit's lead singer told Rolling Stone he had been diagnosed with bipolar disorder when he was 18 and was experiencing a particularly debilitating bout of depression when the band was set to tour. "My depression was so bad three weeks ago when we had to cancel everything -- people don't understand this. People don't understand that it's not just debilitating; it's all-encompassing," he told Rolling Stone.

Fisher first publicly discussed her experience with bipolar disorder with Diane Sawyer in 2000, telling Sawyer she was convinced for many years she was a drug addict before finding out she was manic depressive. Fisher has since been very open about her struggle with the disorder, including the time she spent in a mental hospital following a particularly difficult episode. "At times, being bipolar can be an all-consuming challenge, requiring lots of stamina and even more courage," Fisher wrote in her 2008 memoir "Wishful Drinking." "So if you're living with this illness and functioning at all, it's something to be proud of, not ashamed of."

The Academy Award-winning actress was diagnosed with bipolar disorder at 35 years old. In an interview with "Everyday Health," Duke said the diagnosis came as a relief, because it meant she wasn't the only person in the world feeling the way she did. In her memoir "A Brilliant Madness: Living With Manic-Depressive Illness", Duke says she knew from a young age there was something wrong with her, "but I thought it was just that I was not a good person, that I didn't try hard enough." Duke has been an advocate for bipolar disorder awareness for years. She's spoken out about her experience on numerous occasions, including on "20/20," "The Oprah Winfrey Show" and during a 1997 interview with Barbara Walters on "The View." Duke told Walters she considered herself lucky to have had "access to the media, to write a book and talk about" her experience. Duke continues to speak out; in 2005, she was asked to testify before Congress on mental health-related issues.

The former "Dateline" NBC host discussed her bipolar disorder diagnosis in a 2004 interview with Matt Lauer. After struggling with minor depression for several months and not getting better, Pauley said she was shocked when the doctor explained she was actually suffering from bipolar disorder. In her 2004 memoir "Skywriting: A Life Out of the Blue," Pauley writes she doesn't know if or when she'll have another bipolar episode, but that she's now adapted and learned to be more aware of her moods and how she's feeling. "The world has not become spontaneously organized to make accommodations for my weaknesses while nurturing my newly discovered strengths," Pauley wrote.

The star of "Terminator" told Larry King in 2005 that the bigger her life and career grew, the worse her mental health and bipolar disorder became. And because she suffered from depression while growing up, Hamilton said she now has a very open dialogue with her children and reminds them it's okay to speak up about their feelings. In a 2006 interview for "Sidewalks," Hamilton described the mood swings she often suffered before being diagnosed and receiving proper care for the condition. "I like to speak out to let people know that they're not alone," Hamilton said.
Follow Sandra Charron on Twitter: www.twitter.com/sandra_dot_com