Being a Grinch Isn't So Bad for Your Wallet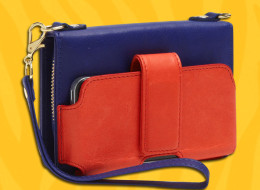 'Tis the season for giving, but at what cost?
With just a few days remaining the countdown to Christmas has begun. For those of you who haven't even started shopping (you know who you are) the pressure on. So is the temptation to just give in and become a big spender. Sadly, at Christmas time some people seem to feel like they must give and give big at that. Giving has turned into a status statement and it need not become that, especially in our heavily indebted consumer era.
According to a recent Ipsos Reid poll conducted on behalf of the Royal Bank of Canada, Canadians will spend an average of $629 on holiday shopping this year. This figure is down from last year, yet it may still be too much to spend for some Canadians, in particular, Millennials who may be still struggling with student loan debt, trying to establish themselves in their careers, and, well, life in general.

Nobody wants to be labeled as the Grinch or Scrooge. But, hear me out on this -- penny pinching just might be the thing to do this season if you're still working on getting your financial house in order. Besides, the season isn't about all the "stuff" you give or that you get. It's about the experience, family connections and goodwill to mankind. Not convinced?
Recently, I was invited to take part in the Walmart gift card challenge. On a Thursday evening I was given $100 to complete my Christmas shopping list. Was I successful? You bet. To keep things simple my family opted to pull a name out of a hat and buy a gift for just one person, a Kris Kringle, if you will, and pitch in for the family meal.
The key to staying on track for me was having a good idea about what I wanted to buy. I scoured various online and print gift guides in advance. Gift shopping is just like everyday grocery shopping: if you don't have a list you're just going to end up putting junk in your cart because your eyes are bigger than your stomach. Another way to curb your spending is to do your shopping under one roof, if possible. A study found that people could save 60 per cent more if they shop at one location versus schlepping around to several different stores.
Gone are the days when I spend too much on a cool looking hipster present that, in the end, gives someone the creeps and ultimately winds up in the dumpster. When thinking about buying for a particular person, ask yourself what does he or she need right now? Since I was shopping for my younger brother who was moving out of the house, I figured he'd need something for his new apartment. I chose two sets of beer glasses. The cost: $18.
Nothing beats giving the gift of food over the holidays. As such, I'm making a decadent Christmas cheesecake. The ingredients and lovely cake stand to display it on cost me $32. It goes without saying that things need to be pretty so I bought wrapping paper and ornaments, too. Those cost me $10.
I also wanted to give back this time of year, so as part of my gift challenge I bought toys for underprivileged children. I ended up buying some Batman figurines, a Hello Kitty snow globe, plush toys and a tween-friendly nail kit all for $40.
Taking this challenge was a great experience. The time and budget constraints forced me to think critically and creatively about how I would spend my money. It's a lesson that can be extended well into the New Year as well.
How to avoid holiday overspending
If you skip Black Friday shopping altogether, you won't be tempted to make impulse purchases, Roberts said. "Everyone has their opinions, but generally you'll find as good of deals on Cyber Monday, or even after," he said. If you know that you have a shopping problem -- or even if you're not a full-blown shopping addict, but maybe you enjoy spending a little too much -- it's best to stay away from stores on Friday, he said. The stimulation from the sale signs and colorful merchandise give off the sense of novelty and pleasure, which makes spending that much more tempting. "You're spending money, throwing credit cards down, having lunch, hanging out with friends and family, all the sights and sounds -- it's an exciting time," Roberts said. "So the best thing you can do is just to avoid it." In that same vein, Roberts suggests opting for another family-centered activity to keep your mind off of the missed sales.

The nice thing about credit cards is that we can get now, and pay later. But that same nice thing could mean trouble if we're inclined to get out of control with spending and buying, Roberts said. "When we use credit cards, there's very little pain associated. But when we use cash, it hurts," he said. "It's easy to buy a $100 dress when you put it on your credit card, but when you have to take out ten 10-dollar bills, that hurts." So leave your credit cards at home and just take some cash or your debit card when you shop on Black Friday, Roberts suggested. Similarly, you can also try putting the cash you designated for the day in an envelope to help you better visualize the amount of money you're able to spend, he said. When the money in the envelope is gone, then you're done for the day.

Take a look at your finances and figure out how much you want -- and can afford -- to spend on Black Friday. Then, make a point to stick to that budget, Roberts said. "If you have an idea of what you want to spend, that'll help you stick closer to your shopping goals," he said. Recently, MSNBC reported the results of a survey from the National Endowment for Financial Education that showed that only 31 percent of consumers are planning to set a holiday spending budget.

Whether it's on a piece of paper or on your smartphone, keep track of what you're buying and spending as you shop on Black Friday, especially if you're paying with a credit card, Roberts advised. That way, you'll be more aware of what and how much you've spent, and will be less likely to go over your budget. If you can have an alert set on your phone every hour or so to look at how much you've purchased, "that'll keep you more aware of your spending," he said. Or, consider getting a smartphone app that helps you keep track of your budget.

If you're one of those people who overspends on Black Friday in order to give others lots of gifts, Dr. Benson recommends that people consider these ideas to help prevent overspending: 1. You can never get enough of what you don't really need. 2. It's important not to conflate what you give with how much you care. 3. Consider giving experiences rather than things. Benson previously wrote in Psychology Today: To have a good, rather than a goods, holiday, remember first of all that the good life comes from doing things, not from having them. This is true in spades for the holiday season. Look back at your own experience and it's almost sure to verify what research has demonstrated over and over: we get far more lasting pleasure and satisfaction from life experiences than we do from material possessions.

Even though the sales on Black Friday are tempting, consider giving big purchases (even if that flat-screen TV is marked down from $800 to $600) a 24-hour cooling-off period, Roberts said. "Likely, you won't come back tomorrow," he said. "It's a good way to force yourself to at least think about" the purchase before making an impulse buy.

Think about what your [insert: mother/father/husband/wife/accountability partner/boyfriend/girlfriend] would say when you think about buying many things you don't need on Black Friday, Roberts said. Conjure up a mental image of how your accountability partner will react to your overspending, he said. "Think: 'If i go crazy on the spending, what'll that do to my marriage? How will my husband or wife react?'" "Some people even go so far as to [draw up] social contracts, where they'll sign something," he said. This tactic may not be for everyone. But for people who get really caught up in shopping, they "might want to say, 'This is our limit at christmas. We sign this and anything over this amount -- whether it's $500 or $1,000, or even $50 -- you need to at least talk to me about it.'"

Is it the desire to get your holiday shopping done in one fell swoop? Is it spending time with your family and friends? Is it the deals? Consider why you want to shop on Black Friday, Roberts said. If the reason is that you just want more stuff, consider that research shows that people who are more money-driven and materialistic are less happy than people who don't have that mindset, he said. "Look at your priorities. If you say, "I want to spend time with my family, then just think about that" and consider other family-centered activities you can participate in, he said.