Keystone News Unsurprising After Harper Wrecked Canada's Relationship With The U.S.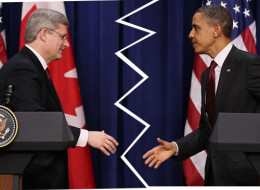 If revenge is indeed a dish that's best served cold, the President of Cool just served up a four-star pièce de résistance for Stephen Harper.
Tuesday's announcement of Obama's planned veto of the proposed Keystone XL pipeline should not have been surprising, yet when the blow came it carried a shocking intensity.
And how did things go so badly that Canada doesn't have the heft or goodwill in Washington to add a single pipeline to a nation benoodled with them? The answer lies in the delusional hubris of Stephen Harper.
No close watcher of the president should be surprised. In myriad ways, the prime minister's personal ambition shredded our nation's single most important relationship and drew us into the toxic swamp of Washington's poisonous politics.
It's been going on for years.
In early 2008, during the heat of the U.S. primary season, the Prime Minister's Office (PMO) leaked a highly confidential communication by the Obama campaign to the benefit of the Republican Party. While no culprit was ever found, speculation fell on the Canadian embassy in Washington, and the 27-year-old son of a Republican congressman who'd been installed there at the behest of the PMO and Stockwell Day.
Unfortunately for Harper, the young candidate Obama overcame the Republican trap laid for him, displaying a masterful command of politics and the art of rope-a-dope. Wiser heads might have been chastened by that experience, and taken heed of the new president's admonition that "elections have consequences," and wiser heads might have considered the damage done to Canada when our PMO's confidentiality isn't trusted.
But wiser heads would not have been so intoxicated by a vision of Canada as a 21st-century energy superpower.
Harper's unbending ambition set him on collision course with a president intent to act on climate change. For anyone watching closely, all the signals were there that Obama would turn to the environment as a major pillar of his legacy.
So it was a foolish miscalculation for Harper to turn Canada and the oilsands into an international symbol of climate obstinacy. But that's a fight he picked. Not content to simply promote the Canadian energy industry and accommodate international pressure for action on the climate, Harper raised the stakes by muzzling scientists and launching an an all-out vendetta on prominent conservation groups.
And while the PM maintained a rigid stance on climate change policy abroad, his proxies at home unleashed a campaign to single out and vilify some of America's and the world's most illustrious scientific research foundations, governed by people like Bush's White House director of science and technology policy, the provost of Harvard, Stanford dean of law and the like.
There probably isn't a more effective way to become an international pariah than the path chosen by Stephen Harper.
But that's only part of the story. In the autumn of 2012, with America in full campaign mode, it was Benjamin Netanyahu's turn to "blatantly interfere" in the election on behalf of Republican candidate Mitt Romney's financier Sheldon Adelson, which he did by single-handedly making war with Iran an election issue.
The U.S. Republicans are certainly refining their game of luring foreign allies into meddling in American elections against their own interests. The 2012 Netanyahu war maneuver was a major step up on the 2008 Harper PMO leak.
In September 2013, Harper travelled to New York to pointedly skip (again) the opening session of the UN General Assembly, but make a high-profile appearance to lecture Obama in his backyard that Canada "would not take no for an answer" on Keystone. What does that even mean?
Yet just months later, in early January 2014, Secretary of State John Kerry was in Israel on a delicate mission to restart talks with the Palestinians. Because the State Department also has management of the Keystone file, John Kerry was important to Canada. But no sooner had Kerry left Israel than Netanyahu caused an uproar by unilaterally approving annexation of another settlement block in Palestinian lands.
By sheer coincidence, Harper arrived on Kerry's heels to serenade Netanyahu with a Beatles song, pick up an honorary degree, and rise in the Knesset to equate criticism of Israel's policies with anti-Semitism.
Translation: the White House can stuff it.
It's nothing short of bizarre that Harper publicly dissed the U.S. cabinet minister in charge of the Keystone file at the same time he's hounding the U.S. for a favourable outcome. That's not diplomacy -- it's not even manners. And something's very unsettling about both leaders' connections with the Republican party and their peculiar tag-team with each other. If Barack Obama views Harper with suspicion, it's for good reason.
All this drama made a shambles of Canada's primary international relationship, which will always be with the White House.
Yet when Obama's new ambassador to Ottawa, Bruce Heyman, was "welcomed" at his first major public appearance, he was bluntly confronted over Keystone. Meanwhile, Harper blanketed Washington with a $24-million ad campaign to persuade Americans that we deserve the Keystone pipeline because we're such good allies, while giving speeches about the craziness of acting on climate change.
In reality, Canadian interests, our industry, and our environment would all be so much further ahead today had Harper adopted a responsible approach to climate change and a coherent strategy to win support from the White House.
That $24 million was all for naught. There was really only one man on the planet that Stephen Harper ever had to persuade to vote yes on Keystone. But pride goeth before destruction, as they say.
Rope-a-dope indeed.
ALSO ON HUFFPOST:
In September, the Dalai Lama was one of nine Nobel Peace Prize laureates who sent a letter to U.S. President Barack Obama urging him "to say 'no' to the plan proposed by the Canadian-based company TransCanada to build the Keystone XL, and to turn [his] attention back to supporting renewable sources of energy and clean transportation solutions."

Archbishop Desmond Tutu was among a group of Nobel Peace Prize laureates who signed letters to both U.S. President Barack Obama and Canadian Prime Minister Stephen Harper, urging the men to stop the Keystone pipeline.

Gore has said it is essential to stop the Keystone pipeline because the tar sands oil it would carry is "the dirtiest source of fuel on the planet."

Actor and environmentalist Robert Redford recently added his name to the list of prominent individuals who are calling on President Obama to reject the Keystone XL pipeline. In a video for The New York Times, produced with the Natural Resources Defense Council, Redford described the negative aspects of the proposed tar sands pipeline and said, "By deepening our reliance on oil, the pipeline would be a job killer." Redford has previously been vocal about calling for alternatives to oil. Writing last month for HuffPost, he said, "Let's build the next generation of energy efficient cars, homes and workplaces. Let's develop wind, solar and other cleaner, safer, more sustainable sources of power and fuel. Let's invest in high-speed rail and smart communities that give us better transportation options."

Actor Mark Ruffalo, famous for films like "The Kids Are All Right" and "Zodiac," is also an outspoken activist and opponent of the Keystone XL pipeline. Ruffalo said in a video for the Tar Sands Action group, "I've seen the kind of damage that out-of-control energy development can do to water and to communities near my own home, where fracking for natural gas is causing widespread pollution ... All these problems are connected -- we need to get off fossil fuels." In the past, Ruffalo has also expressed his ire for hydraulic fracturing natural gas extraction, or fracking. He told The Huffington Post, "The world is already leaving us behind. We're being left behind. America. Because the gas and oil industry has a strangle hold on us. And our politicians."

Environmentalist and author Bill McKibben has expressed strong disapproval for the planned Keystone XL pipeline. In fact, he was one of the first of over 1,200 who were arrested at the Tar Sands Action sit-in at the White House in August. Referring to his opposition to the Keystone Pipeline, McKibben told HuffPost, "The people who've carried this fight for three years are indigenous people on both sides of the border who have a huge stake in it because it's on their land, and farmers and ranchers from places like Nebraska," he said. He added, "It wasn't until I sat down and read Jim Hansen's analysis of how much carbon was in those things that I understood that this was not just a national issue, it's a global issue of the first order."

Julia Louis-Dreyfus, known for her role as Elaine on the popular sitcom "Seinfeld," has released a video urging President Obama to reject the permit for the Keystone XL pipeline. Dreyfus recalls when Obama said "Let us be the generation that ends the tyranny of oil." But she says, "Big Oil is still pretty much running the show." She claims that by rejecting the pipeline, Obama has a chance to "make good on [his] word." Louis-Dreyfus asks Obama, "Denying the permit for a brutally stupid, money-grab like the Keystone XL pipeline is a no-brainer, right Mr President?"

Actress Daryl Hannah has also lent her voice to the movement against the Keystone XL pipeline. In August, Hannah was one of the over 1,200 people to be arrested as an act of civil disobedience in front of the White House. Shouting "no to the Keystone pipeline" as she was handcuffed, Hannah made it clear she opposed the proposed Canada to Texas pipeline.

Maude Barlow, a Canadian author and activist and chairperson of The Council of Canadians, was arrested in September at a Keystone pipeline and oil sands protest on Parliament Hill in Ottawa. She was one of over 100 protesters of the demonstration's estimated 400 to be arrested. Writing for HuffPost Canada about her first experience being arrested, Barlow blogged, "I did it because I fear we are killing the planet and I can no longer be content to only write and speak about it. Today my feet spoke for me as I crossed that barricade and took away one more fear in my life." She also said, "By investing trillions of dollars into these pipelines, governments and the energy industry are ensuring the continued rapid acceleration of tar sands development, instead of supporting a process to move to an alternative and sustainable energy system."

Kyra Sedgwick, star of the television crime drama "The Closer," has voiced her opposition to the pipeline. In a video for the Natural Resources Defense Council, Sedgwick said "Just like the BP oil spill, one glitch in the tar sands pipeline could destroy our clean water sources, possibly forever."

Joining several other prominent actors, David Strathairn appeared in a video urging President Obama to reject the Keystone Pipeline. He calls on his fellow Americans to join the November 6 Tar Sands Action in Washington, D.C. Strathairn, who is known for his portrayal of journalist Edward R. Murrow in "Good Night, and Good Luck," said, "Obama ran for office speaking of the dangers of our fossil fuel addiction, promising to fight climate change and fully embrace a clean energy future. The Keystone XL tar sands pipeline is a dangerous step away from that commitment."
Follow Sandy Garossino on Twitter: www.twitter.com/Garossino