As A Counsellor, Here's Why I Think We Should Believe Survivors
It's been estimated that one in four North American women will be sexually assaulted during their lifetime. In Canada alone, approximately 460,000 sexual assaults occur every year. Yet, for every 1,000 incidents of sexual assault, only 33 are ever reported to the police, which many would agree is a startlingly low number.
Even more disturbing is that only three cases ever result in a conviction. This means that, for every 1,000 sexual assault cases, 997 assailants are acquitted and allowed to walk freely out the courtroom.
There was a powerful piece of reporting done by 680 News in Toronto, in which Crown attorneys were anonymously asked to describe what they consider to be their "ideal" sexual assault complainant in order to help them secure a conviction. Their responses left me disheartened and in tears:
"She needs to have serious injuries, running into the street, naked, yelling 'I've been raped!'"
"She has to be a virgin, with no sexual history." (This, despite Canada's strict rape shield law -- an amendment to our Criminal Code enacted in 1992, which bans calling into testimony a woman's sexual history as a way to disprove her trustworthiness).
"She has to bawl her eyes out on the stand. But not too much, or else she seems unstable."
"She has to have no past history of anxiety or depression."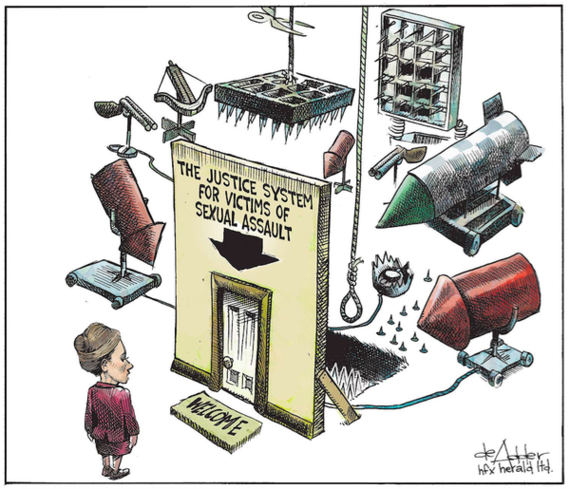 It's been a rough week for many Canadian sexual assault survivors. Pick up any newspaper or browse your social media feed, and you will be inundated with a barrage of opinions from armchair legal experts weighing in on Judge William Horkins' verdict.
I will admit that I was glued to my Twitter feed during most of the Ghomeshi trial, swept up in the #BeenRapedNeverReported, #WeBelieveSurvivors and #BeyondGhomeshi hashtags. That last hashtag in particular is an interesting one, as I'm hoping that it will help elevate this important national conversation to one that can reach our lawmakers, police officers, educators, politicians, voters and parents.
Both male and female. So, basically, all of us. Because this conversation is more important than Ghomeshi. It's beyond the Dalhousie University Dentistry scandal. It's beyond Lucy DeCoutere and her fellow two complainants.
How many Rehtaeh Parsons tragedies do we need before we begin doing the important work of looking at our flawed sexual assault reporting processes? What will it take for us to begin making the grassroots changes from within to once and for all end this rape culture mindset that seems to permeate our day to day lives?
How many Ghomeshis, Cosbys, Dr. Lukes, Cee Lo Greens, Kobe Bryants, Sean Penns, Roman Polanskis, Woody Allens and Pee Wee Hermans does it take?
"My conclusion that the evidence in this case raises a reasonable doubt is not the same as deciding in any positive way that these events never happened," Judge Horkins said when delivering his verdict.
He made this statement after having systematically eviscerated the credibility of all three complainants over the course of about 75 minutes. He said this to cap off a trial during which the complainants were made to feel like "sacrificial lambs" throughout the brutal, though expert, cross-examinations at the hands of Marie Henein, to the point where they needed to rely on "Zoplicone smoothies" to be able to get much-needed sleep following their testimony.
As Witness #1 astutely lamented during her Chatelaine interview: "It's not fair that someone gets assaulted, and has to go to court and get assaulted again. Why can't it be adults in a room, fact-finding and looking for truth?"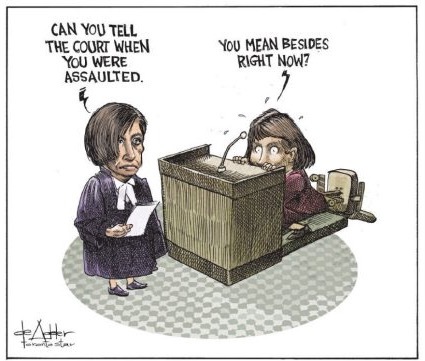 Is it any wonder that only one to two per cent of "date rape" sexual assaults in Canada are ever reported to the police? I don't pretend to have the solutions to this #BeyondGhomeshi hairball, so I will leave the armchair legal debates and reforms to those more knowledgeable about the nuances of Canada's Criminal Code.
But here's what I do know, based on the counselling work that I do with the countless female clients I see who agonize over the sexual traumas they've lived through. I know that it's not uncommon for one in four women to be sexually assaulted sometime in her life.
I know that despite Bill C-127, which came into effect in 1983 and made sexual assault against one's wife an offence, half of all sexual offenders are married or in long-term relationships with their victims.
I know that 80 per cent of sexual assaults occur in the home, not in a dark alley in the middle of night as most mothers worry.
I also know that 80 per cent of assailants are friends or family with their victims. In fact, this is quite possibly the most common theme I see with the majority of my clients; it's not "stranger-danger" who assaulted them, but usually a friend, family member, colleague or intimate partner who chose to ignore the fact that the women never consented to the sexual acts.
Here's what else I know for sure, and this is especially for those of you reading this who cannot understand why more women don't report: sexual assaults are serious traumas that leave lasting psychological, emotional and/or physical scars.
There is no one common reaction to sexual assaults. Survivors' behaviours following such traumatic events can vary from minimizing the incident and pretending everything is fine (e.g. kissing and cuddling in the park, or writing gushing love letters, as DeCoutere did following the assault); to suppressing the incident altogether, essentially blocking it from your memory; to blaming yourself, somehow, in an attempt to rationalize the trauma.
It is not unusual in my caseload to see women, years after the fact, still believing they were somehow responsible for the incident.
"I had had too much to drink, Sandy."
"I had been mildly flirting with him earlier, Sandy."
"I smoked a joint with him and got so high that I passed out, and woke up the next morning naked and with no memory of what happened."
I once worked with a client who had made herself believe that her date rape meant that she had cheated on her long-term boyfriend. She not only was reeling from the trauma of the long-ago rape, but faced the subsequent unravelling of her most important adult relationship.
Some of us seem to be so quick to judge women for not stepping forward and reporting their assaults in a timely manner, yet we discount the fact that, for many of these women, their automatic coping mechanism has been to suppress or even deny their traumas had ever happened.
And it's only many years later, when they are sitting in their psychotherapist's office, dealing with severe anxiety or debilitating depression, or trying to overcome somatic body memories such as chronic migraines, stomach aches or sleep disorders, when the truth of their traumatic personal history comes out, layer by layer.
The truth always eventually comes out.
The outcome of the Ghomeshi trial was not a surprising one to me, given our current legal system. We appear to have a strong legal system, but our justice system seems genuinely flawed when even the presiding judge admits that his verdict doesn't necessarily imply that the assaults at hand never took place.
As disheartening as it was to observe the disaster that was the Crown's case against Mr. Ghomeshi, I was heartened to see a couple of leading politicians speak out in support of the #WeBelieveSurvivors campaign, calling for changes to our current processes. Mr. Mulcair, I particularly tip my hat to you for boldly embodying your opponent's "Because it's 2016" ethos. I do, however, question why Canada's PM and avowed feminist was noticeably silent on this matter.

I am no politician. Nor am I a lawyer or judge, relying on dated criminal processes.
I am, however, a woman.
I am a feminist.
I am a counsellor.
I believe survivors.

Cartoons: courtesy of Michaeal De Adder. Used with permission.
Follow HuffPost Canada Blogs on Facebook
MORE ON HUFFPOST:
Jian Ghomeshi Case: A Timeline
A former York University student, Kerry Eady, told the Toronto Star she was at an informal meeting of about 25 students in the fall of 1988. Residence advisers told the group that a couple of female students had said Ghomeshi hit them. One said she was choked in a stairwell, Eady recalled. "There was nothing official, because these girls were talking to [the advisers] confidentially, to get advice on what to do. They told them to report it but none of them wanted to," Eady told The Star. Source: Toronto Star

Jim Hounslow attended served as communications coordinator for York's student federation while Ghomeshi was president. Hounslow told the Star that he and Ghomeshi were waiting for an elevator after a student meeting during the 1990-91 school year when Ghomeshi suddenly reached over and grabbed his genitals through his jeans. "I was completely shocked and I reacted," Hounslow told The Star. He grabbed Ghomeshi's arm, pushed him against the elevator doors and told him to never do that again. Source: Toronto Star

Moxy Fruvous fan Sally Block was a 16-year-old living in upstate New York in 1999, and she was surprised when Ghomeshi responded to her email. That initiated a multi-year correspondence that grew to include phone calls. She also met up with Ghomeshi after concerts where Block says he sometimes got "handsy." After she stopped hearing from Ghomeshi in 2002, Block broke into his email by guessing his password. Ghomeshi threatened to press charges, but backed down after Block's father learned of his history of correspondence with his then-underage daughter. Source: The Globe and Mail

Author and lawyer Reva Seth says that she went on a few casual dates with Ghomeshi in 2002. In a blog for HuffPost, she wrote that she was at his home one evening when suddenly "he became a different person." Ghomeshi put his hands around her throat and "violently digitally penetrat[ed]" her. Source: Huffington Post Canada

An anonymous woman says she met Ghomeshi after a taping of his CBC show "Play" in 2002. She says he yanked her hair hard at one point in the evening and asked her if she liked it "rough." She met him again two weeks later, and went back to his home. She says that he grabbed her hair without her consent and gave her three sharp punches to the head. "I was crying. Just crying. He stood there looking at me and said, 'You should leave,' " she told the Star. The same woman was also interviewed by CBC's "As It Happens." Source: "As It Happens" and Toronto Star

The former "Trailer Park Boys" actress says that Ghomeshi, without warning or consent, choked her to the point she could not breathe and then slapped her hard three times on the side of her head. She described the same events again in interviews with the CBC. Source: Toronto Star

A woman sent Ghomeshi a letter asking him to manage her music career, and he called her back. When they met in person, she says Ghomeshi groped her, tried to kiss her and "relentlessly tried to put his hands on and near my inner thighs, crotch and rear, both inside and out of my pants," the Star reported. Source: Toronto Star

An anonymous woman alleges that Ghomeshi attacked her after they went for a walk in a Toronto park following an event. She had been on a few dates with him before, but they had never been intimate. She told The Star he choked, smothered, bit and groped her on a park bench. Source: Toronto Star

A 22-year-old woman met Ghomeshi at a Christmas party. The woman, who worked at the CBC, went out for a drink with him and on the way back to his car, he started choking her with no warning. "I said, 'What the f---.' I told him I have three brothers," she told the Star. She says Ghomeshi replied "your loss." She says he drove away and then called her to say he was under a lot of stress and driving fast — "if I crash it will be your fault." Source: Toronto Star

The former "Q" producer's allegations were initially anonymous, but Borel identified herself in a column about Ghomeshi's workplace harassment for The Guardian on Dec. 2. She alleges that Ghomeshi told her after a story meeting in 2007 "I want to hate f--- you." After that, he gave her uninvited back massages at her desk and more harassment followed over the next three years, until she left the CBC. "A year into my time on the job, he grabbed my rear end and claimed he couldn't control himself because of my skirt," she wrote for the Guardian. "He once grabbed my waist from behind – in front of our fellow colleague, at the office – and proceeded to repeatedly thrust his crotch into my backside. "There was emotional abuse, too: gaslighting and psychological games that undermined my intelligence, security and sense of self. Sometimes that hit harder than the physical trespassing." Source: The Guardian

A woman told The Toronto Star that Ghomeshi did ask her if she "was into choking," telling her "it would heighten the experience of sex." The woman says she told Ghomeshi she wasn't into choking. She also recalls how he hit her and called her "a slut." Source: Toronto Star

A 23-year-old woman applied for a position as Ghomeshi's assistant, but withdrew her application after she met with him and he was critical of her appearance and mispronouncing his name. "I genuinely felt so bad about it at the time. I look back on this now as the tactic of a manipulator with a mandate," she told the Star. Ghomeshi continued to contact her and they began dating. She says he hit her on her head and face with an open hand. "I pushed him back once and he grabbed my wrists and said he did not like that," she told the Star. Source: Toronto Star

A female fan met Ghomeshi at a book signing in a small city in Eastern Canada in 2012. They later corresponded by text, and many of the messages were violent, she said. They eventually met in person, and he allegedly shoved her against a wall, choked, and hit her on the head. Source: Toronto Star

The Toronto Star reported an anonymous woman in her mid-20s says she met Ghomeshi at a book signing in a small city in Eastern Canada. He invited her to visit him in Toronto, where she says he threw her against the wall. She said sex with the host included belts, choking and hitting that left her bruised. Ghomeshi allegedly found the bruises "sexy." Source: Toronto Star

A Western University graduate told the Star about her experience with Ghomeshi on condition of anonymity. She said that as a student, Ghomeshi touched her inappropriately after a taping of "Q." She went to the taping in Dec. 2012 in the hopes of landing a job on the show. She alleges that after the show, Ghomeshi approached her from behind and pressed his body against her. He later asked her out for a "non-work related drink" but she said she didn't want to date and was only interested in discussing a job. He responded that he didn't want to be a "conduit to a job." Source: Toronto Star

A CBC producer in her mid-20s went out for drinks with Ghomeshi following a book signing in Montreal. She told him her dream job was to work for "Q." He rubbed her legs in a pub, telling her that "touching helps" his anxiety. She said she went to Ghomeshi's hotel room, where he threw her against a wall and fondled her. She said she performed oral sex on him "just to get out of there." Source: Toronto Star

A woman, who was a student at the time, said she had a five-month relationship with Ghomeshi. She says he tried to smother her by covering her nose and mouth with his hands. She told the Toronto Star she used her cellphone to call a friend from Ghomeshi's bathroom, who told her to "get out of there." She left and broke off the relationship with him. Source: Toronto Star

A Toronto woman shared a hotel elevator with Ghomeshi while he was in London. She told Ghomeshi her name, and he tracked her email down and contacted her for a drink. "After a few drinks we went back to his room where he proceeded to literally throw me on his bed, no buildup, no conversation, and started biting, pulling my hair and biting me all over," she told the Star. Source: Toronto Star

Although Carla Ciccone's blog for XOjane never identifies the man in the story is Ghomeshi, it is widely assumed to be — Ghomeshi himself has not denied going on a date with Ciccone. The blog details a date with a Canadian media personality, which quickly turned sour when he touched her without consent — on multiple occasions. After the Ghomeshi story broke in Oct. 2014, Ciccone tweeted this about the controversy. Source: XOjane

An anonymous woman told The Star that she had gone out on a few dates with Ghomeshi in 2013 but they never had sex. Weeks later, Ghomeshi invited her over to his new house in Toronto, telling her he "didn't buy this big house to throw parties, but to raise a family." He then kissed her, and then suddenly pulled her hair and went on to hit her, bit her and called her a degrading term. Source: Toronto Star

A Twitter account with the handle @BigEarsTeddy began posting allegations of sexual violence against Ghomeshi in April 2014. The identity of the Twitter user is not known. Source: Twitter

Ghomeshi hired Marie Heinen, a criminal lawyer who previously defended former attorney general Michael Bryant, reports The Toronto Star. In a Toronto Life profile, Heinen says she is "not conflicted about being a strong feminist and what I do in court."

The Toronto Star reports that a woman who has never spoken to the media did file a police complaint. Her allegations partly led to the five abuse-related charges laid against Ghomeshi on Nov. 26. Source: Toronto Star

A woman who bumped into Ghomeshi at the CBC building in Toronto told the Star that she gave him her phone number. They went on a few dates and he sexually assaulted her at his home on several occasions. Source: Toronto Star

Two of the seven counts of sexual assault against Jian Ghomeshi were dropped due to "no reasonable prospect of conviction."

Ghomeshi pleaded "not guilty" to five charges, included four counts of sexual assault and one count of overcoming resistance by choking. The court date is set for Feb. 1, 2016.

Feb. 1, 2016: Ghomeshi's judge-alone trial gets underway in Toronto. Justice William Horkins says he'll deliver the verdict on March 24.

On March 24, 2016, Jian Ghomeshi was acquitted on all five charges against him, a judge ruled. Justice William Horkins delivered his ruling in a provincial courtroom in Toronto's Old City Hall. Reading his decision to the court, the judge said the lack of a "smoking gun" or physical evidence presented a difficult bar for the Crown.
Follow Sandy Kiaizadeh on Twitter: www.twitter.com/FindYourBliss