#BellLet'sTalk Day: Workplaces Need to Get Serious About Mental Health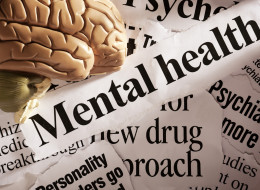 You may have noticed that your social media feeds have been inundated with the #BellLetsTalk hashtag. That's because Bell Let's Talk day is on Wednesday, January 28.
I love it when large corporations get it right and lead by example. The truth is that 1 in 5 Canadians will experience a form of mental illness at some point in their life. Look around at your family, your circle of friends, or even your colleagues. Chances are someone you know is facing a difficult mental health challenge at this moment.
Did you know that an estimated 22 per cent of Canadians battle mood and anxiety disorders? Or that, in any given week, more than 500,000 Canadians miss work because of a mental illness? Absenteeism and presenteeism result in an estimated $6 billion in lost workplace productivity costs, according to the Mental Health Commission of Canada.
The statistics are sobering, to say the least. Yet, despite the prevalence of individuals dealing with such challenges, many of them suffer quietly and alone, for fear of being stigmatized or discriminated against. I know this because I was one of those people for many years.
I am someone who has overcome bouts of serious, debilitating depression throughout my life. I also have a lengthy and stormy history with eating disorders -- or, as I like to refer to it, "my old frenemy E.D."
I am someone who has fought battles with mental illness and have come out on the other side, swinging. Some battles raged on for what seemed like forever; and in those darkest of nights, I honestly didn't think I had the strength within to claw my back up to the light. That's the thing about mental illness, it skews your perspective, robbing you of your hope, while insidiously whispering its abusive missives into your being: "you're not good enough," "you're such a loser," "you're worthless." That harsh voice within is the most belittling motivational speaker of all. A complete bully.
But I am one of the lucky ones to have come out of this alive, fully recovered and infinitely stronger. I say that I'm lucky, not because I lead a charmed life, but because I sought treatment by assembling a great team of mental health professionals who genuinely cared about my well-being.
Rather than holding myself back from getting help for fear of being stigmatized -- as 49 per cent of people with mood disorders often do, according to the Canadian Mental Health Association -- I opted to overcome the perceived embarrassment factor and get diagnosed and treated. What I learned in the process is that seeking help didn't make me weak or "crazy."
In fact, getting help allowed me to do the inner work I desperately needed in order to finally break up with my old friend E.D. Seeking the right treatment gave me the tools I needed to help me turn down the volume on that relentless inner critic, and turn up the volume of self-acceptance. The hard work has paid off exponentially. I have learned a lot about myself through the ordeal and I have been able to carve out a life for myself that is abundantly more authentic to who I really am. In fact, I've even changed career paths as a direct result of the process of self-discovery that came from my recovery.
When I say I love it when large corporations get it right, I mean it. Rates of employee sick leaves due to mental health are escalating. We live in a very stressed out world where many of us are stretched and spread thin. Many of us are part of the sandwich generation -- caring for young children while simultaneously looking after our elderly parents. Or we may be expected to take on more work assignments due to corporate layoffs that have left more work to be done by less staff. Yet thankfully, in Canada, we haven't yet reached the epic levels of workplace stress that the Japanese have been struggling with for some time. Indeed, they've coined the word karōshi -- literally translated as "death from overwork" -- to explain the disheartening phenomenon that takes place in some of their workplaces, where people are literally dying from heart attacks and strokes due to stress and burnout.
We need to ensure that Canadian workplaces don't reach similar levels of employee stress. To do this, we need workplaces that value their employees' mental health. Employers need to lead by example by recognizing workplace signs of undiagnosed depression, such as difficulty making decisions, decreased productivity, inability to concentrate and any unusual increases in errors in work, just to name a few.
But we also need to bust the stigma altogether. It doesn't make you weak to seek help for mental illness; in fact, it takes great strength of will to do so. Mental health is equally as important as physical health. If you had cancer or diabetes, you would no doubt seek appropriate treatment. Why then is our society so reticent about addressing anxiety or depression -- two very treatable afflictions?
Mental illness does not discriminate. It will impact people regardless of age, gender, race, profession, or socioeconomic status. Lawyers, athletes, celebrities, teachers, plumbers, construction workers, even health professionals can all be dealing with a mental illness. Heck, I'm a psychotherapist and I have a personal history with it. It doesn't discriminate.
On January 28, join the #BellLetsTalk conversation to help end the stigma around mental illness. Bell will donate 5¢ to mental health initiatives for every text message sent, mobile & long distance call made, Tweet using #BellLetsTalk, and Facebook image share. Add your voice to the conversation and let's get talking about mental health.
MORE ON HUFFPOST:
Worst Habits For Mental Health
How we feel can affect the way we walk, but the inverse is also true, finds a study published in the Journal of Behavior Therapy and Experimental Psychiatry. Researchers found that when subjects were asked to walk with shoulders slouched, hunched over and with minimum arm movements, they experienced worse moods than those who had more pep in their steps. What's more, participants who walked in the slouchy style remembered more negative things rather than positive things. Get happy now: Lift your chin up and roll your shoulders back to keep your outlook on the positive side.

Instagram queens, listen up. Haphazardly snapping pictures may hamper how you remember those moments, according to a study published in Psychological Science. In the study, participants took a museum tour, observing some objects and snapping pics of others. Afterward, they had a harder time remembering the items they photographed compared with the ones they looked at. "The lens is a veil in front of your eyes and we don't realize it's there," says Diedra L. Clay, PsyD, chair and associate professor of the counseling and health psychology department at Bastyr University in Kenmore, Wash. Get happy now: Focus on your subjects when taking pictures -- or, better yet, just sit back and enjoy yourself. Soak up the beauty and participate in the action. These are the things the will make you mentally stronger, says Clay.

Bullying doesn't end when you leave school. Approximately 54 million workers, or 35 percent of U.S. employees, are targeted by a bully at some point in their careers, according to the Workplace Bullying Institute. More than 70 percent of people have witnessed a workplace bully, says Erin K. Leonard, Ph.D., a practicing psychotherapist and author of the book, Emotional Terrorism: Breaking the Chains of a Toxic Relationship. "Being attacked maliciously in the place of pride and self-esteem continuously, it can be devastating. It makes you emotional volatile so that it is even difficult to get up and go work." Get happy now: The Workplace Bullying Institute recommends you first make an appointment with your doctor to discuss your physical and mental health. Then, after you've carefully documented as many of your interactions as possible, follow the organization's three-step action plan.

Consider this: If you become more active three times a week, your risk of being depressed decreases 19 percent, according to a new study in JAMA Psychiatry. After following more than 11,000 people born in 1958 up until the age of 50, and recording depressive symptoms and levels of physical activity at regular intervals, University College London researchers found a correlation between physical activity and depression. People who were depressed were less likely to be active, while those who were active were less likely to be depressed. In fact, for every time they were active, depression risk decreased 6 percent. Get happy now: Just get out and move. It doesn't need to be for long -- walking to errands if possible, taking the stairs -- but any activity will help keep your mind moving.

Think about a task you've been putting off. If the reason is because it's boring or you just don't feel like doing it, well, we can't help you there. But if you're avoiding the task because it makes you anxious or because you're afraid of failing, then procrastinating just makes completing it more nerve-wracking. Get happy now: Before you finally tackle your problem head-on, do something that helps you ease stress. Leonard suggests engaging in an activity that helps disintegrate the anxiety, like listening to music or going for a run. This way you can insert a bit of fun into it, instead of stress.

"I have many clients suffering from anxiety and depression not realize it's because of a toxic relationship," Leonard says. "It eats away their self-esteem. Their partners have them believing that they are incompetent, or selfish. Sometimes it takes years for people to realize that their depression and their anxiety comes from their relationships and that they have been dismantled." Get happy now: You may need some help with this one. First, read up on the signs that your partner may be abusive. Then, consult either a professional, a family member or a close friend to help you recognize the signs.

You trip on a crack in the sidewalk, and instead of shrugging it off, you cower with embarrassment. If that sounds like you, it's time to find some ways to laugh more. "There are many studies showing the benefits of laughter on our health and this includes mental health," Leonard says. "Laughter is the fast medicine for anxiety and depression." Get happy now: Seek out humor every day. Watch a funny TV show, listen to the Laugh USA channel on SiriusXM Radio, or spend time with friends who make you smile. You could even try volunteering with kids -- they really do say the darndest things.

"Sleep affects everything," says Diedra L. Clay, PsyD, chair and associate professor of the counseling and health psychology department at Bastyr University, "emotional and mental capabilities, as well as our bodies' functioning. Sleep is our bodies way of regenerating and without it the system malfunctions." Get happy now: Try to figure out why you aren't sleeping and then take the steps to create a restful environment.

Between kids, work, marriage and other activities, you can't find a moment to be alone (and locking yourself in the bathroom doesn't count). Leonard stresses the importance of finding time for yourself, whether it is 10 minutes, an hour, or a day. Without taking the time to do things for yourself, depression and anxiety creep in, says Leonard. Get happy now: Schedule an appointment for you time. And more importantly, keep it.

If you primarily use texting, Facebook and other social media to stay in touch with friends, you're not having meaningful contact -- and chatting up the Starbucks barista every morning doesn't count. "Facebook pages are entertainment," Clay says. "These are not true conversations that allow us to understand people. Instead, it lessens our experiences and feelings." Michael Mantell, Ph.D., a behavioral sciences coach based in San Diego, Calif., agrees. "Personal electronics (like smartphones) have also impacted attention, demands for immediate gratification and expectations that the press of a button can lead to instantaneous connection," Mantell says. "We have also learned to not have face-to-face connections, only virtual. This impacts our ability and interest in sitting in the same room with someone, and actually talk with people face-to-face." Get happy now: "At the end of or lives, the number of followers we have doesn't matter," Clay says. "But friends do." Make sure to schedule a date with a friend, family member or partner at least once week.

When was the last time that you were completely electronic-device free? Can't remember? Not a good sign. "With all the devices we have, it tends to overstimulate us," Clay says. "And if we are always on, then we never truly rest and regenerate our bodies and our minds." Eventually, this can manifest itself as depression or anxiety. Get happy now: Create an electronic sabbath, where you abstain from all devices once a week, even if just for half a day.

We're all guilty of multitasking: We take lunch at our desks, scroll through Facebook while watching TV and text pretty much constantly. Research shows that although many people believe they're being more productive by multitasking, that's not actually the case -- it just leaves us stressed out, oblivious to our surroundings and unable to communicate effectively. Get happy now: It's simple, really: Put down the phone, turn off the television and pay attention to what you are doing and what is going on around you. Allowing your brain to process everything that is happening to you in real time (and not broadcasting it to your social media followers) may be the best thing you can do for your mental health.
Follow Sandy Kiaizadeh on Twitter: www.twitter.com/FindYourBliss