My 3 Per Cent Chance of Winning a Juno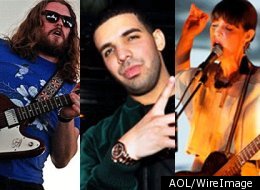 My mom called to say that someone at her synagogue told her that I was nominated for a Juno Award and that she should be proud of me. Weeks prior I had told her over dinner that I was nominated and she responded with a shrug and asked me if the soup was too salty. That was a few years ago. My first Juno nomination. We haven't spoken since.
Just kidding. We talk all the time. But her cultural ambivalence regarding what I do keeps me humble. For those like my mom, the Junos are Canada's music awards. Our Grammys. This year, I'm off to the Junos again with another nomination.
I'm not a musician. I'm a director. I'm nominated (again) for Best Music Video.
Last time I went to Calgary for the awards for this Tokyo Police Club music video. This time I'm off to Regina for this video for Burlington supersensations Walk Off the Earth. Last time I went, I lost. This time I'm feeling like we've got a 3 per cent chance...give or take. It's great competition all around and I'm thrilled to be nominated.
For a video director at a music festival it is pretty fun. You walk the red carpet as people ask if you're anybody. I'm used to it. I get to pretend to be anyone I want. Maybe I'll be a Nickelback backup singer. A Nickelbacker.
This is my first time blogging in any form. I don't really know how it's supposed to go or how many people read these. So let's make this fun. I'll try and blog drunk at night. I'll regale you with tales of me trying to sneak into parties and trying to get free swag that all the fancies get. Mostly you can laugh at me getting turned away. Foolish filmmaker. One day you'll be a musician.
BONUS POINTS: Leave a note below with a question, comment or dare. I'll try to answer everything and take on all challenges.
Want me to try to swap shirts with Michael Bublé? I'm up for it. Talk Avril into stealing a car? Let's roll. Streak during Billy Talent's performance... sure. Just ask me nicely.
The Junos in Regina. The city that rhymes with Fun.
Top All-Time Juno Award Winners
The pride of Springhill, Nova Scotia, Anne Murray is the most celebrated Juno winner. The bulk of Murray's wins fall in the Top Female Vocalist and Country Female Vocalist of the Year categories, accounting for 16 of her 24 Juno Award wins. But the feeling was not always mutual. Murray boycotted the Junos starting in 1975 due to what she perceived to be the amateur production behind the show. Murray would eventually return to the Juno stage, to a standing ovation, and was inducted into the Juno's Canadian Music Hall of Fame in 1993. 

Quebec's Celine Dion has, not surprisingly, won in both French and English categories. Her first win came in 1991 for Female Vocalist of the Year, a prize she would also bring home on five other occasions. Her first Francophone Juno win came in 1993, awarded the Best Selling Francophone Album for "Dion Chante Plamondon." Dion is up for another three awards this weekend including Juno Fan Choice Award, Adult Contemporary Album of the Year and Album of the Year for last year's French-language "Sans Attendre."

Bryan Adams was Canada's breakout star in the 1980s, having sold more than a reported 12 million copies of his 1984 album "Reckless" worldwide. Not surprisingly, Adams became a frequent visitor on the Juno Awards stage between 1983 and 1987 when he brought home 10 of his 19 Juno Awards. While his most recent Juno win was in 2000 for Best Male Artist, Bryan Adams was inducted into the Canadian Music Hall of Fame in 2006 and was awarded the Allan Water Humanitarian Award in 2010.

Alanis Morisette is no stranger to the Juno Awards stage. She was awarded the Most Promising Female Vocalist of the Year Award in 1992 but her real success came after breakthrough 1995 album "Jagged Little Pill." That record helped the artist nab five Junos in 1996 alone. Her most recent win was in 2009 for Pop Album of the Year for her record "Flavors of Entanglement." And of course, who could forget Morissette's pubic, er, public display against censorship when she hosted the 2004 Juno Awards ceremony?

It was somewhat prophetic that the first Juno Award win for Kingston's The Tragically Hip would be for Most Promising Group of the Year in 1990. Inducted into the Canadian Music Hall of Fame in 2005, The Hip's reputation stemmed from their live shows and the frenetic performances of vocalist Gord Downie. Arguably one of Canada's best-loved bands, the group has brought home the most Juno hardware in the categories of Group of the Year and Entertainer of the Year. Their most recent Juno Award was for their 2006 Box Set / DVD "Hipeponymous."

Growing up in Timmins, Ontario, some might argue that Shania Twain is an unlikely country star. But what a star she is, claiming more than 60 million records sold worldwide in addition to 13 Juno Awards. She is also one of just a few entertainers on our list that can also lay claim to having been a Juno Awards host in addition to winner. She hosted the 2003 Juno Awards ceremony in Ottawa.

From 1968 through 1978, not one year passed without the iconic Gordon Lightfoot having won a Juno Award or an RPM Award (the predecessor to the Junos). Five of his wins came from the Folksinger of the Year Category while, not surprisingly, his song "The Wreck of the Edmund Fitzgerald" helped him win Composer of the Year in 1977. In 1986, Lightfoot was inducted into the Canadian Music Hall of Fame while in June 1998, Lightfoot was among the inaugural group of stars given a spot on the Canadian Walk of Fame.

The Montreal Symphony Orchestra has been racking up Juno Award wins over the past 30 years. Their first win came for Best Classical Album of the Year in 1982 for "Ravel: Daphnis et Chloe" and their most recent win was in 2012. Incidentally, every one of the Montreal Symphony Orchestra's Juno wins have been in the category of Classical Album of the Year.

Inducted into the Canadian Music Hall of Fame last year, this roots-rock institution has earned 12 Juno Awards since 1989. Oddly enough, when the band was coming off the biggest selling album of their career, "Five Days In July," the group did not win the awards for Best Video ("Bad Timing") and Album of the Year ("Five Days In July") at the 1995 Junos. Not surprisingly, the band's spirited performance of their classic hit "Lost Together" at last year's Juno Awards proves, beyond reasonable doubt, why they are one of Canada's best live bands.

While they might be one of the most despised bands in rock music today, there can be no denying that Nickelback is also one of the most successful ones. Here at home, the group has brought home a dozen Juno Awards in the categories of Group of the Year and Album of the Year. The group was also received the Juno Fan Choice Award in 2004 and 2009, proving that for every hater of the band, there are far more people that support them.

One of Canada's most politically outspoken musicians also happens to be one of the Junos most celebrated artists. At this weekend's ceremony, Cockburn will be crowned the 2013 Juno Awards Sustainability Ambassador, tasked with helping the Junos raise awareness about actions being taken to reduce their carbon footprint. Cockburn has long been concerned with the environment, having taking public stances on pollution, native rights, land mines and Third World debt. Bruce Cockburn was inducted into the Canadian Music Hall of Fame in 2001.

Considering that Michael Buble made his major label debut in 2003, he has racked up an impressive amount of Juno Awards over the past decade. Later this year, Buble will be adding the title of father to his resume, but in the meantime, expect some good laughs when he hosts this year's Juno Awards. Buble should prove to be a great Juno Awards host as he has a wicked sense of humour, as evidenced by his backstage shenanigans with Russell Peters in 2009. http://youtu.be/uselT5gCz5o

It might be 24 years since he won his last Juno Award, but that doesn't mean folk artist Murray McLauchlan isn't well-liked by the Junos. After his first Juno Award in 1974 for his track "Farmer's Song" (Folk Single of the Year), McLauchlan has won the Country Male Vocalist of the Year category on seven different occasions. McLauchlan's four other Junos come from the categories of Folksinger of the Year, Best Songwriter and Folk Single of the Year.

Feist's initial pair of Juno wins in 2005 would prove to be the calm before the storm. For just a few years later, riding high on the success of her internationally acclaimed album "The Reminder," she walked away with five Juno awards including Artist of the Year and Album of the Year. After being presented her Juno Award for Single of the Year by fellow Albertan Corb Lund, Feist amusingly read her acceptance speech off her arm.

B-B-B-Baby, Randy B-B-B-Bachman has been the recipient of almost a dozen Juno Awards thanks to his work with two legendary Canadian groups: The Guess Who and Bachman-Turner Overdrive. The Guess Who were awarded the Top Vocal Instrumental Group in 1970 and 1971 and were subsequently inducted into the Canadian Music Hall of Fame in 1987. BTO then claims the balance of Bachman's Juno collection including awards for Group of the Year (1975, 1976) as well as a pair of awards for Best Selling Album ("Not Fragile," 1975 & "Four Wheel Drive," 1976).

Victoria, B.C. sweetheart Nelly Furtado struck Juno gold early in her career, bringing home an impressive four trophies in 2001. After earning Single of the Year for "Powerless" in 2004, Furtado's international success with her 2007 dance-oriented album "Loose" earned her another five awards including Juno Fan Choice, Artist of the Year, Album of the Year, Single of the Year ("Promiscuous") and Pop Album of the Year. In addition to sweeping the 2007 Junos, Furtado also served as the show's host.

Founded in 1979, Tafelmusik Baroque Chamber Orchestra is one of Canada's longest-running classical acts. With the exception of the 2006 Juno Award for Children's Album of the Year for "Baroque Adventure: The Quest For Arundo Donax," each of the orchestra's other wins have been in the realm of Classical Album of the Year.

Interestingly, Neil Young had never won a Juno Award prior to being inducted into the Canadian Music Hall of Fame in 1982. In fact, Young's first Juno Award win was for Album of the Year in 1994 for "Harvest Moon." Since then, Young has twice won Adult Alternative Album of the Year, Producer of the Year and Artist of the Year in addition to having been awarded the Allan Water Humanitarian Award in 2011. The latter is a much deserved honour considering Young's history of having co-founded Farm Aid as well as his annual Bridge School benefit concerts.

Rush's first Juno Award win for Most Promising Group of the Year in 1975 also proved to be prophetic. Although they have never been commercial darlings, Rush is beloved by fans all around the world, having been inducted into the Canadian Music Hall of Fame in 1994. They go into the Junos this weekend with a pair of nominations to complement the other eight Junos already in their arsenal -- not to mention this week's induction into the Rock & Roll Hall of Fame. When the group won the 1991 Juno for Best Hard Rock / Metal Album ("Presto"), it ended a 12-year Juno-less drought for the band.

Sarah McLachlan's history with the Juno Awards has been infrequent at best. She first won in 1992 for Best Video ("Into The Fire") but it would be until 1998 that she would win again. Mind you, she took home four awards that year, no doubt buoyed by the international success of her 1997 album "Surfacing." She went into the 2011 Junos with a trio of nominations for her "Laws of Illusion" album but she's not taken a Juno Award home since 2004.