How I Beat Stress (Plus 14 Recipes To Help Boost Your Mood)
For as long as I can remember, I believed that it was my calling to make a difference.
This translated into a disconcerting habit of having an ambitious "to do" list and never feeling fully satisfied or impressed with myself. Surely, I could do more, be more, make a bigger difference. When I fell short of the list I would reassure myself with what I deemed was a supportive mantra "Believe; you can do it!"
It wasn't until I got married and became a mother, that I discovered the impact of my gruelling schedule. I found myself exhausted, overflowing with worry and disconnected with myself. The thing is, with these magnificent changes that occurred in my life -- my list grew -- with even less time to dedicate to it. I was staunch in my belief that the cadence could not be impacted. Soon enough, there was spillage (a lot of it!).
I found myself struggling, and could not get off the hamster wheel.
This is familiar territory for anyone grappling with stress. And am not talking about the good stress -- a type of mild stress that can inspire you to achieve a given task or goal. Am referring to its evil twin; the one that drags you down.
Chronic stress, with an overexposure to stress hormones, can cause havoc to bodily processes, increasing the risk of numerous health problems: high blood pressure and heart disease, colds, asthma, digestive disorders and cancer, to name but a few. Emerging research also lends support to the idea, that high levels of stress may accelerate the aging process.
For me, stress manifests itself fiercely. It's not a pretty sight. It's all-consuming -- physically, mentally and spiritually. I battle with sleep deprivation, suffer from aches and pains, feel anxious, exhausted and struggle to focus. For my husband, it reveals itself as irritability and sadness.
I must confess, I was intrigued to learn that women and men react to stress differently, and its impact on their bodies varies markedly. Prolonged exposure to stress, for women, may have greater impact on their physical and mental health. As we (women) "grow" through life, hormonal changes associated with premenstrual, post-partum and menopausal changes can make us more vulnerable to stress.
It would be foolish to think that stress only impacted me. I could see it in the eyes of my daughter or in the way it played out in my son's behavior. They were mirroring me. And when I saw my reflection in them, I didn't like what I saw. It was a harsh awakening. I realized, I had to work on myself, and find ways to better manage the list.
My husband shares with me the analogy of fixed capacity: When packing your suitcase, you cannot take everything, and need to be selective -- only take essential items. And if there's still some room, then you can fit more. By squeezing in too much, you run the risk of either breaking the suitcase and/or damaging the items inside. I think what's he's trying to convey is: Know your limits and focus on the things that really matter. We argue on this point, because I turn around and say, "Everything is important." He then goes into explaining "cost of delay," but I'm done listening and give up.
I know, his wisdom carries weight.
5 nuggets to help you beat stress
Recognize the red flags. For me, the tendency to assign blame is a warning sign. So is feeling low in energy. Stress is your body's way to alert you, like a survival mechanism. Notice the signs and re-calibrate.
Know your limits. Knowing when to stop and appreciating when something is good enough, is vital to prevent burnout. Learn to say no to yourself and others and strive for better balance.
Anchor yourself to your higher purpose. I often ask myself, "what's the point?" This helps to justify my decisions and priorities to ensure my choices are aligned with my higher purpose.
Surrender. It's not about giving up. Quite the contrary. Surrendering is accepting you cannot always win. The only thing you can control is the effort you're putting in, not the outcome. And that is enough.
Don't take yourself for granted. How easy is it to neglect ourselves? Taking the time to rest, heal and rejuvenate must be a priority, without guilt. I schedule time in my diary daily for self-care. It includes prayer, family-time, yoga, reading, and healthy eating.
Stress Busting Foods (with Recipes)
You may be a surprised to hear that the foods you eat can play a significant role in how effectively your nervous system operates to handle stress. Discover the foods that have shown to relief stress.
Chickpeas
1.  Dark Chickpea salad, by Desi~licious RD, Shahzadi Devje
2. Chickpea Kale Curry With Spaghetti Squash, by Delicious RD, Shahzadi Devje
Oatmeal
3. Berry and Cinnamon Oatmeal, by Desi~licious RD, Shahzadi Devje
4. Blender Bliss Oatmeal Cookies, by Desi~licious RD, Shahzadi Devje
Salmon
5. Orange Maple Salmon, by Jessica Fishman Levinson MS, RDN, CDN of Nutritioulicious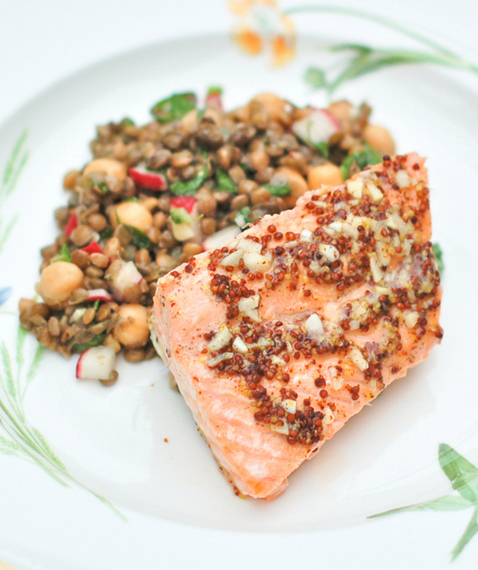 Credit: Jessica Fishman Levinson
6. Honey Grilled Salmon, by Charlene Pors, RD. Owner of Euphoria Nutrition
Blueberries
7. Blueberry-licious Smoothie Bowl, by Lauren O'Connor, RD. Owner of Nutri Savvy Health
8. Wild Blueberry and Lavender Smoothie, by Emily Kyle, MS, RDN. Owner of Emily Kyle Nutrition
Turkey
9. Roasted Turkey Breast, by Jennifer Lynn-Pullmann, RD. Owner of Nourished Simply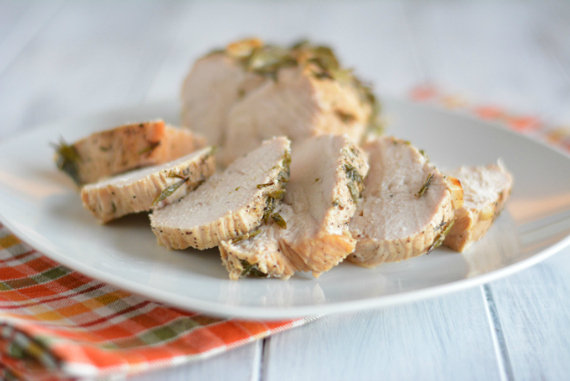 Credit: Jennifer Lynn-Pullmann
Dark Chocolate
10. Chocolate Mint Berry Quinoa Bowl, by Sarah Schlichter, MPH, RDN of Bucket List Tummy
Milk
11. Instant Iced Latte, by Dixya Bhattarai, RD. Owner of Food, Pleasure & Health
Leafy Greens
12. Wilted Spinach Salad With Goat Cheese, by Meri Asterino Raffetto, RD, Real Living Nutrition Services

Credit: Meri Asterino Raffetto
13. Breakfast Salad, by Danielle Cushing, RD, LDN, CNSC. Writer at The Every Kitchen
Pumpkin Seeds
14. Chewy No Bake Granola Bars, by Maria Westberg Adams RD. Owner of Halsa Nutrition
Follow HuffPost Canada Blogs on Facebook
Also on HuffPost:
Try the "chocolate meditation" technique. This allows you to fully savor the sweet treat. Instructions here.

Write your worries down in a journal.

Peel an orange. Studies show the smell of citrus can help reduce stress.

Read a book for six minutes.

Eat an avocado. The monounsaturated fats and potassium in the superfood can lower blood pressure.

Take a walk in green space.

Hang out with your BFF.

Spend a few minutes focusing on your breath.

Take a power nap.

Bring your dog to work. Research suggests having Fido in the office can lower stress levels throughout the day.

Listen to Mozart.

Try some aromatherapy. One 2009 study found it's an effective stress-relief technique, especially for high school students.

Let out a laugh.

Get a massage.

Give someone a big hug.

Belt it out at karaoke...

...Or sing in your church choir.

Do a small project or craft.

Take up knitting. Research shows the activity puts your brain in a state of flow similar to the one achieved through meditation.

Speaking of which, try a little mindfulness meditation.

Have sex.

Unsubscribe from all of those promotional emails.

Kiss a loved one.

Call your mom.

Do a progressive muscle relaxation exercise.

Take an email vacation. (Bonus: It also makes you more productive.)

Forgive someone.

Think about something you're grateful for.

Exercise. Research shows it helps boost the body's ability to handle stress.

Be mindful of how you deal with frustration during an argument.

Drink black tea.

Power down that smartphone for a few minutes.

Walk the walk. Research shows if you carry yourself like a happy person, you'll feel happier, too.

Drink some orange juice.

Chew gum.

Reflect on what (and who) is important in your life.

Eat foods rich in omega-3 fatty acids. Bring on the salmon!

Tap into your religious beliefs.

Look into a less stressful job.

Live in Salt Lake City (or just take a visit). It was named the least-stressed city in the country in 2014.

Walk or bike to work.

Listen to soothing nature sounds.

Eat a bowl of oatmeal.

Give acupuncture a try.

Flash a smile at someone.

Do some guided imagery exercises.

Get a plant for your house or your desk.

Let yourself have a good cry.

Eat some dark chocolate.

Get in touch with your inner yogi. Try one these yoga poses, specifically geared toward reducing anxiety.

Say no. You can do anything, but not everything.

Have an orgasm.

Take a laughter yoga class.

Think positive thoughts.

Dance it out. Not only does it reduce stress, it can also boost your memory.

Take a warm bath.

Surround yourself with the scent of pine...

...Or the aroma of vanilla.

Float in water.

Sleep. Not only is it crucial to zapping stress, it's key to your daily happiness. "When we're exhausted, we drag ourselves through the day instead of enjoying the day," HuffPost president and editor-in-chief Arianna Huffington once said.

De-clutter your home or your desk.

Become a morning person. (Or at least embrace the morning.)

Spend time around horses.

Focus on one task at a time.

Pay attention to your surroundings.

If you're a smoker, quit.

Watch 3-D videos of trees. (Really!)

Go to the beach.

Distance yourself from stressful people in your life.

Repeat a positive affirmation. Looking for a few examples? Try these.

Choose not to wait in line.

Spend time with the person you're in love with.

Drink a cup of green tea.

Feel free to ignore your boss while you're on vacation.

Embrace aging.

Try a "mood monitoring" exercise. Find tips on how to do it here.

Take a break from social media.

Use a little foul language (in the right company).

Share a meal with a friend.

Let out a deep sigh...

...Or a primal scream.

Make a silly face.

Close your eyes, even for just a few moments. (But don't do it while you're driving.)

Brush your hair.

Do something nice for someone else. Good karma and less stress? Win.

Give yourself some quiet time.

Write your thoughts on a piece of paper, then physically throw them out.

Stare at the color blue.

Look at old photographs.

Set "stress boundaries." If someone -- or something -- is starting to stress you out, step away from the situation.

Go for a run.

Color a picture. This activity isn't just for kids!

Pet your dog or cat.

Look out the window.

Try a de-stressing app. Programs like Headspace, Calm and our own GPS for the Soul are designed to reduce stress.

Use your imagination and look at your life like scenes in a movie.

Count to 10, then count backward.

Spend a little time in the sun. (Just wear your SPF!)

Take a lunch break away from your desk.

If your stress becomes unmanageable or overwhelming, consider seeing a therapist.
Follow Shahzadi Devje on Twitter: www.twitter.com/desiliciousrd