5 Reasons You Should Protest Marineland This Saturday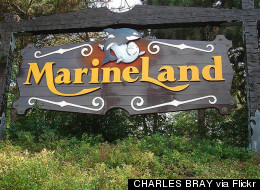 Any Canadian who has picked up a paper or watched the news in the last nine months knows Marineland has been in a lot of hot, over-chlorinated water since 15 ex-employees decided to speak out about animal abuse and neglect at the park this past August. Following the Toronto Star-led expose, a number of pre-announced inspections were conducted, including an investigation by the OSPCA, which dragged on for eight months and did nothing but give Marineland the time and space necessary to launch a number of major lawsuits targeting key whistleblowers, community organizers and even the Toronto Star.
Despite all of the negative publicity, Marineland remained in business until its closing day on Oct 7, 2012, when more than 800 people showed up at the park; a welcoming committee for would-be park visitors, kindly imploring them to spend their hard-earned money entertaining their families elsewhere. The demonstration gained international news coverage, and supporters from across the world were hopeful it would truly be Marineland's last day.
Unfortunately, it wasn't. Despite October's epic demonstration and all of the publicity surrounding the ex-employee testimonies, Marineland managed to survive the winter, making two desperate additions. First, a brand new fence to keep peaceful protestors as far away as possible from their beleaguered profit centre, and second, a new PR bigwig whose first order of business appeared to be launching American-style attacks ads against their opposition.
Marineland is set to open again this Saturday, crossing its fingers that people will have forgotten about the suffering of the animals it holds captive, and eager to start making money.
This is why we need you (yes you!) to be at the Marineland Opening Day Demonstration on Saturday. Because despite what the regulators and investigators and even the petition-makers would have you believe, nothing is more powerful than real people taking a real stand, in numbers too big to be ignored. Marineland wants nothing more than to silence and intimidate its critics, which is why the most important thing we can do is make it abundantly clear that we are not quiet and we are not afraid. Our laws, regulations and enforcement may have failed the animals and employees at Marineland, but we won't.
So what's your excuse? Busy? Live too far away? Never been to a demonstration? To help you get past those concerns, I've prepared these five reasons you should be at Marineland this Saturday.
1) You Want To Make History
With more than 1,000 people already expected to attend, the Marineland Opening Day Demonstration is set to become the largest animal advocacy demonstration in Canada's history. Each person who shows up makes a huge difference in our ability to get Marineland's, and the world's, attention.
2) You Want To Take the sting out of Marineland SLAPPs
Since the Toronto Star stories broke, Marineland has launched multiple strategic lawsuits against public participation (SLAPP) intended to encumber the 15 ex-employees who have been courageous enough to speak out against the park. Marineland has also targeted organizers, and even the Toronto Star. It is imperative that the legal system be used to hold Marineland accountable for its behaviour, not to silence legitimate opposition. Attending on Saturday is communicating solidarity with targeted whistleblowers and organizers, who need your support, now more than ever.
3) You Want To Support The Children
Children all across the country are taking a stand for the animals at Marineland, with many of them expected to attend the Opening Day Demonstration on Saturday. One of these inspiring young advocates is Vijay Singh, who has folded over 1,000 Origami whales for the animals at Marineland. In Japanese folklore, if you fold 1,000 origamis, you will be granted one wish. Vijay's wish is to free the animals at Marineland. The current record for most Origami Whales publicly displayed is 1,500. With help, Vijay can break this record and have his efforts officially recognized! For a guide on how to make whale origami, click here.
4) It's a Safe, Family-Friendly Event
As anyone who attended the Closing Day Demonstration at Marineland in October can attest, Marineland Animal Defense (M.A.D.) takes great care to organize demonstrations that are legal, safe, inclusive, fun and family-friendly. You don't have to bring a sign and you don't have to yell or chant. Marshals will be on site to make sure everything runs smoothly and the only thing you really need to bring is yourself!
5) You Don't Live That Far Away
A significant proportion of the people who will read this post live less than 100 miles from Marineland. Marineland steals animals away from their families and natural homes, thousands of miles away. Making the trip on their behalf is a beautiful way to show solidarity with what they've been forced to endure, and since the demonstration is only two hours long, most of you will be home in time for dinner! For those of you without a car/ride or access to public transit, bus information can be found here.
So if you're like me, and the suffering of those animals brought you to your knees, I hope you'll let Saturday bring you to your feet, surrounded by hundreds (and possibly thousands) of people, just like you, taking a stand.
Here's hoping I see you there!
If you can't attend in person, be a virtual supporter with Thunderclap that day.
Cookie Smith shows off a normal egg and a "super egg" Wednesday, May 30, 2012, in Abilene, Texas. Cookie Smith went to collect eggs from her three laying hens on Monday afternoon, and discovered one normal egg and one "super egg" in her coop.

Bruschi, a four-year-old black and white Boston Terrier, who lives with his owner, Victoria Reed, in Grapevine, Texas, holds the Guinness World Record for "dog with the largest eyes" -- a whopping 1.1 inch in diameter.

This May 9, 2012 photo provided by the New England Aquarium in Boston shows a rare calico lobster that could be a 1-in-30 million, according to experts. The lobster, discovered by Jasper White's Summer Shack and caught off Winter Harbor, Maine, is being held at the New England Aquarium for the Biomes Marine Biology Center in Rhode Island. The lobster is dark with bright orange and yellow spots. (AP Photo/New England Aquarium, Tony LaCasse)

Bee removal expert Gary Schempp removed a 25-pound hive from the attic of a home in Cape May, N.J. The hive had 30,000 bees living in it.

An English man named Brian Watson killed a large rat his granddaughter's boyfriend found while cutting grass on April 21, Sky News reports. The water rat was so large, Watson broke a boat paddle trying to kill the critter.

Two fishermen in northeastern Mexico claim they netted a dead great white shark estimated to be near 20-feet-long on April 15, 2012.

This March 8, 2012 photo shows Nicole Andree feeding a hamburger to her dog, Prada, a 4-year-old pit bull mix, at an animal control facility in Nashville, Tenn. Andree is fighting a lengthy legal battle to save her dog's life after the animal was ordered euthanized for attacking other dogs.

The Stargazer fish which bears an uncanny resemblance to Homer Simpson. (Caters News / Getty Images)

After driving about 85 miles to Santa Cruz, Calif., a man discovered that this runaway kitten had been inside his car's engine in March 2012.

At two weeks old, Beyonce, a Dachsund mix born at a Northern California animal shelter, is just under four inches long and is in the running for the title of World's Smallest Dog. Here she is pictured resting on an iPhone.

This adorable injured baby pig was found roaming a hotel lobby near Honolulu's airport. The Hawaiian Humane Society renamed her Pukalani and says she'll be available for adoption later in March.

TOKYO - JANUARY 20: A woman strokes a cat at Nekorobi cat cafe on January 20, 2009 in Tokyo, Japan. Changes to Japan's Animal Protection Law threaten the future of these furry bars by imposing a curfew on cats and dogs. (Photo by Junko Kimura/Getty Images)

This newly released video taken during the summer of 2011 allegedly shows a living woolly mammoth crossing a river in Siberia. There is much speculation and debate as to whether this is, indeed, a living specimen of prehistoric elephant-related animals that were thought to be extinct.

A rare, mostly white-colored penguin was discovered in Antarctica in early January 2012. The picture was snapped by naturalist David Stephens.

This stray orange tabby in Houston earned the nickname 'Cupid' after he survived a piercing shoulder to shoulder wound in January 2012. A vet safely removed the arrow and 'Cupid' is expected to make a complete recovery.

Lucy, a mini Yorkshire terrier from Absecon, New Jersey, is now in the Guinness Book of World Records. Weighing just 2 1/2 pounds, Lucy was named the world's smallest working dog last week, bumping out a 6.6-pound police dog in Japan.

Undated Cats Protection handout photo of 4-month-old polydactyl kittens named Fred (left) and Ned (right), currently in the care of Cats Protection, Gosport Town Branch in the United Kingdom. They will shortly be going to their new home once they've been neutered. Ned has an extra eight digits, while his brother Fred has 10 more than the usual 18, making a total of 54 digits between them.

A man holds a crocodile with tape around its mouth, as workers from the Natuurhulpcentrum, a wildlife rehabilitation center, collect several crocodiles at a villa in Lapscheure, near the Dutch border, on Dec. 22, 2011. Police discovered eleven Nile crocodiles and one alligator (all alive) in a villa rented by a German man, Rolf D., during an investigation into financial fraud.

Booie, a chimpanzee that kicked a smoking habit and used sign language to beg for candy, died at the age of 44 at a California animal refuge in mid-December.

Rick Nadeau has saved up quite a nut by creating taxidermied squirrels that he puts in unusual outfits. He sells his works starting at $65 all the way up to $200.

In this Sept. 4, 2011, photo, Mayor Cox Elorde of Bunawan township, Agusan del Sur Province, pretends to measure a huge crocodile, known as Lolong, which was captured by residents and crocodile farm staff along a creek in Bunawan late Saturday in southern Philippines. Elorde said that dozens of villagers and experts ensnared the 21-foot (6.4-meter) male crocodile along a creek in his township after a three-week hunt. It was one of the largest crocodiles to be captured alive in the Philippines in recent years.

Skywalker, a rodeo bull in Hawaii, could not eat or drink while a 50-pound tire was stuck around his head. A ranch hand was able to pry it off after Skywalker exhausted himself, allowing the worker to get near the cranky animal.

Yakini the gorilla received a medical check-up from vets at Melbourne Zoo before being moved to a new multimillion-dollar exhibit at Werribee Open Range Zoo, on Oct. 28, 2011, in Melbourne, Australia.

Fishermen landed a three-eyed fish in Argentina near a nuclear reactor in October 2011.

Roman Akisen carries Cip, a 5-year-old German shepherd who found 18-year-old Imdat Padak alive under the rubble of a collapsed building more than 100 hours after a magnitude 7.2 quake, in Ercis, Turkey, Oct. 28, 2011.

Dr. Doug Luiten drills the tooth of Kunali, a 300-pound, 7-year-old Siberian tiger, during root canal surgery at the Alaska Zoo in Anchorage, Alaska, Oct. 20, 2011. This was the first procedure in a recently opened operating room and the first for the zoo's new veterinary table, complete with hydraulic lift and fold-out leafs to accommodate limbs and tails.

This New Hampshire moose was swimming a little too deep, forcing nine rescue workers to help remove it from the pool.

Gil Florini, of Saint-Pierre-d'Arene's church, blesses donkeys with holy water after a mass dedicated to animals on Oct. 9, 2011, in the southeastern French city of Nice.

Fizz Girl, a Munchkin Cat from San Diego, Calif., has grabbed the record title for Shortest Living Cat. Measuring in at just 6 inches tall from floor to shoulder, Fizz Girl weighs 4 pounds, 2.3 ounces. Munchkin cats are a special breed that have little legs caused by a naturally occurring genetic mutation.

This is the jaw-dropping moment a canoeist landed a 6-foot shark after it dragged him through the water for 10 minutes. Brave Rupert Kirkwood, 51, had paddled a mile off the United Kingdom's Devon coast when he suddenly felt a snag on his line. The 70-pound beast nearly pulled him overboard, before pulling his 16-foot canoe through the water as he desperately clung on. After 10 minutes of wrestling with the beast, he eventually hauled the massive fish on board.

A newborn African elephant lifted his trunk in search of his mother at the San Diego Zoo Safari Park. In this rare moment, the calf stood alone after he had wandered off a few steps, but shortly thereafter, his mother, 5-year-old sister Khosi (koh-see), and 2-year-old brother Ingadze (in-Gahd-zee) rushed over to tend to the unnamed calf. The Safari Park is now home to 18 elephants (eight adults and 10 youngsters).

Elephant polo players from the Spice girls team (left) and the British Airways British Army team battle it out for 5th place during the final day at the King's Cup Elephant polo tournament Sept. 11, 2011, in Hua Hin, Thailand.This year marked the 10th edition of the polo tournament with 12 international teams participating for the unusual annual charity sports event.

An orangutan in Malaysia is kicking its smoking habit. Wildlife officials have removed Shirley from a state zoo after the captive primate was regularly spotted smoking cigarettes that zoo visitors had tossed into its enclosure.

Tha Sophat, a 20-month-old Cambodian boy, suckles from a cow in Koak Roka village, Siem Reap province, Cambodia, Friday, Sept. 9, 2011. Tha Sophat started suckling the cow in July after he saw a calf do the same since his parents moved to Thailand in search of work, said his grandfather UmOeung.

This tiny porker has an excuse for making a pig of himself at mealtimes. He really does have two mouths to feed. The bizarre two-month-old youngster -- part of a litter born on a farm in northern China -- can use both his mouths to eat and appears otherwise normal, say his owners.

A moose is seen stuck in an apple tree in Gothenburg, Sweden, September 6, 2011. The police believe the moose was trying to eat apples from the tree and became intoxicated by fermented apples. The moose was freed by police officers and after a dose on the lawn, he sobered up and returned to the woods.

Brook Collins holds her dog, Fudge, at her home in Juneau, Alaska on Tuesday, Aug. 30, 2011. Collins punched a black bear in the snout after the bear attacked Fudge on Sunday, Aug. 28.

Motala, age 50, rests in the afternoon sun with the new prosthetic made for her at the Friends of the Asian Elephant (FAE) elephant hospital in the Mae Yao National Reserve August 29, 2011 Lampang,Thailand. Motala lost a foot many years back after stepping on a land mine and now is on her third prosthetic, as they need to be changed according to the weight of the elephant. The world's first elephant hospital assists in medical care and helps to promote a better understanding of the elephant's physiology, important in treating them for illness. For generations elephants have been a part of the Thai culture, although today the Thai elephant mostly is domesticated animal, since Thailand now has few working elephants. Many are used in the tourism sector at special elephant parks or zoos, where they perform in shows. In some cases Thailand is still deals with roaming elephants on the city streets, usually after the mahout, an elephant driver, becomes unemployed, which often causes the elephant serious stress.

Indian army personnel use a bulldozer during a rescue mission to save a wild elephant trapped in a water reservoir tank at Bengdubi army cantonment area some 25 kms from Siliguri on August 30, 2011. A wild elephant fell into the water reservoir tank as a herd crossed the area. Army personnel of 16 Field Ammunition Depot along with wildlife elephant squad of Mahananda wildlife sanctuary joined forces to save the animal.

Lisa Marie Bach leads her pet rabbit Marie through an obstacle course in the middle-weight category at the 5th Open Rabbit Sport Tournament (5. offene Kaninchensport Turnier) on August 28, 2011 in Rommerz near Fulda, Germany. Eighty rabbits competed in light-weight, middle-weight and jumping-for-points categories at today's tournament in Rommerz that is based on Kanin Hop, or Rabbit Hopping. Rabbit Hopping is a growing trend among pet rabbit owners in Central Europe and the first European Championships are scheduled to be held later this year in Switzerland.

North Carolina Zoo Chief Veterinarian Dr. Mike Loomis recently returned from Bayamon, Puerto Rico, where he helped perform a dental procedure on a 3,000-lb. old friend. Loomis, along with veterinarians and keepers from the Parque de las Sciencias museums in Bayamon, conducted dental surgery on "Tomy," a 39-year-old male hippopotamus that the N.C. Zoo veterinarian has been treating on a semi-regular basis for two decades.

Winter, a six-year-old dolphin at the Clearwater Marine Aquarium in Florida, lost her tail when she was three months and now uses a prosthetic tail made especially for her.

"Otis'' the pug gets his harness put on him before making his 64th skydive at the Parachute Center in Acampo with his master, veteran skydiver Will DaSilva of Galt. Otis knows that harness means he's going skydiving and sits patiently while it is put on him.

John Huntington poses with one of his chickens on a lead in Sydney, Australia, on Aug. 15, 2011. Mr Hungtington's 'City Chicks' are chickens for those living in an urban enviroment, complete with small walking leads and harnesses and elasticised nappies. 'City Chicks' will be showcased at Sydney's ABC Gardening Australia Expo.

A dolphin flips in the air and splashes water over a watching crowd during a summer attraction at an aquarium in Tokyo on August 17, 2011. Theme parks and attactions such as this one are booming in August when many people try to beat the summer heat by visiting indoor attractions.

'Sprinkles' the Koala following her life saving radiation treatment at the Brisbane Veterinary Specialist Centre in Brisbane, Australia, August 9, 2011. Suffering from an extremely rare case of excessive drooling, sprinkles developed a skin infection due to the excessive moisture flowing from her mouth.

Veterinary specialist Dr Rod Straw holds 'Sprinkles' the Koala following her life saving radiation treatment at the Brisbane Veterinary Specialist Centre in Brisbane, Australia. Suffering from an extremely rare case of excessive drooling, sprinkles developed a skin infection due to the excessive moisture flowing from her mouth.

Inside Walter Kidd's North Carolina trailer home were 154 reptiles, including cobras, vipers and Gila monsters. About 100 of the animals were dead and frozen, according to the Henderson County Sheriff's Office.

It's not every day you can say that a camel has shared your breakfast - unless you're Nathan and Charlotte Anderson-Dixon. Each morning they and their 18-month-son Reuben are joined by pet camel Joe, who pokes his head through their conservatory window to help himself to something to eat. The three-year-old happily munches eats bread, fruit and cereal plucked from the table at the family's detached country farmhouse. Joe, who measures 17.5 hands, loves bananas on toast but hates toast with cheese or Marmite. He lives with four other camels but is the only one to share breakfast with his owners. The others have to eat hay, barley, straw and corn mix in their stable in Ashbourne, Derbyshire. Nathan, 32, has owned Joe for two years and uses him for camel racing.

Charlotte Anderson-Dixon pushes her 18-month-old son Reuben on the swing as Joe the camel watches.

Nathan Anderson-Dixon, his wife Charlotte, their 18-month-old son Reuben, Joe the camel and a reindeer.

Brutus, a giant crocodile, was photographed leaping out of the water in Australia by picture-taker Katrina Bridgeford. The 18-foot long croc is a fan favorite among tourists who take cruises along the Adelaide River as he is known for making a big splash while jumping for buffalo meat.

Sea Life London Aquarium undated handout photo of a giant gourami that aquarium staff have weaned off chocolate.

Thirteen months ago, Andre the turtle suffered massive injuries from boats that left a massive hole in his shell and the inside of his body exposed to the elements. However, thanks to some innovative treatments, including using orthodontic techniques to repair his shell and a vacuum treatment on open wounds, he is scheduled to be set free on Aug. 3.

Kitler, a kitten small enough to fit in a cup with a remarkable resemblance to Hitler is looking for a home after being found abandoned at the side of a busy road. An animal charity is struggling to find a loving home for an abandoned kitten - because it looks like HITLER. The six-week-old moggie was found abandoned on her own by the side of a busy main road by a member of the public. She was handed in to Wood Green animal shelter in Godmanchester, Cambs., where staff nicknamed her 'Kitler' because of her distinctive black moustache. Nobody came forward to say they were Kitler's owner so the centre put her up for rehoming, but she is yet to find a loving family because of her unusual markings.

The horse, which is boarded on the 4 acres of land next to the O'Brien's home, backed into the swimming pool where it became trapped. Officials with the Brevard Zoo, a veterinarian, and the Brevard County Fire Department responded along with a hazardous materials team. The horse was not injured.

Police Dog Handler B-G Carlson with the sperm-sniffing dog Rapport's Opus, which collected evidence against a 23-year-old man who was charged with a rape. Credit: Aftonbladet

This pet duck, named 'Duckie,' won't hurt himself on the hot sands of San Diego's beaches thanks to a pair of customized booties made especially for him. Previously, the owner, who goes by the name "Miss Love," had been putting duct tape over his feet instead.

Two Bay Area dentists made a house call at the San Francisco Zoo on Monday, July 11, to help out a gorilla with a toothache. Dentist Dan Mairani (left) and endodontist Steve Holifield, who usually perform procedures on human patients, worked for three hours on Oscar Jonesy (O.J.), a 30-year-old male western lowland gorilla that developed an abscessed canine tooth. Thanks to this dental team, the abscess was successfully treated and the tooth was saved!

One of the photos that the monkey took with Davids camera. These are the chimp-ly marvellous images captured by a cheeky monkey after turning the tables on a photographer who left his camera unmanned. The inquisitive scamp playfully went to investigate the equipment before becoming fascinated with his own reflection in the lens. And it wasnt long before the crested black macaque hijacked the camera and started snapping away sending award-winning photographer David Slater bananas. David, from Coleford, Gloucestershire, was on a trip to a small national park north of the Indonesian island of Sulawesi when he met the incredibly friendly bunch.

Heidi the cross-eyed opossum is pictured in her enclosure at the zoo in Leipzig, eastern Germany on June 9, 2011. Heidi moved to her new enclosure at the Gondwanaland tropical experience world, which will be inaugurated on July 1, 2011 and where Heidi will be presented to the public for the first time. Cross-eyed Heidi made the headlines in December 2010 and became an internet hit, winning more than 65,000 "friends" on social networking website Facebook.

The flattened and preserved reptile is at the center of possible legal action against three area men charged with it's theft and subsequent display on a Ford pickup at a nearby mud-bogging party in Michigan.

A small water boatman of the species Micronecta scholtzi is seen in this photo from the University of Strathclyde Glasgow. The insect has been found to use its penis to perform a very loud mating call. Scientists say the "singing penis" -- relative to its body size -- is the loudest animal on Earth.

Elephant puts a ballot in ballot box during campaign to promote the general election in Ayutthaya province on June 21, 2011. The July 3 general election will be the first since Thailand was rocked by its deadliest political violence in decades last year, when more than 90 people died in street clashes between armed police and opposition protesters. (Pornchai Kittiwongsakul, AFP/Getty Images)

A Montana resident says an energy company has identified the cause of a brief power outage as "deer with wings." Lee Bridges says she was outside with her dogs around the time the power went out when a NorthWestern Energy truck pulled up, giving her a chance to ask the driver what caused the problem.

Nova, a 35.5 inch tall Great Dane, was named the world's tallest female dog by Guinness World Records in June 2011

An emperor penguin that arrived on June 21, 2011 at New Zealand's Peka Peka Beach, more than 2,000 miles from its native Antarctica, will not be transported home.

A two-headed bearded dragon is set to be the latest attraction at the Venice Beach Freakshow. Pancho and Lefty sit in new owner Todd Ray's hand.

Natalia Avseenko swims with beluga whales in the White Sea off the coast of northern Russia. A skinny dipping Russian researcher took a ten meter sub-zero plunge in a bid to get up close and personal with two beautiful 15 foot long beluga whales. Scientists believe that the whales could be more friendly with humans if they swim naked - but as these pictures show the clever-looking marine mammals called Matrena and Nilma seem happy to swim with the same lady whether bears all or not. Champion free diver, Natalia Avseenko, 36, from Moscow gamely jumped into an ice hole in the White Sea off the coast of northern Russia. She was able to hold her breath and swim underwater for an incredible 11 minutes. The pictures show her swimming in the minus one degree Centigrade waters - cold enough to kill a normal person in 15 minutes. Beluga whales generally shy away from conventional scuba divers because they dislike the bubbles they produce. It is thought the synthetic materials used to make wet suits smell bad to them.

The slightly injured moose on its way out in to freedom after his visit to a geriatric care home in Alingsas east of Goteborg, Sweden, Thursday June 9, 2011. The moose jumped through a canteen window into the building in Alingsas in western Sweden Thursday. The residents were evacuated and the moose locked into a small room next to the entrance. Since the moose's injuries were concluded to be minor it was released into freedom. (Adam Ihse, Scanpix/AP)

Jenny Sue Rhoades sat down on her couch to watch television when something outside caught her eye. It was a large Florida black bear walking through the back yard of her Barry Court home in southwest Seminole County.

German media sensation Heidi the cross-eyed opossum is presented to the press at the Leipzig Zoo on June 9, 2011. On July 1st, 2011 Leipzig Zoo will open the 20,000m2 "Gondwanaland Tropical Experience World" to the public - a near-natural home for 300 exotic animals and more than 17,000 tropical plants with Heidi being one of its inhabitants.

Hotel magnate Leona Helmsley left $12 million for her dog Trouble when she died in 2007, but a judge reduced the bequest to $2 million.

A new-born rabbit without ears is held in Namie City, just outside the 30km exclusion zone of the Fukushima Daiichi nuclear power station. The owner of the rabbit says it was born without ears on May 7.

A dog competes during the during the 6th annual Loews Coronado Bay resort surf dog competition in Imperial Beach, near San Diego on June 4, 2011.

In this undated 1958 photo provided courtesy of Liz Dane, Dane is shown performing her act with Queenie the water skiing elephant. The Valdosta Daily Times reports that 59-year-old Queenie was euthanized Monday, June 2, 2011, after her health deteriorated.

"Shrek," New Zealand's most famous sheep, died in June at the age of 16. This merino wether (a castrated male sheep) came to the world's attention in 2004 when he was found in a cave near the city of Otago after being on the lam for six years. He had managed to avoid capture all that time and when he was finally found, he was carrying nearly 60 lbs of untrimmed fleece, nearly six times more than the average merino fleece.

In this photo taken on Thursday, May 19, 2011, a dog nurses two liger cubs at a zoo in Weihai in east China's Shandong province. Cong Wen of Xixiakou Wildlife Zoo in eastern China says four cubs were born to a female tiger and a male lion on May 13. The tiger mom fed the ligers for four days then for unknown reasons abandoned them, she says. Chinese zoo workers brought in a dog to nurse them instead, but two died of weakness. (AP)

In this May 5, 2011 image provided by Animals Australia, a riderless horse plunges into a crowd of spectators after jumping a fence at the Warrnambool Grand National Steeple Chase at Warrnambool, Australia. An 80-year-old woman and a two-year-old boy are in stable condition in a hospital while 5 others were also injured.

Giant Malaysian Shield Praying Mantis pictured in Igor's studio in Munich, Germany.

Roo the Reading Education Assistance Dog (R.E.A.D) helps a pupil at Graytown Elementary School in Graytown, Ohio.

Wildlife experts in Buffalo, N.Y., have been amazed by an unusual springtime friendship between a deer and a nesting goose. It's a relationship that has blossomed inside a cemetery.

When Regina Mayer's parents refused to buy her a horse, the 15-year-old German girl trained Luna the cow to be a top-class riding companion. Not only do the two regularly go on long rides together through the picturesque southern German countryside, they even do jumps.

Is it Elvis... or Bert from "Sesame Street"? This stink bug photographed in Singapore seems to be a fan of one of them -- but it's not clear which one.

Pet cat Smokey is believed to have the loudest purr in the world -- with piercing purrs as loud as a lawnmower. Most cats purr at around 25 decibels but Smokey's powerful purrs average an amazing 80 decibels. Owners Ruth and Mark Adams, of Northampton, Britain, say Smokey's deafening purrs make it impossible for them to hear the television or radio when she is in the room and they struggle to have telephone conversations.

Afghan festival-goers watch as a "camel fight" starts during the second day of Persian new year, or "Nowruz," celebrations in Mazar-e-Sharif, in northern Afghanistan.

Cheyenne Mountain Zoo's Tutti is a rare Indian star tortoise. Butti, the zoo's missing tortoise, looks similar to Tutti. The two are brothers and live at the zoo in Colorado Springs, Colo.

This is a lamb in China that looks just like a dog. Farmers in Fugu County, in western China's Shaanxi Province, were left open-mouthed when they saw the young animal running around their field. The lamb has a mouth, nose, paws and tail which look very similar to a dog's features - but still has a white woolly coat.

Withe-handed gibbon mother Betina, 32, holds her 2-week-old baby at the Safari zoo in Ramat Gan near Tel Aviv on March 17. The birth of the gibbon surprised the zoo staff, as it had been 11 years since Betina last gave birth.

Hania, a 4-year-old Great Dane, feeds her 3-day-old puppies in the Warsaw suburb of Nowa Iwiczna on March 17. Hania gave birth by cesarean section to 17 puppies.

A rare spider with a human face, known as a lichen crab spider, has been spotted at a nature reserve in Wareham, Dorset, England.

Six-month-old puppy Princess has such delicate skin she can't go outside. While other dogs run free at Britain's Bleakholt Animal Sanctuary, Princess must gaze through the window. But this canine, otherwise known as Britain's Saddest Puppy, has become a minor celebrity in the media.

A parrot trained by Italian trainer Anthonie Zattu performs wearing a pair of rollerskates during the International Festival of Cirkus Art on Feb. 20, 2011, in Prague.

He-Who-Must-Not-Be-Named? No, it's Charlie -- an unlucky cat who happens to look just like the evil Lord Voldemort from the "Harry Potter" films. Charity workers are trying to find a new home for the British kitty, who lost his nose and ears to skin cancer.

Ambam, a silverback gorilla at the Port Lympne Wild Animal Park in Kent, England, shows off the stance that's turned him into a viral video sensation. Ambam doesn't do the typical ape walk -- he stands and struts like a person.

A group of lemurs encounters a unusual roadblock on the way to their feeding den: a turtle. The lemurs clearly don't want to get into a territorial spat with the creature... so they take turns leaping over it in this photo sequence shot at the Indianapolis Zoo.

Jeepers, creepers -- where'd she get those peepers? Heidi the cross-eyed possum has become a media sensation in Germany.

Of course she's unhappy. Who likes getting weighed right after the holidays? This is Agathe, a cane toad, and she's sitting on a toy scale during an annual animal inventory at the Hanover Zoo in Germany on Jan. 5. Agathe weighs a slight hop over 4 pounds.

Sylvia Mythen, a 74-year-old woman from Venice, Fla., snapped the photo of this orange alligator sunning itself by a pond near her home. Florida Wildlife Commission experts have analyzed the photo and determined that the reptile's coloring is not genetic. Officials suspect the animal might be the victim of a prank but won't know for sure until they can examine it.

Amy Leader with Sunny, a rescued chicken, in his newly-knitted sweater. Kind-hearted animal lovers have come to the rescue of a group of featherless chickens by knitting them their very own woolly sweaters. Sunny and his not-so-feathered friends were rehomed after being rescued from a poultry farm. Many of them are missing their plumage because the conditions they used to live in.

A bizarre three-horned cow has proven itself to be a cash cow for a farmer in Baoding, in China's Hebei province. Farmer Jia Kebing said the 2-year-old cow was born with a small bump on its head that has grown to be nearly 8 inches long and now resembles a rhino's horn. "My farm has fame in this region for this cow, and people came in just paying a visit to this cow," said Jia.

This lazy monkey hitches a ride to the top of a tree -- by sitting on the back of a parrot. The squirrel monkey, which lives with a male and female parrot at a hotel in Colombia, was photographed by Alejandro Jaramillo after it hopped onto the macaw. These kinds of bizarre inter-species friendship aren't unheard of, but they aren't common.

Looking almost like a bronze statue of a person, Guru the hairless chimpanzee eats in his enclosure at India's Mysore Zoo. Guru lost all his hair to alopecia, a condition that can also affect humans.

Beemer the kangaroo has Vegemite on toast with a side salad of fresh-picked wild grasses, accompanied by adoptive "mother" Julianne "Julz" Bradley.

Robin Henderson stretches her cat, Stewie, outside of her home in Reno, Nev. Stewie, a 5-year-old Maine Coon, has been accepted by Guinness World Records as the world's longest cat at 48.5 inches long.

This photo shows a bear inside Ben Story's car on July 23, in Larkspur, Colo. Story said the bear got into his empty car, honked the horn and sent it rolling into a thicket with the bear inside. Sheriff's deputies released the bear using a rope to open the door.

Miwa, a baby monkey, rides a young boar named Uribo in the Fukuchiyama City Zoo, in Kyoto, Japan, on Oct. 19. Both have been sheltered by the zoo since June after losing their mothers

The odds of seeing these three together are roughly 1 in 900 quintillion -- but a series of timely donations has allowed Connecticut's Maritime Aquarium to put together one of the most unusual lobster displays ever. While the blue lobster is a 1 in a million catch, the orange and calico are even rarer -- with the odds of finding them roughly 1 in 30 million.

This kitty isn't naturally pink. The cat's owner, Natasha Gregory of Britain told The Sun that she wanted her pet "to match my hair." The 22-year-old also has a shocking dye job.

There's Yogi Bear, and there's yoga bear. Meet Santra, a female brown bear at the Ahtari Zoo in Finland, famous for her morning yoga stretches. After the bear woke up from a nap, amateur photographer Meta Penca took amazing shots of her fitness routine, which reportedly lasted about 15 minutes and included a number of poses.

This dog wanted a drink. Meet Billy the German pointer and the shot glass he swallowed. The pooch underwent emergency surgery after doing a shot of Jagermeister -- and the glass it was served in. The 18-month-old, who lives in Darwin, Australia, downed the glass during a party thrown by house sitters while his owners were away. It wasn't until three days later when Billy began vomiting blood that the house sitters realized something was wrong.

In art, there's primitivism and there's primate-vism. Meet Jimmy, a 26-year-old chimpanzee who can paint. Pictured while creating a painting on cardboard on Sept. 20 at a zoo in Niteroi, Brazil, the monkey's art works have caught the attention of zoological experts who plan a special exhibit for the chimp.

Tillman the skateboarding dog is always learning new tricks. The famed canine skater -- who is also an acclaimed surfer and snowboarder -- made an appearance at Madame Tussauds on the Las Vegas Strip on Sept. 16.

Swallow, an 11-year-old sheep-sized cow from the West Yorkshire region of England, is one of the stars of the 2011 edition of "Guinness World Records." This 33-inch-high Dexter is the world's smallest cow.

A female monkey lip-syncs during a show by the monkey drama troupe Prakit Sitpragaan in Bangkok in September. Prakit Sitpragaan has been performing traditional stories adapted from Asian classical novels and folklore in Thailand for more than 30 years.

Giant Atlas moths have hatched at Berkeley Castle Butterfly House in Gloucestershire, England. These huge moths -- the largest in the world -- are native to the rain forests of Asia and South America. They don't have stomachs and their mouths do not form properly so they don't eat a thing during their two-week life span.

Some frogs eat flies. This tiny amphibian is not much bigger than one. The Microhyla nepenthicola, a newly discovered species of frog, lives in the jungle on the island of Borneo in Malaysia. It is barely larger than a pea.

A pet deer at a resort in Weihai, northern China's Shandong province has become addicted to beer. According to Zhang Xiangxi, who works as a waitress at the resort's restaurant, she discovered the deer's unusual tastes last November when she was cleaning up after some customers. She comments: "I saw a bottle of beer was still half full so I playfully passed it to the deer. Unexpectedly it bit the bottle and raised its head and drank all the beer in one shot."

A farmer in China's Shandong province has saved a two-legged lamb after being touched by its struggle to survive. Farmer Cui Jinxiu said the lamb was one of two born in July 2010. "The first one was a very healthy and normal one," she told Rex USA. "However, the second one surprised me. With a further look I was surprised to find that the lamb only has two legs." The family thought the lamb wouldn't survive, but it proved its strong desire to live. "I thought of dumping it after it was born, but the next morning it even stood up by itself."

Alexander Pylyshenko, 40, will live in a cage with two lions for five weeks to raise awareness about living conditions for animals in captivity.