What I've Learned As A First-Time Mother Of The Bride
I've learned a lot from my three daughters over the past 28 years of being a mom to them. Apparently, there is still much to learn. My husband and I are in the thick of our first wedding, with our eldest getting married October 14th, 2017, and let me tell you, there is a huge difference between planning your own wedding, and assisting your child in planning theirs.
For me, this took some time to get used to. I found myself stopping mid-sentence several times when discussing her upcoming wedding with friends, and family who wanted updates. I discovered that I was using the word "we" a lot, as in more than, not using it. I noticed that I was doing this fairly early on in the planning stages, and made a mental note to remind myself that this is NOT my wedding, even if I am the matron of honour, and the mother of the bride; it still isn't MY wedding.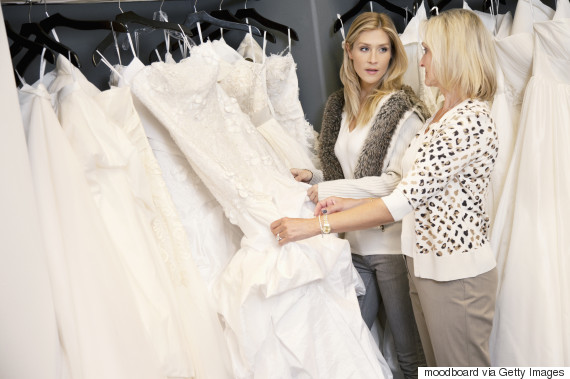 Regardless of the roles I play for her leading up to her big day, and on the big day, none of those responsibilities will make it any more my day. Which means, it is their decision as to what theme they want, the colour scheme they want to go with, what flavor they want the cake to be, and so on.
What I am supposed to be is supportive; take a back seat in the planning of how they want their day to unfold. This is their marriage, after all, and it needs to speak to the two of them, not to me. I don't want to be in the thick of their relationship now, or post nuptials, so why would I want to be in the middle of the planning? The short answer is: I really don't.
Even though this is completely true, butting out is much harder to do in real life than it is in your mind, especially when it is your first child's wedding. Trust me on this. We've already had a difference of opinions on the etiquette of the rehearsal dinner, and which set of parents should reach out to whom, whether or not she can have burgers as a menu option, and if our bulldog can be the ring bearer.
The temptation, as a parent marrying your millennial, is going to be to take the reins, to get large and in charge, but you must resist. If you want to have a loving, strong relationship with your adult child who is getting married, prior to, during, and post ceremony you need to remember that this is not your wedding. This is his/her wedding.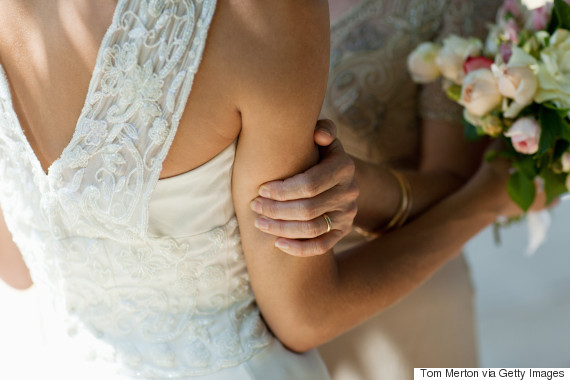 You are, if you're traditional and paying for the large portion of the occasion, the financial support. You are the supportive voice of reason when they want to have an orchestra play the wedding march, and you talk them down to perhaps having a string quartet at the reception while people are dining; or when you need to convince them to spend a bit more when they're thinking boxed wines. You are there to offer alternative suggestions to their perhaps over-the-top ideas, or their not "wedding" enough ideas.
You are there to calm their jittery nerves when they panic that nothing will be done in time. You are there to reassure them that everybody survives the planning stage of a wedding, and that in the end, the most important thing to come out of all of it, is that they will be married.
So, for you parents marrying your first child, take a breath before you speak, remind yourself that this is her/his journey; not your big chance to redo your own wedding, and know that everything will work out just fine.
Follow HuffPost Canada Blogs on Facebook
Also on HuffPost:
A Guest's Guide To Wedding Gift-Giving
Jack & Jills, Stag & Does And Bachelor/Bachelorette Parties According to Lizzie Post, co-host of the Awesome Etiquette Podcast, the parties themselves are the gift. Raana Chaudhry of Sapna Weddings in Toronto, says that generally bridesmaids and friends split the cost of the party and pay for the bride which often amounts to about $50-$150 each. Stag & Doe/Jack & Jills can function as both a joint party for the couple or double as a way for them to raise a little money for the wedding. If guests are being charged for admission then there should be no expectation for a gift.

Engagement Parties, Destination Weddings And Going As A Plus One As a general rule of thumb, it's best to never go empty-handed but Leanne Pepper, general manager at The Faculty Club at the University of Toronto and certified etiquette coach, suggests that a small token should suffice. "The purpose of an engagement party is to bring family and friends together and not with the expectations of gifts," she says. A bottle of wine or something like a picture frame are appropriate. It's the same for destination weddings as the guest is incurring a large expense to be present. After all, according to Pepper, the best gifts are all the special moments and memories. When going as a plus one, depending on how well you know the couple, even a nice card would suffice.

Showers And Receptions The purpose of a shower is to shower the couple with gifts. Check with the host to see if the couple is registered anywhere. Many times the registry contains things for the marital home but if you'd like to get something specific for a member of the couple, now would be the time. However, Chaudhry suggests staying away from racy lingerie as parents might be present and could be in for a shock. The couple may have a registry for the reception as well. Asking members of the wedding party or parents would be the best way to find out. With a registry you have the option of spending what you feel comfortable with but be sure to check early!

It's customary in many Asian and some European cultures to give a monetary gift at the reception. According to Chaudhry, with South Asian weddings, the difference in giving depends on generation and closeness to the couple. Younger guests give around $100-$150 per person whereas older generations give about $50-$75. Close family and friends tend to give much more than that, a tradition shared by Chinese weddings according to Michelle Yuan of Asia Wedding Network. "It's traditional in Chinese weddings to give money in a little red packet in amounts that end in six or eight as this shows your wish for the couple to be happy and wealthy in their marriage. Red packet money should also consist of even amounts of money because they represent pairs," Yuan says. In contrast, it's customary to give denominations ending in one in South Asian cultures. The best way to avoid a mistake is to ask friends and family prior to the wedding to get a sense of what the cultural expectations are.

Cultural Functions And When There's No Registry Sagans, a function typical in North Indian weddings, do not come with registries for guests. They are intimate parties where close family and friends are invited to wish the bride and groom well, Chaudhry says. Guests bring gold to gift the bride and groom to prepare them for their future. It's the only gift-giving function in North Indian weddings, other than the wedding reception. On the other hand, more and more couples are opting not to register for home furnishings. Pepper puts this down to couples having the pieces they need to furnish their homes prior to getting married. So instead, couples might ask guests to donate to their favourite charity, have a honeymoon registry or ask for no gifts at all. If you still want to give a gift or you want to get more personal with it, Pepper suggests something like theatre tickets or a dinner for two.

According to Bernadette Smith, President of Gay Wedding Institute, couples who identify as LGBTQ are much less likely to have registries and bachelor/bachelorette parties than opposite-sex couples. She puts LGBTQ couples opting out down to the fact that a lot of the traditions are based on strict gender roles. However, she says that the data from June 2015 to June 2016 shows an upward shift in LGBTQ couples adopting opposite-sex couple pre-wedding functions. But remember, it's called a shower, not a bridal shower; a wedding party, not a bridal party. Steven Petrow, civilities columnist with the Washington Post, urges guests to be mindful. "It's important to show respect by gift-giving," he says. So the same rules apply when invited.
Follow Shantelle Bisson on Twitter: www.twitter.com/shantellebisson