Refugee Response Exposes Overreliance On Voluntary Sector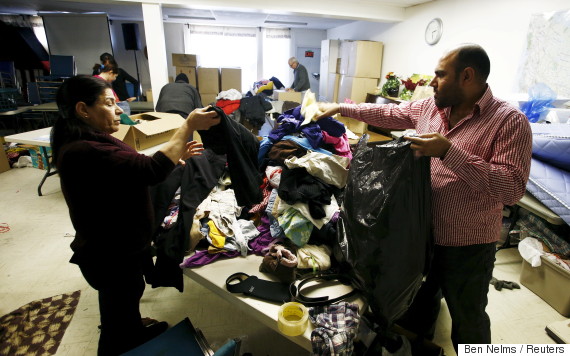 Volunteers sort through clothing donations for Syrian refugees who are expected to arrive in Canada within the next month. (Photo: REUTERS/Ben Nelms)
A recent New York Times article presents a mostly glowing picture of Canada's reception of Syrian refugees. It highlights the extraordinary hospitality of Canadian refugee sponsors, noting that "the Canadian government can barely keep up with the demand" to welcome new Syrian families.
Canadians' welcome of Syrian refugees, and the Vietnamese before them, is emblematic of our culture. Across our diverse country, we are united by an incredibly strong belief in volunteerism and mutual aid. Response to the New York Times article was alternately one of pride (from Canadians) and envy (from non-Canadians).
Mixed Reviews of Canada's Treatment of Refugees
The Times article was almost overwhelmingly positive. A recent statement from Senator Jim Munson, chair of the Senate Human Rights Committee, offers a less glowing appraisal of the situation faced by Syrian and other refugees in Canada. Senator Munson notes that "fine words and open arms... are not sufficient to address the very real and very urgent problems that lie ahead" for new refugees, and points to a pressing need for mental health services, fast-tracking of child benefits and increased funding for language training programs.
Senator Munson's statement brings attention to the gap between the intensive mutual aid offered by individual Canadians and the confusing, bureaucratic and often penny-pinching supports provided by governments. Nowhere is this more evident than in the income benefits offered by provincial welfare programs.
Starting Off in Poverty
John McCallum, the federal Minister of Immigration, Refugees and Citizenship, has said that he has to "work very hard not to treat refugees better than we treat Canadians." This means that refugees -- particularly those sponsored by the federal government rather than private citizens -- have to make do with provincial social assistance benefits that are far below any reasonable measure of poverty.
As Canadians have been doing for more than three decades, refugees from Syria and many other countries turn to our nation's food banks, because government supports for the most vulnerable don't even provide enough money to cover the most basic necessities. That fact that (as Minister McCallum has noted) "many Canadians who have tight budgets use food banks" is being treated as normal -- as if not having enough food to eat is par for the course. When did this become acceptable?
A Patchwork System
The kindness of Canadian strangers -- in refugee sponsor groups, in food banks and in many other capacities -- is heartwarming and laudable. It is also imperfect and, unfortunately, unequally distributed. Some refugees will land in better circumstances than others; similarly, while Canadians have donated generously to immigrant settlement organizations in response to the Syrian influx, other necessary services that rely on public support languish. This patchwork effect is the unavoidable result of our overreliance on the voluntary sector.
Only governments have the capacity to offer equitable levels of service regardless of one's location or circumstance. Our response to Syrian refugees is just one example of how the voluntary sector -- partially and imperfectly -- is filling the gaps left by governments.
Follow HuffPost Canada Blogs on Facebook
MORE ON HUFFPOST:
Great Things Canadians Have Done So Far For Syrian Refugees
Joe Woodsworth, a senior manager with Surrey, B.C.-based Options Community Services picks up dozens of backpacks, each filled with school supplies for Syrian children. Operation Backpack is the idea of former 24Hours columnist Laila Yuile.

Malak arrived with her family in July after living in a Jordanian refugee camp for two years. Her teeth were so decayed the 5-year-old girl was kept up at night because of the pain until a local dentist stepped forward to help the family for free.

"Hopefully, together, we can prove that Canada in general and the Maritimes in particular are as generous and welcoming as the rest of the world thinks we are," P.E.I. artist Amy Seymour told HuffPost Canada.

In November, the Edmonton Oilers captain gave $10,000 to Edmonton's Mennonite Centre for Newcomers to support their work in helping to resettle incoming Syrian refugees. The donation helped the group meet its two-month goal in a single day.

The Guelph businessman made headlines last month after stepping forward to say he intended to spend $1.5 million to privately sponsor 50 Syrian refugee families to come to Canada. Estill explained he was tired of seeing refugee applications get snarled in long, bureaucratic processes. "I'm a businessperson, I'm very impatient, and we should just do it now," he said.

"It's really good to know that we're so compassionate and that we want to help," said Darrell McLeod of St. Clare's refugee family sponsorship group. "Everybody's very excited about it. Everyone's been really excited to make things happen."

Westbank Developments founder Ian Gillespie is behind many of downtown Vancouver's glitziest skyscrapers.A descendant of Irish immigrants, he made a pledge in November to furnish a 12-unit West End apartment complex and open it to incoming refugees. He also said he's exploring ways to help Syrians get jobs after they arrive in the city.

A small group of from the Keewatin Otchitchak traditional women's drum group gathered by baggage carousels to greet 17 Syrians to Treaty 1 with a song of welcome.

"I need to point out that the people who are desperate refugees are fleeing from the exact same people who perpetrated the kind of violence we saw in Paris and Beirut last week," the Calgary mayor told reporters a week after deadly attacks in France and Lebanon. "They're running away from the bad guys and, as such, we need to be able to open our arms to make sure that we can provide safety to these folks."

Christine Youssef (pictured) greets newly arrived Syrian relatives on a bus near Pearson International Airport in Mississauga on Dec. 11. Youssef and her mother are sponsoring 43 of their Syrian relatives to come to Canada. Thirteen have arrived and are staying at the family's small Scarborough, Ont. bungalow. Soon, nine of the relatives will move out, making room for more relatives to come in.

When CBC News reporter Eman Bare interviewed Mohamed Al-Noury, 21, and Athar Farroukh, 23, she realized the Syrian refugee couple had no wedding pictures. So Bare put a callout on soical media to surprise the high sweethearts with a wedding. Her request spread and within 24 hours people came forward donating a venue, suit, dress, and cake. "Grateful for a community that makes beautiful things happen," wrote Bare on Instagram below a photo taken at the couple's Saskatoon ceremony.
Follow Shawn Pegg on Twitter: www.twitter.com/shawnpegg