Celebrate Your New Year By Acknowledging Your Past Success
The New Year, with its talk of goals, resolutions, and new beginnings, can be alternatively inspiring and anxiety producing. What if you don't have a clear goal or resolution for 2016? Maybe you're one of those people who's never kept a New Years Resolution? Statistically, this is a big per cent of us. So how do we put this New Year hype in a place where it works as a positive rather than a reminder of our previous failures or present areas of discontent?

First off, don't be too quick to commit to new resolutions and goals without first acknowledging and celebrating your successes from last year. And success can be qualified as everything from attending your first yoga class, to learning how to communicate with your ex-husband with more respect and compassion, to celebrating the successful completion of a post secondary certification. Write them down; you might be surprised at how many are on your list. You might also notice that there are many in one area of your life and not as many in another.
Not surprisingly, I have many achievements on the physical side of my life and a long list on the family side, but in the last year I've seen fewer successes on the business side of my life. This causes me a moment of despair: Why haven't I achieved more this year in my business? My list has prompted me to reflect on how much has been changing over the last five years, and how demanding it can be to bring two families together. I am now ready -- truly ready -- to put more time into my work.
But as always, more thoughts come to mind: Is fear getting in the way of me taking more risks in business? Do I need to become less insular in the way that I work, and perhaps create a circle of people I reach out to regularly for mutual support and inspiration? All this from a single list. I encourage you to make your list; if nothing else, it will remind you of how full your years have been.

Whatever is on your list, take the time to acknowledge all the great things you have done last year, and celebrate your successes, however small. I am really proud of the success I had with two of my clients last year. It was my first year as a Life Coach, and it just delighted and amazed me to see these two individuals totally change their lives: New jobs, better health, stronger relationships. I felt honoured and thrilled to be part of their transformation. This is definitely going on my list.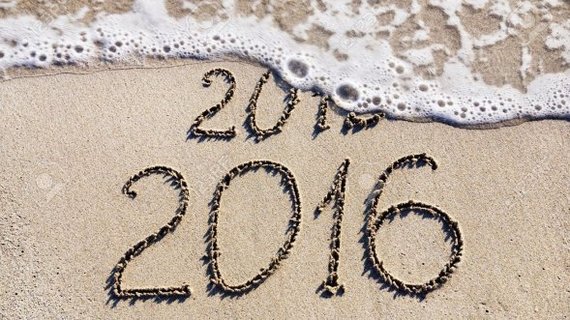 Once you've reflected on 2015, move on to intentions for 2016; one informs the other. I will be putting a lot more goals in the area of business this year, and less in the area of physical fitness and family. This is not because I have any intention of letting go of my fitness routine or making my family a low priority; I just want to make sure I create enough intention in the area of my business to really succeed on some of the goals I have in my professional life.
I used to think of a new Years Resolution as one big promise that you made for yourself. The problem was, it never worked for me. I never kept that one big promise. I find by writing lists of my past and future accomplishments, I put myself in the mindset that is more realistic in my life. Change is incremental and usually builds from the many small decisions and changes you make in your life on a daily basis. By celebrating the fact that I got on my yoga mat three times a week last year, by acknowledging that I did not start another book as I said I would, I get clarity on what I need to work on in the upcoming year, and I stop beating myself up on a vague concept that I am not achieving enough, and get very specific on what I want to achieve in the upcoming year.

The New Year doesn't have to start with a New Years' Resolution. Frankly, that's just too much pressure for most of us, and New Years' Resolutions usually don't work. Try the kinder, gentler approach of these two lists.

I would love to hear from you about things that made your list. Things you are proud of, and intentions that you have made for the upcoming year.
'Today We Tried' - 2016 Series
Usually one to wake up with an almighty hangover on New Year's Day, senior editor Brogan Driscoll decided to try something a little different this year. After a chilled NYE, she made the most of 1 January - with brunch, a hot yoga class at TriYoga and a cinema trip to see The Danish Girl. A super positive way to start 2016.

Lifestyle writer Rachel Moss will be having an internet-free day. Colouring, nail painting and a long country walk are on the schedule.

Writer Tasha Hinde put her best pen forward and swapped 'thank you' texts for 'thank you' cards instead - each with a personal note to family members and friends who she didn't get to see over the Christmas period. It's the small things that count.

Senior editor Ellen Wallwork swapped checking her phone last thing at night for a bit of bedtime reading. Not only did it feel like an indulgent treat but she also only managed to make it through four pages before her eyelids started to get heavy, proving this is a far better way to prepare for a good night's sleep.

Like most commuters, lifestyle writer Rachel Moss is usually silent from the moment she leaves the house to the moment she gets to the office. But for today's Today We Tried challenge she paid a stranger a compliment. The conversation went like this: Rachel: Excuse me do you know if this is a fast train to King's Cross? Stranger: Yes it is. Rachel: Thanks. That's a lovely coat by the way. Stranger (suppressing a grin): Oh I just picked it up in the sales. Smiles all round.

New year, new book. Brogan Driscoll has made a NY Resolution to read more in 2016, instead of wasting hours on social media (oops). What books would you recommend for our reading list?

Style Writer Rosy Cherrington got off the tube a stop early on the way to work. It may have been a cold, rainy morning (typical England, eh?) but the extra fresh air made her feel more awake and ready for the day.

Today Tasha Hinde spent part of her lunch break learning French using language app Duolingo. It's a pretty basic app but it's perfect for beginners. Her aim is to use the app for 15 minutes every day in preparation for her French skiing trip at the end of the month!

Ellen Wallwork spent a couple of hours relaxing with a colouring book while listening to the new David Bowie album. As someone who struggles to switch off after a busy week she found it helped to focus her thoughts on the present.

Rosy Cherrington made this healthy homemade smoothie. To try it at home, chuck one frozen banana, a cup of almond milk and teaspoon of matcha green tea powder in a blender - delicious!

Amy Packham made some time to ring one of her friends from university who lives the other side of the country to her. They had an hour-long phone call about general life, work, moving house and holidays - it was a much-needed catch up.

As part of our #TodayWeTried series, @Brogan_Driscoll decided to try a new gym class: @OrangeTheoryFitness. The 60-minute HIIT class is a mixture of cardio and resistance exercises. Each participant has their own heart-rate monitor, allowing you to follow your own performance on screen and encouraging you to push yourself. Sound difficult? It is. But totally worth the pain.

A lot of us are guilty of spending our lunch breaks eating at our desk. But as part of our Today We Tried series, lifestyle writer Rachel Moss broke the habit and gave herself some "me time". It may be too cold to sit and reflect in the park, but you can still enjoy a brisk walk around it.

Another day, another #TodayWeTried. This time Tasha Hinde took her colleague Jessie out for lunch and had a blast. They went to a place she'd never visited before called YouMeSushi, Tasha had the most delicious prawn teriyaki dish, while Jessie had duck. All in all, a lunchtime well spent.

How many cookbooks do you own? And how many recipes have you cooked from each one? Ellen Wallwork is guilty of only ever trying recipes with pictures, so for our #todaywetried series she ventured into unknown territory & cooked @chefatulkochhar's Home-Style Chicken Curry and the result was delicious

In the spirit of Veganuary, Rosy Cherrington went vegan for the day. Believe it or not, this pizza from Dalston restaurant Fed By Water is made with no meat or dairy - that's spicy seitan salami and vegan mozzarella (and it was delicious!)

Getting a letter in the post is such a novelty these days. We text, phone, whatsapp and email so much that no one really bothers with sending letters. Amy Packham decided to change that, and send her young goddaughter a letter in the post. Definitely something we should do more often.

Knowing what to do with your long hair in the morning is an absolute nightmare. So for our Today We Tried series, writer Rachel Moss (right) spent some time researching quick and easy styles on YouTube. She settled on this milkmaid braid demonstrated by the lovely Kathleenlights (left).

As part of our Today We Tried series Rachel finally tried out the free legs, bums and tums class available at HuffPost HQ. If you're not lucky enough to have a class on site, spend your lunchtime working up a sweat at a local gym. You'll feel energised and ready for a productive afternoon. Promise.

Writer Amy Packham trialled Madeleine Shaw's new app 'Glow Guides' for a day. The app involves a meal plan, workout and meditation. She made a delicious salmon dinner and did a core stability workout - all in all, a great day.

Ellen Wallwork decided to learn to knit. The bike seat design may have been a bit of an ambitious choice for a beginner, but once she'd finally learnt to cast on it was very relaxing.

Rosy Cherrington tried meditation for the first time as part of the 'Friday Night Chillfest' yoga class at The Refinery in Hackney. It was incredibly relaxing and she felt ready to take on the weekend.

Brogan Driscoll decided to take a different route home through North London. We get so used to our routines and go-to routes to places that we can often go on autopilot and fail to take in the world around us. By changing your route home, you have to take in your surroundings and be present in the moment. And what better way to explore more of The city you live in?

Brogan Driscoll cured a hangover with some yoga at home. Having practised for a few years in studios, she realised that she should also start practising at home alone - she has the ability, knowledge and appropriate leopard yoga leggings, so why wait for the studio time?

The Lifestyle team decided to give our workspace a much-needed boost by decorating our desks with pretty flowers.

Utterly exhausted after trying 'The Cut', the incredible new Equinox boxing HIIT class. Tonight's taster session took place in Raffles night club.

For #todaywetried Tasha Hinde decided to ditch the TV in favour of pencils and a sketch book. Despite not being the most artistic of souls, she found it to be very therapeutic indeed!

Rosy Cherrington set out to perform an act of random kindness, stopping to chat and buy breakfast for the Big Issue seller outside her local train station. He said that people acknowledging him and saying hello back were the little things that make his day.

Amy Packham decided to wake up half an hour earlier and meditate before work. She downloaded the Buddhify app which gives you different options, lengths of time and topics to meditate about. She chose a "waking up" meditation and it made her feel calm and relaxed before a busy day at work.
I used to think of a New Years' Resolution as one big promise that you made for yourself. The problem was, it never worked for me. I never kept that one big promise. I find by writing lists of my past and future accomplishments, I put myself in the mindset that is more realistic in my life. Change is incremental and usually builds from the many small decisions and changes you make in your life on a daily basis.
Follow Silken Laumann on Twitter: www.twitter.com/silkenlaumann