Diving In Mexican Cenotes: Where Only The Light Gets Bent
Rare sight for divers, rays of light switch direction!
It is a sight that only divers get to see. Beams of light literally making a sharp left turn underwater. In some Mexican caverns (cenotes) divers can witness and photograph light being bent!
If the direct rays of the sun pierce the forest canopy and shine through a small hole in the cenote's roof, it just might happen. If other visitors haven't stirred up the 15 metre deep water inside that cave it just might happen. If both things occur then you could be one lucky diver who gets to see a shaft of sunlight dramatically cutting through the water and bending sharply near the midpoint of the cenote.
In Mexico's Yucatan, it was in the Cenote Jardin Del Eden -- the Garden of Eden Cavern -- that a group of divers saw and photographed light being acutely twisted as it passed from open air, through fresh water and into salt water.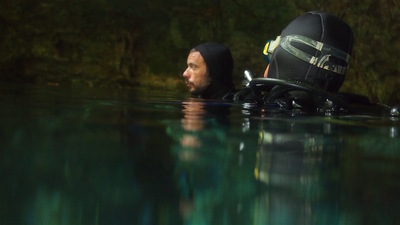 Christian Brais Casqueiro Santiago briefing at the mouth of the cenote
" It depends on the conditions," explained guide Christian Brais Casqueiro Santiago, a certified cave diver with the PADI 5-Star Pro Dive Mexico operation. " The sun has to come through openings in the top of the cenote near the noon-hour. It bends when it passes from freshwater to saltwater ... that halocline has to be still (to get the most dramatic shift in direction)."
Canadian divers are used to encountering thermoclines -- layers of increasingly cold water -- as they descend towards the bottom. The cline that Chris Santiago refers to is a halocline where fresh water flows over top of salt water.
In the extensive Mexican limestone cave system (there are an estimated 7,000 cenotes, many of them linked, in Mexico) cool fresh water travels from the interior of the Yucatan into the warm super-salted hot waters of the Caribbean Sea on the country's east coast.
Depending on the tides, and the depth of the incoming cave tunnels, salt water from the Sea does make it back into the cenote. The salt infused water is denser than the fresh water and as a result, if not disturbed, it lies on the bottom beneath the freshwater. Saltwater fish can sometimes be found swimming underneath freshwater species!
For a diver passing through the halocline there is a noticeable change in one's vision. Where fresh and salt meet, divers will find their vision badly distorted in the shimmering zone.
The layering of the cave water also impacts how light travels through it. As the light passes through a boundary between two different water densities, the beam is refracted -- this allows light to bend backwards at a negative angle. In the science of optics, Snell's Law explains this bending of light through two different isotropic media.
The group of four European divers I had glommed onto earlier that day weren't thinking about Snell's Law when they picked up their gear (Nitrox tanks, state-of-the-art BCs and halogen dive lights) at the Pro Dive Mexico (PDM) shop in the five star Occidental Hotel in the small mainland city of Playa Del Carmen. They were looking forward to filming root fish and cleaning the salt out of their gear after a week of intensive drift diving off the nearby island of Cozumel. They had stayed at a PDM/Occidental all-inclusive scuba friendly resort on the island and had taken the morning ferry over to join me.
It was a half-hour drive down the paved coastal highway 317 to the road leading to the privately owned cenote. There was one other group in the cave side park when our van and gear truck arrived -- today only divers with registered shops are allowed to dive.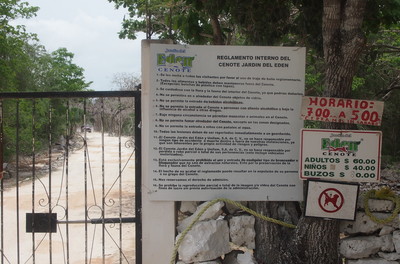 Entrance to the cenote
The Garden of Eden is often referred to as the Ponderosa because it is an expansive cave. There are wide tunnels and tall spacious galleries. There are fish filled passages that lead to other cenotes. Danger signs with skull and crossbones warn divers from exploring off-shoot channels. Although my companions stayed the course, the death warning signs were popular selfie stops for divers with Go-Pros on sticks!
Death warning sign favourite spot for selfies
The visibility is 75 metres and at a depth of 15-metres our full suits keep out the chill from the mountain waters. Although divers are never far from open air, the lights are always needed. Although the diver pressure on the cave is intense and never-ending there are still stands of unbroken soda sticks, stalactites, and stalagmites.
Our goal was to reach a gallery where the roof has fallen, The forest had taken over and much of the hole was filled with the roots of trees. My companions want to photograph the lively eco-system of plants and fish living under the roots of the tree.
The dive team got their pictures and we headed back into the dark. We were in a water filled cathedral when our guide signaled us to stop. A beam of light lay straight ahead. We could see that a hole in the ceiling was acting as its iris, making it a tight beam of baby blue. There is a gap of air between the ceiling of the cave and the water, as the light beam enters the water it appears to lose some of its focus.
The light follows a left slanting path downwards until it hits the halocline. The light beam takes that sharp turn backwards forming an acute angle in the middle of the cave. Strange. Fascinating. Worth the trip. Snell's Law is proven once again.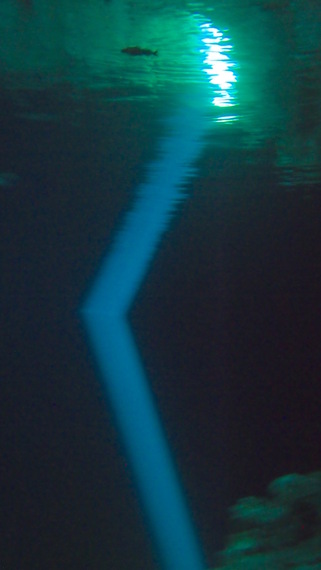 Bending Light - Money Shot
It is a temporary phenomenon. Back at the parking lot, we strip out of the gear, relax and eat the lunch the dive shop brought. We talk to the members of a dive group that went through the cavern before us. They didn't see the light bending backwards on itself. The sun moves in a predictable path across the roof of the cave. The daily phenomenon is dependable but timing is everything making this case of the bends gloriously worthwhile.
All photographs by Stephen Weir.
Follow HuffPost Canada Blogs on Facebook
ALSO ON HUFFPOST:
The Most Amazing Caribbean Diving and Snorkeling Sites
A warm aquamarine sea and enchanting underwater sites make the Caribbean a top destination for both diving and snorkeling. Here you can peruse sunken sculpture galleries, fin through geothermal bubbles, and catch up with congregating stingrays. Read on to see where to find these treasures, along with other favorite picks from a PADI master diver trainer and one of Scuba Diving magazine's Sea Heroes of the Year. (Photo: Thinkstock/iStock)

Best for: Advanced scuba diving This enormous "Titanic of the Caribbean" is a 600-foot Italian cruise liner that sank in 1961 after an explosion in the boiler room set fire to the ship's stern. All but one of the 673 passengers and crew were saved. What puts the MV Bianca C at the top of several best-wreck-dive lists is its sheer size. To swim along the vast deck with spotted eagle rays or rest on the ocean bottom and look up at the behemoth bow are among the rare—and utterly unforgettable—experiences offered here. The depth of the Bianca C (75 to 165 feet) makes it accessible to only advanced divers. Divers looking for a shallower alternative can explore the famous 1867 HMS Rhone mail steamer wreck (30 to 90 feet deep) on BVI's Virgin Gorda. Topside Fun: Check out the MV Bianca C exhibit at the Grenada National Museum in St. George's. RELATED: 7 Caribbean Destinations on a Budget (Photo: TripAdvisor LLC)

Best for: Scuba diving Ten years ago, artist Jason deCaires Taylor directed the cranes that lowered his first cement-carved sculpture to the ocean floor just off Grenada's west coast. Since then, Grenada Underwater Sculpture Park has grown to 65 life-size pieces. At an easily accessible depth of 15 to 25 feet, divers and snorkelers can see some of the park's most arresting installations: a ring of 26 children holding hands, a "Lost Correspondent" working at a desk and typewriter, and 16 female forms lying in sand. Curious patterns of algae and coral growth are slowly carpeting the bodies in vibrant reds, pinks and greens. To see Taylor's work near Cancun, visit the underwater MUSA (Museo Subacuático de Arte). Topside Fun: Go garden hopping on this "Spice Island" to sample fresh spices and learn about Grenada's herbal remedies. (Photo: Sculpture park via Shutterstock)

Best for: Snorkeling On a shallow sandbar in the North Sound of Grand Cayman Island, a group of southern stingrays began congregating several years ago when local fishermen would clean their catch and offload the scraps here. These opportunistic scavengers still gather at the sound of a boat motor. Though they live in the wild, they're quick to swarm around snorkelers and scuba divers at Stingray City. Go at dawn before hordes of tourists arrive and you'll experience beautiful golden light, calm-as-glass waters, and plenty of stingray attention, says Theresa Kaplan, PADI master diver trainer and the association's global communications director. Topside Fun: Hold a turtle at Cayman Turtle Farm research and conservation center. See blue iguanas at Queen Elizabeth II Botanic Park. RELATED: 10 Best Places in the World to Go Snorkeling (Photo: PADI)

Best for: Snorkeling or advanced scuba diving For a completely different experience, try diving or snorkeling in a sacred Maya cenote. Thousands of these natural sinkholes punch through the Yucatan jungle floor to connect with a system of ancient sub-aquatic tunnels and caverns where fresh water from the surface mixes with saltwater from the sea. At Gran Cenote and Dos Ojos Cenote, between Playa del Carmen and Tulum, you can fin through crystal clear water studded with stunning formations of stalactites and stalagmites. Near Tulum, the Calavera Cenote is best-known for its 21-foot underwater stalactite called "The Fang," while Cenote Jailhouse is the place to go to check out incredible underwater formations and the chance to see prehistoric animal bones. Topside Fun: Tour the cliffside Tulum Ruins, overlooking the ocean. You'll also find zip line excursions at several aerial adventure parks in the area. RELATED: Caribbean Adventures Worth Leaving Your All-Inclusive For (Photo: PADI)

Best for: Snorkeling Underwater volcanoes shape Dominica's dramatic seabed landscape of craters, pinnacles, and geothermal vents that spew delightfully warm bubbles. Champagne Reef, along the shoreline near the town of Roseau, gives snorkelers and divers the unusual sensation of swimming through an endless glass of warm bubbly. Sea horses, frogfish, squid, angelfish, and the occasional octopus or hawksbill turtle are also drawn to the warmth of this volcanic area. Expect to see colorful corals and sponges, too. Scuba divers enjoy descending on this site by day, or at night when huge crabs and lobsters patrol the sea floor and the bubbles sparkle in the beam of a flashlight. Topside Fun: Hike to land-based volcanic wonders. See towering pinnacles and a boiling lake shrouded in clouds. Soak in a hot springs pool or mud bath. RELATED: 10 (Almost) Secret Caribbean Islands (Photo: Champagne Reef Dive & Snorkel)

Best for: Scuba diving From space, the 300-foot wide and 400-foot deep Great Blue Hole looks like a massive cobalt eye in the turquoise sea. About 60 miles offshore from Belize City, this bucket-list dive made famous by Jacques Cousteau takes an entire day, with a two-hour boat ride each way. But the resounding consensus is that it's worth it. Divers are rewarded with an otherworldly experience in this underwater sinkhole that was once a dry cave. Walls are studded with bizarre stalactite and stalagmite formations, and several varieties of sharks—bull, reef and hammerhead—roam the eerie dark blue waters. You'll also see midnight parrotfish cruising in the reef near the surface. Topside Fun: Most dives include a lunch stop at Half Moon Caye, an uninhabited island and sanctuary for red-footed boobie birds. (Photo: Blue Hole, Belize via Shutterstock)

Best for: Scuba diving Along the southern edge of Bonaire is a sprawling industrial salt-harvesting site with evaporating salt ponds; towering salt mountains; and the Cargill Salt Company's loading pier, which doubles as a beloved local dive site. This easy, accessible shore dive has been compared to a cathedral experience. After a surface swim to the end of Salt Pier, you drop to the bottom at 60 feet to look up at light beams shining between the pier's pillars, crisscrossed and encrusted with colorful sponges and corals. Massive schools of fish take refuge in the pillars' shadows. "School after school glided right in front of my mask," says Kaplan. "Then they began swirling into ever-expanding funnels as they made their way to the surface." Topside fun: Watch for pink flamingos around the nearby saltpans, one of the few breeding sites in the Southern Caribbean. RELATED: 10 Amazing Underwater Adventures (Photo: Divers beneath pier via Shutterstock)

Best for: Snorkeling The planet's second largest barrier reef, the Mesoamerican Reef stretches 700 miles into Honduras' Bay Islands and is a favorite of Scuba Diving magazine Sea Hero of the Year Rick MacPherson. It teems with colorful life and is and one of the few places in the world where you can see whale sharks year-round. Snorkelers and divers come for the thrill of watching these school-bus-sized filter feeders swim by with their huge mouths wide open to scoop up plankton. Utila Island is your best bet for swimming with the ocean's largest fish on a snorkel tour or during a surface interval between dives. Topside Fun: Tour the Iguana Station conservation center to see an endangered species that lives in the mangrove forests of this mostly undeveloped island. (Photo: Pierre Malo)

Best for: Scuba diving A 15-minute boat ride from the west coast of Saba takes divers to a cluster of unusual underwater volcanic formations that rise up from the deep. The dive sites—aptly named Twilight Zone, Outer Limits, and Third Encounter—offer a glimpse of a fantastically surreal world. You drop down and what gradually appears out of the infinite blue are mountains and spindly pinnacles coated in huge, colorful sea fans and sponges. Reef sharks and black tip sharks are often seen swimming circles around the tapered tip of the "Eye of the Needle" seamount just off of Third Encounter. Topside Fun: After time to decompress, challenge yourself with a hike into the clouds up the 2,877-foot Mt. Scenery. RELATED: 10 Ways to Get Up-Close-and-Personal with Sharks (Photo: Sea Saba)

Best for: Scuba diving Near Little Tobago Island at the Keleston Drain dive site you'll drift on a mild current to arrive at the largest known brain coral in the world. The massive 10-foot high, 16-foot wide dome is startling. Not only does it dwarf nearly everything else on this reef, but the greyish appearance and deep labyrinth of grooves really do look like the human brain. Made up of millions of tiny polyps, this fragile brain coral structure at 65 feet deep has been alive and well for several hundred years. Look for nurse sharks resting beneath it. Sea fans, sea whips, soft corals and sponges, barracuda, and large green morays also live in the dense reef habitat here. Topside Fun: Experience island nightlife at Sunday School, Tobago's weekly steel band street party in Buccoo village. (Photo: Thinkstock/iStock) Read the original story: The Most Amazing Caribbean Diving and Snorkeling Sites by Jamie Moore, who is a regular contributor to SmarterTravel.
Follow Stephen Weir on Twitter: www.twitter.com/sweirsweir