The Food You Buy at the Grocery Store May Not Be Safe to Eat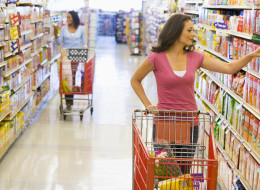 As you're pushing that heavy cart with a squeaky wheel around your neighborhood market with your kids tugging at your shirt repeatedly asking "Can I have this?" before you give in, it is important to take a moment to carefully inspect the colourful packaging because it is possible that something on those shelves may pose a danger to your family.
According to Public Health Agency of Canada, four-million Canadians will come down with food poisoning this year. The United States is doing no better. The CDC estimates that 48-million Americans will suffer a similar fate each year, which is one out of every six people. Fortunately, most recover but some do not. Pregnant women, their unborn babies, older adults, and people with weakened immune systems face the greatest risk.
While some cases result from improper food handling at restaurants or at home, many are caused by products purchased at the grocery store. Thus, food safety should be a prime concern when shopping, on par with nutrition. Shoppers should check packaging for cracks and holes, ensure that tamper guards are in place, and watch out for bulges in cans or containers of food. Unfortunately, biological, chemical, or physical hazards may lurk within the food itself. Most food companies strive to produce products that are safe to eat but some fail and food-borne illnesses result.
Accidental contamination may occur from sick employees, improper: cleaning of equipment, poor facility sanitation, or insect/rodent infestations. In 2011, two Colorado cantaloupe farmers sickened 125 people with Listeria, 33 died. It was suspected that the source of the contamination was their cantaloupe packing shed which had puddles of dirty water on the floor and contained rusty equipment. Last year Farm Rich products sickened 35 people with E. coli. Farm Rich, recalled four products: chicken quesadillas, mini pizza slices, mozzarella bites, and Philly cheese steaks. The source of infection was never found and inspectors did not find any food safety violations at the factory.
Sadly, product contamination is not always accidental, as food safety regulations are sometimes intentionally ignored in an effort to increase profits. In 2009, hundreds of people became ill and nine people died from a Salmonella outbreak linked to Peanut Corporation of Americas' peanut butter. But, this toxic peanut butter was not released accidentally. Lab tests conducted at the plant clearly showed the presence of Salmonella in this product prior to being shipped to the stores. The plant manager, Samuel Lightsey, decided to ship the product anyway; and even forged the certificate of analysis for each shipment stating that this product was safe to eat. Last Wednesday, facing 76 felony counts -- he plead guilty.
As a reaction to the PCA outbreak, the U.S. passed the Food Safety Enhancement Act. This Act makes 11 major changes to food safety laws. The most significant is that it creates a mandatory schedule for inspections. This is important, as previously, many food manufacturing plants remained under the radar escaping inspection for years at a time. Moreover in 2011, President Obama signed into law The FDA Food Safety Modernization Act (FSMA) which focuses on preventing the initial contamination rather than just trying to contain outbreaks after they arise. This Act gives the FDA power to impose mandatory recalls if the company refuses to implement one.
Canada has followed suit. Stephen Harper tabled the Safe Food for Canadians Act in June 2012 and it received royal assent the following November. Unfortunately, the bureaucracy is struggling to bring in practical regulations that will actually make a difference on the factory floor. The latest news is that regulations will only start being introduced in 2015 with full implementation by 2017. The first sector to face these new regulations will be meat which is, ironically, is already the most closely supervised sector.
These laws are a step in the right direction but, as noted above, food-borne illness outbreaks are still occurring today. Changes are happening at a glacial pace and funding is a major issue. In order to inspect all food processing plants, a lot more manpower will be required. Moreover, government inspection agencies require many new workers to help govern their new oversight responsibilities but governments are not in a financial position to hire so many at once. Therefore, full implementation of these laws will likely happen slowly over the next decade.
Until then, the answer to the question, "are the foods you buy at the grocery store really safe to eat?" is "maybe."
ALSO ON HUFFPOST:
The Biggest Food Safety Disasters Of 2012
In early December, Trader Joe's announced that the producer behind its "Trader Joe's Butter Chicken with Basmati Rice" was recalling 4,865 pounds of the product because they may be contaminated with Listeria. The product was distributed nationwide, to stores in New York, Massachusetts, Virginia, New Jersey, Pennsylvania, Maryland, North Carolina, Connecticut, Florida, New Hampshire, South Carolina, Delaware, the District of Columbia, Maine and Rhode Island.

Salad distributor Fresh Express voluntarily recalled 9 oz. packages of spinach in November because they may be tainted with salmonella bacteria. The packages were sold to stores in Arizona, California, Colorado, Hawaii, Idaho, Missouri, Montana, Nebraska, Nevada, New Mexico, Oklahoma, Oregon, South Dakota, Texas, Utah, Washington State and Wyoming.

Sixteen cases of E. coli were linked to organic spinach and spring mix salads from Wegmans, which in early November recalled 5 and 11-ounce packages of the products.

In November, Publix supermarkets in several Florida counties pulled 45 varieties of cake from shelves because of fears they may have been contaminated with Listeria bacteria.

Authorities in the Netherlands said in October that tainted smoked salmon is the cause of a salmonella outbreak that sickened hundreds of people. The same product may also be responsible for a multi-state outbreak in the U.S.

In October, Kellogg's announced the recall of millions of boxes of Mini-Wheats cereal after reports of pieces of metal mesh found within by some consumers. A "faulty manufacturing part" was reportedly to blame.

An investigation by Consumer Reports found that a shockingly high proportion of pork sold in grocery stores tested positive for potentially harmful bacteria. About 69 percent of the pork chop and ground pork samples tested contained Yersinia enterocolitica bacteria, which sickens about 100,000 people a year. Most of the bacteria found was resistant to at least one form of antibiotic.

A McDonald's eatery in Bloomington, Ill. was linked to a string of salmonella sickenings involving several restaurants between October 18 and November 11. It closed down as investigators tested every employee. Those who fell ill were sick for about a week with a particularly nasty strain -- Salmonella Stanley -- which is rare outside of Southeast Asia.

In November, the FDA shuttered Sunland Inc.'s plant months after it was first implicated in a widespread salmonella outbreak that sickened 41 people in 20 states. Peanut and other nut butters sold at chains including Trader Joe's, Whole Foods, Safeway and Target.

In September, the USDA reported that ground beef part of a nationwide Canadian recall for E. coli contamination had found its way into the U.S. The beef, which was originally produced by Alberta-based company XL Foods, was distributed in California, Michigan, Nebraska, Oregon, Texas, Utah and Wisconsin.

In September, Kroger recalled 10 oz. bags of packaged spinach that had been distributed in 15 states, citing a potential Listeria contamination.

An undercover investigation led by the BBC found "shocking quantities" of "potentially unsafe" rat meat sold at one of London's most popular markets, Ridley Road Market. Large quantities of other illegal bushmeat were also for sale.

Former egg farm manager Tony Wasmund plead guilty in September to conspiring to bribe a USDA inspector to allow the sale of unapproved eggs. The farm at which Wasmund worked, DeCoster Farms in Iowa City, Iowa, was blamed for a salmonella outbreak that sickened about 2,000 people.

In September, workers at a Conroe, Tex. KFC said they sold expired chicken. The meat was allegedly six days past the date at which it was supposed to have been thrown out.

In September, it was announced that 14 hospitalizations and three deaths were linked to Listeria-tainted cheese imported from Italy. Frescolina brand Ricotta Salata was recalled by distributor Forever Cheese Inc. following reports.

In August, more than 100 people across 16 states reportedly were sickened with salmonella after eating mangos. In September, the Food and Drug Administration detained mango imports from a Mexican packing house after the fruits were linked to the sickenings.

In August, Wisconsin outfit Klement's Sausage Company Inc. recalled 2,920 pounds of frozen beef because they may contain pieces of a plastic pen.

In August, it was determined that a salmonella outbreak linked to cantaloupe sickened nearly 150 people and contributed to the deaths of two. The outbreak, which began in July, affected consumers in Indiana, Kentucky and Minnesota.

In August, Utah company Dale T. Smith and Sons Meat Packing recalled 38,200 pounds of beef due to a possible E. coli contamination.

Apple slices sold in children's meals at fast food chains McDonald's and Burger King were recalled in August due to a potential Listeria contamination. The slices were also distributed to Wawa convenience stores and Wegman's grocery chains.

In August, 300 prisoners in an Arkansas prison were stricken with food poisoning after consuming tainted chicken salad.

An E. coli outbreak in July traced to a company picnic in Ohio is responsible for the sickenings of 75 people and the death of one. Lowell Draffen, a 73-year-old former superintendent at several school districts in Ohio, developed developed hemolytic uremic syndrome, a type of kidney failure and passed away.

In July, New Jersey-based manufacturer Buona Vita Inc. recalled about 324,700 pounds of frozen, ready-to-eat meat and poultry products, citing a possible listeria contamination. The items included meatballs, chicken and beef patties, and loafs of chicken and beef.

California lettuce producer River Ranch Fresh Foods voluntarily recalled bags of its salads nationwide in May when some routing testing returned positive for listeria. No illnesses were reported.

In April, fast food giant KFC was ordered to pay $8.3 million to the family of Monika Samaan, who at age seven contracted a serious case of salmonella after dining at a KFC eatery. The episode left her confined to a wheelchair with serious brain damage.

The USDA confirmed in April a case of mad cow disease in a dairy cow found at a California transfer station. The finding sparked widespread panic in the U.S. beef community.

In April, a salmonella outbreak linked to a yellowfin tuna product made by Moon Marine USA Corp. was first reported. The culprit was "tuna scrape," a product made by scraping backmeat off fish bones, give it a ground-like appearance. It's often used in sushi. A lawsuit linked to the outbreak was later filed.

In April, Dole Food Co. pulled 756 cases of bagged lettuce citing a salmonella risk. The bags of Seven Lettuces were sold to stores in Alabama, Florida, Illinois, Indiana, Maryland, Massachusetts, Michigan, Mississippi, New York, North Carolina, Ohio, Pennsylvania, Tennessee, Virginia and Wisconsin.

"Pink slime" became one of the biggest stories of the year in March when food activists went wild over the beef filler often used in school cafeterias. The finely textured beef product, made with scraps from more premium cuts, is treated with ammonia before being sold as ground beef.

In March, Polish health authorities recalled more than 500,000 pounds of pickles, bread and other foods they believe may contain with industrial road salt unfit for human consumption.

Oklahoma resident Leah Smith filed a lawsuit against Taco Bell in February, alleging that she contracted salmonella poisoning after eating food from the fast food chain. The chain was fingered as the likely culprit behind a string of salmonella sickenings in October and November of 2011.

South Carolina company Grand Strand Sandwich Co. recalled about 2,800 of its chicken salad sandwiches in February, citing potential listeria contamination.

Minnesota-based company Michael Foods recalled 15,000 pails of eggs in brine in early February, citing potential listeria contamination. The eggs, which were meant for institutional use, had been distributed in 34 states.

Unpasteurized tempeh produced by North Carolina company Smiling Hara was linked in February to a rare strain of salmonella that sickened 60 people. The outbreak strain, Salmonella Paratyphyi B, can cause severe symptoms. Of those 60 people, several people were hospitalized.

In February, it was determined that raw sprouts served in dishes at sandwich chain Jimmy John's were behind 12 cases of E. coli poisonings in five states.

In January, it was reported that 19 people had fallen ill with a drug-resistant strain of salmonella after eating beef sold at Scarborough, Maine-based supermarket chain Hannaford.

A recall Fromagerie Marie Kade cheeses that began in the last days of 2011 and lasted through early 2012 was called by Massachusetts health officials due to a potential listeria risk.
Follow Steven Burton on Twitter: www.twitter.com/icicleBsafe