Why This Flu Season Seems So Much Worse Than Last Year's
Written by Dr. Mary Vearncombe, Medical Director, Infection Prevention and Control, Sunnybrook Health Sciences Centre
There are a few certainties in life: death, taxes -- and influenza, better known as the flu.
Flu season runs from about November to March in North America, and each year it varies in length and severity. However, we often see a spike in flu cases at this time of year (during or just after the holidays), as people gather together in large numbers.
This year is no exception. The most predominant flu strain circulating now is H3N2, which disproportionately affects the elderly and people with pre-existing medical conditions such as diabetes or heart, lung and kidney disease. These people get sicker and are more likely to require medical care and hospitalization -- hence the surge of patients into emergency departments and hospitals.
We are seeing a lot more activity this year compared to last year's flu season.
We are seeing a lot more activity this year compared to last year's flu season, which was relatively mild. This year is still not as severe as the 2014-2015 season, when there was a poor vaccine match for the circulating and predominant H3N2 strain, resulting in more people becoming ill.
It's important to understand that the flu strain circulating each year can change every flu season. Using data from previous flu seasons, researchers work hard to predict which flu strain will be most prominent during the next flu season, months in advance. This means there may be year-to-year variation in how well the vaccine and circulating flu virus strains match. Still, significant protection against getting the flu is provided even during years where the vaccine isn't a perfect match.
So far, this year's vaccine does appear to be a good match. Even though the vaccine only provides 50 to 60 per cent protection, it is still important that you get the flu shot. Not only does it reduce your own risk of getting sick by 50 to 60 per cent, it also reduces the chances that your loved ones will get sick, especially those who are at high risk for severe flu.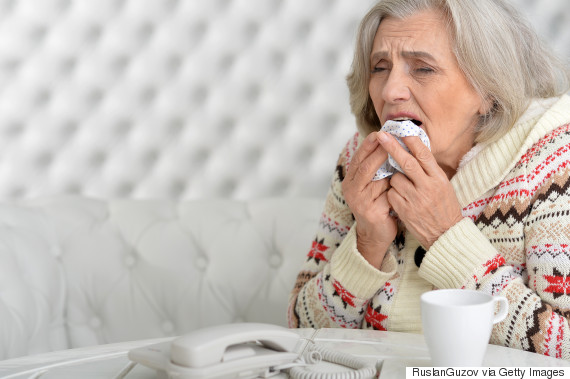 (Photo: Ruslan Guzov via Getty Images)
Although we are well into this year's flu season, it is still not too late to get the flu shot. Because the flu strain you're being protected against is constantly changing, you should get the vaccine every year. I always get my flu shot, as do all the members of my family.
In addition to getting the flu shot, there are other things you can do to prevent getting or spreading the flu. It's important to clean hands before and after using the washroom or handling food, covering coughs and sneezes with tissue (and disposing of the tissue immediately in the garbage) and then cleaning your hands.
Practice healthy habits to keep the immune system strong, like having a balanced diet and getting enough sleep, and stay home from work, daycare or school when sick. These are all good habits to adopt, and will increase your chances of staying healthy through the flu season.
CORRECTION: An earlier version of the headline read "The Reason Everybody You Know Is Catching The Flu This Year." It has been changed to "Why This Flu Season Seems So Much Worse Than Last Year's" for greater accuracy.
Follow HuffPost Canada Blogs on Facebook
Also on HuffPost:
Feeling feverish or having a fever of 100°F or higher can be an indicator for the flu or H1N1 virus, though not everyone with the flu will get a fever. Fevers are unlikely with a common cold.

Feeling achy all over or getting a headache is another symptom of the flu or H1N1, and not generally associated with getting a cold. This tends to show as more general aches, as opposed to those confined to one area.

Nausea is the most symptom of the flu, and less likely to occur with a cold. However, if you're vomiting continuously, this can indicate a more severe strain of the flu, and you should seek medical help.

A sore throat is usually the first indicator of the beginning of illness, whether it's a cold, the flu or worse.

Coughing occurs when one has a cold or the flu, though if it worsens, that can indicate a more severe strain, like H1N1.

An intense feeling of exhaustion, like not being able to get out of bed, is a sign that you have the flu or H1N1. This does not usually occur with a cold.

Chills can occur as a result of many kinds of bacterial and viral illnesses, including colds, the flu and H1N1.

Though a runny nose is most closely associated with a cold, it can also be part of having the flu or H1N1. Be sure to have plenty of tissues on hand to keep germs from spreading.

Dizziness is not a normal symptom for a cold or flu, and should be treated with seriousness.

Dehydration is a serious risk when you're ill, either because you feel too sick to drink or eat, or you've been vomiting and/or having diarrhea. Being dehydrated can indicate H1N1, and you should seek medical attention.

Feeling pains in your stomach or chest while or immediately after you have the flu can indicate a serious complication, like pneumonia. Seek medical help immediately.

Discoloured lips can indicate a lung infection, which poses a serious health risk. Be sure to seek medical attention immediately.

NEXT: 10 ways to help protect you from the flu

To help keep the germs at bay, use a cotton swab to apply petroleum jelly to the inside of your nostrils. Voila! You've got yourself an enhanced germ barrier. Our noses are often soft spots for bacteria and viruses and a small layer of jelly can act as a protective barrier.

Keep an all-natural hand sanitizer that promises to kill 99.9 per cent of germs in your pocket or purse at all times.

Kids are primary germ carriers and will inevitably fall ill this season. To prevent yourself from getting sick, make sure your children are also protected either with a flu shot or medication.

Bacteria love warm, humid environments. If what you've got now is a bacterial infection, garlic is a powerful, all-natural antibiotic solution. Of course we're not telling you to eat a raw clove straight — instead try adding garlic to soups, salads or your favourite pasta.

A happy gut means a healthy immune system. Reach for probiotic supplements or yogurt. Probiotics can boost the immune system and increase resistance to the cold and flu by producing antibiotics.

Lack of sleep is proven to contribute to an unhealthy immune system. To ensure you have a congestion-free sleep, whether you're sick or not, use a nasal strip to help open your airways.

Much like hand washing, this is one of the simplest ways to help prevent the spread of germs.

Irrigate your nasal cavity with a neti-pot. It will flush out the viruses and bacteria reducing chances of impending infections.

When it comes to the flu, it's not all about Vitamin C, Vitamin D is just as important. Since we may not get as many hours of sunshine as we do in the summertime, taking vitamin D supplements during the winter can help boost immunity and protect our bodies from catching a cold.

Research suggests the use of a properly formulated Echinacea means fewer colds, reduced duration of cold symptoms, and less reliance on synthetic pain relievers.
Follow Sunnybrook Health Sciences Centre on Twitter: www.twitter.com/Sunnybrook