My Canadian Immigrant Story Begins With The Loss Of My Father
My dad always wanted to move to Canada so he could provide a better education and a better life for his family. He wrote a letter to one of my uncles in Toronto who was more than willing to help.
My uncle got in touch with an immigration officer and secured a visitor's visa for my dad. I was only five years of age when the day came that Dad flew to Canada in pursuit of our better future. At that time, Pierre Trudeau was Canada's prime minister.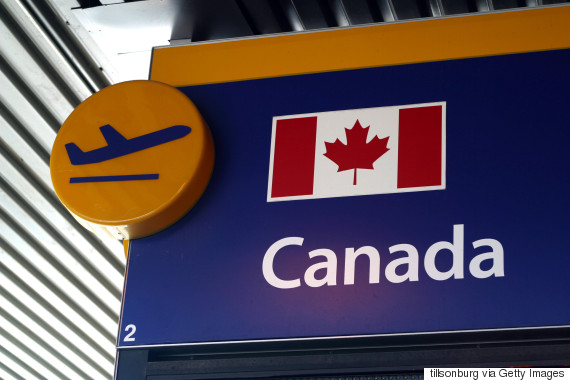 (Photo: Tillsonburg via Getty Images)
Thinking back on our life in India, before we came to Canada, I recall a modest-sized house with four rooms, a kitchen, a bathroom and a little room my dad used as a post office. He was a postmaster.
I lived in that house with my parents, brother and four sisters.
We weren't rich or poor. Just a nice, happy, loving family. But Dad always believed a real future for his family could not be found in India, but in Canada.
It took 11 years until Dad was granted landed immigrant status. He wrote to us saying he was going to visit us and we were finally moving to Canada. But his visit back home never came.
By the time my father received approval for himself and his family to immigrate to Canada, the stress he experienced during that long wait, the constant worry about being sent home, his worrying about his family back home in India -- it all took a toll on him.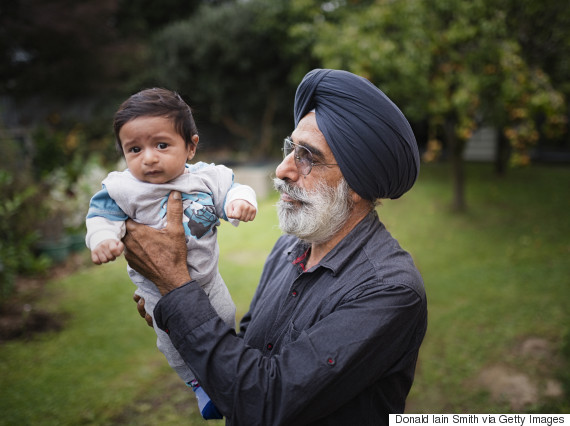 (File photo: Donald Iain Smith via Getty Images)
He became quite ill. He suffered high blood pressure and developed a heart problem and diabetes. Sadly, he died of a heart attack before he could bring us to our new home in a new country.
I was five years old when he left us and 16 when he died. My memories of my dad are the vague, foggy memories of a small child.
My uncle who had helped Dad get to Canada once again came into our lives as an angel. He did his best to support us and played a major role bringing about my family's success here in our new country.
Today, I'm 47 years old and Canada has been my home for almost 28 years. To this day, whenever I experience difficulties in life or in my career, I feel sadness and regret at not having my father me to help me through the difficult times.
These memories and emotions came back to me as I watched our current prime minister, Justin Trudeau, being reunited with a Syrian refugee family he had met when they first arrived in Canada a year earlier.
Trudeau had tears in his eyes. I'm sure his emotion at that moment was genuine. But if I'm being honest, it also upset me.
My immigration story has something in common with countless others: it is one of heartbreak and hardship. And this has been true throughout the many decades of immigration to this country, stretching back over a century. It is also true that with each new generation the process becomes more efficient, humane and effective.
Perhaps I'm being selfish, but after watching the PM's interaction with that family, I can't help but be in a way envious of those recent immigrants and refugees.
My own experience began with the loss of my father, and was characterized by hard work, sacrifice and little government support. I don't begrudge new refugees or immigrants a better system, but I do feel anger watching a politician parading his emotions in front of the press.
We just want a fair opportunity to have a decent life in a great new country.
Canada is a wonderful country. I continue to learn new things, confront new challenges and enjoy new experiences.
But still so many times I can't help but think about how my dad was taken from us. I miss him and have always felt his loss.
I don't want or need political tears. None of us new Canadians do. We just want a fair opportunity to have a decent life in a great new country. And we are willing to work for it. My family did, and I am sure the majority of our Syrian refugees will.
Follow HuffPost Canada Blogs on Facebook
Also on HuffPost:
Countries With The Most Immigrants: 24/7 Wall St.
> Immigrants: 7.3 million > Pct of population: 20.7% > GDP (PPP) per capita 2012: $42,734 > Gov't immigration goals: Maintain Currently, 7.3 million immigrants live in Canada, equivalent to more than 20% of the nation's total population. As 2011, the Canadian government was one of the few to propose policies that would increase the level of immigration for the purpose of family unification. The level of immigration, more generally, was considered satisfactory in the same year, according to the U.N. In spite of Canada's exceptionally liberal immigration policies, there has been concern recently over whether Canada's immigrants are successfully integrating into society. To avoid the potential social tension that could arise from a growing economic difference between immigrants and locals, the Canadian government has restructured its screening process to emphasize factors such as job skills and language fluency. Read more at 24/7 Wall St.

> Immigrants: 7.4 million > Pct of population: 11.6% > GDP (PPP) per capita 2012: $35,548 > Gov't immigration goals: Decrease Just 11.6% or France's roughly 65 million residents are international migrants. According to the U.N. Population division, while the French government promoted some policies aimed at attracting skilled immigrants as of 2011, the governments overall attitude toward immigration was generally negative. As a member of the European Union, France is obligated to support the free movement of EU nationals between the EU nations. In recent years, however, the European Commission has criticized the French government for expelling Roma, popularly called Gypsies, from the country. France's existing immigrant population is older, with nearly 20% at least 65 years of age, compared to just 11.1% globally. Read more at 24/7 Wall St.

> Immigrants: 7.8 million > Pct of population: 12.4% > GDP (PPP) per capita 2012: $36,941 > Gov't immigration goals: Decrease About 7.8 million million immigrants live in the U.K., up from just under 6.5 million as of 2010. This is despite the U.K. government's view, as of 2011, that the large influx of foreigners to the country was somewhat of a problem. The government's policies intended to lower the level of immigration to the country, including high-skilled workers immigration. Only one of the world's eight largest destinations for immigrants, the United Arab Emirates, had a higher average annual increase in immigration that exceeded the U.K.'s 4.0%. Although the country's aging population may actually signal a necessity for more immigrants, British Prime Minister David Cameron has stated that immigration has strained the nation's public services. Read more at 24/7 Wall St.

> Immigrants: 7.8 million > Pct of population: 83.7% > GDP (PPP) per capita 2012: $49,012 > Gov't immigration goals: Decrease A stunning 83.7% of UAE residents are international migrants the most of any country in the world, excluding only Vatican City. Between 2010 and 2013, the emirates let in more than 4.5 million migrant workers, more than any other nation in the world. The UAE is able to attract workers to come there because the country is extremely wealthy, with an economy driven by oil and finance. As of 2012, the nation's per capita GDP exceeded $49,000, on-par with that of the U.S. But despite the nation's appeal for immigrants, the UAE's government as of 2011 considered immigration to be too high. Additionally, the country has been criticized for the poor living and working conditions faced by many migrant workers. Read more at 24/7 Wall St.

> Immigrants: 9.1 million > Pct of population: 31.4% > GDP (PPP) per capita 2012: $31,275 > Gov't immigration goals: Decrease Nearly one-third of Saudi Arabia's population consists of immigrants, while between 2000 and 2013 the number of immigrants rose by an annual average of 4.2% per year, higher than most other nations. Between 2010 and 2013 alone, the number of immigrants to Saudi Arabia rose 24.3% As of 2011, the Saudi Arabian government regarded the overall level of legal immigration as too high and implemented policies to reduce immigration, according to the UN had. Similarly, the government's policies on the naturalization of immigrants were also considered restrictive. Recent news reports suggest immigration policy in Saudi Arabia has only become more restrictive with new measures implemented to prevent undocumented workers from finding employment. Read more at 24/7 Wall St.

> Immigrants: 9.8 million > Pct of population: 11.9% > GDP (PPP) per capita 2012: $39,028 > Gov't immigration goals: Maintain Germany, one of the world's largest economies, is a popular destination for immigrants. Its well-developed infrastructure and top-rate higher education only add to its attraction. Just under 10 milllion of the country's 82 million residents are immigrants. As of 2011, Germany's policies reflected approval of the country's rate of immigration. In 2012, with the eurozone crisis still unabated, a growing number of young workers immigrated from southern Europe to Germany. But Germany has openly recruited high skilled-workers to live and work in the country permanently, especially as the country's population ages and shrinks, according to Der Spiegel. Unfortunately, many such workers fail to stay for even as little as a year, and since 2010 the number of immigrants to Germany has actually dropped. Read more at 24/7 Wall St.

> Immigrants: 11.0 million > Pct of population: 7.7% > GDP (PPP) per capita 2012: $17,709 > Gov't immigration goals: Increase More than 12 million immigrants lived in Russia in 2010 and the Russian government was among the few seeking to increase the number of foreigners entering the country. In 2011, the country's government viewed immigration as too low and oriented its policies towards increasing immigration. However, these policies have failed to attract more net immigrants: as of this year, there are just over 11 million immigrants living in Russia, a decrease of roughly 10% from 2010. Local authorities have not embraced the prospect of single-ethnicity communities for Chinese, Uzbeks, Tajiks and other ethnic groups in Russia ,and have even sought to ban them in some cases, hoping instead to promote integration into Russian society. Read more at 24/7 Wall St.

> Immigrants: 45.8 million > Pct of population: 14.3% > GDP (PPP) per capita 2012: $49,922 > Gov't immigration goals: Maintain The U.S. is by far the largest destination for immigrants, with more than 45.7 million living in the country, according to the UN. As of 2011, the U.S. government's policies toward both immigration and emigration remained effectively neutral. However, immigration reform has been especially prominent in Congress this year. This reform is expected to address issues related to illegal immigration, while determining how, and whether, undocumented immigrants should be able to attain citizenship. Considering the U.S. has one the highest per capita GDPs in the world, at nearly $50,000, its appeal to immigrants is fairly straightforward. It is the world's largest economy, as measured by output, and has the second largest total exports. Also, the U.S. offers well-developed infrastructure and financial markets, as well as quality education. Read more at 24/7 Wall St.
Follow Surjit Singh Flora on Twitter: www.twitter.com/floracanada