Be the Mother You Wish You'd Had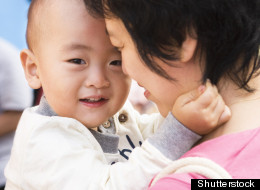 My friend Jenny just had her first child. He started holding up his own head at four weeks, and rolling over at the age of six weeks. Jenny called her sister right away. "Junior's rolling over already! The books say he's not supposed to be able to do that for another ten weeks!" "Well, Jen," her sister replied, "I hate to break it to you, but Junior hasn't read those books."
No matter how prepared you think you are, motherhood can knock you flat on your back. It's not just learning about diapers and homework, either; life can throw all sorts of curve balls. Before Andrew was born, I didn't worry about the unknown. I dreamed of the mother I would become and the child I would raise. He would be happy and outgoing. He would love sports, and we would spend hours playing catch in the backyard. Every day would provide hours of bliss, because I would be the perfect mother to the perfect child.
Right. Of course, I had no idea that I was about to give birth to a brilliant, sensitive child who not only hates sports, but also suffers from learning-disabilities, ADD, and clinical depression. My dream did not include years of not being a "normal" family, years of Andrew understanding all too well that he was not a "normal" kid. No pain could have cut deeper than when my son told me he didn't know how it felt to be happy, when I was doing everything in my power to give him the best life I could. You just can't prepare for that.
We managed to get through the worst, and eventually found the medications that enable him to embrace life for all of its possibilities. Andrew is happy now. He has friends and hobbies. He is polite, helpful, kind, and incredibly funny. His smile lights up a room, and I'm so grateful to see it, so grateful to be able to love this incredible, complicated, darling boy, and to have the opportunity to watch him grow into a man.
Motherhood is a gift, even when it's tough. It teaches us patience, sacrifice, and perspective in a way nothing else can. I would not have chosen to go through those tough years any more than Andrew would. My job was to love him desperately, and never to give up hope. I did the best I could.
Not all families experience such challenges, but all parents have their crosses to bear and lessons to learn. Here is my advice for mothers everywhere:
Accept your child for who he/she is. Maybe your husband is a golfer, but your son prefers to dance. Maybe you were a great student, but your daughter struggles with dyslexia. Love them anyway, and make sure they know it! Support them, encourage them, help them find things they enjoy and are good at.
Listen respectfully. I recently heard a mom tell her 11 year-old son, "you don't love that girl; you don't know what love is yet." This boy will either grow up to distrust his own emotions, or to avoid confiding in his mother. When your children share with you, be grateful, shut up, and listen.
Teach your child to respect others. Cute and spoiled at age two? It's not so cute at age 20. Make sure your children learn manners. Teach them to be kind by showing them acts of kindness. I'm never so proud of my kids as when I see them going out of their way to help others.
Don't sweat the small stuff. Jimmy got sent to detention; it doesn't mean he'll never graduate. Kids are going to make mistakes. We are not here to prevent them from ever messing up; we are here to help them avoid the worst mistakes, and not to repeat the small ones.
Give them the tools they need to be responsible adults. Teenagers who think its okay to cover their floor with dirty clothes and garbage will not miraculously learn to be neat when they hit college. Likewise, they will not learn how to make a lasagna, balance a budget, or write a decent thank-you note. I'm just sayin'.
Motherhood is an awesome, overwhelming, and often thankless job. It's also the best one out there. Be the mother you wish you'd had, and you're on the road to greatness.
Happy Mother's Day.
Canadian designer Nicole Tarasick has created these airport code pillows, perfect for the frequent flyer or the expat. Airport Code Pillows by Nicole Tarasick, $65, available on Etsy.

Some of us have mothers who love their plate collections — so much so that she keeps them in glass cabinets as display items. This Mother's Day, she'll love you for adding these bright finds to her collection. La Med Melamine Dinner Plates, $60, available at Williams-Sonoma.

This is the perfect Mother's Day gift that YOU can benefit from as well. Fun fact: this ice cream maker also includes the largest ice cream bowl capacity in the industry. Kitchen Aid Ice Cream Maker, available at retailers across Canada.

Yes, flowers are the typical go-to Mother's Day gift, but this year check out these paper flower bouquets by Paper Portrayals. Paper Flower Bouquet, $65 (USD), available on Etsy.

Okay, just hear us out. Sometimes, our parents aren't always that organized. To help Mom keep track of her finances, give her this practical electric organizer. NeatReceipts, $180, available at Neat.com.

For anyone who has grown up with a mother who loves to bake fresh treats, surprise her with this spring-inspired cake stand. Floral Cake Stand, $50, available at Pier 1 Imports.

Sometimes, Mom just needs to get away. But if a tropical vacation isn't in the near future, Spa Finder lets you buy gift cards that can be used at 2,000 different Canadian spas. Check out how to get your own Spa Finder gift card.

Browse the Web, read a book or just watch funny viral videos. This tablet is decently priced and has a seven-inch display. Google Nexus 7, $240, available at Future Shop.

Face it, your mom loves your face. We know frames are simple and popular go-to gifts, but this year try adding an old photo of you and your mom. She'll appreciate it. I Love Mom Frame, $15, available at Indigo.

OK, if the last one was too cheesy for you, we also have these stunning semi-precious, hand-polished agate frames. RabLabs Obra Frames, $58, available at RabLabs.com.

Sick and tired of boring cards? Check out these fun and customized cards on Etsy. (No, seriously, there's a whole page.) You Da Bomb Diggity, $4 (USD), available on Etsy.

Simple, cute and fun. These tea cups will brighten up any kitchen. Dotto Mug, $12, available at Anthropologie.

Make Mother's Day special this year by getting your mom a stunning leather notebook. She can use it as an agenda or just write down her thoughts. Spring Blossom Journal, $18, available at Indigo.

Get your mom's mornings going with this colourful coffee and espresso maker. Nespresso U D50, $200, available at The Bay.

Cheers! Pop open a bottle of wine (we recommend this Chardonnay from Jackson-Triggs) and give a toast to thank your mom for everything she's done. Prices vary across the country.