Put a Bird on it: Six Wallpapers for a Sophisticated Nursery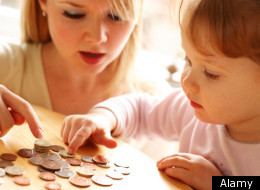 I have decorated many nurseries. Not one of them has featured cartoon characters or highly gender-specific colour palettes, but I like to think they were all successfully executed rooms, resulting in happy clients -- both parents and babies. What they do all have in common is wallpaper. A great source of pattern and colour, wallpaper often adds the whimsy and flair without venturing into garish critter land. Below is the perfect example of a really playful nursery I designed using a Schumacher wallpaper.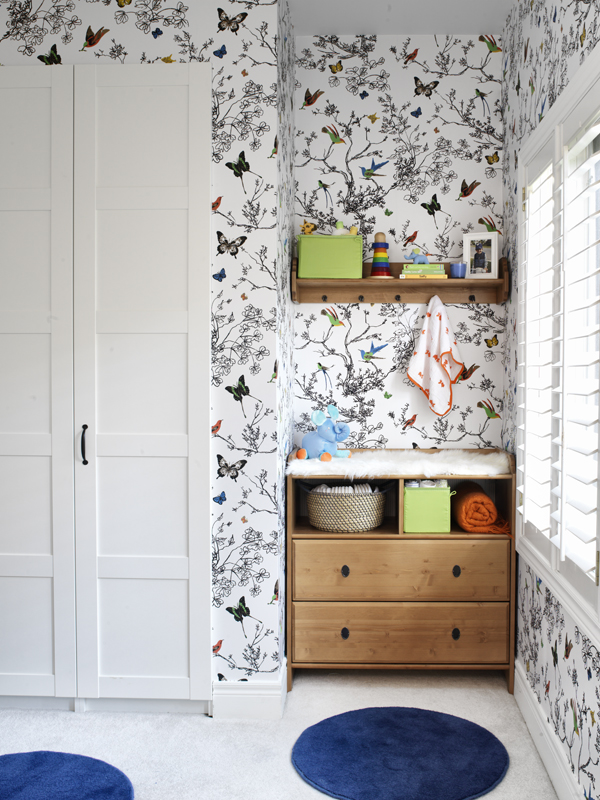 Photography by Donna Griffith.
I can offer two good reasons it behooves you to decorate your child's nursery in a gender-neutral, non-babyish way:
- You may have another child of the opposite sex who will inherit the nursery as is, while your older child moves to a bigger room.
- You may not have any more kids and want to convert the nursery -- often a small room in the house -- into a home office or guest bedroom.
In the world of design, we often refer to a source of inspiration as a "jumping off point." That source offers many directions in which to go, be it colour, theme or shape. I tend to look to fabrics and wallpaper as a starting point for many projects and approach decorating a nursery using the very same method.
So here goes: six fantastic wallpapers you can use to create a dreamy nursery that will stand the test of time.
SIX WALLPAPERS FOR A SOPHISTICATED NURSERY
Mimosa 69/8132 from Cole & Son's Contemporary II collection. Why? Because sunshine yellow is a great colour for babies. And because Mimosa is the cutest of all floral elements, however this wallpaper is still super-chic. Paint the ceiling and/or complementary walls in the soft beige background of the paper and accent with mossy green, like the leaves. Presto. Done.

Bumble Bee BP551 by Farrow & Ball. Here is an important lesson, folks. Yes, the "bee" is a character, but this motif is classic and sweet without being cloying or immature. Even though the ground is robin's egg blue, it could most definitely work for a girl's room or a boy's room. Accent with black and white furnishings for a dramatic spin on the traditional pattern.

Mirabel in Wasabi W313/02 by Romo. Soft and pretty, I somehow think birds are always a great motif for a kids room. For those of you who watch IFC's Portlandia, you should most definitely Put a bird on it! This botanical print in soft green, blue and taupe with a creamy background is the perfect palette for a soothing nursery that would be equally swell down the road as a guest bedroom.

Musette in Celadon by Designers Guild. Okay, a little boy may not want flowers on his walls, but this wallpaper is gorgeous, vibrant and would definitely stand the test of time. Go against the grain with soft blue for a baby girl and accent with a myriad of colours from apple green, dark turquoise and fuchsia to gold. I would consider doing a feature wall in this paper and painting the rest of the walls in the soft blue shade of the background. You could even paint the ceiling in a slightly lighter shade of blue than the walls for a tone-on-tone effect.

Clouds Sunshine in Pink by Aimee Wilder Wallpaper. For the modern baby, I adore this contemporary print. With its collage-esque pattern of overlapping clouds and quirky mix of patterns, it is perfect for either gender. Pull out various blues and greys with a few red accents for boys, and opt for more pink and turquoise for a little girl.

Butterflies wallpaper in Frost by Timorous Beasties. Seriously chic. What I love about this paper is the very subtle combination of cream and grey. Of course, the butterflies themselves are vibrant, but it is the muted neutral ground and branches that make this paper so sophisticated. Use this to paper all the walls in a room with the ceiling painted cream and millwork in soft grey. Try a crib painted grey with a brightly coloured area rug on the floor.
My last piece of advice would be to hire a professional paperhanger. They will make sure the paper goes up quickly and perfectly, and you don't have to worry about destroying the product, hurting your back or arguing with your spouse. Since so many people ask me for references, here is a link to my friend John Arnold's info on HomeStars. Happy decorating!
Follow Tamara Robbins Griffith on Twitter: www.twitter.com/Tamara_Robbins