Straphanger: An Excerpt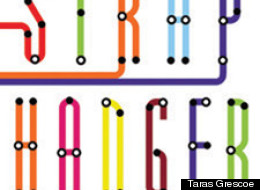 The Huffington Post Canada is delighted to once again be partnering with the Writers' Trust of Canada Shaughnessy Cohen Prize for Political Writing. In the weeks leading up to the March 6 announcement of this year's prize winner, we are publishing excerpts from each of the five finalists. The authors have personally chosen the portions they'd like to share, and each excerpt begins with a brief explanation of why that particular passage was chosen.
A note from author Taras Grescoe:
Straphanger is, in part, the story of a bad idea: the notion that our metropolises should be shaped by the needs of cars, rather than people. I believe a slow-motion exodus from cities began when old, coherent neighbourhoods were divided and degraded by on-ramps and overpasses, and highways were cut into the living tissue of the metropolis. By diminishing public space, the automobile has made once great cities terrible places to live.

Straphanger also tells the story of some very good ideas. Around the world, energetic and idealistic people are working hard to reclaim neighbourhoods once left for dead. The movement goes under a variety of names: transit-oriented development, smart growth, new urbanism. In the wrong mouths, these are just buzzwords; in the wrong hands, they can serve as the justification for boondoggles as bad as any hastily thrown-up boomburg. But the advocates of livable cities and walkable small towns may be on to something -- by investing in development that includes well-conceived transit, we can create more sustainable and, crucially, more civil communities.

In researching the book, I visited 14 different cities, looking at some of the best and the worst in urban transportation. For me, Moscow offered both: surface roads gridlocked by a nightmare of free-for-all congestion, and an awe-inspiring and efficient metro system, a legacy of the Soviet era, that kept working like clockwork beneath the streets.
I'd come to Moscow not only to see the hell emerging on its streets but also to see the paradise beneath them -- and because no straphanger's round-the-world journey would be complete without a trip to the legendary Moscow underground. I knew I would need a guide to this sprawling museum. Anastasia, in her late twenties, fluent in English and French, had volunteered to play the docent, and we'd arranged to meet at the terrace of a café surrounded by musical conservatories, a ten-minute walk from the Kremlin gates.
I apologized for arriving late. "You took taxi?" she said. "From now on, take Metro. Is fastest. With Metro, you can be anywhere in Moscow in thirty minutes. When you take car, you can never be sure."
The tour began at Komsomolskaya station. After pausing to applaud a sloppily dressed string quintet's precisely rendered version of Mozart's Eine Kleine Nachtmusik, we followed the crowds to a line in front of a ticket booth in a high-ceilinged vestibule. As my turn approached, Anastasia whispered a magic incantation into my ear; I repeated it, and the woman behind the glass handed me a cardboard ticket.
"Diesyet bileti," ten tickets, is the "Open, Sesame" that unlocks the gates to Moscow.
Every Metro station, explained Anastasia as she strode ahead of me, shares a few common features. First, you will encounter banks of turnstiles, inevitably overseen by grim-faced women in late middle age. When things are quiet, these uniformed babushkas sit in plexiglass booths doing the Cyrillic version of word-search puzzles. When rush hours approach, they run about like fierce little dogs, blowing their whistles at fare skippers and rule breakers. Second, you will see escalators, many of whose risers are still topped with wooden slats, which move fast and go deep. (Really fast and really deep. To give you an idea: though the escalators at Park Pobody, the world's deepest subway station, are one and a half times faster than those in the London Underground, they still take three full minutes to reach the platforms, which are located 32 stories beneath street level.) As we scrolled diagonally past businessmen in ties, school kids in uniforms, and workers in paint-splattered overalls, the thrumming under our feet felt like an extended drumroll, preparing us for the third and main act: the Zal or central hall that precedes the platforms of most stations, like the victory hall in a baron's mansion.
"Every Zal has different decoration," said Anastasia, as we entered a secular temple of late-Stalinist kitsch. Two rows of marble-faced columns topped with Corinthian capitals supported a canary yellow barrel-vaulted ceiling, from which dangled immense circular electroliers, leading to a bust of a supercilious Lenin beneath the gilded coat of arms of the Soviet Union. It was subterranean Gulag Baroque -- Liberace's basement ballroom if it had been decorated by master propagandists. The theme of Komsomolskaya, Anastasia explained, was the Russian fight for freedom through the ages, from Alexander Nevsky's Battle on the Ice to the Soviet troops' raising of a red flag over the Reichstag, all rendered in elaborately framed ceiling mosaics.
"Come, come," beckoned Anastasia, as a train arrived on one of the side platforms. "We have many stations to see." We slipped into a Circle Line train, half empty in midafternoon. There is nothing remarkable about the Metro's aging rolling stock -- the heavy-duty trains are painted gun-metal gray and run on wide-gauge tracks on a third-rail system, piloted by grim-faced, underpaid drivers -- except for the unforgiving doors, which slam shut with guillotine-like ferocity. What amazes is their frequency. During the rush hours, headways were as brief as 90 seconds. Most trains are eight cars long, and the Moscow Metro maintains an average throughput of 6.5 million passengers a day -- nine million on busy days -- giving it the highest ridership in Europe.
Anastasia said that rush hour crowding could be awful. "When there are many people, I dislike taking Metro," she said. Her worst experience happened not on a train, but in the station, as she attempted to leave. "It was Friday evening, on the way to railroad station. Everybody was in a hurry to get a train, but only one escalator was working. I got stuck in the crowd, and spent one hour just trying to exit. I missed my train, of course!"
Our next stop was Novoslobodskaya. "In my opinion," said Anastasia, "this is the most beautiful station." I could see its appeal. The Zal was decorated by Latvian artists, who had assembled stained-glass tributes to the life of the mind -- a pianist in a tuxedo and tails seated at a piano, an intellectual at a desk bent over a newspaper, a palette-wielding painter at his easel -- and the brass frames, pinkish marble, and warm lighting contributed to a sensation of being in an airy, skylit atrium.
The Moscow Metro, in the words of its master builder, Lazar Kaganovich, was meant to be a rebuke to the "gloomy, monotonous, and dismal" subways of the capitalist world. He deliberately built its ceilings twice as high as those in Berlin's U-Bahn or New York's subway, and decorated it in a manner that "provides comfort, better spirits, and artistic delight" to its passengers, making them feel "as if in a palace." As we continued to explore, I had to concede that the planners of the Communist subway had succeeded where others had failed. For all its lapses into bad taste, the Moscow Metro is the one subway system explicitly designed to ennoble and uplift the long-suffering straphangers of the world.
And Muscovites remain fond of their Metro; people linger on the platforms, and arrange to meet friends in the cavernous Zals. Our last stop was Revolution Square, where seventy-six life-size statues of heroes of the Soviet Union -- engineers with rolled blueprints, a schoolgirl with a book in one hand and a rifle in the other -- crouch or squat on square plinths beneath arches of red and brown marble. Noticing that the nose of a sculpted German shepherd with erect ears, nestled beneath the arm of a border guard, had been burnished shiny, we asked a young woman in tight jeans why she was giving his snout a good rub. "For good luck, of course!" she told Anastasia.
Our tour ended in the octagonal vestibule of the Kurskaya station, on the Circle Line. Above the heads of striding commuters, pallid caryatids extended their arms toward black Cyrillic characters that circled the room above the capitals of columns.
I asked Anastasia what they meant. "That's the words of anthem of Soviet Union." Swiveling her head, she read aloud: "'Stalin raised us on loyalty to people. He inspired us to labor and be heroes.' Those are old words. I think they are changed now."
She hummed a few bars of her nation's de-Communized anthem, which now speaks of "a holy nation" and "a free Fatherland."
"Yes," she said, with a wry smile. "The music stays the same, but the words have changed."
Back at street level, among the 24-hour Dunkin' Donuts, Mercedes billboards, and girls in miniskirts handing out free cans of Coke, we exchanged cheek kisses and said our good-byes. Two all-day tickets to this museum of forgotten ideology -- this Louvre of the Revolution -- had cost us 44 rubles, or less than 78 cents each.Sua
Excerpt from Straphanger by Taras Grescoe © 2012 by Taras Grescoe. Published by HarperCollins Publishers Ltd. All rights reserved.

Taras Grescoe is currently shortlisted for the Shaughnessy Cohen Prize for Political Writing. The winner will be announced in Ottawa at the Politics and the Pen Gala on March 6.

2012 Shaughnessy Cohen Prize for Political Writing Finalists
What the jury said: "Jeffrey Simpson tackles a perennial subject – medicare – with a fresh and unstinting eye. He thoroughly reviews our health system's past and present, before examining possible solutions, including efficiencies, user fees, privatization, prevention, and pharmacare, with reference to the experiences of Sweden, Australia, and Britain. A serious and timely contribution to the debate over the future of Canadian health-care."

What the jury said: "A brilliant history of Montreal's experience with amalgamation, told by a major participant. It is an erudite, meticulous yet lively narrative about what can happen to any great city when a superior level of government arbitrarily imposes its will. Written with wit and no small degree of self-criticism, this splendid book is a warning to politicians of all persuasions to heed the hopes and desires of their citizens before, not after, they legislate."

What the jury said: "Will cities continue to be dominated by the automobile? In this superb book, well-documented and engaging, Taras Grescoe offers persuasive alternatives, based on his travels by public transit of all kinds in more than a dozen cities throughout the world. Straphanger provides inspiring examples of what can be done and what's to be avoided. It should be read by all who want the good life in good cities."

What the jury said: "When Ronald Reagan exhorted Mikhail Gorbachev to tear down the Berlin Wall, it was not only a political act. As Marcello di Cinto discovers, walls divide far more than nations. In this beautifully written reportage, the author brings readers the personal stories – gripping, haunting, humorous, and inspiring – of people living against walls around the world, from the "peaceline" of Belfast to the l'Acadie fence of Montreal."

What the jury said: "In this meticulously researched yet passionate book, Noah Richler aptly chronicles a shift in public discourse on war in Canada. In a country that has long perceived itself (rightly or wrongly) as by nature a peace-keeping force, war has gone from being a non-topic seldom discussed outside academia, to a well-oiled identity shaping mechanism. This book will make Canadians ponder Brecht's aphorism: 'Woe to the nation that hungers for heroes.'"
Follow Taras Grescoe on Twitter: www.twitter.com/grescoe