Returning To The Caribbean Reminded Me Why I Left My Homophobic Home
When my fiancée surprised me earlier this month with a trip to Cuba for my birthday, my first thought was "Yes! We're going where the sun shines all year round, and where the most beautiful beaches can be found -- the Caribbean."
We took a flight from Toronto Pearson to Santa Clara and journeyed across to the off-shore island of Santa Maria. We were in Cuba -- the land of the revolutionary Fidel Castro, a man I grew up learning about from my uncle who was one of the first students from Antigua and Barbuda to study there.
For the next four days, we ate, drank, partied and enjoyed each other. I was just happy to be with my love and to also get away from the Canadian winter blues, even for a short time.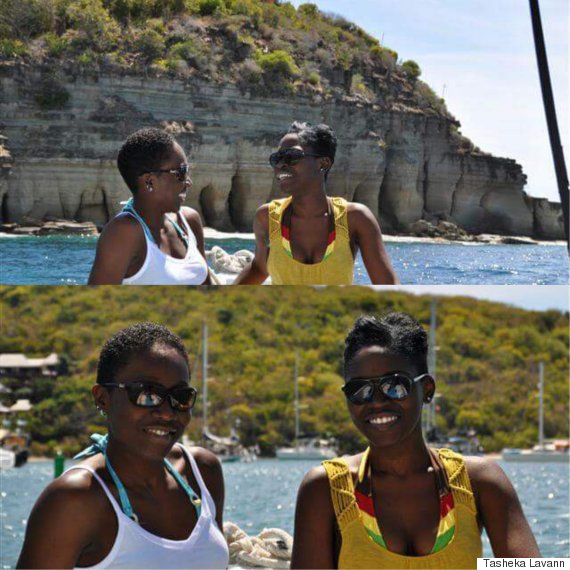 Tasheka and her partner sailing in Antigua before coming out as a lesbian.
On the third day of our trip, my excitement grew as we headed out to a Jeep safari tour. This was our opportunity to see authentic local life, quite honestly something we do on every trip to a new country as young seekers of knowledge and truth.
The tour turned out to be more than I bargained for. We saw firsthand in areas like Yaguajay and Bamburanao just how hard Cubans work to survive on the little that they have. But we also found the people to be so content and happy, always pointing to the fact that they have free education and free health care.
The most memorable moment for me came on the last leg of our excursion. We went to a huge farm (owned by the government) where I got a chance to plow the field, pet baby animals and learn more about how Cubans live.
While there, I overheard one of the tour guides explaining to other tourists that the farmers would probably have to work until they're dead to be able to afford a decent life for their families. And that's as essential as a traditional wooden house with proper windows and doors -- something many of us would take for granted.
While my thoughts of being back home brought on feelings of happiness, it was also a painful reminder of where my sadness and even my anger at times stem from.
As I looked around the farm and listened to the realities of Cubans, I found their stories sounding more and more familiar. I closed my eyes and there I was on a farm, except this one was about three hours away (by plane) in the land of my birth -- the southern side of Antigua, where I grew up.
I remembered my days of helping my grandparents on their farm and then going to the market on Saturdays to sell produce. Looking at the animals took me back to my days of feeding our pigs and walking the donkey with the hope that it wouldn't kick me. (I was legit fearful of that donkey.)
But then I started to imagine things. Now I was back in my childhood home, picturing my mom bursting through the bedroom door to hug her little Black Pearl with my little niece in tow. I was with my family again in my home, in my community, in my country of birth.
The more I reflected on the past and imagined being home, the more I found myself wiping away tears from my eyes. Why? Because while my thoughts of being back home brought on feelings of happiness, it was also a painful reminder of where my sadness and even my anger at times stem from.
I was brought back to reality by the thought of my partner and I going back to my childhood home -- a place that still has homophobic laws and a place where LGBTQ members do not get protection from men and women in uniforms who took an oath to protect every citizen.
As much as I craved my mother's warm embrace, the smell of the sea and the happy moments that I did share with my partner in our home with our four-legged son, I couldn't help but wonder if my homophobic attackers were still around. And that uncertainty -- coupled with the fact that our love is still considered a crime there -- was my wake-up call.
Through all my pain of being so close to home, I was reminded of why I left everything behind -- to find happiness in a place that accepts and protects me and the love of my life.
To any member of the LGBTQ community that might find themselves in this situation, just know that it's OK to miss life in the place you once called home. But never allow that grief to become your daily reality. You've come so far to find the freedom you deserve. Cherish it!
Follow HuffPost Canada Blogs on Facebook
Also on HuffPost:
33 Great Moments In Cultural History That Wouldn't Have Happened Without LGBT People
Truman Capote once said, "I used to go home from school every day and I would write for about three hours. I was obsessed by it." Capote's penchant in literary work led to the creation of the beloved novel (later film) "Breakfast at Tiffany's" starring Audrey Hepburn. The gay author also wrote about homosexuality in his first book, "Other Voices, Other Rooms."

Filmmaker, director and writer John Waters earned the nicknames "King of Bad Taste" and "Pope of Trash" because of his satirical work that challenges traditional social conventions, including the groundbreaking move of placing drag performer Divine as the leading character in many of his movies. The openly gay director is perhaps most beloved by mainstream audiences for creating the iconic 1988 movie, "Hairspray," which later became a Tony-award winning Broadway show. Water's film was also revived in a 2007 release starring John Travolta.

A leader of the Harlem Renaissance, poet, writer and playwright Langston Hughes is one of the most prominent historical black cultural figures. Hughes shed light on the lives of African-Americans in his work, drawing both support and criticism from the community. Many of his poems also had homosexual allusions and advocated for gay rights. Photo Courtesy of Hyperion Book CH

American architect Philip C. Johnson designed many buildings throughout the U.S., including the Seagram Building and Lincoln Center in NYC and the One Detroit Center in Michigan. But The Glass House he designed and finished in 1949 in New Canaan, Conn. became a National Trust Historic Site. Johnson died at 98 in 2005, leaving behind his partner, David Whitney, of 45 years. Photo Courtesy of Wiki Commons / Staib

The great Russian composer Pyotr Ilyich Tchaikovsky wrote some of history's most iconic orchestral pieces and ballets including: "The Nutcracker," "Swan Lake" and "The Sleeping Beauty." Tchaikovsky's death was speculated as suicide because of his homosexuality. And in May, a "gay gag rule" was put into effect in St. Petersburg, Tchaikovsky's hometown, prohibiting anyone from endorsing homosexuality to minors. Activists against the law brought up the late musician and suggested that even mentioning Tchaikovsky is now illegal.

Leonard Bernstein was an accomplished musician, composer and conductor who wrote the score for "West Side Story." A genius at his craft, Bernstein started playing the piano at the age of 10, which led to his eventual career, becoming one of the first American-born conductors to lead world-class orchestras, including the New York Philharmonic. Married to a woman for 25 years, Bernstein struggled with his sexuality but ultimately ended up leaving his wife for a man in 1976.

Composer Aaron Copland, born in Brooklyn and son of Jewish immigrants from Lithuania, championed American stylizations, such as jazz and folk, in his classical compositions. In addition to writing musical pieces, Copland also wrote scholarly articles, essays and books about music, and even travelled the world to expose American sounds abroad. The gay musician's music was ironically featured in Rick Perry's 2012 Election "Strong" ad, in which Perry denounces gays serving openly in the military.

Born into slavery, black and LGBT history icon George Washington Carver overcame his misfortune by becoming a successful scientist and inventor. Carver's crop research, especially of the humble peanut, led to his inventions of plastics, paints, dyes and even a type of gasoline. Photo courtesy of Flickr user Vinni123

New York native Stephen Sondheim is a mainstay in modern Broadway history, having written the lyrics for musicals including "Sweeney Todd" (1979), "West Side Story" (1957) and "Gypsy" (1959). The openly gay composer-lyricist has won multiple accolades, which includes a record eight Tony awards.

Deemed the godfather of the '60s Pop Art movement, Andy Warhol, originally from Pittsburgh, moved to NYC in 1949 to pursue his career as a commercial artist. Warhol, who was openly gay, was most famous for his whimsical paintings of Campbell's soup cans, using unconventional (consumer) products as subjects, and fun, colorful portraits of celebrities including Marilyn Monroe and Elvis and changed the face of modern art.

Renowned and revered poet-essayist Adrienne Rich passed away in March, leaving behind a legacy of literary work that championed women's and lesbian visibility. Rich wrote 24 volumes of poetry, which sold nearly 800,000 copies, and more than half a dozen works of prose. Rich publicly came out in 1976, after having been married to a man, with her publication of "Twenty-One Love Poems."

The late film actor Montgomery Clift was one of Hollywood's first "Method" actors in which performers took a pledge "to sincerity and emotional truth." His films, which earned him four Oscar nominations, included "From Here to Eternity" (1953) and "Judgment at Nuremberg" (1961). Clift lived a life wrought with pain. He struggled with a substance abuse problem and was unable to deal with the fact that he was gay. Clift was in a terrible car accident, which derailed his career in 1957, and passed away in 1966.

The revered and influential poet Walt Whitman was best known for his collection of poems "Leaves of Grass." Whitman was a pioneer for equal rights and treatment of all people, often showing his views in his poetry, as well as his homosexuality, writing suggestive poems such as "We Two Boys Together Clinging." Photo Courtesy of Penguin Classics

Playwright Tennessee Williams often wrote plays, like "The Glass Menagerie," that mirrored his own life. An outspoken man who talked about sex and his sexuality once said, "I never considered my homosexuality as anything to be disguised. Neither did I consider it a matter to be over-emphasized." Williams, a two-time Oscar nominated writer, was also considered a pioneer for his inclusion of gay characters in his plays.

Former leading man Rock Hudson was known for his roles both on the big and small screens including the film "Pillow Talk" with Doris Day, his own TV series, "McMillan & Wife," and regular appearances on the '80s hit show, "Dynasty." Hudson, whose sexuality was rumored about for many years but remained hidden until the mid-'80s when he was diagnosed with AIDS, also received an academy award nomination in 1957 for his work on "Giant." The actor is considered by many to be the first A-list star to reveal he was battling AIDS.

Gertrude Stein, who was born in Pennsylvania, was a patron of the arts, opening a famous literary and artistic salon with her brother in Paris. The venue hosted writers from all over the world such as T.S. Eliot, Ernest Hemingway and F. Scott Fitzgerald. The French capital is also where Stein met her lifelong companion and lover, Alice B. Toklas. Stein was a writer herself, publishing titles such as "Three Lives" (1909) and "Tender Buttons: Objects, Food, Rooms" (1914). Courtesy of Penguin Classics

James Baldwin was a renowned author who wrote about race and sexuality in the middle of the 20th century. One of his many notable works, "Nobody Knows My Name," was a best seller, and sold more than a million copies. Baldwin was openly gay and appeared on the cover of TIME magazine in 1963. Photo Courtesy of Beacon Press

Bessie Smith was known as the "Empress of the Blues" and toured extensively throughout her life. Not only was the singing legend the best-selling African-American artist in the '20s, she was also bisexual and supposedly had a relationship with fellow singer, Ma Rainey.

The legendary singer-songwriter Freddie Mercury captivated audiences around the world as the leading frontman for the band Queen. Writing and singing hits such as, "We Will Rock You," "We Are The Champions," and "Bohemian Rhapsody," Mercury was regarded as one of rock music's most influential stars. The openly bisexual performer kept the fact that he had been diagnosed with AIDS a secret until November 1991. Little more than 24 hours after his announcement, Mercury passed away at the age of 45.

Bisexual rock star Janis Joplin captured the world's attention with her raspy, bluesy vocals but her struggle with alcohol and drugs cut her career short and led to her untimely death on October 1970 at just 27 years old. Joplin got her break with the band Big Brother before pursuing her solo career. Her posthumous, second album, "Pearl," became her best-selling title. Joplin was inducted into the Rock and Roll Hall of Fame in 1995 and received a lifetime achievement award at the 2005 Grammys.

The performance artist known as Mx. Justin Vivian Bond is a vocal transgender spokesperson and the "loving Aunt to the gender non-conforming children," according to Bond's Twitter account. Bond became a NYC underground sensation, creating the cabaret duo Kiki and Herb alongside Kenny Mellman in San Francisco in 1993. Bond's most recent accomplishments include writing "Tango," a Lambda Literary Award winning memoir and 2012 album "Silver Wells."

Filmmaker Lana Wachowski is best known for writing and directing the blockbuster "Matrix" trilogy alongside her brother, Andy Wachowski. The Chicago native came out as transgender in July, becoming the first major Hollywood director to do so and most recently directed "Cloud Atlas."

One of our nation's anthems, "America The Beautiful," was written by Katharine Lee Bates who was in a same-sex relationship with Katharine Coman. After Coman passed away, Bates wrote about their partnership in a volume of work called, "Yellow Clover, A Book of Remembrance."

Ryan Murphy, creator of the hit show "Glee," has brought LGBT issues and characters to the forefront of mainstream media arguably more than anyone else. Murphy, 46 and openly gay, won an Emmy for "Glee" in 2009 for Outstanding Directing for a Comedy Series. His latest show, "The New Normal," premiered this fall and centers around a woman who becomes a surrogate to a gay couple.
Follow Tasheka Lavann on Twitter: www.twitter.com/tashekalavann