Dressing the Mother of the Bride for a Destination Wedding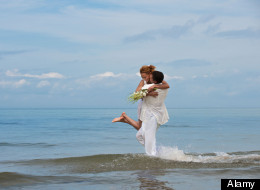 As a co-owner and dress consultant at T. Carolyn Fashions, I navigate the front lines of family conflict -- helping moms look great and satisfying the bride's often strident opinions. Even with 21 years in the business and 100,000 dresses sold, dressing a mother of the bride can be more challenging than dressing the actual bride!
Destination Weddings
As weddings become less traditional and more personalized, some couples are opting for destination weddings; which brings about the inevitable question: "As a mother, what should I wear?"
What to Wear
Obviously, a wedding in an Irish Castle will be quite different than a wedding on a beach in Belize. While the venue should obviously be taken into consideration, the most telling indicator is that of what the wedding party will be wearing.
If the wedding is on a beach and the men are wearing tuxedos, a mother should obviously be dressed more formally. If however, the wedding is on a beach and the guys are in shorts and flips-flops, then it's up to the mother to find the degree of formality (somewhere between what the bride is wearing and what the rest of the wedding party is wearing) that suits her style and sensibilities.
I strongly urge mothers to remember that while a destination wedding isn't as rigid as a traditional wedding, it isn't a destination "party" either. It's their child's wedding. As long as the bride is wearing a full-length gown (which by rule of etiquette is considered formal) mothers should select a dress or gown that honours their status at the wedding and will also photograph well next to the bride.
Colours and Fabrics
If the destination is in a warm or tropical location, consideration must be given to the weight of the fabric. Most mothers tend to be very warm-natured. A bulky, stiff, structured outfit will not only be uncomfortable to wear, it will look out of place.
The location of the wedding will also affect the colours mothers should wear. Tropical venues naturally lend themselves to brighter, lighter colours such a turquoise, hibiscus, fuchsia, purple, as well as some floral prints. This would hold true for weddings in vineyards and botanical gardens as well.
For weddings held during the winter in northern locations, such as a ski lodge or a city like Paris, heavier fabrics and richer colours such as teal, sapphire, and aubergine would be a great choice.
Something to keep in mind is that certain fabrics pack better than others. Fabrics that tend to pack extremely well are jersey, stretch net, chiffon and crepe.
I always recommend packing a good hand steamer to touch up the wedding party's attire as well as the mothers' dresses before the ceremony. It's a great investment as it can be used at home after the wedding. No more ironing!

Alterations
It is imperative that all of the alterations for a mother's dress be double checked before leaving for the wedding as fit problems could prove to be difficult to fix at the point of destination.
For outdoor weddings, careful attention should be paid to determining the hemline of gowns. Sand, water, and dirt can easily destroy certain fabrics. The only way to salvage a gown that has been damaged in this way is to hem it and convert it to a short dress.
An emergency kit with sewing supplies and dress tape is advised, not just for mothers but for bridesmaids as well.
Shoes
Shoes for outdoor events should always have a slightly chunkier heel to give stability on uneven or soft surfaces. Cobblestones, gravel and other types of walkways can damage the heels of shoes as well, proving dangerous for both the stiletto heel and the wearer.
Bon Voyage!
A destination wedding can be the best of both worlds; a vacation and a wedding all rolled into one! With a bit of planning and preparation it can be easy for mothers to feel good, look great, and have a wonderful time!
If you want to delve further into the exciting world of weddings, I invite you to tune into my new show Mother of The Bride premiering back-to-back episodes every Friday at 9 and 9:30 p.m. on SliceTM. Visit slice.ca for exclusive blogs, a mother of the bride dress guide, cast bios and full episodes.
Winter Weddings at a Bed and Breakfast
At the Vintage Gardens Bed and Breakfast, the bride will be pampered courtesy of a massage and basket of Vintage Gardens bath products; similar gift bags will be provided to the bridesmaids. The bridal party will enjoy hors d'oeuvres, sparkling beverages and coffee before heading down the isle. One night's accommodations in the Asian Lily Suite and a gourmet breakfast the next morning also are included. A staff member from the inn is available to help coordinate the rehearsal and wedding day events.

The majestic White Mountains of New Hampshire can be the scenic backdrop for your special day at the Farm by the River B&B with Stables. A horse-drawn Victorian sleigh will whisk you off to the ceremony spot to tie the knot while the remainder of the wedding party and guests will follow behind in a larger sleigh. After the vows have been spoken, everyone will be ushered back to the inn for a romantic reception around a warming fireplace with the soft glow of candlelight filling the room.

Built in 1887, the Second Empire-style Orris House Inn can host intimate, formal seating receptions for up to 48 guests or cocktails and hors d'oeuvres for 75 guests. You and your beloved will be surrounded by the timeless elegance of the inn's period furnishings and original detailing on your most special day.

Instead of standing atop a wedding cake, why not try a glacier? At Pearson's Pond Luxury Inn & Adventure Spa, you'll be airlifted in full wedding attire over the majestic blue ice caps before landing for a private ceremony at the spectacular Glacier Ice Fields. When you return to the inn, you can toast each other and unwind in front of your room's fireplace or take a dip in the starlit hot tub.

Standing in front of a crackling fire at Lazy Cloud Lodge Bed & Breakfast, you'll exchange vows and begin your new life together as a married couple. Your wedding night can be spent soaking in your room's Jacuzzi tub before cozying up by the fireplace. A cake and champagne toast will be provided, while breakfast will arrive at your door the next morning.

Bask in the glow of an intimate wedding held fireside in the parlor or in the covered, heated terrace of Mountain Magnolia Inn, Suites & Restaurant. A quaint reception will be held by the wood burning fireplace in the dining room while music and dancing can be enjoyed on the terrace. An on-site wedding coordinator is available to help organize the details.
Follow Terrie Tibbetts Martin on Twitter: www.twitter.com/themotb