The Bachelorette Recap: Will Desiree Find Love?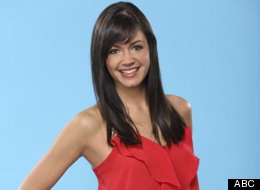 So here we are again for another season of ABC's 'The Bachelorette', a time when much of North America is riveted by the often-problematic pathway to love of its contestants. Just a few months after I was screaming at the TV, 'Sean, what the hell are you doing?' as he sent home Desiree Hartsock home. And now here she is as the new Bachelorette.
Fresh from the heartbreak of being discarded by Sean Lowe, Desiree has regrouped and is now ready to try and find love again, this time making the decisions rather than chasing the prize. As a 31 year-old married male with a poorly hidden crush on her, I am emotionally invested in seeing her find Mr. Right.
Recent seasons of the Bachelorette have given us a real spread of female contestants. In Ashley Herbert, we saw a woman so insecure that she spent most of the series in absolute disbelief that another man could find her attractive. In Emily Maynard, we saw a strong, Southern Belle, a persona so perfect that it couldn't possibly be true. And so, as it turned out, many tabloid stories have now surfaced of her cheating, power tripping and gold digging.
When Sean Lowe sent Desiree home a few months back, she held him tightly, sobbing and pleading 'Please don't let me go'. If past behaviour is an accurate indicator of the future, it is clear that Desiree will spend much of this season in tears. We'll see tears of joy; tears of pain; tears of rage, and perhaps even tears of tiredness or hunger. But without a doubt, the tears will flow.
On last night's show, as contestant Ben Scott brought with him his 4 year-old son Brody, in the limo, Desiree's eyes welled up. And sure enough, he was the first person to be given a rose.
Des cried last night within the first few minutes of the show, telling the audience of how she sees herself as a 'modern day Cinderella'. Brought up in relative poverty, the opportunity to live in a house with a swimming pool and wireless on this show proved too mind blowing to keep the tears at bay. "Family and love," she says, in a flood of more tears, "are the most important things, and I need someone to share that with."
Last night, 25 hopeful men entered the mansion to being their quest to win her heart. Desiree handled herself well, with some of the entrances ranging from the bizarre to the inappropriate.
Diogo, awkward and clearly shy, decided to handicap himself by wearing a suit of amour for his entrance. He seemed as mortified by the choice as she did. It was no surprise to see him sent home, and then giving an interview full of embarrassed regret.
Jonathan, torn between what seemed like a risqué sense of humor and genuine psychotic tendencies, attempted to entice Desiree into the Fantasy Suite three times before she sent him home prematurely; a move rarely seen on the first night.
Away from the idiocy, there were some potential husbands, content with themselves and letting their words rather than gimmicks do the talking. Bryden, an Iraq War Veteran, came across particularly well. Strong, composed, but yet, in touch with his emotions, he emerges as an early contender.
One of the strongest moves a man can ever make on the Bachelorette is to tell a sob story. Last night was no different. Alcoholic parents, divorced parents, handicapped siblings; if anything slightly tragic has ever happened to you, then the opening night of 'The Bachelorette' on national TV is the place to talk about it. More dying dogs, teenage zits and every other conceivable adversity will certainly find their way to our screens in the coming weeks.
As a man, the best seasons are not always the ones where a perfect love story ensues. The most memorable seasons are full of drama, betrayal and sheer animosity. I am hoping for a season chocked and packed with it, but ultimately I hope Desiree can quit her somewhat ironic vocation as a wedding dress designer and try one on for herself.
By Robert James
The Purple Fig is a community where women share personal and relatable stories; no ego, no shame. We're about life, love and all of the stuff that makes us yearn, squirm, and giggle. These stories make up the authentic and intriguing journey of a woman.
Sign up for The Purple Fig newsletter coming out every Monday.
Visit The Purple Fig
On Facebook
On Twitter
The Bachelors Of 'Bachelor' Past
Season 1: In the first season, bachelor Alex Michel did not propose to the woman he chose. His relationship with Amanda Marsh lasted for several months.

Season 2: Buerge proposed to Helene Eksterowicz on-air. They broke up five weeks after the finale was broadcast. Buerge, who's now settled down with a wife and kids, filled for bankruptcy in 2011.

Season 3: In keeping with season 2, Andrew Firestone, the great-grandson of the founder of The Firestone Tire and Rubber Company, proposed to his lady of choice. However, they broke up a couple of months later. He is now married to actress Ivana Bozilovic.

Season 4: Guiney, who was a contestant on the first season of "The Bachelorette," did not propose during the finale, but offered winner Estella Gardinier a promise ring.

Season 5: This Canadian boy was the first non-American bachelor to be featured on the show. The sports commentator, who previously played in the NFL and CFL, chose to date Jessica Bowlin, but they broke up within a few months.

Season 6: Compared to the previously mentioned "Bachelor" relationships, Byron Velvick and his lady-of-choice Maribel Delgado lasted for quite some time. In 2004 he proposed to her in Spanish so that her parents could understand him. They broke up in 2009.

Season 7: For the first time ever in "Bachelor" history, the final rose ceremony was broadcast live on national television. O'Connell did not propose to Sarah Brice, but instead chose to carry on a non-marital relationship. They broke up and got back together several times.

Season 8, Paris: Travis Stork chose schoolteacher Sarah Stone. Like every other "Bachelor," the relationship did not last. Stork is now known as one of the doctors shelling out advice on the show "The Doctors."

Season 9, Rome: This Italian 'royal' and celebrity animal activist did not propose to the winner he chose. They dated and broke up a year after they filmed the show.

Season 10 One month after the season finale, Andy Baldwin and his fiancée called off their engagement -- not surprisingly --but continued their relationship. They officially broke up in 2007.

Season 11 & 15: In an unprecedented move, Brad Womack rejected both finalists in the season 11 finale. He returned to be "The Bachelor" in season 15 and proposed to his "choice," Emily Maynard. The two were engaged for a short period of time, and very publicly split last year.

Season 12, London Calling: This English financier and business development manager from London chose Shayne Lamas as the winner. They broke up within months.

Season 13: In the season finale, Jason Mesnick called off his engagement with the winner and resumed a relationship with runner-up Molly Malaney. They wed in 2010 and their wedding aired on television.

Season 14: This Texas-born "Bachelor" first got his taste at reality TV on "The Bachelorette." Since "The Bachelor" he's been on some reality shows, including "Dancing with the Stars."

Season 16: Ben Flajnik is still very clear in our minds. Flajnik and Courtney Robertson broke up in February 2012 while their season was still airing. They reconciled and are now engaged. The two of them don't live in the same city, and are currently going back-and-forth about who will move for the other.

Season 17: Sean proposed to Catherine Giudici on the finale of his season in 2013. The couple tied the knot in January 2014 at the Four Seasons Resort Biltmore in Santa Barbara.

Season 19: The most controversial "Bachelor" of all time, Juan, chose Nikki Ferrell during the finale of his show in 2014. Although he didn't say he loved her or propose, they are still together as of summer 2014.
Follow The Purple Fig on Twitter: www.twitter.com/thepurplefigmag