'The Bachelorette' Recap Episode 2: Kisses and Lies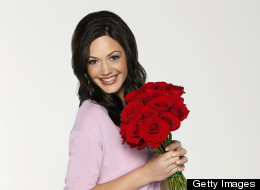 This week, The Bachelorette gets serious. The first whisperings of eternal love are mustered, the exchanges of saliva occur with a frivolous regularity, and a federal prosecutor from New York is almost brought to tears about being lied to and interrupted by another male contestant.

The week kicks off with a handsome, if rather elf-looking guy named Brooks being taken on a date to shop for wedding dresses. The couple takes it in good spirit and provides an opportunity for Brooks to show a playful side. After the gentle lubricant of an enjoyable session of trying on wedding dresses, the couple head up to the Hollywood Sign to sit atop the letter L, where they both gush about how special the moment is and share easy flowing conversation. The first kiss is a tidy, mostly closed-mouthed affair and with that Desiree declares herself open for business.

The couple then head to a bridge that's been closed off, where Brooks seems nervous he has entered a ghetto area, despite the presence of an entourage of about 20 camera crew filming them. Over dinner, he opens up to Desiree about his parent's divorce and years of resentment towards his father, and the ongoing work still happening today to rebuild their relationship. This openness is enough for Desiree to give him the rose, and they cement a successful date with some playful dancing at a specially laid on Andy Grammer concert. Brooks, despite his somewhat wimpish demeanour, is definitely a contender this season.

The first group date of the season sees the guys shooting a rap video with the assistance of Soulja Boy, a U.S. rapper. The boys are keen to show they have a sense of humour and identify that Des is first and foremost a very fun, easygoing girl. Everyone shows themselves to be a good sport here, even Brandon, who fluffed his lines wearing skimpy underwear hovering near Desiree's face while he rapped.

The episode comes alive in this group date. Mikey T, a stocky, fiery Italian confronted this season's villain, single dad Ben. Livid at being interrupted by Ben mid-conversation with Desiree, Mikey T takes Ben to one side and tells him that he is coming across as insincere, and is giving off a bad impression to the rest of the house. Ben attempts to smooth it over, but doesn't seem to really mean it.

Brandon tells her the story of how his dad left the family when he was five years old, how he doesn't have family money or a flash job, but how he yearns for kids and wants to give his children the life he didn't have. She nods and thanks him for his candidness, but it isn't enough to secure the final rose, which goes to Ben, further souring the mood of the other men. Brandon in particular seems close to the point of claiming undying love, who despite his sweet nature seems too naïve to make it to the latter stages of the show.

The next one-on-one date sees Desiree driving Iraq War Veteran Bryden to the L.A. coast in an open top Bentley. "I haven't laughed so much in forever," she says as the two giggle away about nothing much in particular. Over dinner, he tells her of how a near fatal car crash that he survived has taught him to have as much fun as possible as "you never know what the next week, the next day, even the next hour will bring." It is enough to persuade Desiree to hand him the rose. Later, in the pool, Bryden appears awkward and reluctant to make a romantic move, which prompts Des to say, "Kiss me already." He then dives in with all tongue and little grace.

The focus of the final rose ceremony is on the fallout between Ben the Villain and Michael G, a federal prosecutor. Michael G gets halfway through telling Desiree he has type 1 diabetes, one of the weaker sob stories of the series. Just as he approaches the crescendo of the story, the need for daily injections and sugar level regulation etc, Ben interrupts and whisks her away for a chat. Absolutely crestfallen, Michael G seeks comfort in telling the rest of the group of his outrage before confronting Ben about it. Dissatisfied with Ben's explanation, Michael rages at the screen "He lied to the wrong guy!" and lambastes Ben for continually bringing up his son as a means to win Desiree's affections.

At the rose ceremony, Des hands out her final roses and sends home a few mediocre, under-the-radars Nick M, Will and Robert. They are shocked, but they needn't be. "I put myself too much in the friend zone," bleats Will, who heads back to Chicago to continue high-fiving the general public for no apparent reason as we saw him do in episode 1. In reality, these three men had no business trying to compete for the affections of Desiree Hartsock. Next week will no doubt see more drama, more first kisses, and perhaps provide more clues as to who eventually will be proposing to Des.

By Robert James
The Purple Fig is a community where women share personal and relatable stories; no ego, no shame. We're about life, love and all of the stuff that makes us yearn, squirm, and giggle. These stories make up the authentic and intriguing journey of a woman.
Sign up for The Purple Fig newsletter coming out every Monday.
Visit The Purple Fig
On Facebook
On Twitter
The Bachelors Of 'Bachelor' Past
Season 1: In the first season, bachelor Alex Michel did not propose to the woman he chose. His relationship with Amanda Marsh lasted for several months.

Season 2: Buerge proposed to Helene Eksterowicz on-air. They broke up five weeks after the finale was broadcast. Buerge, who's now settled down with a wife and kids, filled for bankruptcy in 2011.

Season 3: In keeping with season 2, Andrew Firestone, the great-grandson of the founder of The Firestone Tire and Rubber Company, proposed to his lady of choice. However, they broke up a couple of months later. He is now married to actress Ivana Bozilovic.

Season 4: Guiney, who was a contestant on the first season of "The Bachelorette," did not propose during the finale, but offered winner Estella Gardinier a promise ring.

Season 5: This Canadian boy was the first non-American bachelor to be featured on the show. The sports commentator, who previously played in the NFL and CFL, chose to date Jessica Bowlin, but they broke up within a few months.

Season 6: Compared to the previously mentioned "Bachelor" relationships, Byron Velvick and his lady-of-choice Maribel Delgado lasted for quite some time. In 2004 he proposed to her in Spanish so that her parents could understand him. They broke up in 2009.

Season 7: For the first time ever in "Bachelor" history, the final rose ceremony was broadcast live on national television. O'Connell did not propose to Sarah Brice, but instead chose to carry on a non-marital relationship. They broke up and got back together several times.

Season 8, Paris: Travis Stork chose schoolteacher Sarah Stone. Like every other "Bachelor," the relationship did not last. Stork is now known as one of the doctors shelling out advice on the show "The Doctors."

Season 9, Rome: This Italian 'royal' and celebrity animal activist did not propose to the winner he chose. They dated and broke up a year after they filmed the show.

Season 10 One month after the season finale, Andy Baldwin and his fiancée called off their engagement -- not surprisingly --but continued their relationship. They officially broke up in 2007.

Season 11 & 15: In an unprecedented move, Brad Womack rejected both finalists in the season 11 finale. He returned to be "The Bachelor" in season 15 and proposed to his "choice," Emily Maynard. The two were engaged for a short period of time, and very publicly split last year.

Season 12, London Calling: This English financier and business development manager from London chose Shayne Lamas as the winner. They broke up within months.

Season 13: In the season finale, Jason Mesnick called off his engagement with the winner and resumed a relationship with runner-up Molly Malaney. They wed in 2010 and their wedding aired on television.

Season 14: This Texas-born "Bachelor" first got his taste at reality TV on "The Bachelorette." Since "The Bachelor" he's been on some reality shows, including "Dancing with the Stars."

Season 16: Ben Flajnik is still very clear in our minds. Flajnik and Courtney Robertson broke up in February 2012 while their season was still airing. They reconciled and are now engaged. The two of them don't live in the same city, and are currently going back-and-forth about who will move for the other.

Season 17: Sean proposed to Catherine Giudici on the finale of his season in 2013. The couple tied the knot in January 2014 at the Four Seasons Resort Biltmore in Santa Barbara.

Season 19: The most controversial "Bachelor" of all time, Juan, chose Nikki Ferrell during the finale of his show in 2014. Although he didn't say he loved her or propose, they are still together as of summer 2014.
Follow The Purple Fig on Twitter: www.twitter.com/thepurplefigmag