A Speakeasy Supper At Toronto's Parcae
We're walking to a new restaurant on Adelaide and Spadina in Toronto, but its already stirring up a pronunciation rift between my partner and I. Is it Park-eh? Or Par-say?
Located inside the Templar Hotel, ironically, the name was chosen for its alleged simplicity. Regardless, it is an unforgettable name whose Roman origins tell a tale of fate regarding three witches who hold the threads of life. And in many respects, Parcae tries to wield the best food-fates for its diners.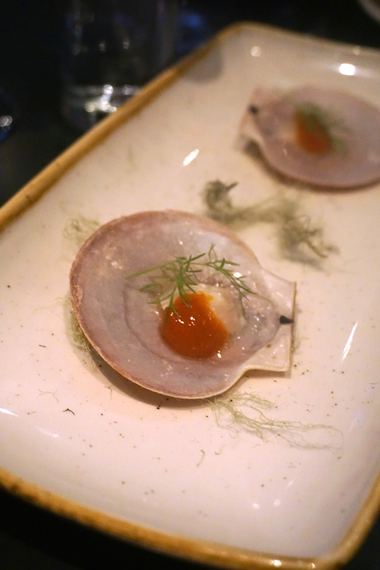 As we're informed that the restaurant's name is pronounced "par-say," I glance around the room. It exudes a speakeasy vibe bolstered with strong features in an attempt to counteract any congestion the small space could create.
The 60-seat restaurant is adorned with vibrant wall-to-wall photographs by Matt Adams and features aesthetics dreamed up by Solid Design that integrate raw steel, hardwood fixtures, stone accents and fogged-out mirrors into the landscape.
Upstairs, there's an intimate bar and lounge area directed at the after-work crowd. I'm greeted by one of owners, Michael Motamedi, who some may recognize as a contestant on the second season of Master Chef Canada. While he placed sixth in the competition, his focus today is on curating great talent and offering an experience different from the everyday. He and his partners, Reza Abedi and Dan Gunam, have sourced talented chefs to helm Parcae's kitchen.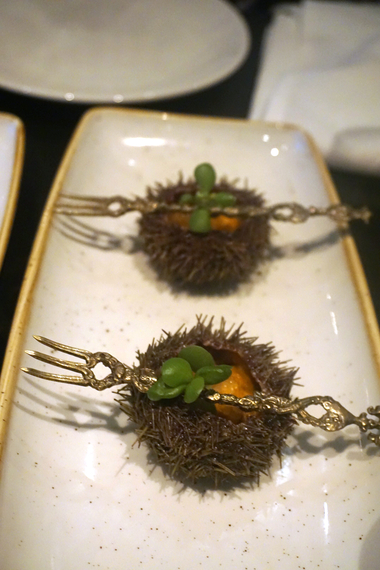 Chef Danny Hassell (formerly of Buca, Bar Buca) and Chef Joseph Awad (formerly of Martin Picard's Cabane à sucre/Sugar Shack), have merged the flavours of Italy and Quebec.
And if that unique pairing hasn't already piqued diners' interest, Parcae has another lure to draw in the crowds: its impeccable wine list. Motamedi boasts that none of the varietals they offer in the restaurant are available at the LCBO or liquor stores. If you're only dropping in for a quick after-work drink, one of the must-haves is the 2014 Pinot Noir by Blazon- Lodi (California); it's a sexy-smooth sip and pairs well with many of their meat-enriched dishes.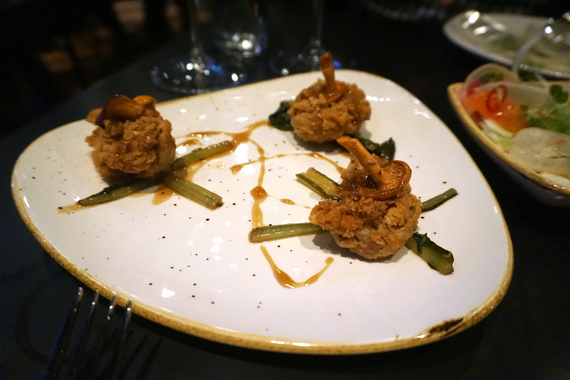 We begin our eating jaunt with the aptly named lamb brains. Dredged in seasoned flour and deep-fried, they arrive as large, ragged nuggets saddled with pickled cicoria and hedgehog mushrooms from Oregon. After biting through the crunchy surface, we lap up the luxurious interior, whose consistency is a cross between foie gras' creamy richness and the density of pâté.
So far, so good. But then the radish salad arrives and things take a bit of a setback. I'm trying to understand why the chef opts for the flavour combinations it presents, but I'm at a loss because my tastebuds are rejecting the dish. There are ample amounts of sour and bitter that make my mouth perk up, but the sweet component is sorely missed.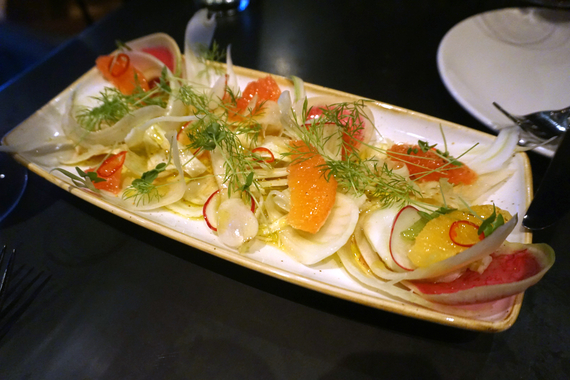 Then a single, large pulled duck ravioli arrives at the table. On paper, it reads well, but not so much in practice. The filling is convoluted. Interestingly, my dining partner enjoys the off-kilter pairing, but I don't like the duck and tomato sauce together. In fact, it reminds me of over-sauced pulled pork. The flavours are muddled and competing with one another. And the blanket of torched mascarpone on top, meant to unite everything, only seemed to further dampen my appetite for this dish. The silver lining was the texture of the crepe-thin pasta sheets; they were silky soft and a tell-tale sign that the chef is certainly showcasing the notable skills he had garnered during his time at Buca.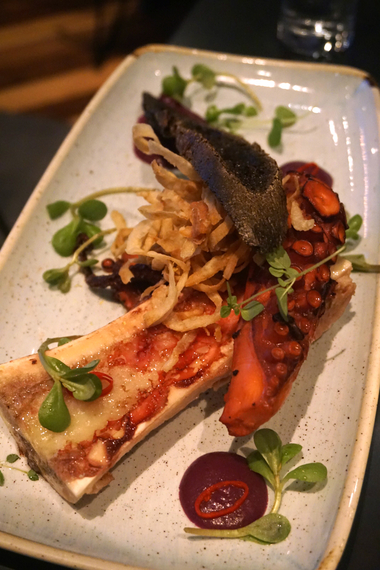 The last two dishes make up for the initial stumbles. One of their signature dishes arrives on the table -- braised octopus and roasted bone marrow. The octopus is supple and enlivened with a charred exterior. The fry bread is glistening with oil, but not at all greasy. It gets snapped in half and slathered with quivering jellies of marrow.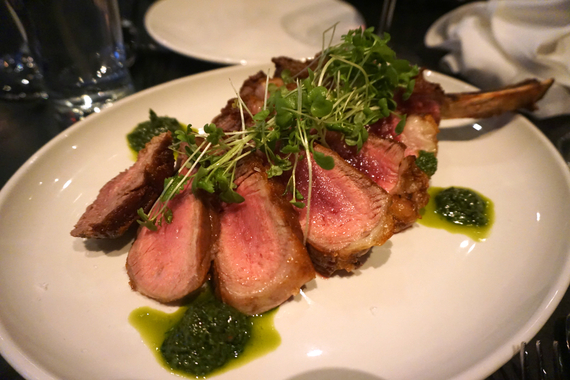 All eyes in the room follow the bountiful plate of meat that arrives at our table next. The porter house is a generous 20 ounces of bone-on veal, cooked to medium-rare. It's a glorious thing to devour and eat with pools of herbaceous cilantro salsa verde. Considering the obvious lack of vegetables on the plate, next time, I'd opt for a side of seasonal greens to balance out this carnivorous dish.
Before we're told what our dessert choices are, a reputation primer is given to us by our server. She says that Chef Awad is a pastry prodigy and that we are required to make room for sweets. Duly noted.
However, of the three we taste, only one rose to the top of the heap. The pouding chômeur is a sweet, syrupy, sticky pudding that dazzles. A comfort food of Quebec, it is layers of soft cake with sauce and clouds of whipped cream. But what tames this sugar-high beast of a dessert is the vanilla salt. This little addition elevates the pudding from its humble origins to sublime royalty.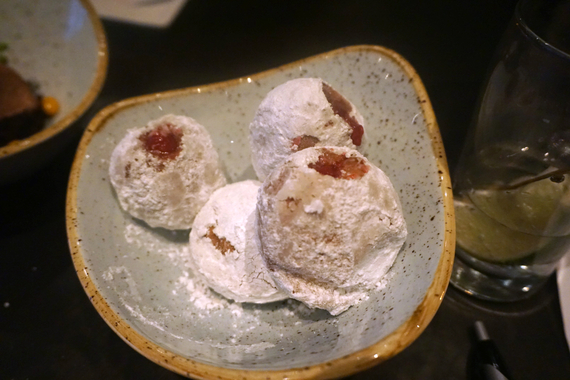 *Powdered Bombolone are good, but over-zealously filled with raspberry preserves*
Even though they're only about two months old, the team at Parcae has big plans to keep loyal customers returning and enticing new people to try their cuisine. They're always sourcing seasonal produce, so ask for specials (that evening, we also had fresh sea urchin and sweet baby scallops with a tangy persimmon paste). Also on the horizon are plans to open a salumeria within the restaurant to expand their support for sustainable nose-to-tail dining.
You can find unconventional flavour pairings as well as classics with a twist at Parcae. And while I wasn't a staunch supporter of everything I tried, I definitely appreciated Chefs Awad and Hassell's dynamism and desire to experiment with different textures and tastes. I'll be back for more.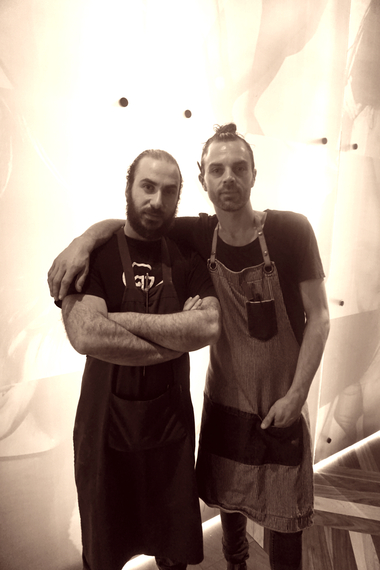 Follow HuffPost Canada Blogs on Facebook
MORE ON HUFFPOST:
New Toronto Restaurants 2015
Bar Raval Where: 505 College St. (Little Italy) Type of food: Authentic Spanish, from breakfast (dulce de leche and jamon doughnuts) to lunch and dinner (pinxtos like Galician octopus, pig head and romesco and many more). And of course, truly spectacular cocktails. Type of place: Simply stunning. It's worth going in just to see the bar itself.

The Dirty Bird Chicken + Waffles Where: 79 Kensington Ave. (Kensington Market) Type of food: Like the name says, chicken and waffles, done in a decidedly (read: maple-flavoured) Canadian way. We particularly like the phrase they've coined, #northernfried. Type of place: A joint, the kind where you pick up your food at the counter and sit out on the sidewalk if the weather is nice

Fat City Blues Where: 890 College St. W. (Ossington and College) Type of food: New Orleans down home cooking, like po' boys and oysters Type of place: This spot is actually more of a jazz bar (or bar, period), but go early if you'd prefer it a bit quieter to get a meal in

Furlough Where: 924 Queen St. W. (West Queen West) Type of food: Gourmet bar snacks, including bone marrow, as well as bigger mains, like duck confit Type of place: With the same owners as Barchef, there's a serious cocktail vibe here, but also comfortable tables for brunch and dinner

Hanmoto Where: 2 Lakeview Ave. (Little Portugal) Type of food: Japanese izakaya meets ... anything else really, like nasu dengaku (eggplant with beets in a miso hollandaise) and their specialty, dyno wings (giant spicy chicken wings stuffed with pork dumpling) Type of place: Hip and tiny, the owners (who also own Oddseoul and the former Swish by Han) decorated with random salvage items that somehow all fit together

La Carnita (East) Where: 780 Queen St. E. (Riverside) Type of food: Gourmet Mexican street food, like corn and beef cheek tacos Type of place: Loud and fun, with tequila-based cocktails to prove it

Lucky Red Where: 318 Spadina Ave. (Chinatown) Type of food: Snack-size Asian food, heavy on the bao and skilled with the cocktails Type of place: Technically not new, this reopening for Lucky Red (now with a liquor license!) retains its casual, cool feel of a place to come for late night eats and lunches alike

R&D Where: 241 Spadina Ave. (Chinatown) Type of food: "Experimental" Asian, which is exactly what you'd expect from Masterchef Canada winner Eric Chong (the rebel in R) and world-renowned chef Alvin Leung (the demon in D), including a cleverly named 'General Sanders' Chicken' (pictured) Type of place: Large, with an industrial chic vibe, it's a spot where you can do anything from get a drink to dine for hours

Tich Where: 2314 Lakeshore Blvd. W. (Mimico) Type of food: Modern Indian, like a konkani crab tikka, and a "Tich-vich" sea bream (pictured) Type of place: A calm and contemporary dining room, with lots of light during the day

Top Gun Steak Where: 251 Augusta Ave. (Kensington Market) Type of food: Steak sandwiches and poutine — with the bonus of being halal (and they even have vegan options) Type of place: Low key diner

Trinity Common Where: 303 August Ave. (Kensington Market) Type of food: Heavy bar food, like ribs, burgers and salmon — it's the craft brews that stand out here Type of place: Surprisingly pub-like for the Market, with nice wooden finishes to distinguish it

The One Eighty Where: 55 Bloor St. W., 51st floor (Yorkville) Type of food: A little bit of everything, with pasta, pizza and fish dishes all on offer Type of place: The former Panorama still has the gorgeous view (obviously), but is now even heavier on the lounge atmosphere — great for dates.
Follow Tiffany Leigh on Twitter: www.twitter.com/leightiffany