'Tis the Season to Be Budgeting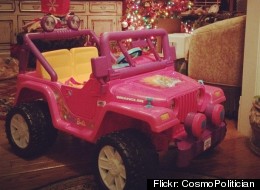 Cha-ching!
That should really be the sound of Christmas. Not carols, crowds, and festive party chatter. The sound of the cash registers, credit card swipes and debit machine beeps should all be assembled to create one official symphony of holiday sound. We know that it's easy to get swept up in the season of giving (translation: shopping), but why are we so surprised every January when we get that credit card bill? It happens every year; somewhere in the magical haze of eggnog, stuffing and twinkling lights we are struck with some holiday amnesia that makes us forget the spending damage we've done -- until the bills come in.
To avoid the rude awakening from holiday amnesia this year, there are a few simple and savvy holiday tips to employ before hitting the stores to keep the shopping budget in check:
1. Make a list of people you're buying for -- It's so easy to get tempted to overspend on all the pretty things in stores. Avoid this by making a list of gift recipients and a few items in mind of what they might want. Make a budget specifically for each person which leads to the next tip...
2. Make a budget -- Get an idea of what you can afford to spend overall. "Afford" ideally means you've either got the money outright from your savings, or that you know it can be paid off by your next credit card statement...if either sound impossible then you need to rethink the budget. Once you add up what you have, divide it into the amounts you're looking to spend for each person on your list -- ta-da! A budget. Obviously you're not going to find exactly what you want for each person but if you have an overall budget, you'll be less likely to overspend.
3. Research -- If you know what you're looking for and how much you're willing to spend, do a little online research before heading out to shop. A site such as Bing Shopping provides a price comparison tool that is a godsend during the holiday season. Typing in the item instantly yields a list of how much that item costs at multiple stores. This leads to the next point...
4. Make a shopping plan -- If you have an idea of what you're looking for and where to buy it, make a plan to go to two or three stores (translation: focused vs. meandering) and buy what you need. If you're heading to a mall check before hand to see if they have a downloadable parking app. These can let you see in real time when parking spots are available so you don't waste any time. Likewise another app mint.com allows you to track exactly how much you're spending during your shopping day so even if you do get tired, you'll stick to your budget. Having a plan and sticking to it allows you to save time and money... two things that are very valuable during the holidays.
5. You give, you get -- Some stores will give shoppers coupons or store dollars at the time of purchase. These are often available to redeem in the New Year. If you like and shop at a certain store, then see if you can buy a gift from that store for someone on your list. You'll have a great gift for that person and the added benefit of knowing you can shop in the New Year while still saving money with your store dollars!
6. Always, always keep the receipt -- If you purchase something at one price and it is reduced within a few weeks of your purchase, bring the receipt back to the store for the price adjustment. This is especially important during the holidays when stores are constantly marking down merchandise.
Above all else, try to enjoy the holidays. Yes it can be stressful with all the shopping to-do's and family gatherings, but with some careful planning and budgeting, you could be blissfully sipping rum and eggnog by the fire without a case of holiday spending amnesia.
Holiday Gift Guide 2012: What To Gift And Not Give This Season
4. Toys (28 per cent)

3. Clothing And Accessories (38 per cent)

2. Electronics (39 per cent)

1. Entertainment (57 per cent)

3. Cash (20 per cent)

2. Gift Cards (24 per cent)

1. Books Or Music (25 per cent)

3. Ugly Sweaters (17 per cent)

2. Tacky Holiday Ornaments (18 per cent)

1. Fruitcake (20 per cent)

3. Clothing Or Accessories (23 per cent)

2. Books Or Music (26 per cent)

1. Gift Cards (31 per cent)

3. Video Games (14 per cent)

2. Books Or Music (23 per cent)

1. Tech Toys (27 per cent)
The 10 Worst Gifts To Give Someone
String has many uses. It can be wrapped around gifts, can tie things together and is even used as a belt (sometimes). Where a string doesn't belong is in a box as a present. The goal of a gift exchange between best friends was to buy one thing and to make one thing. The giver of this piece of string simply couldn't learn how to crochet a winter headband in time, so the result was a crocheted piece of string. It is potentially the worst Christmas gift ever -- even hipsters wouldn't find it funny or ironic.

This toilet brush was sitting under the Christmas tree last Christmas, all wrapped up with a nametag. One sister spent some time to glue sequins all over a standard toilet brush to create a truly 'unique' gift. Yep, this actually happened. But now the other sister's bathroom looks a bit more glamorous, no?

Three dollars and eighty-six cents. In change in a Ziploc bag, sent in the mail for Christmas. A variety of coins tossed together that led to several question marks. "What am I supposed to buy with this?" "Why gift this precise amount of money?" "Was it really worth mailing?" All questions aside, the recipient pocketed the change and headed to the nearest coffee shop.

A step-by-step guide on how to make a circular lace tablecloth for someone who doesn't sew whatsoever -- fabric included. It would be a great gift if the recipient had a circular table and knew how to work a sewing machine. But they didn't, and don't. So strange.

Even if you notice someone likes to eat Craisins regularly, we're going to suggest you not buy them the biggest bag of dried cranberries for Christmas. Imagine the recipient's surprise when she pulled the dried fruit out of a beautifully stuffed bag -- it was a look of shock and confusion not joy.

The recipient of this gift loves to read, but last Christmas he wasn't expecting to read an in-depth book about dinosaurs at the age of 22. Once he passed the age of 10, he never really anticipated receiving books about dinos (If you are gift buying for an adult like Ross Geller from 'Friends,' however, go crazy for dinosaur-themed everything). National Geographic Little Kids First Big Book Of Dinosaurs. Price:$12.88. Available at: Chapters/Indigo

What's more classic than getting a lump of coal? It means you've been a bad person all year and that Santa isn't impressed. It was a funny prank by a family for their mom, but it turned out to be a fairly insulting "gift." No one wants to know you think they're on the naughty list. Especially not your mom.

Wait, what? Someone gave someone else springtime? Of course not! But they did receive a certificate of "I'm-sorry-but-I-can't-find-the-presents-I-hid-for-you-so-you'll-have-to-wait-until-spring-to-get-them." Moral of the story: It's a lot of fun to hide presents, just make sure you remember where you're stashing the stuff.

The recipient of this gift lives in a huge city with no mountains in sight. They had never been skiing or snowboarding, so imagine their surprise when this naked board showed up. No boots. No bindings. No lessons. Just a board. A snowboard on its own is basically useless and the add-ons that make a snowboard function are mighty expensive -- especially for a student. This is the ultimate gifting fail.

The cackle from the parents who gave their daughter this 'companion' is still ringing in her head. It was a backhanded joke that insulted her relationship status. Being given this faux boyfriend by family was just sad. And wrong. Sad and wrong. Grow A Boyfriend. $5.95. Available at amazon.com.
Follow Tiffany Mealia on Twitter: www.twitter.com/Shes_So_Savvy