Why Taking Vacations Is Important for Your Health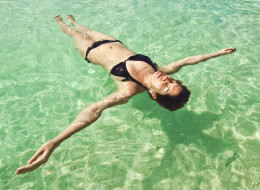 Memorial Day weekend used to be the traditional kickoff for summer getaways. But for millions of Americans, going on a vacation or even taking a few days off here and there is a luxury they can ill afford. Among the 20 most developed countries in the world, the United States ranks dead last when it comes to recreation.
Unlike in Europe, where paid vacations of 20 to 30 days annually are the norm and guaranteed by law, the labour standards in this country generally do not require employers to provide such benefits. What's more, even those lucky Americans who are entitled to paid time off often forego part of it.
There is no doubt that American workers, including millions of immigrants who have chosen the American way of life, have a particularly strong work ethic. But countries like Sweden or Germany, not exactly known as slackers, have fared well with their mandatory vacation policies, without losing their competitive edge. In fact, according to the latest report on global economic competitiveness by the World Economics Forum, the U.S. came in only fourth behind Switzerland, Sweden and Singapore. And even Canada, a country that is arguably closest to us in culture and lifestyle, mandates a minimum of 10 days vacation time per year for all its workers.
So, what makes Americans so much less inclined to quit work and relax for a few weeks or even just days on end?
For low-income workers it's primarily a question of money. Those are typically the ones with the least benefits, including paid vacation or sick leave time. For others it's fear they could be passed over for promotions or even lose their jobs if they are absent too often or too long. Some think it's not worth the extra hassle to tie up loose ends before they leave or catch up after they return. And there may be a few who just don't know what to do with themselves outside of work.
What's often not discussed is that not taking time off regularly can lead to serious health problems. The results are comparable to chronic stress, when there is no reprieve not just from one's workload but also from repetitive routines.
Often people get into a mindless routine at work and home, which can be broken if they distance themselves once in a while, says Dr. Ellen Langer, a psychology professor at Harvard University, in an interview on the health benefits of vacationing and travel with CNN. Uninterrupted routines tend to result in boredom, which hinders creativity and mindfulness, she says, and is therefore counterproductive. By contrast, having new and interesting experiences on a trip, for example, can be brought back to the workplace and enhance one's performance.
But it's not just mental health that must be restored on occasion. Chronic stress takes its toll on the body's ability to resist infections, maintain vital functions and even the ability to avoid injuries, according to Dr. Susan Krauss Whitbourne, a professor for psychology at the University of Massachusetts Amherst and contributor to Psychology Today.
"When you're stressed out and tired, you are more likely to become ill, your arteries take a beating, and you're more likely to have an accident. Your sleep will suffer, you won't digest your food as well, and even the genetic material in the cells of your body may start to become altered in a bad way."
And mentally, she says, "not only do you become more irritable, depressed and anxious, but your memory will become worse and you'll make poorer decisions. You'll also be less fun to be with, causing you to become more isolated, lonely and depressed."
For these reasons and others, your vacation, should you decide on taking one, must not end up causing you even more stress.
If you travel somewhere away from home, I recommend choosing a destination that is truly different from your familiar surroundings. It doesn't have to be a deserted island, just unlike what you're used to.
Leave your smart phone and laptop behind, so you cannot be reached from the office and won't be tempted to "check in" every so often.
Don't get involved in too many activities, even though they seem fun, if they turn your vacation into another hectic event.
Live in the moment and make the most of each day. Focus on all the things you never seem to have enough time for such as leisure, pleasure, conversation, etc.
If all or most of this seems impossible to you, perhaps it's time to rethink your priorities.
If you liked this article, you may also enjoy reading "Even Going on Vacation Can Be Scary."
Food and Health with Timi Gustafson R.D.
Tips For A Healthier Vacation
When booking hotels and tours, get good-for-you activities on the itinerary too -- reserve a spot in workout classes nationwide on tourdefit.com, then click over to cleanplates.com and plan where you'll eat. The website rates restaurants in New York City, Los Angeles and Austin, TX, (more cities to come) based on how healthy their meals are.

Avert a slowdown at security by toting meds in their original bottles (so guards can confirm your prescription). To prevent any possible bedbugs in a hotel from coming home with you, store clothes in resealable plastic bags and use hard-sided luggage.

Stash snacks like string cheese, nuts and fruit in your carry-on. An easy, in-flight meal: instant oatmeal. (The flight attendant can provide hot water to prepare it.) "When you have to dine at an airport or a rest stop, choose a salad --but ditch the cheese and croutons and go light on the dressing," says Elizabeth Somer, R.D., a SHAPE advisory board member.

Like Boeing 747s, germs travel fast. Keep onboard illnesses at bay by using an alcohol-based cleanser, like Burt's Bees Aloe & Witch Hazel hand sanitizer ($3.50; burtsbees.com), pre- and post-meal and after using the toilet. Kevin Fleming, M.D., an internal medicine consultant at the Mayo Clinic in Rochester, MN, also suggests wiping down the tray table with the antibacterial liquid and using a newspaper as a place mat.

No matter your mode of transportation, make an attempt to walk around for five to 10 minutes every two hours or so. This will help prevent deep vein thrombosis, a blood clot that can form in your leg during long periods of sitting. (On a plane, opt for an aisle seat --you'll be more likely to stand.) "If you can't get up, bounce your knees up and down, and then move your feet in circles," says Fleming.

Motion sickness occurs when your brain gets contradictory signals from the eyes ("we're moving!") and the inner ear ("I'm sitting still!"). "To keep your stomach calm, limit visual stimulation," says Fleming. That means no books or iPads. "Put on sunglasses or lie down if you can." If you're prone to nausea, take an over-the-counter stabilizer like Dramamine II 30 to 60 minutes before departure.

Don't sacrifice the beginning of your trip to jet lag. "To prevent grogginess, drink water and avoid alcohol during your flight --dehydration exasperates symptoms," says Somer. Once you land, log on to the jet lag calculator at http://britishairways.com; using your usual wake-up time, sleep habits and home time zone, it recommends when to bask in sunlight and when to hibernate in your hotel room.

The first step toward sleeping soundly in an unfamiliar place: Request the right digs. At hotels, ask for a room that doesn't face the street and is far from the elevators and ice machine. On a cruise ship, steer clear of cabins below the pool deck. And stick to your usual nighttime routine -- don't watch TV or surf the Web in bed if you wouldn't at home.
Follow Timi Gustafson, R.D. on Twitter: www.twitter.com/TimiGustafsonRD