Speaking to Kids Through Music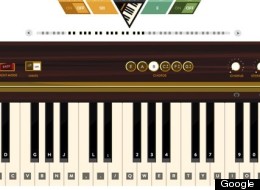 In 2009 my friend Greg Rogers asked me if I could speak to 3,000 students at a youth conference in Toronto being hosted by Craig and Marc Kielburger from Free the Children. My 15-minute presentation would be focused on the positive effects that music has had on me as a person, an activist and a professional musician.
I was reading Daniel Levitin's book, This is Your Brain on Music at the time so I mentioned a couple of concepts related to new neuro-scientific research on the positive effects on music on cognitive function.
I asked my longtime co-writer Mladen Alexander to join and we played a few songs and did our little talk. During the presentation I saw that the kids were riveted and focused in a way that was completely unexpected. In retrospect it made so much sense. They love music and here was a discussion that empowered them with the knowledge that their passion and love for music is fundamentally human, ancient, powerful and positive.
At the end of the talk there were a dozen teachers and administers approaching us with business cards asking us to present at their schools.
Over the next few months I researched everything I could find on music related to neuro-science, sociological studies the effect of music on pro-social behaviour, and music's role in societal change.
A few interesting revelations were sparked:
1. Youth love music and consider it one of the most important things in their lives yet the education system rarely exploits this passion as the remarkable teaching tool it can be. (Consider that when we were in kindergarten we memorized 26 abstract concepts, in order, by singing our ABCs. For most of us that's the last thing we ever learned using the power of music as neumonic tool.)

2. There are many scientists who are studying the effect of music on our minds in laboratories across the world, but very few professional musicians are directly involved in those studies outside of being the subjects of experiments.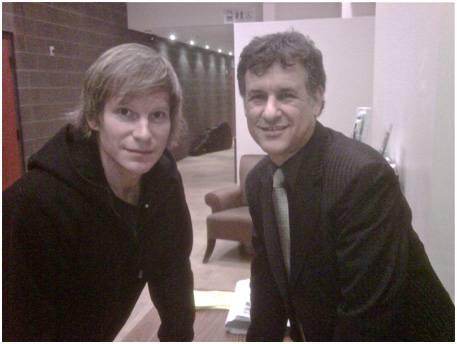 With Daniel Levitin at a performance by the Kitchener- Waterloo Symphony. I was one of the test subjects in an experiment that analyzed the effects of Beethoven's music on the brain.
Over the past three years I have been to music-centered neuro-scientific labs, I've been the subject of several experiments in the field and have begun a dialogue with leading scientists who are studying music. It turns out these scientists are quite interested in the insights of a person who has played music in front of tens of thousands of people for over 20 years. My lab, of course, consisted of clubs, festivals, arenas and stadiums.
It's been incredibly rewarding to bring the YMM presentation to students and hear their stories regarding music's remarkable therapeutic effects. "Music saved my life" is not a cliché for them. For many at risk youth music is a lifeline. It's time the education system acknowledges that fact and integrates music into the broader curriculum.
I've been deeply moved by these students and their stories have been woven into several songs on the new Barlow album Burning Days. In conjunction with the Toronto Catholic District School Board and Coalition Music, students with a passion for music can learn about the music business while earning a credit in an amazing new high school course (The Music Business), and I hope to keep bringing them the message that their passion for music is not merely a desire to be entertained but a powerful, ancient and magical thing.
11 Health Benefits Of Music
Researchers from Drexel University found that cancer patients who either listened to music or worked with a music therapist experienced a reduction in anxiety. The review by the Cochrane Collaboration included 1,891 people with cancer, and found that people who participated in music somehow not only had decreased anxiety, but also better blood pressure levels and improved moods, HealthDay reported.

If you listen to your iPod every day on your way to work or break out the guitar every evening, then you'll like this finding. A doctoral thesis from the University of Gothenburg reveals that listening to music every day lowers stress. The thesis was based on the results of two studies, which showed that people who listened to music also felt positive emotions. "But it should be pointed out that when studying emotional responses to music it is important to remember that all people do not respond in the exact same way to a piece of music and that one individual can respond differently to the same piece of music at different times, depending on both individual and situational factors," thesis author Marie Helsing said in a statement. "To get the positive effects of music, you have to listen to music that you like."

Listening to music while lying on the operating table could help to lower stress, TIME reported. The research, conducted by Cleveland Clinic researchers, included patients -- mostly with Parkinson's disease -- as they were undergoing brain surgery. The researchers found that the study participants who listened to pure melodies -- versus just rhythmic arrangements, or a mix of the two -- were comforted the most. Their brains also reflected this calming, TIME reported, with some of the study participants even falling asleep.

A 2011 study in the journal Psychology and Aging shows that being a lifelong musician is linked with better sound processing, the Washington Post reported. The study included 163 people (74 of whom had played music all their lives). The researchers also found a link between hearing test scores and the amount of time the study participants practiced their music, according to the Washington Post.

Odd as it may seem, University of Maryland Medical Center researchers have found a link between listening to music and heart health. The researchers found that listening to joyful music is linked with dilation of blood vessels' inner lining, meaning more flow of blood through the blood vessels. Specifically, the diameter of blood vessels grew by 26 percent when a person listened to happy music. However, the opposite effect was noted when a person listened to anxiety-triggering music -- blood vessel diameter decreased by 6 percent as a result. The research was presented in 2008 at a meeting of the American Heart Association.

Researchers from University of Utah Pain Research Center showed that listening to music is effective as a distraction for anxiety-prone people from feeling pain, and as a result, could help people feel less pain. The study, which included 143 people, was published in the Journal of Pain. The researchers found that music helped the study participants to have less arousal when shocked with non-dangerous fingertip electrodes.

Kids who take music lessons could be doing their brains a favor, according to Hong Kong researchers. WebMD reported that taking music lessons is linked with doing better on tests where you have to recall words you read on a list. And "the more music training during childhood, the better the verbal memory," study researcher Agnes S. Chan, PhD, a psychologist at the Chinese University of Hong Kong, told WebMD. "This strongly implies that the better verbal memory in children with music training is not simply a matter of differences in age, education level, or their family's socioeconomic characteristics."

Having musical training could protect your mental sharpness in old age, according to a 2011 study in the journal Neuropsychology. HealthDay reported on the study of 70 people ages 60 to 83, with varying levels of music experience. The researchers from the University of Kansas Medical Center found that the people who had the most musical training in their lives had the best mental sharpness, and scored the highest on brain functioning tests.

It may so far only be shown in mice, but it's still pretty amazing: Japanese researchers found that exposing mice to certain kinds of music was linked with "prolonged survival" after a heart transplant, Miller-McCune reported. The mice in the study were exposed to either Mozart, Verdi (opera music), New Age-type music, no music at all, or a sound frequency. Mice who listened to Mozart and Verdi had a longer survival time after the heart transplant, compared to the other mice, according to Miller-McCune.

Finnish researchers found that listening to music soon after a stroke could help with recovery, News Medical reported. Published in 2008 in the journal Brain, researchers found that listening to music was linked with improved verbal memory and attention among stroke patients, compared with listening to audio books or not listening to anything at all.

Massages are super-relaxing, sure -- but a study in the journal Depression and Anxiety shows that music could also do the trick, at least when it comes to decreasing anxiety. Researchers from the Group Health Research Institute found that patients who got 10 hour-long massages had the same decreased anxiety symptoms three months later as people who simply listened to music (and went sans-massage), HealthDay reported. The study included 68 people who received the 10 massages with music, laid down while listening to music (but didn't get a massage), or were wrapped with warm pads and towels while listening to music (but didn't get a massage), according to HealthDay.
Follow Tom Barlow on Twitter: www.twitter.com/BarlowCommunity