9 Epic Canadian Adventures To Have In Your Lifetime
There's no denying that Canada is huge, so you'd be forgiven for not quite knowing how to begin exploring it. For one thing, the choices seem limitless. And frequently, the only cities on our radar are those ranking in the top spots for best quality of life. So what about the more adventurous pursuits?
These are our top picks for epic adventures that will leave you in awe, get your heart racing and cement your love for Canada.
1. Northern Lights in Yellowknife, NT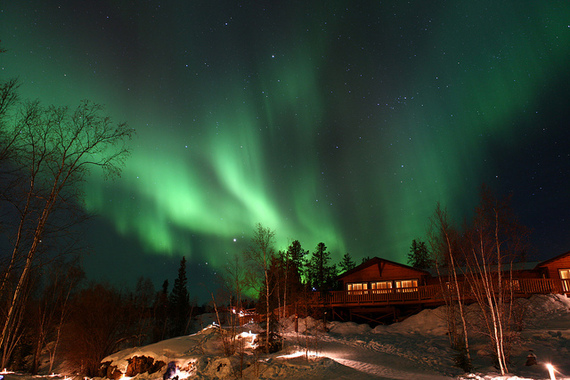 Yellowknife Northern Lights. Flickr Photo by GoToVan

Yellowknife is the go-to destination in Canada for the Northern Lights -- so much so that it has even named a place after the marvel (Aurora Village). To increase your chances of seeing the phenomenon on almost everyone's bucket list, travel between January and early April. The trick is to stay at least three nights, so that you can increase your chances of seeing the Aurora Borealis. This is because even if there are clear skies, you won't necessarily see them. What makes them so remarkable is what makes them equally elusive: You need a combination of clear skies, high-particle activity and maybe some luck. I say this based on my own elusive treks to see the Northern Lights in other parts of the world.
Yellowknife has particularly good conditions for witnessing those green, glimmering lights because of the lack of cloud coverage and its position under the "Aurora Oval." You can rent a car and drive out yourself or take a night tour where a guide will tell you about the aboriginal beliefs about the Northern Lights.
2. Polar bears in Churchill, MB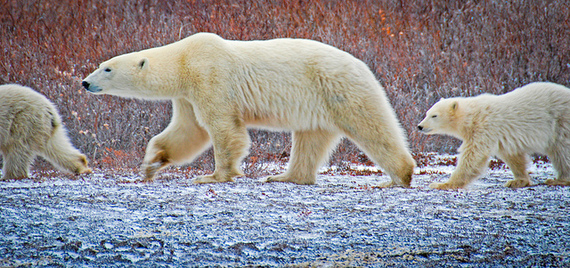 Polar bears roaming in Churchill, Manitoba. Flickr photo by Gary Ullah

Every year, from September until November, polar bears pass through Churchill, Manitoba on their migration route (summers on land; winters hunting on the frozen Hudson Bay). While this may seem like a terrifying prospect -- and while you may ask yourself why anyone would visit a place with big polar bears -- it is a great opportunity to see these majestic animals in their natural environment.
Tours use giant Tundra Buggies so you cross the uneven ground (there are no roads in Churchill) at a safe distance.
3. Orca watching off Vancouver Island, B.C.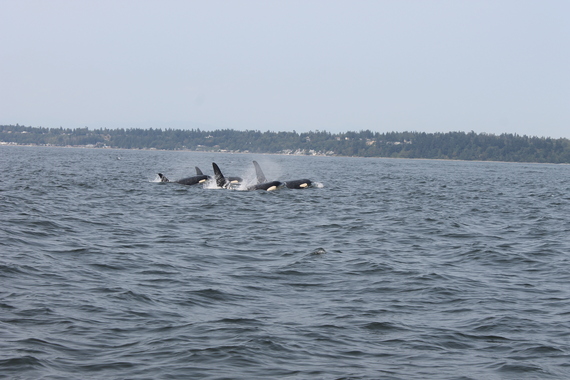 Orcas off the coast of Vanvoucer Island. Photo by Kirsten Powley

By this point, you might be a bit suspicious of my seemingly dangerous suggestions. First polar bears, now killer whales? Speaking first hand, seeing orcas in the wild is the most breathtaking experience. It also puts the mind to ease--unless your gasping along with everyone else in the boat when you first lock eyes on these majestic creatures.
There are plenty of places to visit, with sightings around Vancouver Island being the most likely, as the Johnstone Strait provides lots of food for orcas from mid-July to September. (Of course, nothing is guaranteed as nature tends to do its own thing.) To increase your chances of encountering an orca in the wild (and getting as close to it as you can) -- opt for a multiple-day kayak tour.
4. Surf in Tofino, B.C.



Surfing in Tofino. Photo courtesy of TourismTofino.com

Step aside California and Australia, there's a new surfing destination in town. Sure, surfing in Canada would probably strike you as a hilarious notion, but British Columbia's Tofino is as scenic as it gets.
The water is 10°C year-round, which is cold, but it's perfectly doable in a good wetsuit. It's ideal for both beginners and pro-surfers, but if you want a stronger swell, winter is the time to head into the water.
So why Tofino? It's unlike your usual beach destination in that it has rainforests, hiking and hot springs. It's basically the best of Canada merged into a laid-back surfing destination like California.
5. Iceberg Alley - Great Northern Peninsula, NL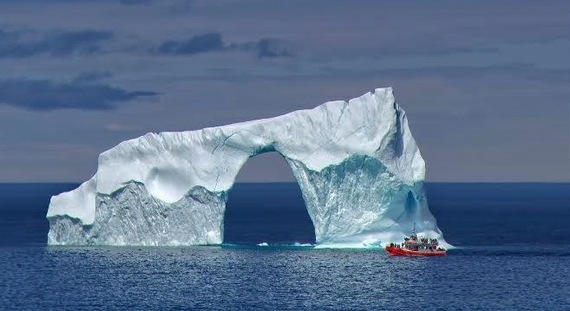 Iceberg watching off Twillingate, NF. Photo courtesy of Newfoundlandlabrador.com

Ever wondered what an iceberg would look like up close? That is, without fearing for your life as the Titanic soundtrack eerily echoes in your ear.
Iceberg Alley stretches from the coast of Labrador to the northeast coast of Newfoundland. Popular places for iceberg sightings include St. John's/Cape Spear, Bonavista, Battle Harbour and Fogo Island. Depending on your level of excitement and adventure, you can watch from the land, take a boat trip or even kayak amongst the giants.
The icebergs are up to 10,000 years old and are so plentiful that East Coasters actually put them into drinks: there's Iceberg Water, Iceberg Vodka, Gin and Rum and even Iceberg Beer. It's worth visiting just to test out these concoctions.
6. Raft the highest tides in the world - Shubenacadie River, NS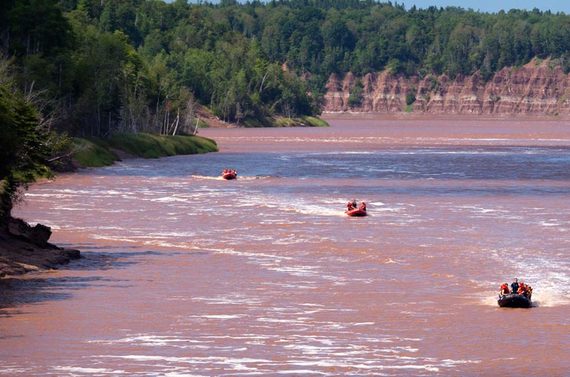 Rafting along the Shubenacadie. Photo courtesy of NovaScotia.com

This isn't for the faint-hearted. Bay of Fundy, Nova Scotia is home to the world's highest tides, rising up to 15 metres, resulting in a tidal wave or bore which flows up the river. Being more inventive and opportunistic than ever before, people have now made rafting on the Shubenacadie River a "thing." In small-powered zodiacs, you ride the collision of incoming tides, which can get very, very wet.
7. Ski, snowboard or zipline Whistler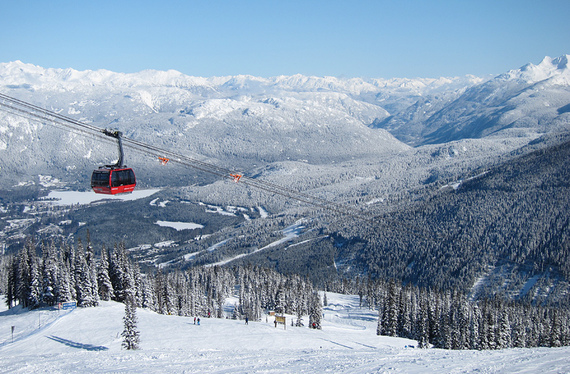 The gondola at Whistler, BC. Flickr photo by Perfect Zero

As one of the world's best and most famous ski resorts, Whistler is perfect for skiers and snowboarders of all levels. With stunning views and great apres-ski options, Whistler brings people from all over the world.
If shredding the slopes isn't your thing or you're looking for an extra buzz, try ziplining. As you zoom (screaming at the top of your lungs, most likely) through the snow-capped trees, you'll get even closer to the mountain views Canada does so well.
8. Ice climbing in Alberta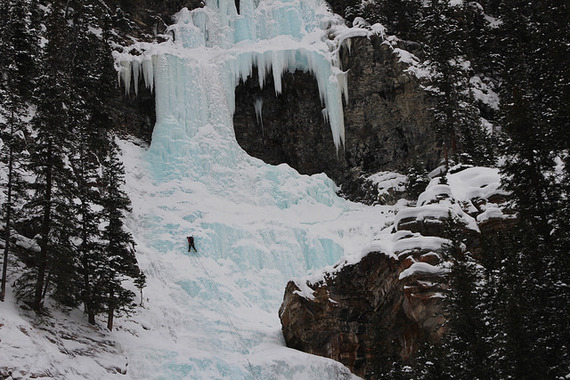 Ice climbing near Lake Louise, Alberta. Flickr photo by davebloggs007

Defy gravity and even logic as you climb up an ice waterfall in the Canadian Rockies. Banff, Canmore and Lake Louise are not only breathtaking locations, but ideal places for adventure junkies ready to go with crampons and ice axes in tow.
As snow and ice trickles down each time you smack your axe into a frozen blue wall, you'll be blown away by the surreal nature and rush of ice climbing. It's like you're in a thriller version of the film Frozen.
9. Hang out at Toronto CN Tower



Edgewalk at the CN Tower. Flickr photo by Kevin Costain

Don't be fooled, I don't mean "hang out" metaphorically, but literally. The CN Tower's EdgeWalk is a panoramic view of the city on a whole other level: walk on the roof of the CN Tower's restaurant, which sits at 1,168 feet above ground and literally hang off the tower's edge. Sound scary? You bet it is, but you'll earn bragging rights for months.
Good thing Canadians are so trustworthy!
Travelzoo.ca offers various deals to Canadian and international destinations.
Kirsten Powley is a Travelzoo Deal Expert based in Toronto. Travelzoo has 250 deal experts from around the world who rigorously research, evaluate and test thousands of deals to find those with true value.
Follow HuffPost Canada Blogs on Facebook
MORE ON HUFFPOST:
20 Things You Must Do This Summer In Canada
Enjoy panoramic, up-close views of everything from rugged coastlines to the magnificent Rocky Mountains during one of the most famous long-distance journeys in the world. A one-way trip from Vancouver to Toronto takes about four days and includes stops in stunning cities such as Jasper, Saskatoon and Winnipeg.

From the West Coast Trail in British Columbia to the Long Range Traverse in Newfoundland, there are plenty of hikes to keep you fit all summer long. Breaking up the trails into day trips is the easiest way to complete the journey since most will take anywhere from four to eight days to complete.

Soak up scenic drives along the Atlantic coast then stop for scrumptious seafood and freshly-brewed beer. Set aside at least one week to explore the seaside villages, historic cities and unique architecture along with popular spots like the Bay of Fundy, which has the world's highest tides.

Experience all that natural wonders like Haida Gwaii have to offer by cycling from one end to the other. Whether you make this a weekend or full-week trip, you're bound to find hidden gems more beautiful than you can imagine.

Over half of Canada is covered in forests, woodland and areas covered by trees, like the incredible Great Bear Rainforest. Get lost for the day, deep in between the towering trees and then set up your tent at a local campsite at night for a true outdoor adventure.

From folk in the west to country in the prairies and jazz in the east, there are plenty of summer sounds to get you moving. While some festivals last one or two weeks you can choose your favourite of the days to attend.

Canadian breweries are becoming a popular weekend spot in many big cities. Quench your thirst on a scorching hot day at one nearby then sneak some more with a growler to bring to the beach.

Find a cheap flight up north and prepare to be surprised by pristine natural beauty at its finest. Take at least one week to experience the Yukon, Northwest Territories or Nunavut when the snow has melted and the stunning, sparsely populated landscapes are visible.

There are hundreds of fascinating falls across Canada to choose from and the view is always better from the top. Find one in a park or forest nearby and make a day trip out of the hike.

Spend a weekend or longer relaxing to the simple sound of untouched nature at a cottage (or cabin if you're outside of Ontario). You'll leave feeling rejuvenated and maybe even inspired by nature's simplicity.

Spend the day practising one of Canada's most popular pastimes and you may be rewarded with a spectacular seafood dinner. You can also take a weekend trip to one of the country's many fishing lodges or gorgeous resorts.

Whether it's your first time or your tenth time, these world-renowned mountains will never fail to make your jaw drop. The drive from Vancouver to Jasper will take roughly 9 hours, perfect for a weekend getaway.

On a cooler day, you can warm up inside geothermal groundwater while admiring breathtaking outdoor beauty. You can even spend the weekend at a spa connected to the hot springs if you are in need of some natural pampering.

Take a trip through B.C.'s Okanagan, Ontario's Niagara region or Nova Scotia's countryside for a taste of Canada's wine country and all the distilleries in between. Spend the day sipping away and the night at a scenic hotel, like the Olde Latern Inn in Grand Pré, N.S..

With millions of lakes and thousands of rivers to choose from, you can go kayaking, rafting, canoeing, surfing, wakeboarding and paddle boarding for hours under the sun. Rent out your water equipment for the day and get ready for a workout full of fun.

Each Canadian province and territory has at least one national park with plenty of picturesque pit stops to snack at. For the adventurous, make an overnight trip out of it with a tent, campfire and mandatory s'mores.

Spend an afternoon admiring the mighty creatures living in Canada's untamed landscapes. Join a tour group and head to the East or West Coast for whale watching. Want to stay dry? Take to B.C. or Alberta and get familiar with critters like this bull moose in Peter Lougheed Provincial Park.

Start early in the morning so you'll make it back down the mountain before dark. A hard workout is easier and safer when you can turn your head and take in the stunning sights during daylight hours.

If you can't make it to them, let them come to you. Taste Canada's abundance of agriculture with a trip to a farmer's market and sample locally-grown produce or home-baked goods.

Set aside one week to cross a few fantastic provinces or take one month to road trip through the entire country on one of the world's longest highways. Start in Canada's oldest city, St. John's, Newfoundland and go all the way to Vancouver, B.C. where you can catch the ferry to Victoria.
Follow Travelzoo Canada on Twitter: www.twitter.com/TravelzooCanada