Canadians Are Still Travelling Despite Instability In Tourism Hotspots
Travel industry insiders worried about the impact of global events, such as terrorism and health scares like the Zika virus, have no great cause for concern, according to new research released by Travelzoo Canada. The research shows resilience from Canadian tourists, with international travel bookings expected to increase for summer 2016.
Travelzoo's latest findings show that 83 per cent of Canadians are planning at least one summer vacation abroad this year, compared to 76 per cent last year.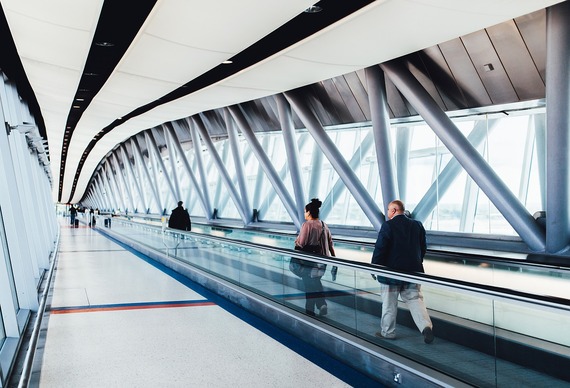 The rise in vacations is not limited to the summer months either, with travel across the whole of 2016 expected to increase on last year's total bookings. "Canadians clearly have the travel bug," says Lara Barlow, Travelzoo Canada Country Manager. "These results are reassuring to those in the travel industry who were concerned that recent world events, as well as the low Canadian dollar, could really dampen the appetite to travel this year. We're seeing that the reverse is true and Canadians are planning to book even more vacations -- both at home and overseas before the year is out."
Canadians Love the Beach

Photo courtesy www.tourismnewbrunswick.ca
Canadians are beach-lovers, as a third of survey respondents said their preferred vacation features sun and sand. The second-favourite choice, at 16 per cent, was taking in incredible landscapes and geography. When asked specifically about the types of domestic vacations they prefer, respondents favoured coastal vacations (29 per cent), and big city visits (second place with 15 per cent).
USA Bound

Flickr photo by Bobby Hidy
The United States continues to rise in popularity as the top overseas destination for Canadians. Over two-thirds of respondents plan to visit the country in the coming twelve months. "Canadians are encouraged by the slight increase in the loonie and the U.S., because of its proximity, is traditionally the go-to international travel destination for many Canadians," says Barlow.
Staycations on the Rise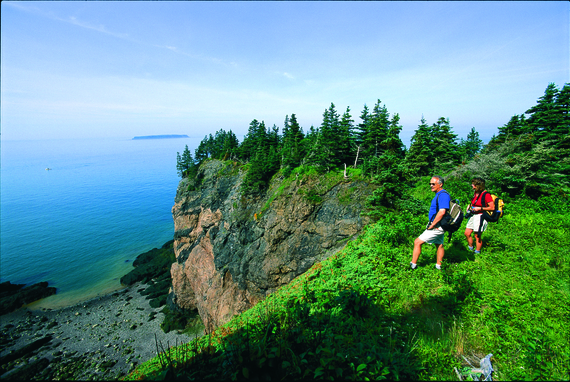 Photo courtesy of www.novascotia.com
Domestic vacations are also increasing. According to the study, 80 per cent of respondents took at least one domestic vacation in 2015 and 87 per cent plan to take one in 2016. The survey identified the two main reasons for choosing a staycation as visiting family members (55 per cent), and because the location is close and within easy reach (32 per cent).
Andrea Chrysanthou is an editor of the Travelzoo Canada blog and is based in Toronto, Ontario. Travelzoo has 250 deal experts around the world who rigorously research, evaluate and test thousands of deals to find those with true value.
Follow HuffPost Canada Blogs on Facebook
ALSO ON HUFFPOST:
Best Travel Destinations For Canadians
Best time to travel: April, May, September, October Average price: $700 to $900 Why you want to go: Even if the Euro scares you more than the U.S. dollar does, Spain is still considered a budget-friendly country with low accommodation costs. "Spain has something for every traveller's needs whether it be a relaxing beach vacation in Malaga, exploring the Alhambra Palace in Granada or visiting the famed Sagrada Familia in Barcelona. Spain is also famous for their tapas and you can get tapas and drink for $5," says Rishi Modi of travel deal site Next Departure.

Best time to travel: April, May, September, October Average price: $700 to $900 Why you want to go: For Canadians, Lisbon is one of the cheaper European cities to fly into. "It's a lively city with delicious seafood and cheap drinks. Take advantage of its inexpensive public transit to visit the historic Sintra, go to a winery in Porto and enjoy the Mediterranean weather on a beach in Faro."

Best time to travel: December to March Average price: $900 to $1,200 Why you want to go: Getting to Thailand can be pricey depending on the time you go, but once you're there, everything can fit into your budget. "Food from street vendors and markets costs you $4 to $5 and accommodations can run you as low as $20 a night [depending where you stay]. Thailand has tons of attractions to offer travellers, from trekking in the jungles of Chiang Mai to relaxing on tropical islands like Ko Samui."

Best time to travel: October to May Average price: $900 to $1,200 Why you want to go: Marrakech was named Tripadvisor's number one destination in 2015, according to travellers. "Explore the ancient palaces, shop in the markets of Marrakech and stay overnight in the Sahara desert. Food is inexpensive in local restaurants and street stalls, while accommodations are reasonably priced."

Best time to travel: Depending if you go north or south, you want to avoid cold or rainy seasons. Late December is usually the best. Average price: $900 to $1,100 Why you want to go: If you're an urban explorer or nature lover, Vietnam offers both. "Vietnam is another South Asian destination that continues to be budget-friendly with beautiful sights, including cruising along Halong Bay and visiting the rice terraces. Food is remarkably cheap — a meal and beer can cost under $3."

Best time to travel: April, May, September, October Average price: $900 to $1,100 Why you want to go: If you want to go to Europe and still have spending money, Modi suggests avoiding popular destinations like France and Italy and opting for Eastern Europe instead. "From Hungary to Romania to Bulgaria, these Eastern European countries are rich in diverse culture and its modern and historical architecture."

Best time to travel: April, May, September, October Average price: $700 to $900 Why you want to go: "Peru is known for its geographic diversity, from exploring the vast Amazon jungle to hiking the Inca Trail to relaxing on the beach coast," he says. But Peru's most famous attraction is the ancient site of Machu Picchu — a must-see if you decide to go to this South American country.

Best time to travel: April, May, September, October Average price: $1,000 to $1,200 Why you want to go: Indonesia has thousands of islands and Bali is one of the most luxurious and popular ones. "Food and hotels are extremely cheap, where you can enjoy tasty meals from $1 to $2 and spend as little as $20 per night on accommodations." However, if you do plan on renting out a villa or eating on Seminyak's main tourist strip, it can feel like dining and living in a major Canadian city.

Best time to travel: January to March; September to November Average price: $600 to $1,000 Why you want to go: If you haven't been to Cuba, you probably know several Canadians who have — the Caribbean island is one of the most popular beach destinations for Canucks. "All-inclusive packages are affordable and offer a bang for your buck. If you're really flexible, you can often find last-minute cheap deals on flights and all-inclusive packages."

Best time to travel: January to April; September to December Average price: $350 to $650 Why you want to go: We're not saying you should head to pricey destinations like Hawaii or Las Vegas, but some U.S. spots have taken advantage of our falling currency. "Myrtle Beach, Kissimmee, and Scottsdale are starting to offer deep discounts — around 20 to 30 per cent off accommodations, free meal vouchers and discounts off activities. Also, expect major airline carriers alongside the low-cost carriers stateside such as Allegiant and Sprint to offer discounts and seat sales as well." And when you look at your budget as a whole, many U.S. destinations tend to be cheaper than leaving the continent.
Follow Travelzoo Canada on Twitter: www.twitter.com/TravelzooCanada