Happy Friday The 13th: The 13 Luckiest Places In the World
Do you dodge black cats and cracks in the sidewalk? Throw salt over your shoulder and pop your umbrellas only outside? Would you fly out on Friday the 13 or postpone a vacation to a less spooky date? If you're feeling a little unlucky lately, we've got some suggestions.
Try your luck and rub up on a nose, some toes, a boob or some bums in the luckiest places in the world.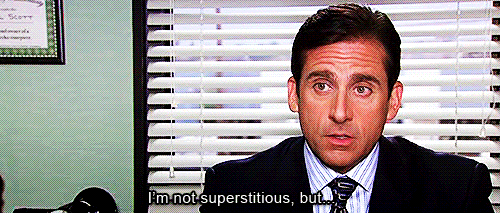 1. Statue of Juliet in Verona, Italy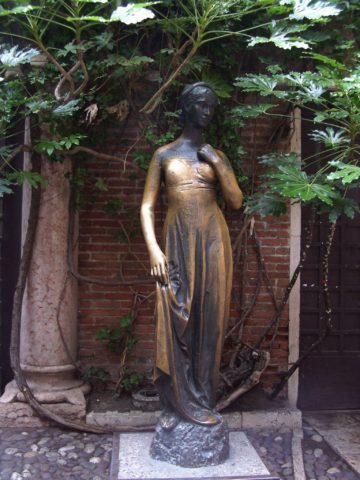 Venture to Verona to be lucky in love. The tradition states that those who visit "Juliet's House," a 14th-century property purchased by the city of Verona, will be blessed with good fortune in their romantic exploits if they rub the right breast of the bronze statue of Juliet. Poised beneath a balcony just like the fictional one in Shakespeare's play, the statue has been admired so earnestly that the city had to remove it and make a replica.
If you've been feeling stuck in a romantic rut, perhaps a visit to the idyllic courtyard is in order to reverse your fortune. (Although one might wonder exactly how lucky Juliet was herself -- let's not forget that "these violent delights have violent ends.")
2. Weeping Columns in Istanbul, Turkey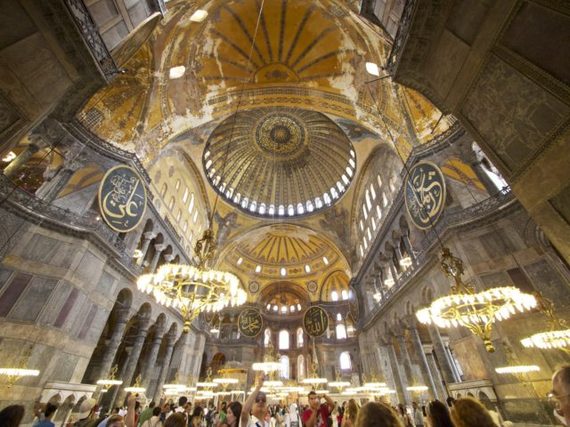 The Weeping Columns in the Hagia Sofia are said to leak holy water. Visitors put a thumb in a hole on the column and if the finger comes out damp, the wish will be granted. Also called the Column of St. Gregory the Wonderworker, the site is said to have cured chronic ailments including blindness.
3. Crazy Girls sculpture in Las Vegas, Nevada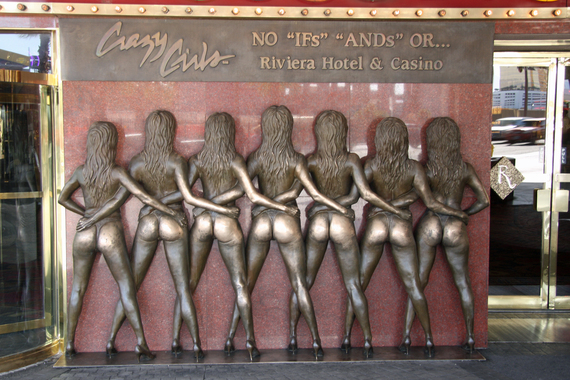 Flickr photo by Ronnie Macdonald
Vegas is, shockingly, home to a cheeky luck-seeking strategy. In a place where visitors are particularly preoccupied with their luck, the Crazy Girls sculpture is the site of gambler's reverence. The sculpture is apparently the most photographed in Vegas, and the bronze bums have been rubbed shiny by high-rolling hopefuls.
4. Laughing Buddha in Hangzhou, China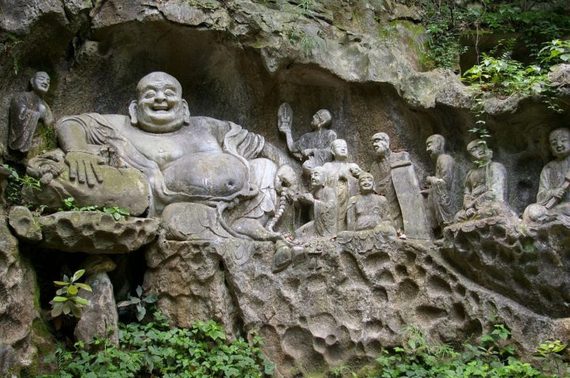 There seems to be an international consensus that rubbing body parts is the best way to get lucky. The same holds true when rubbing the belly of a laughing Buddha, which is said to bring good fortune, wealth and prosperity. That belief originated in the Lingyin Temple, a large monastery in Hangzhou, China. The Laughing Buddha that is considered to be particularly lucky is the one found in a series of rock carvings entitled, "The Peak that Flew Hither", found in a grotto just outside the temple entrance.
5. Schöner Brunnen in Nuremburg, Germany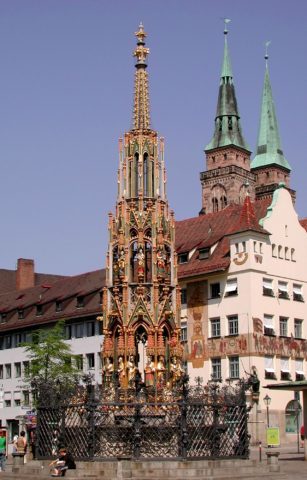 Schoner Brunnen (literally, "beautiful fountain") is a 14th-century fountain in Nuremberg's market, and one of the main attractions in the city's Historical Mile. The fence surrounding the fountain has two brass rings on either side which are said to bring good luck to those who spin them three times and make a wish.
6. Trevi Fountain in Rome, Italy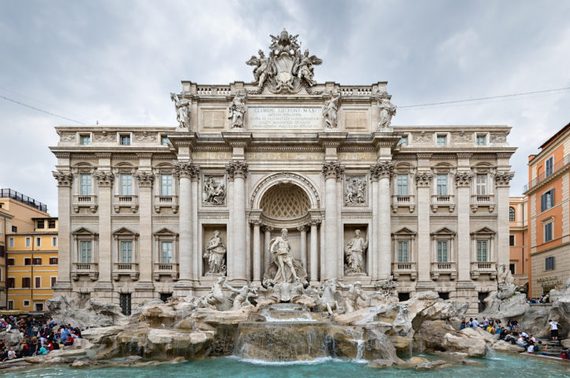 One of the more famous spots on our list, it's estimated that 3,000 euros are thrown into the Trevi Fountain every day. Tradition dictates that coins are to be thrown over the left shoulder, using the right hand. Legend holds that a coin thrown into the fountain guarantees another visit to Rome. Those looking for love with a local should throw in two coins. For those who want real commitment: toss in three coins for a marriage. Even if you're not looking for love, the coins are collected every night and donated to a charity dedicated to helping those in need, so a couple extra coins couldn't hurt.
7. Blarney Stone in Cork, Ireland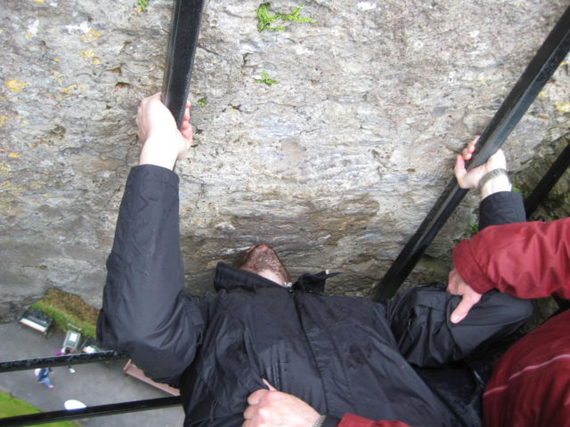 Our Deal Expert, Mike Duchesne, kissing the stone (we can attest to his success, he's got the gift of gab).
If it's eloquence you're seeking, the Blarney Stone should be the site of your next vacation. Tradition holds that a kiss upon the limestone block gives the kisser "the gift of gab." The legendary stone is built into the battlements of Blarney Castle, five miles from Cork, Ireland. To peck the stone, however, visitors must first climb to the castle's peak, then bend over backwards on the parapet's edge. Safeguards have been installed, though visitors often choose to be steadied by a friend as they aspire to eloquence. It is said that kissing the stone once entailed being dangled by the ankles.
8. Abraham Lincoln's Tomb in Springfield, Illinois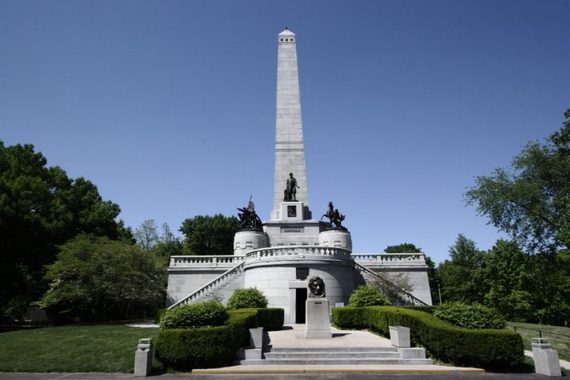 The burial place of Abraham Lincoln in Springfield, Illinois is home to a copper-nosed replica of the 16th president. Rubbing his schnoz is said to bring good luck, and as a result, it's a bit shinier than the rest of his mug. Every year, thousands of visitors rub the nose at the base of the tomb.

9. Charles Bridge in Prague, Czech Republic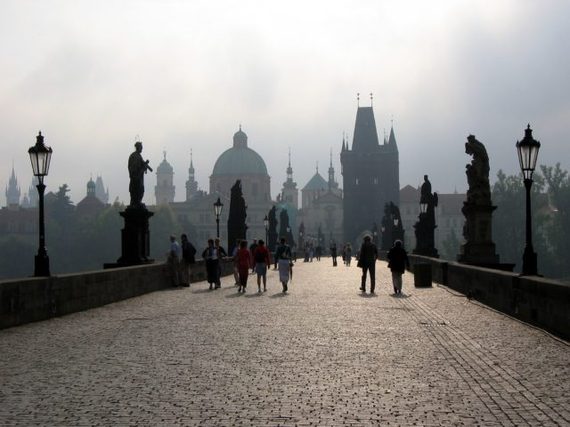 After it was destroyed in a flood in 1342, a number of astrologers were tasked with the most auspicious way to rebuild the bridge. They chose a precise date and time (July 9 at 5:31 a.m.) to lay the first brick, and three lucky ingredients (eggs, milk, flour) were added to the mortar used for rebuilding. Evidently, it worked, because the bridge still stands, and a brass plaque is rubbed by tourists in the hopes of gaining a touch of luck.
10. Statue of St. John Nepomuk in Prague, Czech Republic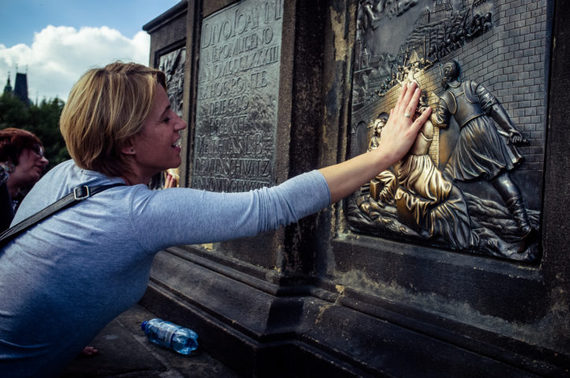 In Prague, it is said that touching the statue of Saint John of Nepomuk will bring luck, and a return to Prague. There is a cross with five stars at the site of his execution, also on Charles Bridge. You can make a wish when you tap the cross and stars with your left hand.
11. Winged Figures of the Republic in Boulder City, Nevada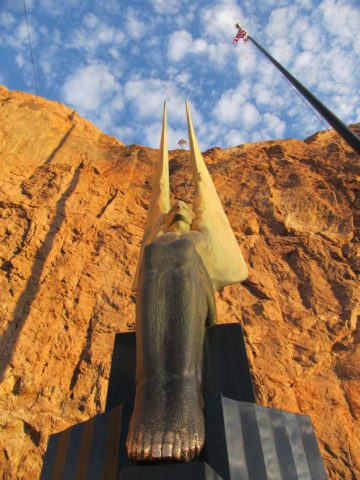 Not far from Las Vegas, the "Winged Figures of the Republic" are iconic sculptures on the Nevada side of the Hoover Dam. The wings are 30 feet tall, the figures themselves are made from over four tonnes of bronze. Everything has been weathered to a green patina except for the toes of the figures, which have been left glowing from the hands of luck-seeking tourists.
12. Il Porcelino in Florence, Italy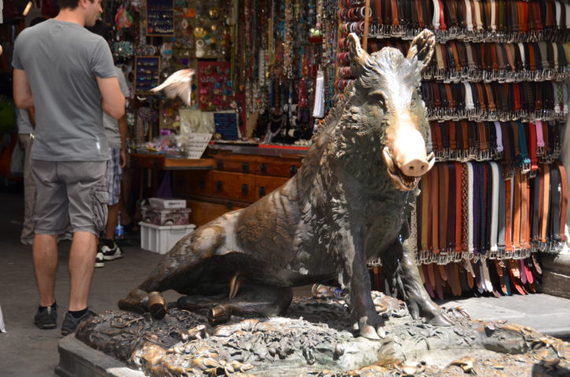 Our third lucky destination in Italy (perhaps the hapless ought to plan a tour) is a bronze fountain of a boar. Il Porcellino is Italian for "piglet," and visitors are meant to drop a coin in its jaws for luck, then rub the nose to ensure a trip back to Florence.
13. Fountain of Wealth in Suntec City, Singapore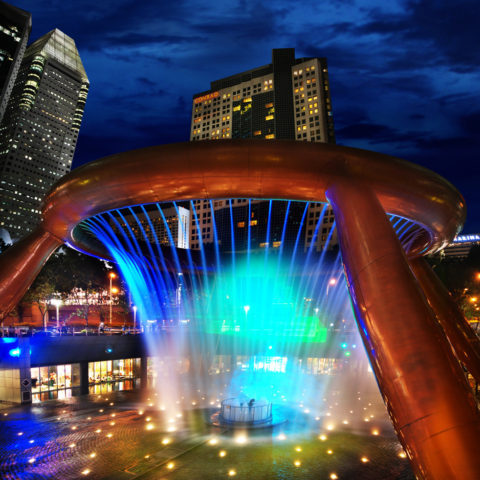 The largest fountain in the world, the Fountain of Wealth is meant to give visitors a shot at luck and love. Built in strict accordance with feng shui principles, the fountain is meant to represent the ring in the palm of a hand, which guarantees the retention of wealth. During certain times of the day, the main fountain is turned off so guests may circle the smaller fountain in the centre. Visitors are meant to circle this fountain three times, keeping one hand on the water at all times.
Catherine Cunningham is a Travelzoo Deal Expert based in Toronto. Travelzoo has 250 deal experts from around the world who rigorously research, evaluate and test thousands of deals to find those with true value.
Follow HuffPost Canada Blogs on Facebook
ALSO ON HUFFPOST:
Because the last look you want to see on a bride's face is, "I'm tolerating this."

In Chinese culture, crickets in the home are a sign that good fortune and wealth will be coming your way. In America, it's just annoying.

They're said to be lucky talismans for gamblers, but we're willing to bet it's just Not. Worth. It.

Gross.

Gross.

Gross.

Finding a spider on your clothes -- especially your wedding dress -- is considered a good omen, but it's hard to realize how lucky you are when you're screaming uncontrollably.

Accidentally, that is. However, the last time we walked around with our shirts on backwards and didn't realize it, we felt more "stupid" than "lucky."

There HAS to be a way to improve your gambling odds that doesn't involve decapitating poor, endangered vultures. Right?

When the power could go out? No, thank you.

Sure, it might be a sign of wealth coming your way, but you still have to put up with an annoying itch. Or worse.

Whether traveling in groups of five or resting on your house, our reaction to this lucky omen remains the same: NOPE.

Unless it's some kind of deep-cleansing scrub, we're good.
Follow Travelzoo Canada on Twitter: www.twitter.com/TravelzooCanada