12 Reasons Quebec Is Right For Any Kind Of Traveller
Quebec is more than a province where everyone speaks French. At almost three times the size of France, it's also Canada's largest province and it's as varied as it is vast.
From world-class cities, filled with museums and galleries, to rural towns, scattered with small vineyards producing award-winning wine; from bustling streets to deserted beaches; from parks so vast you can wander alone for days to music festivals so big you'll meet people from around the world -- this is Quebec.
Regardless of what you're looking for in your next vacation, Quebec has something for you.

Quebec for the Urban Explorer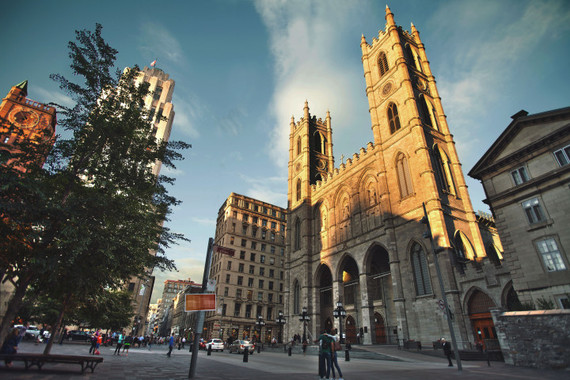 Notre-Dame Basilica in the heart of Old Montreal
Montreal is a tale of two cities where modern, high-end shops, hotels and restaurants, as well as art galleries and museums coexist with some of North America's oldest buildings, churches and neighbourhoods.
Walk the cobbled streets of Old Montreal, a historic area also known as the Old Port, to travel back to the 17th century. Stop off at the Notre-Dame Basilica, first built in 1672 and still one of the most dramatic Gothic buildings in the world or put your walking shoes on and head up Mount Royal, (yes, the city is named after this mountain) for a bird's-eye view of this sprawling metropolis.
See current Montreal travel deals here.
Quebec for the Foodie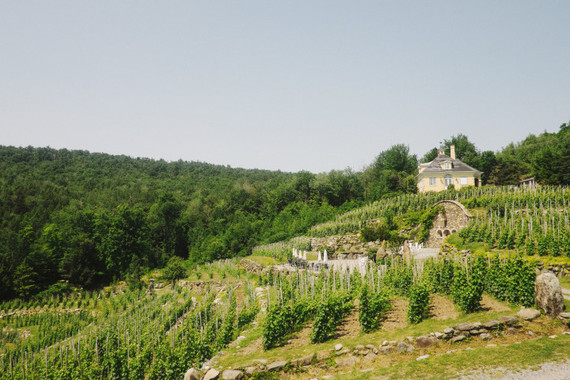 The Chapelle Ste Agnes Vineyard on the Brome-Missisquoi Wine Route. Photo : © TQ/D. Gunther
The Brome-Missisquoi Wine Route in the Eastern Townships is just an hour's drive from Montreal and less than 90 minutes from Burlington, Vermont. The region is home to 21 wineries, including some of the province's oldest, and produces 60% of Quebec's local wine. Visit the Chapelle Ste Agnes Vineyard, a Romanesque stone chapel with several levels of medieval wine cellars, or stop by Les Pervenches, widely considered the top winery in the province. Tip: If you like the wine, stock up. Les Pervenches' bottles sell out at stores almost immediately after they are stocked.
Of course you can't have wine without cheese. Quebec is famous for its local blends. Travel 90 minutes from Montreal to the Fromagerie de l'Abbaye Saint-Benoit, in the idyllic town Saint-Benoit-Du-Lac where you can see the monks in the local abbey producing more than a dozen varieties of fresh cheeses.
If you consider yourself a foodie, try Quebec's local delicacies: poutine (French fries smothered in gravy and cheese curds), freshly baked bagels, smoked meat, meat pie or tarte au sucre (sugar pie) made with real Quebec maple syrup.
Quebec for the Adrenaline Junkie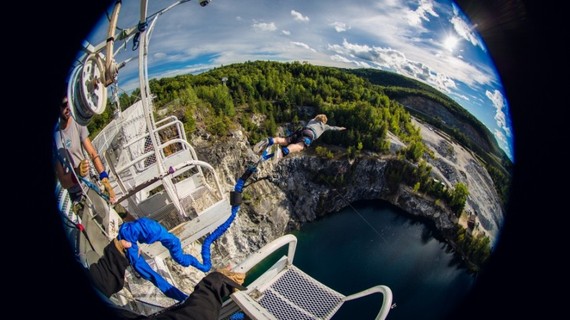 Bungee Jumping on "Goliath." Photo: Great Canadian Bungee
The Great Canadian Bungee's "Goliath," in Wakefield, is the highest bungee jump in North America at 200 feet. Not quite brave enough to take a leap? Try zip-lining instead. The site includes a 1015-foot zip line that goes over a crystal-clear lagoon. Wakefield is located in the Gatineau Hills, a two-and-a-half hour drive from Montreal.
If cycling is more your pace, saddle up in Lanaudiere, just northeast of Montreal. The area is an outdoorsman's wonderland, with wildlife reserves, regional parks, beautiful lakes and rivers and various heritage sites. From challenging mountain roads for serious cyclists to easy terrain for families, Lanaudiere is best seen on two wheels.
Quebec for the Art Lover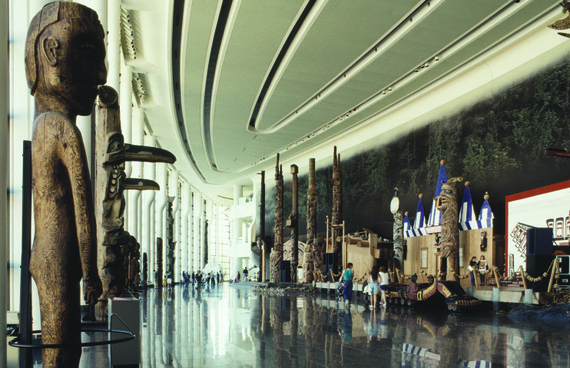 The Grand Hall of the Canadian Museum of History in Gatineau. Photo © TQ/Gilles Rivest
The Canadian Museum of History in Gatineau (two hours from Montreal) celebrates art that has shaped Canada, with exhibits exploring the country's 20,000 years of human history. The architectural wonder features a spectacular Grand Hall with a magnificent collection of towering Totem poles (the largest indoor collection in the world) set amidst a forest scene, believed to be the world's largest colour photograph.
The Montreal Museum of Fine Art, meanwhile, has an acclaimed collection of local and international fine art as well as touring exhibitions. This summer, see Pompeii, a spectacular exhibition that features over 220 archaeological artifacts including mosaics, frescoes, statues, personal artifacts and other art from the small Roman Empire colony, frozen in time by the eruption of Mount Vesuvius in 79 A.D.
Quebec for the Nature Enthusiast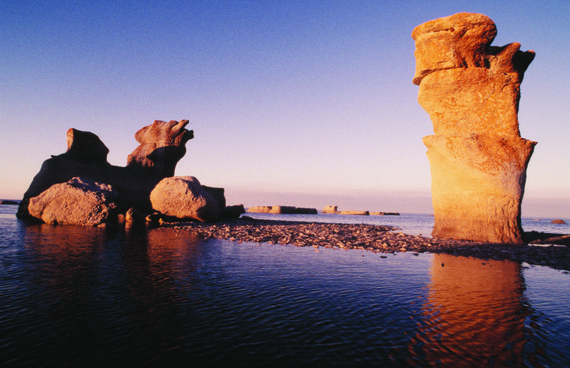 The limestone monoliths at Mingan Archipelago National Park
Quebec is home to 24 national parks, including Mingan Archipelago National Park, which boasts some 30 limestone islands and more than 1,000 granitic islets and reefs. Located on the north shore of the St. Lawrence River, about a 10-hour drive from Quebec City, the park is dotted by spectacular limestone sculptures carved over the course of thousands of centuries, and is home to an abundance of wildlife, including seals, dolphins and whales.
Discover Nunavik, comprising the northern third of the province. The area, a four-hour drive north from Quebec City, is the homeland of the Inuit and, from August to March, its skies are the backdrop to fabulous displays of northern lights or aurora borealis. Nunavik's Parc national des Pingualuit is a marvel of Northern Quebec. The park is the scene of a meteorite crater filled with crystal-clear blue water. The crater, which measures more than two miles in diameter is called "L'oeil de cristal du Nunavik" (Crystal eye of Nunavik).
Quebec for the Family Traveler

Getting up close and personal with a whale off the Cote-Nord
What child will not be impressed with the sight of magnificent whales swimming along the surface of the St. Lawrence River? The Cote-Nord's so-called Whale Route, three hours northeast of Quebec City, is home to 13 different whale species, including the blue whale. While you can see them from the coast, you can also take a whale-watching cruise for a closer look or, if you're brave, go kayaking for a chance to get within arm's reach of see one of these colossal mammals.
Meanwhile, the Montreal Biodome, located in the city's Olympic Park (the site of the 1976 Olympics), allows visitors to walk through replicas of the four ecosystems found in the Americas. You can see everything from macaws to beavers, lynxes and penguins.
Quebec for the Beach Lover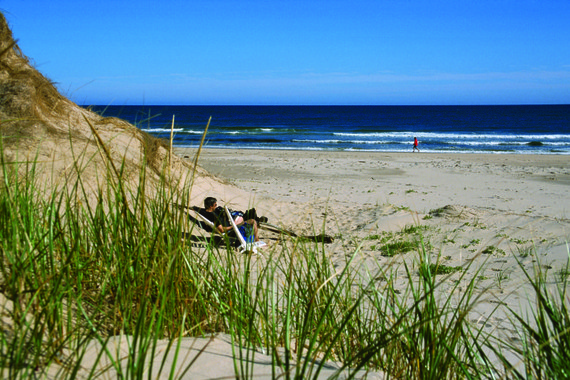 Relaxing on one of the Magdalen Island's many beaches

Travellers looking to get sand between their toes should head to the Magdalen Islands in the St. Lawrence Bay. This remote archipelago has more than 185 miles of white-sand beaches, where you can laze around all day and stare at lapping waves. When in Quebec, do as the Quebecois and stop by the area cheese shops and bakeries to pack your beach picnic or try the local delicacy "pot-en-pot" (mixed fish, seafood and sauce baked in pie crust).
While the region falls under Quebec territory, it is closer to Prince Edward Island and Nova Scotia and is accessible by flights from Gaspe, Quebec, as well as ferry rides from Gaspe and Souris, Prince Edward Island.
Quebec for the Luxury Seeker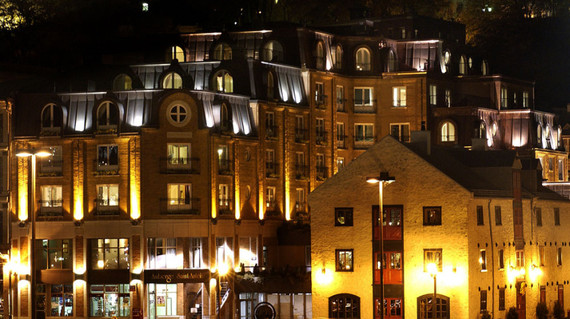 The Auberge Sainte-Antoine, in the Quebec City's Old Port

The Auberge Saint-Antoine, a Relais & Chateaux hotel set in a 17th-century building in the heart of historic Quebec City, has been consistently rated one of the best in the world by Travel + Leisure and Conde Nast Traveller. It overlooks the St. Lawrence River, and is steps away from the boutiques of the Quartier Petit Champlain, the oldest shopping area in North America.
You can also head to Montreal for world-class shopping. Canada's Holt Renfrew, founded in 1837, is comparable to Barneys or Saks and carries all the major luxury brands.
See Quebec hotel deals here.
Quebec for the History Buff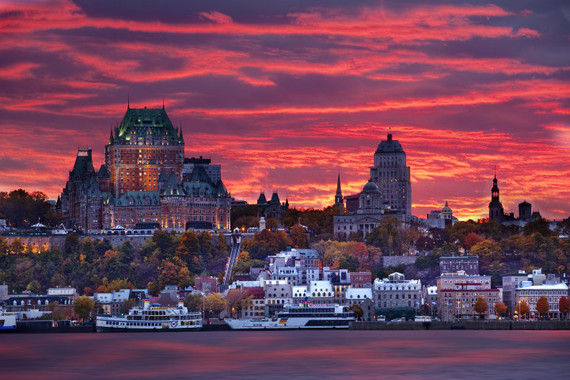 The Fairmont Chateau Frontenac towers over old Quebec City
Quebec City, founded in 1608, is a living museum. It is one of the oldest cities in North America, and the old town is the only fortified city north of Mexico with its walls intact. It was declared a World Heritage Site by UNESCO in 1985. Stroll along the cobblestone streets, visit the star-shaped citadel or pose for a selfie in front of the impressive Fairmont Le Chateau Frontenac Hotel (the world's most-photographed hotel).
If you want to dig deeper into history, visit Parc national de Miguasha, a UNESCO World Heritage site in southeastern Quebec. The area's cliffs are home to a wealth of plant and fish fossils that tell the tale of life on Earth 380 million years ago.
Quebec for the Music Fan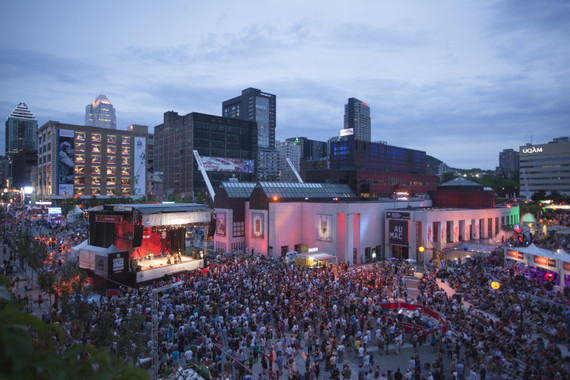 Crowds gather at one of hundreds of events held as part of the annual Montreal Jazz Festival
Fans of all types of music, from jazz to pop and everything in between are likely to find a music festival catering to their tastes in Quebec. The Montreal Jazz Festival, the world's largest jazz festival, takes place from June 29 - July 9, with more than 650 concerts, including 450 free outdoor shows, featuring 3,000 artists from more than 30 countries.
Those prefering Top 40 music will be in music heaven at Osheaga, a Montreal music festival that takes place July 29-31. This year, the Red Hot Chili Peppers, Lana Del Rey and Radiohead are just three of the 100-plus performers slated to take the stage. Those with more eclectic tastes can celebrate both emerging and celebrated artists at Pop Montreal. This year's event takes place Sept. 21-25, and is expected to feature more than 400 artists.
Quebec for Spa Lover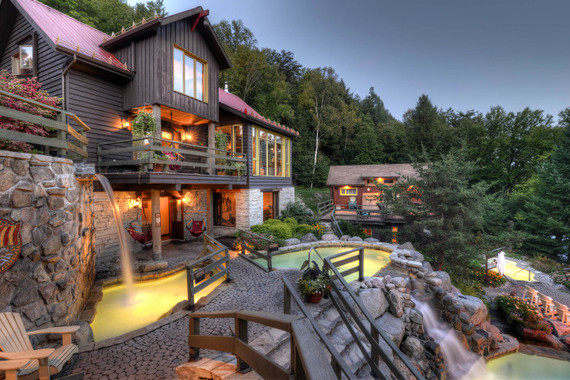 Some of the pools at the Scandinave Spa at Mont Tremblant (Courtesy of Scandinave.com)
Spa day in the city or a retreat in nature? Why choose? One of the most popular spas is the Scandinave Spa at Mont-Tremblant, 80 miles northwest of Montreal. Nestled in the Laurentian mountains, the spa offers Scandinavian hydrotherapy (hot and cold) pools and an unbeatable view of the mountains and Lake Tremblant.
Equally stunning is the Nordik Spa-Nature in Chelsea, Quebec, two-and-a-half hours west of Montreal. The spa is the largest in North America and features various water-therapy pools, saunas and even overnight accommodations for groups.
See Quebec spa deals here.
Quebec for the Traveller who Wants Europe On A Budget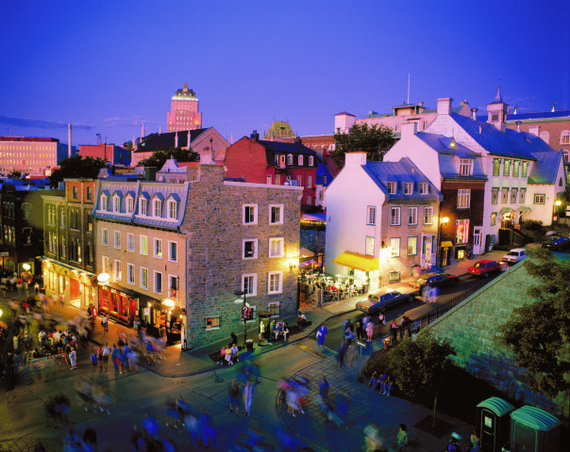 Centuries-old buildings in Old Quebec
Want a taste of Europe -- but short on time or budget? Skip the pricey long overseas flights by staying closer to home. Surround yourself in the old-world charm of Quebec City; taste authentic French cuisine at Restaurant Initiale in the city's old town (one of only two restaurants in Canada given the prestigious five stars by AAA); stroll along the romantic Petit Champlain district, a quaint neighbourhood filled with one-of-a-kind boutiques and bistros or stay at the world-famous Fairmont Chateau Frontenac, a hotel fit for a king. It's no wonder Quebec City tourism's motto is "So Europe. So close."
Promoted by: Québec Original. Visit the tourism board website to find even more tips and information for planning a vacation to Quebec.
Follow HuffPost Canada Blogs on Facebook
ALSO ON HUFFPOST:
Best Camping Sites In Quebec
Location: Lac-Supérieur, Que. Why you should go: Kilometres and kilometres of breathtaking forests; canoe trails and 40 mammals living on site. Sites available: Over 887 sites for all types of campers, nature cabins and compact cabins.

Location: Chelsea, Que. Why you should go: Just 15 minutes from Parliament Hill; mountain biking; and six beaches perfect for a swim. Sites available: Back-country, almost 250 individual camp sites, group camping for up to 75 people and glamping essentials like cabins, yurts and even an inn.

Location: Saint-Mathieu-du-Parc, Que. Why you should go: Over 150 lakes, a gorgeous waterfall and at night, keep an ear out for owls. Sites available: Back-country at Wapizagonke Lake and group camping with full facilities.

Location: Gaspé, Que. Why you should go: A pebble beach, beautiful cliffs and options for snorkelling. Sites available: Semi-serviced site for tents, back-country camping and oTENTik tents (offered at many parks).

Location: Havre-Saint-Pierre, Que. Why you should go: 30 limestone islands, 1,000 granitic islets (for real) and island hopping like no other. Sites available: 44 camping sites and two group camping areas.

Location: Antoine-Labelle Regional County, Que. Why you should go: Beautiful islands, sandy beaches and quiet fishing trips. Sites available: Several camping sites and lodging options across the islands.

Location: Stoneham-et-Tewkesbury, Que. Why you should go: Surreal mountain views, recreational kayaking and over 100 kms of hiking. Sites available: Back-country camping, Huttopia tents (ready-to-camp tents), cabins and other types of shelters.

Location: Squatec, Que. Why you should go: Lake Temiscouata (the largest lake in the region), over 150 birds to bird watch and biking/hiking trails. Sites available: 72 campsites, RV sites, and back-country.

Location: St-Philémon, Que. Why you should go: Forests to get lost in, family-friendly and trails for all types of adventure-seekers. Sites available: 35 campsites, (car camping) equipped with picnic tables and fire pits.

Location: Saint-Fulgence, Que. Why you should go: Water paddling, canoeing with friends and hikes with gorgeous views. Sites available: Chalets and limited ready-to-use tents available near the lake. Photo: Maxime St-Laurent/Tourisme Saguenay-Lac-Saint-Jean

Location: Sainte-Praxède, Que. Why you should go: 200 birds for bird watching, third biggest lake south of the St. Lawrence River and all kinds of boating activities. Sites available: 86 camping sites for drive-ins, back-country, shelters and cabins.

Location: La Malbaie, Que. Why you should go: Deep valleys, peaceful walks and day fishing. Sites available: Several camping sites for tents, RVs, and groups from 50 to 100 people.

Location: Chicoutimi, Que. Why you should go: Beaches, sailing and a nearby cave if you feel like leaving your tent. Sites available: Several types of camp sites all around the region including car camping, RV sites and solar pods.

Location: 50 km northeast of Rouyn-Noranda. Que. Why you should go: 22-metre-high suspended walkway, sea kayaking and unforgettable hikes. Sites available: 47 camping sites, ready-to-use camping sites, RVs, group camping and cabins.

Location: Port-Menier, Que. Why you should go: A waterfall like no other, canyons and island hiking. Sites available: Limited sites (just 20 near the lake) and cabins.

Location: Saint-Urbain, Que. Why you should go: For people who love to fish (they even have fishing-camping packages), canoeing and kayaking. Sites available: Over 60 sites for tents, cabins and huts.

Location: Quebec City Why you should go: Black bear watching, biking and summer hunting. Sites available: 22 sites for tents, a ton of lodges and back-country.

Location: Sainte-Anne-des-Monts Why you should go: Green hikes, wildlife watching and water activities like boating, kayaking and canoeing, Sites available: Over 200 sites in four major grounds, cabins and ready-to-go tents.
Follow Travelzoo Canada on Twitter: www.twitter.com/TravelzooCanada