Water Cuts Add To Daily Challenge Of Survival For Aleppo's Children
Water cuts and attacks on pumping stations regularly deny water to the people of Aleppo. For eight-year-old Huda and her family, collecting water has become a greater challenge with each passing year of the Syrian conflict.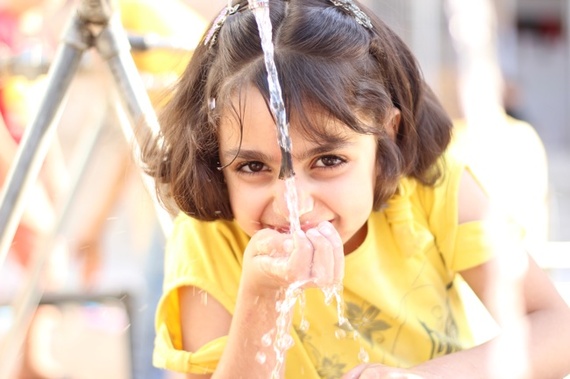 Being born in Aleppo was always considered a rich blessing in eight-year-old Huda's family. That changed abruptly when violent conflict reduced the world's oldest continuously inhabited city to rubble. To protect her five children from indiscriminate daily attacks, Huda's mother Manal fled with them to a neighbourhood on the west side of the city, with nothing but the clothes on their backs.
Huda often thinks about her old home. "I remember the glittering stars that decorated my bedroom ceiling," she says, tears welling in her eyes. "I used to look at them before sleeping. It made me feel happy, imagining that I was in space."
Now, instead of going to bed peacefully under glowing stars, Huda and hundreds of thousands of other Syrian children sleep to the noise of heavy shelling -- it's a terrifying soundtrack.

Adapting to new living
The war has forced Huda's family to flee twice. First they moved to a shell of a building where her parents learned how to build a fire for cooking and heating, and how to fetch water from nearby wells. "I felt like I was Robinson Crusoe, living with my family in an uninhabited place, trying to survive," says Huda's father.
But their time in their new home was short-lived. "I got used to the house until one day we had to evacuate again," recalls his wife Manal. "We ran like crazy under fire, I was holding Huda and my husband was carrying our eight-month-old baby Mohammed, while our other three girls clung to us."
Manal put all her efforts into making a family home out of the tiny rented apartment they now live in. Despite having a roof over their heads, life continues to be disrupted as cuts to water and power regularly force them to cope without these essential supplies.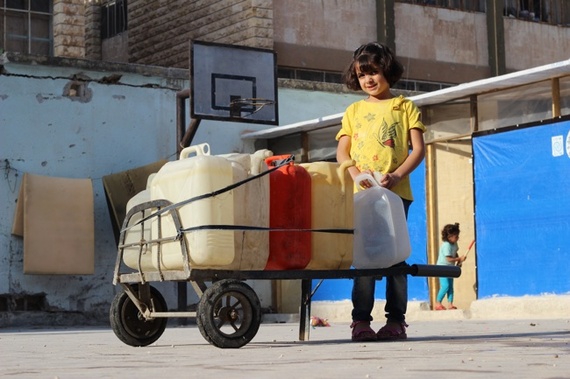 Huda, who dreams of becoming a paediatrician when she grows up, helps her father carry the water on a daily basis from a nearby water filling point, installed by UNICEF. She and her siblings cart heavy loads of water in the blazing summer heat and through cold winter storms.
"One day, I was pushing a cart filled with jerry cans home, and as I got close to the house, I lost my balance and slipped," says Huda. "The cart flipped upside down, and the water spilled all over the street," she says, biting her lip as she remembers her anger and frustration.
Water cuts and attacks on pumping stations regularly deny the people of Aleppo water.
For children living in one of the deadliest places on earth, this lack of safe water is a continuous threat to their survival. Alongside 100,000 children living in east Aleppo, nine-year-old Judy has been robbed of her childhood. Instead of going to school or playing with friends, her life is full of constant stress.
"I fear the sounds of continuous bombing," she says. "I also worry about lack of water and electricity, especially now we are getting close to winter. We used to bathe every day, but now we can't."
Taps running dry
Nearly five million people across the Syrian Arab Republic -- about half of whom are children -- suffer the consequences of long and sometimes deliberate interruptions to their water supplies. Water cuts and attacks on pumping stations regularly deny the people of Aleppo water. Since the beginning of the year, some water pumping stations have been out of service for more than 123 days.
In Aleppo, UNICEF and partners have trucked up to 1.5 billion litres of water and delivered more than four million litres of fuel to run the city's four pumping stations. Additionally, UNICEF has supplied 80 tons of water disinfectant; rehabilitated the water network system; provided more than 15,000 hygiene kits for internally displaced people; and raised the awareness of 100,000 children to the importance of safe water, hygiene and sanitation practices. Over the past few years, UNICEF has also constructed alternative water sources by building 100 underground water wells.
"Children in Aleppo are showing extraordinary courage in the face of huge uncertainty," says Hanaa Singer, UNICEF Representative in Syria. "While we have been able to improve access to safe water for children and families, we have never been able to respond to the one question all children ask: 'When will this war end?' I long for the day we can give them the answer."
By Monica Awad and Basma Ourfali, UNICEF Syria
Follow HuffPost Canada Blogs on Facebook
Also on HuffPost:
7 Deadly Threats Facing Innocent Syrian Civilians
The plight of Syrians besieged in the town of Madaya prompted an international humanitarian response (AP Photo) Hunger, starvation, and extreme malnourishment present existential threats to millions of Syria's most vulnerable people. The young, the elderly, and the infirm are all particularly susceptible to the effects of malnutrition, which can stunt the growth of children, and exacerbate chronic medical conditions. Unicef deputy director Lily Caprani told HuffPost UK about the effects long-term malnourishment are having as the Syrian conflict enters its fifth year. She said: "There's hunger in the short term, and then malnutrition over the longer term severely and in some cases irreversibly damages children's development, so a child who at the age of two or three is undernourished can physical stop growing. "Unfortunately there are some cases where that cannot be undone. We're trying to stop getting it to that stage." Unicef continues to work in Syria, and it estimates it has helped the majority of those who need help in accessible areas. That still leaves as many as two million out of reach of aid, however. Towns which are besieged by fighting are particularly difficult to access. In one example, the situation in the Syrian town of Madaya, north west of Damascus, had become so dire that the UN estimated 400 residents needed to be immediately evacuated to receive life-saving treatment. Their conditions related to extreme malnourishment and starvation, as well as medical conditions.

Syrian boys play with snow following a storm in the northern Syrian city of Aleppo on January 5 Exposure to the elements is become a concern for aid agencies operating in and around Syria. Harsh winters bring snow, ice, and chilling winds - making for harrowing conditions in houses lacking electricity and the refugee camps bordering on vast, desolate landscapes. "One of the key things we worry about every year in that on top of everything else, we now have extreme cold," Lily Caprani of Unicef UK says, "Although we're doing everything we can to them, they're living in tents, in containers." The organisation is leading a campaign to keep children warm this winter with hats, gloves and scalfs. "Many of the refugees in... countries such as Jordan and Lebanon live in terrible conditions and are struggling to find warmth as temperatures fall," Robert Mardini, director for the Near and Middle East with the International Committee of the Red Cross, told Al Jazeera. "They live with the uncertainty of not knowing what tomorrow will bring, or even if they will ever make it back home one day."

Syrians searching for survivors in the rubble of destroyed buildings following the barrel bomb-attacks of Syrian air forces on February 2, 2014, in Aleppo, Syria. Barrel bombs continue to plague Syrian cities. The improvised devices are thrown from transport helicopters, without the ability to hit specific targets. According to the Syrian Network for Human Rights, the number of civilains killed by Syrian regime barrel bombs outnumbers those slain by the so-called Islamic State and al-Qaeda. Jeremy Binnie, Middle East editor for IHS Jane's Defence Weekly, told HuffPost UK that the bombs were developed due to either a lack of weaponry or aircraft around a year or so into the current conflict. He said: "While early ones appeared to be similar in size to oil barrels, the ones that have been seen generally have a smaller diameter. "They were first seen in the summer of 2012. "They are a way of turning the Syrian air force's Mi-8/17 helicopters into attack aircraft as the improvised bombs can be rolled out the rear cargo doors." "The bombs are capable of destroying buildings and killing people, but almost certainly have less explosive power than mass-produced aircraft bombs of similar size."

A Russian bomber drops bombs on a target. Russia has unleashed another barrage of airstrikes against targets in Syria Airstrikes from foreign forces continue to pose a threat to civilian life - however unintended this may be. In December, at least 26 people were believed to have been killed following US-led airstrikes attacking suspected Isis positions. The Guardian reported Rami Abdel Rahman of the Syrian Observatory for Human Rights as saying Isis is in control of Al-Khan but is only on its outskirts, "which is why all of the deaths were civilians". The US military command said it was investigating the claims. Britain's Royal Air Force, which received Parliamentary authority to commence airstrikes last year, says it is able to say no civilians have died as a result of its recent airstrikes in Syria which are planned meticulously to prevent collateral damage.

A health worker marks the thumb of a Syrian child after giving him polio vaccine (File Photo) Dirty water and the resulting disease pose a continued threat to Syrians living in increasingly unsanitary conditions. Unicef is one of a number of aid agencies working to mitigate the risks, but even it admits that millions of Syrian children and adults who continue to be at risk in areas that cannot be easily reached. While the threat continues to be high - disease is one of the areas of success for agencies trying hard to prevent a public health disaster dovetailing with the fierce conflict. Lily Caprani of Unicef told HuffPost UK: "We're making sure children and the vulnerable are immunized against waterborne disease, because we know they are going to be exposed to disease so we make sure they're going to be protected. "This can help prevent a public health disaster. One of the very few pieces of good news is that you would expect the resurgence of disease and infections we would normally not see. "But because we've managed to immunize we've prevented this. There have been no new cases of polio since January 2014 and that's short of a miracle. "It's relatively cheap to do - it doesn't cost a lot of money and it prevents the snowball effect of a public health emergency." Nonetheless, the shocking state of health uncovered at the besieged town of Madaya in January points towards localised medical emergencies being commonplace in some areas in the country.

A visitor looks at photographs in the 'Caesar's Photos: Inside Syria's Secret Prisons', a collection of photographs smuggled out of Syria last year Torture and execution remain a threat to civilian life throughout Syria, with hundreds allegedly killed at the hands of President Assad's regime alone. Syria has systematically tortured and executed 11,000 of its citizens in the three-year war, according to a report by former war crimes prosecutors, who compared the bodies they saw to images of Nazi death camp victims. Meanwhile the so-called Islamic State has been adept at publicising its regime's torture and execution, even publishing reports in its own magazine, with countless Syrians and scores of foreigners killed in the now signature orange jumpsuits. In January, the Syrian Observatory of Human Rights reported that an Islamic State militant executed his own mother, after she encouraged him to leave the terror group.

Violence and exploitation resulting from the break down of Syrian society present a real threat to the lives of adults and children alike, whilst kidnapping remains a tactic of fear used by militants. There are countless examples of violence between warring factions spilling over into civilian communities, wounding and killing innocent people. Unicef's experience of conflict emergencies across the world has led it to the conclusion that education can protect children from violence and exploitation. Lily Caprani, UK deputy director, told HuffPost UK: "If children are in education, they're in a safe space. If children are in a safe environment with safe people, the risks of violence and exploitation are lower. "This protects children from adults who might not have their best interests at heart." Kidnapping by Islamic State militants continues to present a real threat to civilian life. Last year, hundreds of innocent people were taken by the group amid mounting international calls for the release of those abducted.
Follow UNICEF Canada on Twitter: www.twitter.com/UNICEFCanada