Meet 5 Children Caught In The Crossfires Of War
Around the world, nearly 50 million children have been uprooted -- 28 million of them driven from their homes by conflicts not of their making, and millions more migrating in the hope of finding a better, safer life.
Often traumatized by the conflicts and violence they are fleeing, they face further dangers along the way, including the risk of drowning on sea crossings, malnourishment and dehydration, trafficking, kidnapping, and rape. In countries they travel through and at their destinations, they often face xenophobia and discrimination.
Meet five children who have been caught in circumstances beyond their control and who are paying the price for wars not of their making.
1. Nyayjaw, 8, South Sudan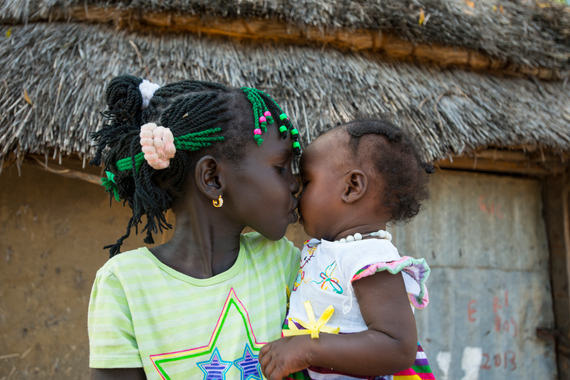 In South Sudan, Nyayjaw, 8, kisses her baby sister, Nyagua, whom she just met for the first time after being reunited with her mother. For two years, the family was separated by conflict. Nyayjaw and her brother Chuol, 4, had been living with their elderly grandfather in the Bor Protection of Civilians site. "I will never allow us to be apart again," said their mother Nyaruon after their tearful reunion in Akobo, their hometown. Then came the added joy, the introduction of the children to their newborn baby sister, Nyagua, whom they had never met before.
2. Elias Jameel Abdullah Mohammed Moqbil Alhakimi, 14, Yemen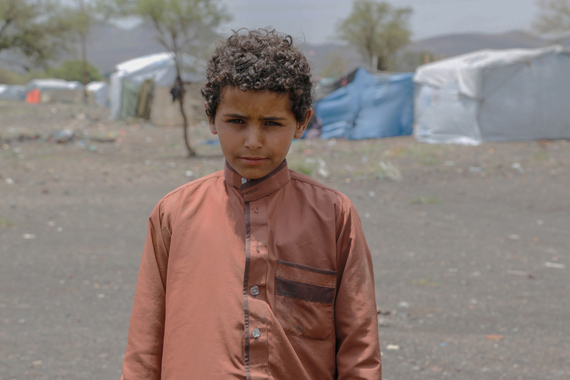 Elias Jameel Abdullah Mohammed Moqbil Alhakimi, lives in Yemen at the Tharawan Camp for Internally Displaced Persons (IDPs) in the outskirts of Sana'a. "I want peace and safety and school. We need hospitals, the good food and the good water. I just want everything to become like before," he said. By August 11, 2016, more than 2.8 million IDPs had fled their homes in Yemen due to ongoing conflict.
3) Lato, 2, Libya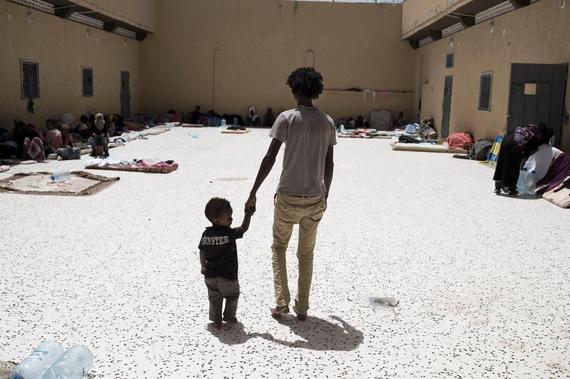 Addis walks hand-in-hand with his 30-month-old son, Lato, in the yard at the Alguaiha detention centre in the coastal town of Garabulli, Libya. The detention facility houses illegal migrants apprehended while attempting the dangerous voyage across the Mediterranean Sea to reach Europe. Foreigners without legal immigration status in the country can be arrested and can spend up to 12 months in a detention centre, where conditions are poor at best, with inadequate medical care, insufficient relief items, and without proper ventilation and sanitation.
Addis, from Eritrea, is now a single parent. He and his wife decided to leave their homeland right after Lato was born. The family spent two years in Sudan, where Addis worked as a driver. His wife died during the journey by truck between Sudan and Libya. He buried her under the sand with the help of another man making the crossing. "Now I am here in this detention centre because, as we were only 200 kilometres from Tripoli, the police caught us at a check point. My dream is still to join my brother in Tripoli and offer a better life to my son."
4) Zenabou, 7, Niger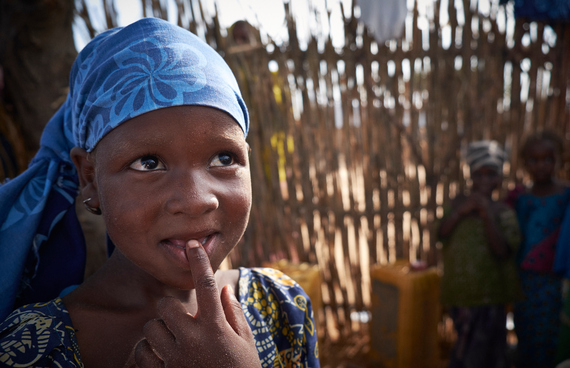 Zenabou, 7, has lived at a site for displaced civilians in Diffa, Niger for eight months. Her father said, "We fled our village after Boko Haram attacked. Some of our family were killed; my parents were injured. We were farmers there growing corn and beans plus we had a small stall. It's difficult to make a living here...Now I sometimes have work unloading cargo from trucks that arrive at the main station, I earn about 400 francs per day (less than one dollar). When we have news that the situation has stabilized back home, we will return, but for now, we will stay here."
5) Shaimae Drazeni, 15, Syria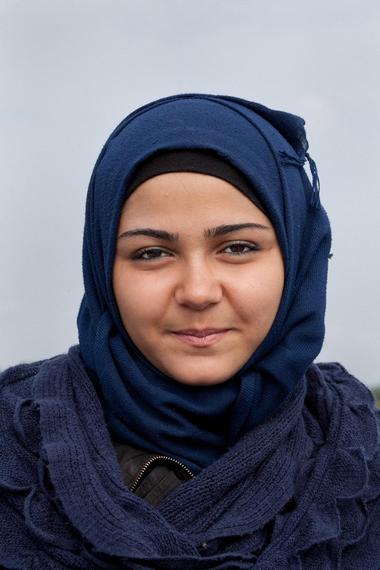 Shaimae Drazeni, 15, from Syria, prepares to pass through a transit center in Europe. "I am here as a Syrian refugee and going to Germany to put an end to the agony and the pain. To put an end to the oppression, the humiliation in which we lived. Enough...enough pain, enough oppression. There is no more joy in our hearts...Everything is gone; our country is gone; everything dear to us is going. My hope is to just go back to my country. My hope is go back to Syria; to live in our home. I hope that things will go back to normal, that the joy will find its way back to our family; that our loved ones will return and that our relatives will go back to where they were before; to go back to our schools. This is my only hope."
To read UNICEF's groundbreaking new report, Uprooted: The growing crisis for refugee and migrant children, click here.
Follow HuffPost Canada Blogs on Facebook
ALSO ON HUFFPOST:
Child Refugees Stage Their Stories
In this image, 12-year-old Bassam, 11-year-old Tamer, 16-year-old Lubna and 11-year-old Farah act out different jobs at the refugee camp. Many Syrian children in Lebanon's Anjar refugee camp are forced to work to help support their families.Bassam and Tamer started selling tissues after their father was injured during a shelling blitz in Syria. The brothers often work 12 hours and earn about $3 a day, and have faced abuse while on the job.Farah weeds and clears land for sowing to support her family of 10. In this photo, she and Lubna pose as factory workers peeling oranges to make tinned fruit. These laborers often work 11-hour days for as little as $8 a day."What makes me very tired is that I have to keep bending down. When we try and stand up, they ask us to bend down," she said. "We spend the whole day like this. The money they give us is not enough."Many of these working children are also forced to miss out on educational opportunities in order to work."Education is very important. I feel it is especially important for girls. When girls get education, they are respected in society," said Lubna. "Some girls even have jobs in factories. They shouldn't be working -- they should be studying."

Hatem, 15, has been living in a refugee camp in Lebanon for four years. He saw his school get hit in an airstrike in Syria and fled, fearing his house would be targeted. Hatem says he is "sad and scared" about his destiny. He was enrolled in school for two years, but had to stop because his family couldn't afford to continue funding his education. He loved going to school -- his favorite subjects were math, English and Arabic. The teenager had planned to go to university and join the army, but those dreams are now gone. "Because I am working now and I have been off school for three years, I have missed a lot of studying and won't be able to fill the gap," Hatem said. He now sells clothes at a marketplace and practices dabke, a modern Arab folk circle dance, to keep himself busy.

Anicet, 10, fled Burundi with his grandparents almost a year ago, and currently attends a temporary learning space run by Save the Children in Tanzania's Nyarugusu refugee camp. Malaria is one of the camp's greatest killers.When Anicet grows up, he wants to be a malaria doctor. In this image, he practices his dream job while his friends act as patients and mosquitoes."I want to be a doctor so that I can help people, make a difference and save lives," said Anicet. "This would make me a very important person and it would help me get something in my life."

Many young girls and children are sent to collect firewood in the forest surrounding Nyarugusu refugee camp so their families can cook the food they receive. Women and children who venture into the woods face many dangers, including assault. Here, Esperanse, 15, shows what it is like for young girls and women to search for firewood in the forest surrounding the camp. She herself narrowly escaped an assault from three men. "There are a lot of dangers that come when we go looking for firewood. " says Esperanse. "We can get snakebites, or even encounter men who want to abuse us. Even if we're able to escape and run away, we have to throw down all our firewood and we lose what we came for." "My wish for the future is to have a place where I can live peacefully, a place where I can feel established, where I can feel that I'm at home, without all of these other problems," she added.

Children in Tanzania's Nyarugusu refugee camp re-enact crossing the mountains of Burundi on foot to seek refuge. Iveye, 6, is pictured on the far left carrying her 18-month-old sister, Rebecca, on her back. It took the siblings and their family five days to travel from their home to Tanzania, and the journey was far from easy."When we reached the [Burundi-Tanzania] border, the police on the Burundian side would not let me cross into Tanzania with my daughters," the girls' father, Pierre, said. "So I separated from them and snuck across the border using a secret path. When I had safely reached the other side, I came out and signaled to Iveye and her sisters." "When they saw me, they ran across the border right under the gaze of the policemen who could do nothing to stop them," he added.

Samira, 10, sitting, and Zeina, 11, standing, are best friends. Samira would like to be an actress and Zeina an artist. Both girls left Syria with their families to escape the violence. The house next to Samira's was shelled, killing the family next door. Now the girls live in Lebanon's Bekaa Valley. "In Syria, when we got snow or wind, it was OK," Samira said. "But here, when the wind blows, we get a bit scared, as we're afraid the tent will get blown away."

Walaa, 11, left Syria with her pregnant mother because bombs had blown up the hospitals, schools and supermarkets in their area. They had no access food, water or health services. When she was walking home one day, Walaa saw her school explode. This picture uses Walaa's original drawing to depict the moment her school was bombed.

Here, children in Nyarugusu refugee camp show the different ways they play and express themselves in the camp's "Child Friendly Space," known as CFS. For many kids, CFS is an oasis and cocoon of safety where they can socialize with each other.Fifteen-year-old Jacob, center, dreams of becoming a professional dancer. When he realized that he and his family had to flee Burundi, he performed dance routines in his local town market until he earned enough money to pay for his and his grandparents' transport to cross into Tanzania."I feel good about myself when I dance," said Jacob. "I feel that dancing will help me achieve my goals in life."
Follow UNICEF Canada on Twitter: www.twitter.com/UNICEFCanada