Our Bowen Island Foodie Tour
By Michelle Gadd
If you live in Vancouver, escaping bustling city life for Bowen Island is like pushing the easy button for a revitalizing retreat. A 20-minute ferry ride to Snug Cove from Horseshoe Bay will drop you in an outdoor playground and foodie's paradise.
What better way to start off a foodie tour than with an eggs bennie brunch at The Snug Café? Once you're good and full, grab some fuel for your day at award-winning espresso maker Bowen Island Coffee. For the kids (or kids at heart) don't miss Candy in the Cove, the world's smallest candy store. We love the Disney-themed Pez dispenser sets and the Chickn Bones (don't be turned off by the name!).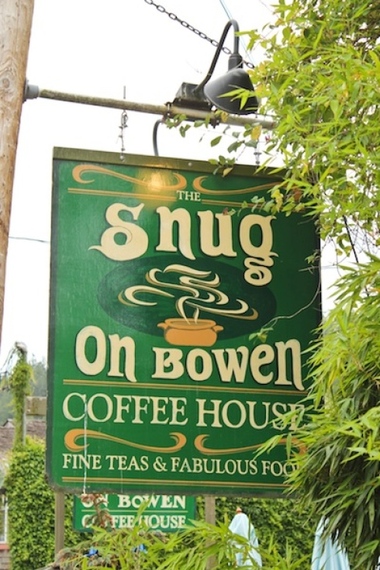 For lunch, visit Rustique Bistro for a menu of West Coast-influenced French Foods. Do your self a favour and order the galette Cocotte for a savoury mix of chicken, spinach, bechamel and brie. Have room for more? Order a bucket of shrimp at Doc Morgan's Pub and Restaurant and enjoy it on their beautiful patio overlooking Snug Cove.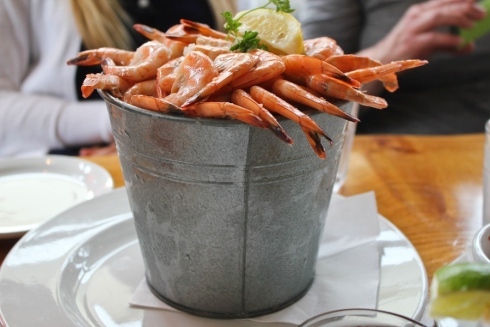 To work off that food, hike straight from Snug Cove to Dorman Point. This two-kilometre trek lands you at a beautiful lookout over Howe Sound. If you prefer retail therapy to extended strenuous exercise, walk up the hill to Artisan Square. Browsing through the carefully curated selection of brands, like Mackage and Eliza Faulkner at Wren, is a must.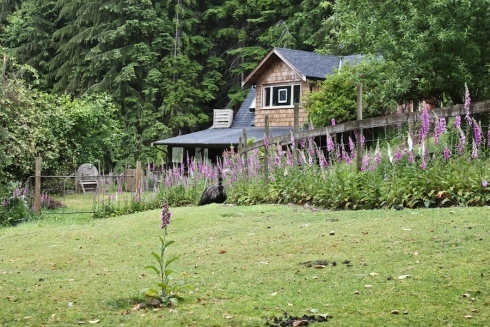 Go Italian with dinner at Tuscany Restaurant in Snug Cove and order from a wide selection of oven-baked pizzas or a Special of the Day. Generous drink portions and a cosy, vine-draped patio infuse twilight with a true taste of Tuscany.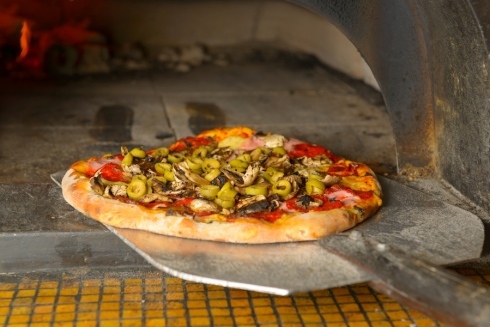 If you prefer vehicle transportation to foot travel on Bowen Island you can now rent a scooter from Zoom Zoom in Snug Cove. The rental is well worth it if you prefer accommodations further off the beaten trail. Alderwood Farm offers charming cottages (From $140). A stay at the farm also includes an epicurean breakfast basket from the onsite Bowen Butcher. The honey garlic sausage alone is worth the stay.
Another savoury accommodation on Bowen Island is The Chocolate Suite (From $125) which offers a unique twist on a B&B with chocolate for breakfast from Cocoa West Chocolatier. The renown chocolate shop features certified organic and locally sourced ingredients made by France-trained chocolatier Joanne Mogridge who brings European craftsmanship to the flavour and selection of chocolates on your bedside.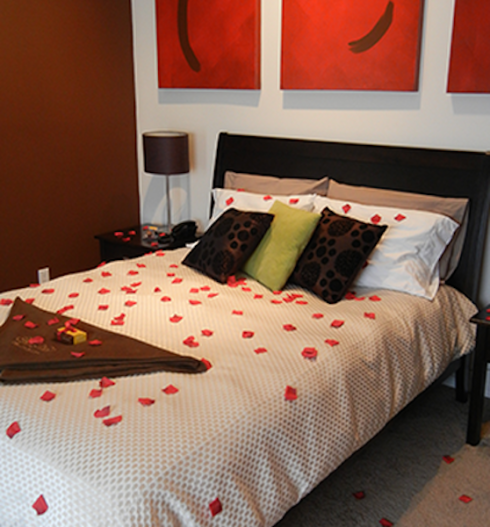 But the sweets don't stop there: no trip would be complete without a slice at Lime & Moon Pie Company on the marina. Our favourites were the mouth-watering Strawberry-Rhubarb and Chocolate Banana Cream pie.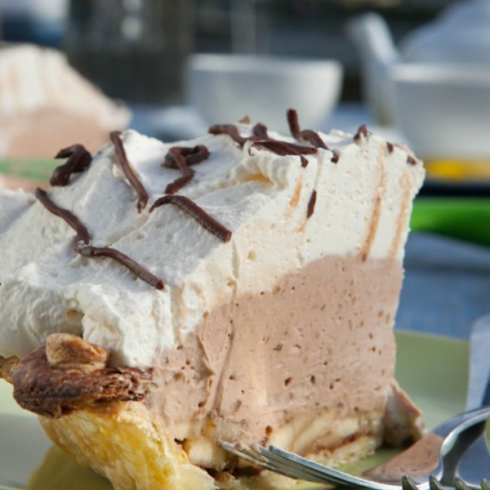 Going back for seconds could make you miss your ferry but don't worry; Lime & Moon delivers pie by mail!
Follow HuffPost Canada Blogs on Facebook
ALSO ON HUFFPOST:
What to Eat in the World's Top Foodie Cities
Ever feel like you're wasting time in a world-class city by waiting in line at tourist traps or wandering streets you know nothing about? Sometimes the best way to get to know a city is through your stomach. You'll have to eat either way, and walking food tours, booming brewery scenes, and tasting events will keep you full and put you in touch with the local history and culture. Here are the quintessential foods that truly delivery the flavor of your destination, and where to try them. (Photo: Thinkstock/iStock)

You can't visit Paris without spending lots of time in picturesque cafes, but that doesn't mean the only thing you'll eat is crepes. Try something even more French than those thin pancakes, like croque madame—a delectable baked ham and cheese sandwich on brioche, smothered in more cheese and topped with a fried egg. Buttery French cooking is best embodied by this dish, which is available almost everywhere and is especially praised at Le Petit Cler, a chic cafe just steps from the Eiffel Tower. (Photo: TripAdvisor, LLC)

Forget the deep dish at the original UNO's—any local will tell you they only go when their out-of-town family or friends visit. Chicago has an even more impressive smorgasbord of mouthwatering sandwiches and Chicago 'Dog offerings, including delectable Italian beef sandwiches and hefty hotdogs with all the toppings. (Photo: TripAdvisor, LLC)

Rule number one: Don't call it Beantown. Rule number two: No one orders Boston baked beans. For an authentic taste of Boston, tourists and locals alike go for creamy New England clam chowder at one of the area's many seafood havens. There's nothing like potato, clams, and bacon in hot chowder to warm you up when the snow is chilling you to the bone. (Photo: TripAdvisor, LLC)

Mardi Gras revelers head to New Orleans in droves every Fat Tuesday, but visitors can be found lining up at the legendary Café du Monde for beignets and coffee year-round. The famous bakery began as a French Market coffee stand in 1862, and still attracts hoards with their sugary fried-dough confections. Enjoy them with a chicory coffee or café au lait in the morning, before strolling the Mississippi River or exploring Jackson Square.

All Spanish food is wildly delicious in its own right, but the decadent desserts in Madrid are on a whole different level. Hot chocolate here is far more literal than its American counterpart—a steaming cup of chocolaté is essentially a melted candy bar. As if that wasn't enough, Spaniards combine the scalding chocolate with the deep-fried goodness of warm, sugary dough to make churros con chocolaté. (Photo: TripAdvisor, LLC)

It's no secret that you'd be crazy not to grab a slice of New York-style pizza in Manhattan—and there are plenty of places to choose from. For a true local experience, skip the sit-down spots and grab a paper-thin slice for a few bucks. You can revel in delicious, cheesy simplicity for less than you'll spend on any other meal in NYC. (Photo: TripAdvisor, LLC)

Tourists may know Quebec for its French and British influences, but some of the best food in Montreal comes out of its Jewish Quarter—of which Schwartz's Hebrew Delicatessen is the crown jewel. Smoked meat sandwiches from Schwartz's have been in high-demand since the deli opened in 1928, and they're piled high with flavorful, slow-smoked beef that needs no toppings. The line here is always out the doors, but it moves fast and is well worth the brief wait.

Portugal's capital is home to many rich national dishes, but the one with the strongest local flavor is a popular breakfast treat—dark Portuguese coffee and egg tart pastries, or pastel de nata. These bite sized custard cups are sweet enough to aid you through the bitter local coffee, which is served in a tiny glass like a shot. You'll want to drink it as the locals do—without milk—but if you need some help getting it down you certainly won't be the first. (Photo: TripAdvisor, LLC)

The capital of Greece is also the capital of Mediterranean cuisine, with simple yet flavorful recipes reigning supreme. A hole-in-the-wall spot near Syntagma Square called Souvlaki o Kostas has had a long time to perfect the Mediterranean method—it has been pumping out chicken- and pork-filled pita gyros for the better part of a century, and has always been operated by the same family. Kostas' perfectly seasoned meats, fresh veggies, and tart yogurt make for a truly incredible taste of Greece. Ask any seasoned local where to go for souvlaki and they'll point you here. (Photo: TripAdvisor, LLC)

Nordic cuisine is having a moment, and there's no better place to try it than Scandinavia. Copenhagen restaurants—including noma, named the world's best for four years running—serve up unique North Atlantic dishes like sea urchin, cured herring and salmon, pickled vegetables, and root-based soups.
Follow Vitamin Daily on Twitter: www.twitter.com/vanvitamindaily