Canada's Best Spa Is Right Here In Parksville, B.C.
We escaped urban life for a weekend of calm, serenity and clean air in Parksville, B.C. -- Lise Boullard
Stay: If you're coming from the city (we jumped in our 2016 Honda HR-V and took BC Ferries, but you can also take a seaplane from Vancouver), there is nothing more detoxifying than the aroma of Arbutus and Douglas fir trees as you meander the grounds of Tigh-Na-Mara Seaside Spa Resort. Established by a Scottish family in the 1950s (Tigh-Na-Mara means "House by the Sea" in Gaelic) on 22 acres of forested land, the collection of log cabin-style bungalows is rustic luxury at its best. Features like beach access, activities (think sandcastle competitions and tie dye courses in the summer) and friendly staff are why generations of families have made this their annual vacation spot; but the world-renowned spa, rooms with fireplaces and jacuzzis (and eucalyptus bath products) make it the perfect couples' or girls' getaway. 155 Resort Dr., Parksville. 800-663-7373. www.tigh-na-mara.com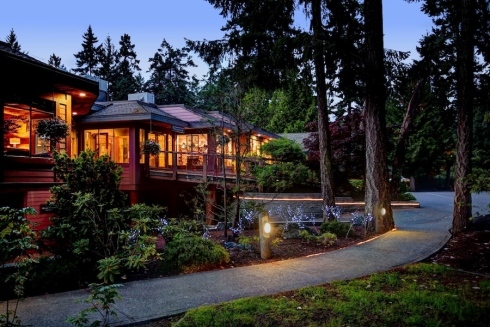 Do: Vancouver Island is home to some of the world's most interesting marine life and the collection of 12 communities dotting the sheltered Straight of Georgia are begging to be explored. On our two-hour kayak tour with Adventuress Sea Kayaking we made friends with sea lions and bald eagles (and drooled over some stellar waterfront properties) as we explored the Nanoose Bay shoreline with a group of women from Calgary. Post-workout we headed to quiet Rathtrevor Beach, known for its warm waters and white sand, for a peaceful picnic lunch. For your wildlife fix on a rainy day head to Butterfly World to become acquainted with aquatic and amphibious specimens (and a stunning orchid garden), or stop at The World Parrot Refuge to say hello to 800 previously owned pet parrots. 889 Little Mountain Rd., Parksville. 250-755-6702. www.adventuress.ca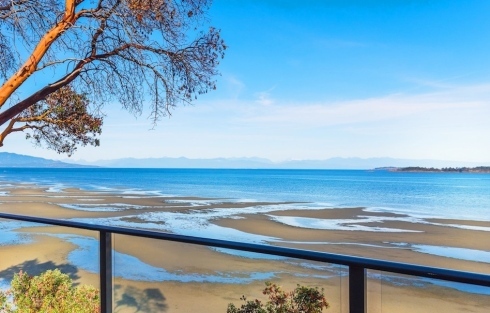 Spa: With 20,000 square feet, 19 treatment rooms and three floors of blissful spa experiences, it's no wonder the Grotto Spa at Tigh-Na-Mara was named #1 Spa in Canada by Spas of America. In our Signature Grotto Package (new for 2016) we were spoiled with a 60-minute aromatherapy massage (the cedar essential oils put us into a peaceful sleep) and a detoxifying soak in the Grotto mineral pool, surrounded by natural rock formations. In our dreamy state we barely remember being swept up to the Tree Top Grill dining room for a 15-course tapas experience featuring local organic and antioxidant-rich creations (our faves were the oysters and kale salad). All of this while sitting in driftwood chairs and taking in views of the forest canopy, in our robes and slippers (don't worry, it's the mandatory dresscode). If this isn't on your bucket list already, it should be. 1155 Resort Dr., Parksville. 1-800-663-7373. www.grottospa.com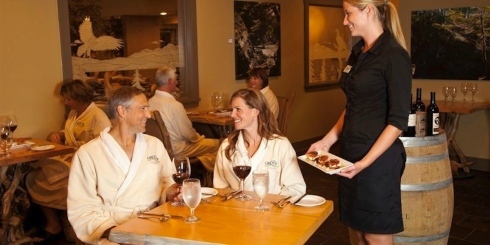 Savour: The Parksville Qualicum area has no shortage of talented local chefs experimenting with organic produce, fish, meats and cheeses. For a waterfront dining experience head to Qualicum Inn where you can feel the sea breeze wash over you as you dig into local seafood specialties. On Saturday night try Realm Food Co. for a farm-to-table gastronomic experience featuring light but hearty fare (think Albacore Tuna Wraps and Surfside Sushi rolls served with marinated kale salad) sourced from local farmers and fishers. For brunch, Tigh-Na-Mara's Cedar's Restaurant and Lounge comes highly recommended: we went halvsies on the sweet potato and onion frittata and strawberry waffles. 180 Craig St. #2, Parksville. www.realmfoodco.com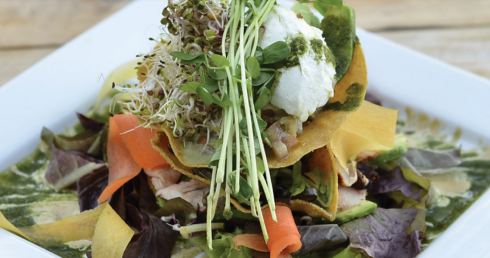 Shop: We could have spent hours shopping the Coombs Old Country Market (where you may be lucky to spot a few goats grazing on the grass-covered roof). Originally established by a Norwegian family inspired by their homeland's sod roof structures, the expansive space features a bakery, café and rows and rows of worldly (mostly European) delicacies, kitchenware and toys. With shelves full of every variety of condiment (have you ever tried Sriracha mustard?), pasta and sausage you could imagine, plan to get your groceries here before you head home. For wine and cheese to take back to your room (or enjoy beachside) pop in to Moo Berry Winery for some cranberry wine, and Little Qualicum Cheese Works where cheeses are made daily using local dairy. 2326 Alberni Highway, Coombs. 250-248-6272. www.oldcountrymarket.com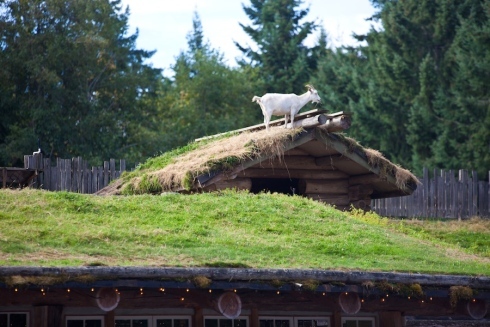 Drive: The 2016 Honda HR-V was a smooth ride and great on gas--the entire trip barely put a dent in our tank!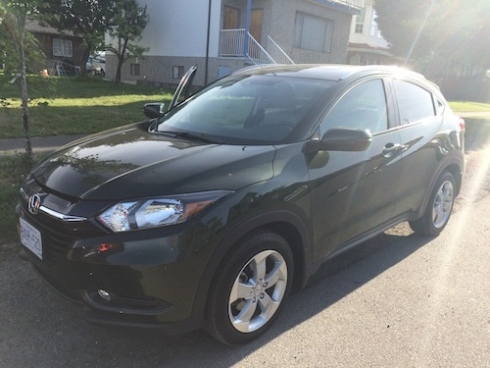 Follow Vitamin Daily on Twitter: www.twitter.com/vanvitamindaily