Sorry, David Eby. That 'Liberal Spy' Is What Democracy Looks Like
Some people wear tinfoil hats. Some see conspiracies everywhere. Some even look around at public meetings, and see spies where there are none.
B.C. NDP MLA David Eby, for instance, sees spies. B.C. Liberal spies, to be precise.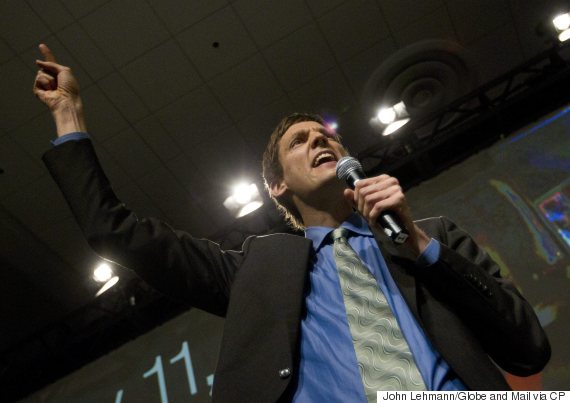 B.C. NDP MLA David Eby. (Photo: John Lehmann/Globa and Mail via CP)
A little while ago, Eby -- who seems like a nice fellow, albeit a bit paranoid -- was at a meeting in Richmond, B.C. A few young folks had gathered to talk about housing, which is the subject matter of Eby's critic role in the B.C. legislature.
A B.C. Liberal caucus researcher was there, too. She wasn't trespassing or anything -- it was a public gathering in a public place, one that had been promoted on Facebook and whatnot. The researcher recorded some of the proceedings, as researchers -- and reporters, and NDP staffers everywhere -- are wont to do.
Eby, however, went completely bananas about it. Later on, Eby -- who (historians will note) is the guitarist for a band called World of Science, for which (the band says) he writes "sad bastard lyrics" -- spared no adjective to describe the wicked, immoral and frankly Satanic presence of the young B.C. Liberal person.
It was "appalling," he said. It was "reprehensible." It was "a violation of the privacy rights of youth." And so on and so on. World of Science's sad bastard lyricist probably would have called it a war crime if he could have gotten away with it.
VIDEO: The NDP confirms (again) their high-tax agenda. #bcpoli #cdnpoli pic.twitter.com/X3yR59mC8k

— BC Liberal Caucus (@BCLiberalCaucus) February 20, 2017
The video in question.
Except, David, it isn't. It wasn't. Sending staffers to the other side's public events, in fact, has been going on since Jesus was a little feller, and you know it.
In every election campaign since time immemorial, in fact, political operatives have been quietly doing what that young B.C. Liberal researcher did. Intent on witnessing an opponent's misstep, they are ever more showing up to capture mistakes made when the mainstream news media aren't present. Like Shekar Ramanuja Sidarth did with the Republican golden boy, George Allen.
George Allen's sad tale goes back to 2006, when he was seeking re-election to the Senate as the Republican standard-bearer. Allen was widely seen as a future possible presidential candidate, and he assiduously sought the support of so-called cultural conservatives -- that is, those folks who want to preserve "one culture for one nation." They're not fussy about foreigners, particularly foreigners who don't look like them. Allen was their (white, Christian) man.
One young man who didn't look like Allen, but knew a great deal about him, was Shekar Ramanuja Sidarth. At the time, Sidarth -- who also answered to Sid -- was a straight-A senior at the University of Virginia and a Hindu. He was Virginia born and raised. Though he was studying engineering, politics was what interested him the most. He'd volunteered on a few Democratic campaigns, and by 2006 he was devoting himself to Democrat James Webb's Senate battle.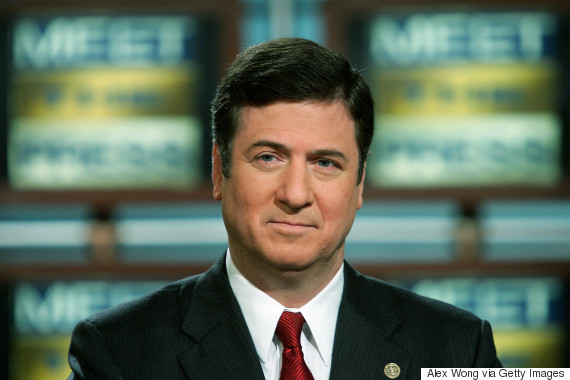 Former U.S. Sen. George Allen (R-VA) pauses as he watches video footage on NBC's 'Meet the Press' during a taping at the NBC studios Oct. 23, 2005 in Washington, DC. (Photo: Alex Wong/Getty Images for Meet the Press)
His role was to be what I call a "road warrior": following around Webb's opponent with a camcorder, basically. He'd capture misstatements or mistakes, and then relay them back to the central campaign in Arlington. This went on for a few weeks, and while Allen's people didn't particularly like Sidarth following them around -- like David Eby doesn't like to be followed around, apparently -- they didn't do anything to stop him, and mostly treated him courteously.
Until one Friday afternoon event in a park near the Kentucky border, that is. At that event, Allen did something he hadn't done before: he singled Sidarth out. He pointed at him. "This fellow here, over here with the yellow shirt, macaca or whatever his name is, he's with my opponent," said Allen. "So welcome, let's give a welcome to macaca here! Welcome to America and the real world of Virginia!"
The crowd cheered, even though some of them knew, or suspected, that George Allen had just used a disgusting slur. "Macaca" means "monkey," and it has also been infamously used to describe African immigrants. Sidarth, who knew what the word meant, was shocked. On the resulting footage, you could see that his hand was shaking.
They're not only allowed to be there. They're helping democracy, too.
As with most such things in politics these days, the clip of Allen calling Sidarth a dark-skinned "monkey" eventually ended up on YouTube. Sidarth didn't upload it himself, but he wasn't upset about what would happen next. "This event," he said, "reflected on Allen's character."
It indisputably did, and it would also indisputably end Allen's political career. A Washington Post reporter wrote a short item about the "macaca" statement, and -- within hours -- the story went super-nova. Very soon, many other stories were written, alleging yet more bigoted statements or behaviour by Webb.
The conservative Great White Hope denied it all, of course, but he started to lose his double-digit lead in the polls and he never regained his footing. In November 2006, Allen lost to Webb by nearly 10,000 votes, his once-unstoppable multimillion-dollar campaign effectively felled by a quiet young man with a camcorder. Even in the old Confederate-era stronghold of Dickenson County, where Allen had made his racist remark. Even there.
Moral of the story, David Eby? Those quiet, polite young people showing up to public events and recording public statements by public figures? They're not only allowed to be there.
They're helping democracy, too. Ask Shekar Ramanuja Sidarth if you don't believe me.
Follow HuffPost Canada Blogs on Facebook
Also on HuffPost:
NDP Leadership Race 2017: Candidates
The veteran Ontario MP, first elected in 2004, joined the race in February 2017. He has long been an advocate for indigenous children and has spoken out passionately on behalf of the Attawapiskat First Nation.

The Manitoba MP, first elected in 2008, ran for the federal NDP leadership in 2012 but was eliminated after the first ballot. A strong performer in the House of Commons, she has served in several key critic roles for her party, including indigenous affairs, status of women, and jobs.

The veteran B.C. MP, first elected in 2004, was the first to enter the race. He's fluently bilingual and previously served as the NDP House leader.

An economist by training, Caron was first elected in 2011 and served as his party's finance critic. He joined the race shortly after Julian and Angus.

Who's Almost In?

Stogran is the former veterans ombudsman and a retired Canadian Armed Forces colonel.

El-Khoury, the founder of a Montreal consulting firm, is also registered to run.

Who's Thinking About It?

The deputy Ontario NDP leader has acknowledged that some are pushing him to jump into the federal pool. An Oct. 2016 Toronto Star story described him as: "Toronto-born, Newfoundland-reared, Windsor-educated, bilingual, multicultural, youthful."

The former president of both the Canadian Union of Public Employees and the Ontario Federation of Labour told The Globe and Mail in January 2017 he is mulling a bid. Ryan has run unsuccessfully for New Democrats at the provincial and federal level.

UP NEXT: Key NDP MPs defeated in 2015

In the 2015 federal election, Thomas Mulcair's New Democrats fell from 95 seats to 44. And several high-profile incumbents from across the country were defeated, usually to Liberal candidates. Here are a few key names that will not be returning to Ottawa...

First elected: 2006 Riding: Ottawa Centre Shadow cabinet role: Foreign affairs Dewar also ran for the leadership of the party in 2012.

First elected: 2008 Riding: Halifax Shadow cabinet role: Deputy leader, environment

First elected: 1997 Riding: Sackville—Eastern Shore (N.S.) Shadow cabinet role: Veterans affairs Stoffer was named Maclean's magazines Parliamentarian of the year in 2013 and frequently won the most congenial MP award.

First elected: 2008 Riding: St. John's East Shadow cabinet role: National defence Harris was also the longtime leader of the Newfoundland and Labrador New Democratic Party.

First elected: 2011 Riding: Hull—Aylmer Shadow cabinet role: Opposition whip Turmel served as interim NDP leader after Jack Layton stepped down to battle cancer. She was leader of the Official Opposition from August, 2011, to March, 2012.

First elected: 2012 Riding: Toronto Danforth Shadow cabinet role: Democratic and parliamentary reform Scott represented the Toronto riding held by former leader Jack Layton.

First elected: 2008 Riding: Welland Shadow cabinet role: Agriculture and Agri-Food

First elected: 2011 (though she served from 2004-2006 as a Liberal MP) Riding: Gatineau Shadow cabinet role: Justice

First elected: 2011 Riding: Halifax Atlantic Shadow cabinet role: Fisheries, deputy employment insurance Chisholm served as leader of the Nova Scotia New Democratic Party and ran for the federal leadership in 2012.

First elected: 2011 Riding: St. John's South—Mount Pearl Shadow cabinet role: Atlantic Canada Opportunities Agency

First elected: 2011 Riding: Newton—North Delta Shadow cabinet role: Employment and Social Development

First elected: 1997 Riding: Winnipeg Centre Shadow cabinet role: Public Works and Government Services Martin is perhaps the most quotable politician in Canada.

UP NEXT: Defeated Harper cabinet ministers

Though Stephen Harper was re-elected in his Calgary riding in the 2015 federal election, many members of his cabinet went down in defeat. Here are some key figures from Harper's inner circle who will not be returning to Ottawa...

Cabinet position: Minister of citizenship and immigration Riding: Ajax First elected: 2011

Cabinet position: Minister of finance Riding: Eglinton-Lawrence (Toronto) First elected: 2011 Oliver also previously served as minister of natural resources

Cabinet position: Minister of aboriginal affairs Riding: Madawaska—Restigouche (N.B.) First elected: 2011 (though he was a Progressive Conservative MP from 1984 to 1993).

Cabinet position: Associate defence minister Riding: Vaughan First elected: 2010 Fantino is probably better remembered for his controversial tenure as minister of veterans affairs.

Cabinet position: Minister of the environment Riding: Nunavut First elected: 2008 Aglukkaq previously served as minister of health, and was the first Inuk in Canadian history named to federal cabinet.

Cabinet position: Minister of natural resources Riding: Kenora First elected: 2008 Rickford previously served as minister of state for science and technology.

Cabinet position: Minister of fisheries and oceans Riding: Egmont (P.E.I.) First elected: 2008

Cabinet position: Minister of state for multiculturalism Riding: Edmonton—Sherwood Park First elected: 2008 Uppal also previously served as minister of state for democratic reform.

Cabinet position: Minister of state for science and technology Riding: London West First elected: 2008

Cabinet position: Chief government whip Riding: Vancouver Island North First elected: 2008 (though he also served as an MP from 1993 to 2006). Duncan previously served as minister of aboriginal affairs.
Follow Warren Kinsella on Twitter: www.twitter.com/kinsellawarren