The United States Died Long Before Trump Became President
Countries die. Nations fade away.
They do, they do. Great nations -- however great they may be -- are not eternal.
Pierre Trudeau certainly thought so, some 30 years ago. Appearing before the Senate to condemn the Meech Lake Accord in the Spring of 1988, Trudeau said:
"If the people of Canada want this Accord, and that is not beyond the realm of possibility, then let that be part of the Constitution. I, for one, will be convinced that the Canada we know and love will be gone forever. But, then, Thucydides wrote that Themistocles' greatness lay in the fact that he realized Athens was not immortal. I think we have to realize that Canada is not immortal; but, if it is going to go, let it go with a bang rather than a whimper."
T.S. Eliot, Thucydides, Themistocles and realpolitik, all in three pithy sentences. Those of us who are old enough can recall watching him on that cold March day, simply in awe that one man could say such a thing -- that Canada could die! How could a country like this one disappear? Was Trudeau right?
As with many things, he was. In the intervening years, Czechoslovakia, East Germany, Yugoslavia, the U.S.S.R have all slipped beneath history's waves, supplanted by something else entirely. Replaced -- in the cases of the U.S.S.R. and Yugoslovia -- with something where monstrous and horrific things have happened. It could happen to Canada, too.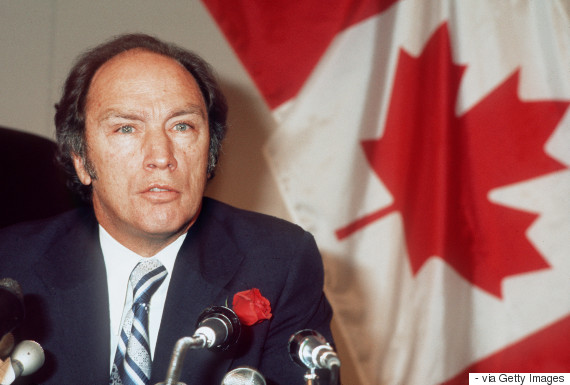 Canadian Prime Minister Pierre Elliott Trudeau addresses media 23 October 1974 in Paris in front of a Canadian flag. (Photo: AFP/Getty Images)
It was not arrogant for Pierre Trudeau to say what he said. It is arrogant, instead, to insist that a nation -- which is mostly just the shared hopes and dreams and values of a people, a body of laws, and some squiggles on a map -- is incapable of dying. Nations, like the people who constitute them, die.
The United States of America, for example.
Ascertaining the moment of America's demise, as a forensic scientist might do, is subjective. It is in the eye of the one doing the autopsy. And, in this case, America died in degrees.
JFK. His brother. Dr. King. Watergate. The Depression. Civil war. Slavery. Lynchings. Internment camps. McCarthyism. Iraq. Enola Gay. Vietnam. 9/11. All of these, and too many more, were grievous wounds. They deeply weakened the only democratic superpower, but they did not fully kill it.
Nations, like the people who constitute them, die.
For this writer -- who lived in the United States, went to school there, and can still even recite the Declaration of Independence -- two less-historical moments come to mind. One was in the late '60s, when my family was living in Texas, and my best friend was an Hispanic boy, David.
David and I did everything together, but he mysteriously did not go to my school, David G. Burnet Elementary. I asked my mother why. She had no answer, so she asked the Stevensons, the Texas family who had taken this group of newcomer Canadians under their wing. Wasn't the day coming, my mom asked, when David and Warren would be allowed to go to school together?
Mrs. Stevenson, the sweetest and most generous person you could ever hope to meet, looked at my mother and said: "On that day, I will go down to the school with my gun."
The other moment came much later, in 1993, when I was holed up in a cabin in Lake Placid, New York, trying to finish up my book about racism in Canada and the U.S., Web of Hate. In the evening, to get a break, we went into town for a burger and beer at a place on Main Street. Mid-way through our meal, a guy walked in with a T-shirt with a swastika and the words WHITE POWER on the front of it. What was remarkable wasn't him, or his shirt: it was how he was greeted by the people there, like an old friend. "In Canada," I said to my partner, "you don't see that, so much. Here, they don't care."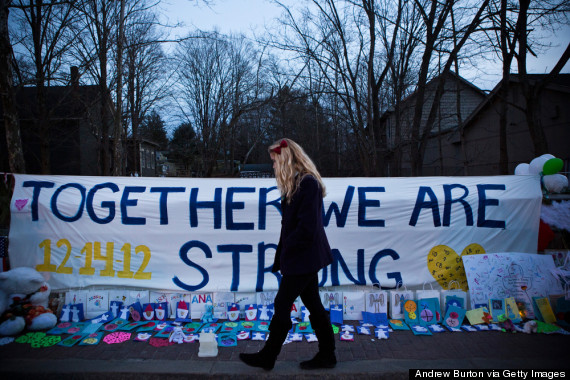 A woman walks past a sign at a memorial for those killed in the school shooting at Sandy Hook Elementary School on Dec. 24, 2012 in Newtown, Connecticut. (Photo: Andrew Burton/Getty Images)
The United States died -- the United States was killed -- on Dec. 14, 2012. On that day in Newtown, Conn., a 20-year-old man carrying a gun that was legal for him to possess gunned down 20 children between the ages of six and seven years old. He also killed six adult staff members, but it is those tiny victims we remember most.
And what was the response to that act of evil by the United States of America, the nation that likes to claim it is the greatest on Earth? What did it change, what did it do? Nothing. It defeated any and all attempts to prevent Sandy Hook from happening again.
It was then, right then, that the United States of America died. When you can let 20 six- and seven-year-olds be murdered, and do nothing to prevent it from happening ever again, you cease to be a country. You cease to be a people worthy of the name.
The United States didn't die when Donald Trump was sworn in as president. In a nation where savageries like Sandy Hook could happen, over and over again, Donald Trump is not an aberration.
He is its logical conclusion.
Follow HuffPost Canada Blogs on Facebook
Also on HuffPost:
Pivotal Moments In The U.S. Gun Control Debate
on March 30, 1981, President Reagan and three others were shot and wounded in an assassination attempt by John Hinckley, Jr. outside the Washington Hilton Hotel in Washington, D.C. Reagan's press secretary, Jim Brady, was shot in the head.

The Brady Handgun Violence Act of 1993, signed into law by President Bill Clinton, mandated that federally licensed dealers complete comprehensive background checks on individuals before selling them a gun. The legislation was named for James Brady, who was shot during an attempted assassination of President Ronald Reagan in 1981.

The Violent Crime Control and Law Enforcement Act, signed into law by President Bill Clinton in 1994, instituted a ban on 19 kinds of assault weapons, including Uzis and AK-47s. The crime bill also banned the possession of magazines holding more than ten rounds of ammunition. (An exemption was made for weapons and magazines manufactured prior to the ban.)

In 2004, ten years after it first became law, Congress allowed a provision banning possession of magazines holding more than ten rounds of ammunition to expire through a sunset provision. Brady Campaign President Paul Helmke told HuffPost that the expiration of this provision meant that Rep. Gabby Giffords's alleged shooter was able to fire off 20-plus shots without reloading (under the former law he would have had only ten).

In 2007 The U.S. Court of Appeals for the District of Columbia ruled to allow Dick Heller, a licensed District police officer, to keep a handgun in his home in Washington, D.C. Following that ruling, the defendants petitioned the U.S. Supreme Court to hear the case.

Following the deadly shooting at Virginia Tech University, Congress passed legislation to require states provide data on mentally unsound individuals to the National Instant Criminal Background Check System, with the aim of halting gun purchases by the mentally ill, and others prohibited from possessing firearms. The bill was signed into law by President George W. Bush in January of 2008.

In June of 2008, the United States Supreme Court upheld the verdict of a lower court ruling the D.C. handgun ban unconstitutional in the landmark case District of Columbia v. Heller.

Gun control advocates had high hopes that reform efforts would have increased momentum in the wake of two tragic events that rocked the nation. In January of 2011, Jared Loughner opened fire at an event held by Rep. Gabrielle Giffords (D-Ariz.), killing six and injuring 13, including the congresswoman. Resulting attempts to push gun control legislation proved fruitless, with neither proposal even succeeding in gaining a single GOP co-sponsor. More than a year after that shooting, Florida teenager Trayvon Martin was gunned down by George Zimmerman in an event that some believed would bring increased scrutiny on the nation's Stand Your Ground laws. While there has been increasing discussion over the nature of those statutes, lawmakers were quick to concede that they had little faith the event would effectively spur gun control legislation, thanks largely to the National Rifle Association's vast lobbying power. Read more here:

In July of 2012, a heavily armed gunman opened fire on theatergoers attending a midnight premiere of the final film of the latest Batman trilogy, killing 12 and wounding scores more. The suspect, James Eagan Holmes, allegedly carried out the act with a number of handguns, as well as an AR-15 assault rifle with a 100-round drum magazine. Some lawmakers used the incident, which took place in a state with some of the laxest gun control laws, to bring forth legislation designed to place increased regulations on access to such weapons, but many observers, citing previous experience, were hesitant to say that they would be able to overcome the power of the National Rifle Association and Washington gun lobby.

On August 5, 2012, white supremacist Wade Michael Page opened fire on a Sikhs gathered at a temple in Oak Creek, Wis., killing six and wounding four more before turning the gun on himself.
Follow Warren Kinsella on Twitter: www.twitter.com/kinsellawarren