Trump's Political Incorrectness Is Sabotaging His Racist Policies
Right-wing knuckle-draggers always like to bray and screech about "political correctness."
They think it's a super big deal. The Unpresident, in particular, has been kvetching about "political correctness" for years.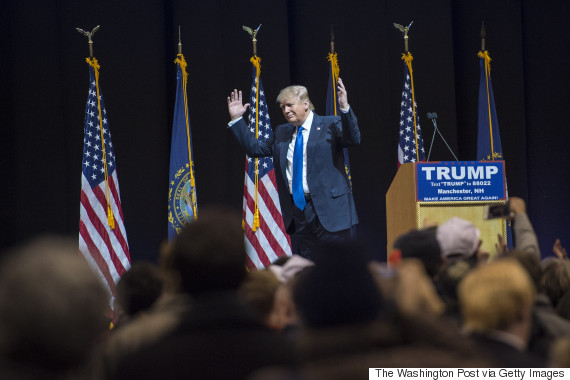 Then-Republican presidential candidate Donald Trump throws up his hands after repeating a non-politically correct term a supporter shouted as he speaks in Manchester, NH on Feb. 8, 2016. (Photo: Jabin Botsford/The Washington Post via Getty Images)
Many years ago, I wrote in the National Post about how Stockwell Day, and those like him in the Canadian Alliance, were always going on and on (and on) about "political correctness."  The column is a bit ancient, but I think it stands up. You can read it here.
In the main, I wrote, there were a couple reasons why the mouth-breather contingent were endlessly against "political correctness." To wit:
Sometimes, it is done by intolerant people hoping to give a patina of respectability to their intolerance -- to wit, This may not be politically correct, but I think all refugees should be thrown in detention when they arrive here. And, sometimes, it is done by politicians to chill legitimate criticism of their views on issues like abortion, or sexual orientation, or something else.
Donald Trump, as is now well-known, used "political correctness" as cudgel on all of his critics, over and over.  He was a genius at it. He wielded that metaphorical cudgel to (a) normalize his bigotry and (b) to silence his critics and legitimize/mobilize other bigots.  It worked like a charm.
Throughout the presidential campaign, however, I told my wife -- about a thousand times, as we toiled as volunteers for Hillary Clinton -- that Trump's words would come back to haunt him, in the unlikely event that he ever became president of the United States. His hateful words -- about Muslims, women, blacks, Mexicans, the disabled and myriad others -- could be used against him in litigation, I told her.
"You've said that about a thousand times," she'd say, which was true. "But how can political rhetoric, even his, be considered admissible in a court of law?"
Because, I replied, it's relevant. It has probative value, as we lawyers like to say.
In the U.S., you often find this sort of non-legal stuff in something called a Brandeis Brief. It takes its name from Supreme Court Justice Louis Brandeis who -- as a lawyer in 1908, before his elevation to America's highest court -- made a legal submission that was (literally) two per cent legal argument, and 98 per cent data, social science, reports and near-anecdotal material.
Trump's words are coming back to haunt him.
In the Commonwealth, we have long done likewise. Here, for example, we have permitted judges to consider what is called "legislative intent" when a statute's words aren't as clear as they'd like. So, judges will often read up on rough-and-tumble debates in the Commons to discern Parliament's intention. It's messy, but it works.
And, in the Charter era, Canadian judges have often gone even farther. Non-sworn, extrinsic evidence has been accepted in Canadian courts for decades. As no less than Chief Justice Bora Laskin put it, this sort of material "may be considered by the Court in determining whether the legislation rests on a valid constitutional base."
Which is a rather genteel way of summarizing the constitutional dilemma Donald Trump has created for himself. By being, you know, "politically incorrect," what he said outside the courtroom is now being used to hammer him inside the courtroom. And it's simply wonderful.
Druggies, drug dealers, rapists and killers are coming across the southern border. When will the U.S. get smart and stop this travesty?

— Donald J. Trump (@realDonaldTrump) June 20, 2015
Here's the Washington Post explaining why Trump's words are coming back to haunt him -- and why his Muslim ban is being found discriminatory, and therefore unconstitutional, by court after court:
"The states of Washington and Minnesota, which sued to block Trump's order, are citing the president's inflammatory rhetoric as evidence that the government's claims -- it's not a ban and not aimed at Muslims -- are shams.

In court papers, Washington and Minnesota's attorneys general have pulled out quotes from speeches, news conferences and interviews as evidence that an executive order the administration argues is neutral was really motivated by animus toward Muslims and a 'desire to harm a particular group.'"
Get it, Donald? Do you understand, now? Being "politically incorrect" may have transformed you into a politician who was seen as unconventional. But, along they way, it has likely rendered you unconstitutional, too. Your words are being used against you, and properly so.
There are three lessons, here, for politicians -- almost always of the conservative variety -- who want to throw off the oppressive bonds of "political correctness," and say whatever pops into their tiny craniums. Heed them well, conservatives.
Words matter.
You are always, always on the record.
"No comment" is sometimes a really good idea.
It's like what no less than the Prophet Muhammad said, some 1,400 years ago. It's one for the ages. You know: "Say good, or remain silent."
Donald Trump -- who had the right to remain silent, but didn't -- may soon be wishing he had followed the Prophet's advice.
(Not that he'd let the Prophet into America to be heard by anyone, of course.)
Follow HuffPost Canada Blogs on Facebook
Also on HuffPost:
Evolution Of Trump's Muslim Ban
Donald Trump calls for a "complete shutdown" of Muslims entering the U.S. in a statement emailed to reporters. A press release announcing the proposal is simultaneously published to his website -- where it remains to this day.

The Trump campaign releases a video ad called "Great Again TV Spot" that doubles down on his proposed Muslim ban, but now it includes the word "temporary."

During a Wisconsin town hall with MSNBC's Chris Matthews, Trump suggests the Muslim ban might have some "exceptions" -- including for his "rich" Muslim friends.

In a conversation with Fox News Radio's Brian Kilmeade, Trump says his call to ban all Muslims from entering the United States was "just a suggestion.""We have a serious problem, and it's a temporary ban — it hasn't been called for yet, nobody's done it, this is just a suggestion until we find out what's going on," Trump says.

Trump ramps up his proposal following the Orlando shooting and dares Congress to get in his way. But the wording of the ban has already shifted."I will suspend immigration from areas of the world where there is a proven history of terrorism against the United States, Europe or our allies, until we fully understand how to end these threats," Trump tells a small audience at St. Anselm College in New Hampshire.

During a trip to the UK, Trump responds to a question about Muslims immigrating to the U.S. from Scotland and he responds, "It wouldn't bother me." Later that day he tells CNN's Jeremy Diamond he only wanted to focus on "people coming from the terror states."

During his acceptance speech at the Republican National Convention, Trump says, "We must immediately suspend immigration from any nation that has been compromised by terrorism until such time as proven vetting mechanisms have been put in place."

Some question whether his comments at the Republican National Convention indicated a rollback of his initial proposal to enact "a complete shutdown" of Muslims entering the U.S., but he says no. "In fact, you could say it's an expansion," he tells NBC's Chuck Todd. He continues to say he would target nations "compromised by terrorism," and hints this could apply to countries like France and Germany.

Republican vice presidential nominee Mike Pence suggests Trump's "Muslim ban" might apply to Christians, Jews and people of other faiths. Speaking with conservative radio host Charlie Sykes, Pence echoes Trump's proposal to "temporarily suspend immigration from countries that have been compromised by terrorism." When Sykes asks whether the ban would apply to Christians, Jews and others from "compromised" countries, as well as Muslims, Pence suggests that would be the case.

During a campaign event at Youngstown State University in Youngstown, Ohio, Trump calls once again for "extreme vetting" of people trying to immigrate to or visit the United States, and he adds a proposal to use an ideological screening test to weed out those who don't "share our values and respect our people."

Despite repeatedly calling for "extreme vetting" of Muslims trying to enter the country, Trump essentially admits during a campaign rally in Canton, Ohio that such vetting might not even work."We don't know where these people come from," he tells the crowd while discussing Syrian refugees. "We don't know if they have love or hate in their heart, and there's no way to tell."

In interviews with CNN's "New Day" and MSNBC's "Morning Joe," Pence responds to questions about his running mate's proposed Muslim ban saying "of course" Trump no longer wants to ban all Muslims from the country. CNN's Chris Cuomo presses him on why he no longer condemns Trump's plan to ban Muslims from the country, and Pence responds, "Well, because it's not Donald Trump's position now."

In response to a question during the second presidential debate, Trump says his proposed Muslim ban has "morphed into [an] extreme vetting from certain areas of the world." When ABC News' Martha Raddatz presses him to say whether the ban is still his position -- and if not, why -- he repeats that his proposal is now for "extreme vetting."
Follow Warren Kinsella on Twitter: www.twitter.com/kinsellawarren