Post-Warring: What Our Band Must Sacrifice to Survive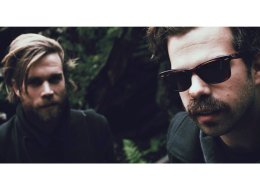 When the guy handing me my coffee on Friday morning asked if the band had broken up, I was taken aback. "How do you know that?" I asked, defensively, while inadvertently giving away part of the answer. "A friend's friend," he said, had told him that Mike and Dave had left the band and that Jason and I had decided to end the project.
In retrospect, considering he was wearing one of our snapback hats, it was dismissive for me to turn to Jason, who was standing beside me, and say: "well, it sounds like we have a lot more free time to watch The West Wing." This was a fan, a genuine supporter with a giant "Darcys" banner on his forehead and I should have been honest with him about the situation.
The truth is, Mike and Dave have left the band. Something compelled me to duck the question. I felt embarrassed. I felt like I had broken up with the girlfriend that everyone liked better then me and I didn't know how to frame the conversation in my favour. I should have told him the truth. Instead, I gave him some awkward insight into my Netflix habits.
When Warring came out, I thought it was going to be the record for us. How naïve I was. Warring doesn't have a conventional single: the songs are too complex, the choruses aren't big enough or well enough defined and the lyrics are too abstract for commercial rock radio. I even remember having that clichéd conversation where someone said "I don't hear a single."
This isn't to say that I'm not endlessly proud of Warring. Unlike so many other bands, our label has afforded us the freedom to create music with integrity and soul on our own terms. Though we were told Warring wasn't radio-friendly, no one ever told us we had to go and write an album that was. But, when you reach the end of a record cycle -- when the project you have poured so much of yourself into fades from immediacy and relevance without seeing the success you expected for it -- you have to either commit to sink with your ship or re-evaluate your course. 
The Darcys do not have a massive built-in audience and we do not enjoy guaranteed widespread radio play. Jason and I will live and die by our next record. Our writing process, in turn, has shifted some of its focus to take a look at each song and its potential for sales. This is the harsh reality to being a musician in 2014. It can be very difficult to convince a label, an agent or a manager to stick with you as you release another "art-rock" record that might garner a Juno or a Polaris Prize nomination, but will yield mediocre sales at best. And sadly, record sales seem to dictate a record's worth and, in turn, a band's career. People want to make money off of you and you need to make money to survive. We are proud of the critical reception Warring has received, but the fact that it didn't sell 10,000 copies in Canada strongly questions its worth.
I recently read an interview with Sara Quin (from Tegan and Sara) from around the time Heartthrob came out. After nearly a decade of making music professionally, the duo had evaluated their project and decided that they didn't want to take a small next step; they wanted to take a giant leap in a new direction. They set goals for the number of records they wanted to sell and the size of rooms they wanted to play. They decided they would need to adapt. In the wake of Mike's and Dave's departure, Jason and I have been grappling with what's next. Where do we want this project to go and what kind of music do we want to create?
Musicians need to acclimate to the circumstances and realities of the genre they work in and the results they hope to achieve. If you want to make pop songs, for example, there is a format for success in that genre. David Byrne talks about this same subject in a recent interview with Salon. Essentially, If you want to sell out Madison Square Garden or have your opera performed at the Four Seasons Centre, there's a prescribed set of standards you're going to have to meet in order to get there.
Yes, there are always outliers, but Heartthrob didn't sell 165,000 copies in the United States simply because Tegan and Sara wanted it to. They made changes, and though they may have explored the boundaries of the genre and bridged the gap between their old and new sound, they still created a very recognizable product.
In recent months, Jason and I have been similarly testing the boundaries of what a Darcys song is and what it can be. Considering our last release was Hymn For a Missing Girl, a 20-minute instrumental piece, it's fair to say that we have identified a lot of elasticity in what we do. For the first time in our career we have played unfinished songs for people and the reactions have been reassuringly positive. That said, we know as we challenge these boundaries, and absorb new ideas, we are also challenging our fans and those in our inner circle.
As we enter this next chapter in our history, I sincerely hope Dave and Mike see success in their own creative endeavours. I know Dave is continuing his pursuit as a published author and Mike is working on a new musical project. Their contributions to The Darcys have been invaluable and we never would have gotten as far as we have without their friendship and input. Though we will miss them in the studio and in the van, I welcome the new challenges 2015 will bring. Acknowledging the economy of music doesn't mean we will stop making music with integrity. Rather, it provides us with the opportunity to further define our creative voices.
One of the many goals we had for Warring was to release a video for each of the ten songs. It was an ambitious idea for a band our size, and though we came painfully close, we are going to fall two videos short. That said, this last video, for "Close to Me," seems to be the ironic conclusion to this chapter of The Darcys narrative and the last breath of The Darcys Trilogy. The clip sees a man slowly going insane as he tries to create the perception of beauty in the bleakness he sees around him. The hard truth is it is often impossible to reconcile the things you see inside your head -- the things that you believe to have value -- with the reality that the world may never see them in quite the same terms. And yet, we keep trying.
MORE ON HUFFPOST:
HuffPost's Best Songs of 2014
Though it technically came out in mid-2013, it was only this year that Sweden's most recent pop star crossed over with this darkly hedonistic break-up song about getting high to get over a broken heart. Like a binge itself, the song sounds a lot more fun than it actually if you listen to the lyrics.

Hip-hop is all about keeping it real, but too often it's really about keeping up a front. Though Nicki Minaj usually spends most of her time boasting about being a badass (or, y'know, just her ass in general), "Bed of Lies" lets her get emotional on a powerhouse rap ballad with an assist from hook-singer Skylar Grey.

PC Music polarized music fans this year who couldn't figure out whether their amped-up-to-the-nth-degree future pop was a pisstake or not. But motivation should impact enjoyment. Either you dig their synthetic chiptune-meets-chipmunks sound or you don't, and we dug "Hey QT" which sounded like a Replicant stealing K-pop back.

Released a month before grand juries chose not to indict the cops who killed Michael Brown and Eric Garner, this powerful Run the Jewels joint was the right song at the right time. Killer Mike's impassioned rapping about his personal experiences with police profiling and brutality became the soundtrack to still-roiling street protests.

St. Vincent's art-pop opus opens like a latter-day Talking Heads number until the jerky guitars and horn bleats give away to a soaring pop chorus as Annie Clarke lacerates our self-surveilling share-everything culture: "If I can't show it / If you can't see me / What's the point of doing anything?"

Mark Ronson and Bruno Mars may be cribbing from Morris Day and the Time during their 80s heyday, but Mars has always rocked a throwback vibe and it's about time someone brought funk back. Besides, they had me at this insta-classic boast: "I'm too hot (hot damn) / Make a dragon wanna retire, man."

Sia, songwriter to the pop stars, steps out of the shadows (albeit not in the video) to claim the spotlight by pairing her struggles with alcohol abuse with a vocals exploding chorus that will no doubt be attempted by reality show singers from now until forever.

The reason why LL didn't want you to call it a comeback is because that sets up expectations few musicians can meet. But since DFA1979 had become more myth than men, given the single album to their name had come out a decade earlier, they had no choice to try and surpass them. Luckily "Trainwreck" pulled it with aplomb, reminding fans why they loved the band while also not sounding like a pointless retread. When Jesse and Sebastian yell "can;t get enough," we had no choice but to agree.

There have been few rises as meteoric as Sam Smith's in recent memory, and it all began with "Stay With Me." Amplifying his timeless falsetto with a gospel choir-backed chorus, Smith turned regret over a one-night stand into the year's most romantic star-crossed love song.

Feminism was a battleground in 2014, and this was the battle cry -- a bass-heavy banger from Beyonce who barked "bow down bitches," boasted she was more than "just his little wife" and took a breather to let Chimamanda Ngozi Adichie's blistering TEDx speech sink in before reminding us that, of course, she woke up like this.

Dan Snaith brings the momentum of his dancefloor-focussed Daphni side-project back to his original gig with this electronic pop song that surfs its titular spectral vocal until the music builds from a magnificent swell into a veritable tsunami.

The greatest evidence of Drake's outsize influence is that even songs he has nothing to do with sound like Drake tracks. The biggest of these is Tinashe's moody and minimalist R&B smash on which she delivers understated soul, boasts about "getting money like an invoice" and lands one of 2014's best rap cameos from Schoolboy Q.

Lana Del Ray's woozy, surf-inflected ode to California love was perhaps too dark to win the song of the summer title it deserved, but it sure made me want to watch the film noir it soundtracks, even if that movie doesn't actually exist. Yet.

Last year's big man on hip-hop's campus didn't release an album this year, but this first single from the one he has in the can is a powerful statement of purpose, using an Isley Brothers' sample to propel his paean to the importance of self-love during a year where hate became increasingly hard to just shake off. The world may be a ghetto with big guns and picket signs, but at least brother Kendrick is there to keep our heads up.

Canada's biggest superstar DJ doesn't get much respect -- he's too weird for the dance-pop programmers and not weird enough for the electronic purists, but damn if the guy can't produce a banger. "My Pet Coelacanth" features no celeb guest and no endless drops, but rather rolls along like a well-paced mini-set, rocking a spectacular synth riff, exploding drum patters and a perfectly deployed curse that can transform your couch into nightclub.

It's all about that sax. Sure, Iggy Azalea delivers her best performance in a year where she omnipresent, Big Sean whispers out his hook as half-diss, half-come-on and Ariana Grade sheds her Nickelodeon past with a vocal tour-de-force, but this Max Martin co-write lives and dies on the best horn riff since Jay and Bey fell crazy in love.

Pop's next great hope Charli XCX finally hit the charts under her own name (after penning Icona Pop's "I Love It" and singing the hook on "Fancy") with this single from the "The Fault in Our Stars" soundtrack. Though it's hard to go epic with a mid-tempo jam, the song's electro-romanticism feels as big as the cosmos once she hits that chorus.

Lil Jon's return to the chart top with an aggro trap anthem a decade after turning the mainstream onto dance music with his Usher track "Yeah" is proof that time is a flat circle. An inescapable smash that echoed everywhere from the White House and the strip club to pill-fuelled festivals and your second cousin's drunk wedding, "Turn Down For What" was quite simply what dancing sounded like in 2014.

The country queen abdicated her throne to take up with Swedish pop genius Max Martin and produce this instant classic that mines her bad romance tabloid persona but find its true power in the blank spaces between the beats and a surging singalong chorus that's as intimate as a high school slow dance yet massive enough to provide an arena full of fans with communal catharsis.

If Diddy did indeed punch Drake over this Boi-1da beat, well, you can imagine his frustration. But better that it stayed with someone who can actually rap, especially when Drake turns in one of his tour-de-force flows as he turns unleashes a battery of boasts before bringing it back down from 100 to 0 on the moodier second-half.

Less an indictment of drop-driven EDM than an instruction manual on how be better at the build up, Swedish electro-pop star Robym teams up with Scandinavian cohorts Röyksopp for an arms up anthem that brings heart and humanity back onto the dancefloor.

Against Me!'s now-signature song single-handedly gave punk its rebellion back. Rescuing the genre from its mall fashion morass with an autobiographical statement of purpose from transgender singer Laura Jane Grace, she wonders "does god bless your transsexual heart?" even as the music makes it clear that we're all of us the same here in the mosh pit of life.

The Baltimore synth-rockers have been around a decade's worth of seasons waiting for their big break, and it finally arrived with his perfectly crafted pop song which sets Samuel Herring's emotion-wracked vocals amidst soaring synths and that driving beat until your heart just bursts.

Calgary dance-pop diva Kiesza's debut single may have broken though on the strength of its viral video (180 million views and counting!) but the 90s throwback deep house single stayed around because it offered an antidote to same-sounding EDM by using the past to push electronic music forward. This was not only the true song of the summer but of the whole year as well.

Download this song: http://smarturl.it/MockingjayPt1 or listen on Spotify http://open.spotify.com/album/7sg5iqMiDrM2aJqLAmv83V Taken from The Hunger Games: M...

Taylor's new release 1989 is Available Now featuring the hit single "Shake It Off" and her latest single "Blank Space". http://www.smarturl.it/TS1989 Music v...

"Trophies" is pretty damn triumphant for a song deemed not good enough for Drake's "Nothing Was the Same" album.Then again, maybe Drizzy was just saving it for a victory lap.
Follow Wes Marskell on Twitter: www.twitter.com/itsthedarcys