When's The Right Time To Ask About Salary?
In case you missed it, Canadian food delivery service SkipTheDishes is in the middle of a social media crisis, and it all stems from the way one of their hiring managers answered a question about salary.
It started when job applicant Taylor Byrnes emailed the company the following questions: "How much do you think I'll be getting paid an hour? Benefits will be included, right? Sorry, I just thought I should ask now. Thanks for your time and have a lovely day."
Victoria Karras, a talent acquisition coordinator at SkipTheDishes, responded this way:
Byrnes posted a screenshot of this exchange to Twitter, which sparked outrage and the use of a #BoycottSkip hashtag.
SkipTheDishes, you should know, was recently purchased by the U.K.-based Just Eat plc for $110 million. Maybe this shouldn't factor into the equation, but the fact that the company is presumably flush with cash makes it especially difficult to defend their response.
The way they responded, however, does reinforce conventional wisdom about salary questions in the interview process (that you should delay the discussion as long as possible). The traditional reasoning for this was that it gives the wrong impression (that you're only interested in money), and that it pushes the conversation into a negotiation (and you've just blinked first).
According to a Robert Half survey cited by this Payscale post, 31 per cent of managers are comfortable with applicants asking about compensation and benefits in the first interview; 38 per cent say it should wait until interview number two; and nine per cent think it can be discussed during an initial phone interview.
Is this accurate?
"You can get away with a lot of so-called taboo questions if they're delivered in a professional, thoughtful manner."
-- Shawn D'Souza, Workopolis
"It shouldn't be up to the candidate to ask this question at all," says Shawn D'Souza, talent acquisition manager at Workopolis. "If a company is not listing salary on their job posting, it should be discussed during an initial phone interview, before any face-to-face meetings. This lets the company and candidate know if they have the same expectations, and makes sure nobody is wasting their time."
And if the hiring manager does not bring it up?
"A lot of companies have their own questions during the application process, and salary is usually one of them. If they don't bring it up, though, it's valid for an applicant to ask, even during an initial phone discussion. If you're worried about how it might come across, you can wait for the end of the conversation. If it's gone well, and you feel like this is an opportunity you want to continue to explore, it's valid to ask about the salary range, especially if you're currently employed at another company," D'Souza says.
Before you do that, though, D'Souza suggests keeping a few things in mind:
Know your worth
StatsCan, Payscale, and the aforementioned Robert Half are some of the online resources that offer salary information. Use them to understand the salaries offered for similar job titles in your region. Keep in mind, though, that this should be used as a rule of thumb; your skills, education and experience can create exceptions.
"By doing the research, you go into any salary conversation on solid footing. You'll also know right away when a proposed salary range does not measure up," D'Souza says, adding that you need to be both realistic and confident in your abilities.
"You don't want to price yourself out of the opportunity. Name a wide, but realistic, salary range, and then define why you should be in the higher end of that range," he says.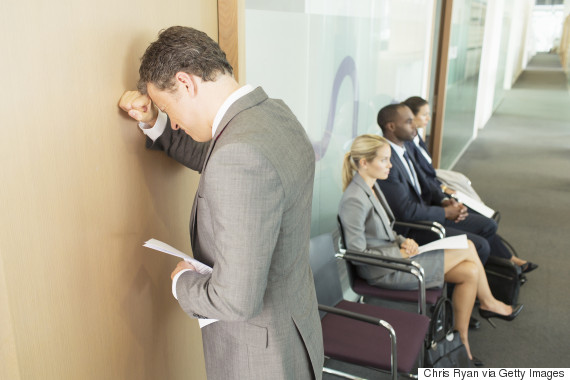 (Photo: Chris Ryan via Getty Images)
Be professional
No two hiring managers and companies are alike, so if you want to ask about salary early on in the process, be as diplomatic and professional as possible.
"You can get away with a lot of so-called taboo questions if they're delivered in a professional, thoughtful manner. You can also use the circumstances of the interview to your advantage. If you need to take time off work, for example, or if it sounds like the hiring process has a lot of steps, use that to frame the question," D'Souza says.
He suggests using this kind of question:
"I hope you don't mind me asking, but as it's a bit difficult for me to take time off work for an interview; could you give me a sense of the salary range before we move forward?"
Know what's important to you
A good salary is always important, but as the saying goes, money isn't everything. If a job or company sounds and feels like a good fit for you and your career, don't be put off by a lower salary.
"That's not to say you should take a pay cut, but you need to know what's most important to you. Do you want more responsibility? Do you want to take the next step in your career? Do you want to work from home more often? These are all things you should be taking into account when you start the conversation about salary. If the opportunity offers something that would really make you happy, it's sometimes worth making a compromise on salary," D'Souza says.
So, there you have it. Don't be afraid to ask the question. Just make sure you've done your homework (and be on your best behaviour).
See also:
The art of the deal: how to negotiate a starting salary
7 salary negotiation tips from the movies
How to use humour to negotiate a better salary
The average Canadian salaries by industry and region
Follow HuffPost Canada Blogs on Facebook
Also on HuffPost:
How To Negotiate Your Salary
Whether you're just about to start at the company or have worked at the firm for years and are hoping for a raise, reiterate the value you've brought to the company. If you work in sales, dwell on the numbers. Did you surpass your sales goal? Or maybe you spearheaded a social media campaign that resulted in thousands of additional followers on the company's social media pages. Simply stating that you've worked hard, long hours isn't going to cut it – that's a given. Think about what you've done and don't be afraid to wear that on your sleeve.

Figure out who is going to be making the decision as to whether or not you'll get your raise. It may be your boss or even their boss. And the human resources department might have a say. Knowing who the ultimate decision-maker is will help you develop your strategy, but it will also keep your expectations in check. If there is an entire group of people that need to be convinced, this process might take a bit longer than expected.

During the recession, it was tough to find a company that wasn't downsizing and laying off staff. And you guessed it – it's inappropriate to ask for a raise when the company isn't performing well. Unless of course you're so indispensible that the company can't risk losing you to a competitor. Use your instincts as to when it best to broach the subject with the higher-ups. It could be soon after you finish a successful project or snag a lucrative new client – there's no magic formula.

When trying to determine the ideal salary, research what competitor firms are paying. Visit sites like Glassdoor.com, where current and past employees can anonymously reveal salaries for various positions and companies, as well as Payscale.com to get a sense of what the going rate is in the industry. This info can tell you how good (or bad) your current deal is and give you some perspective of what a realistic raise would be. But if you suspect that a co-worker makes more than you – and you're both on the same level, don't complain to your boss. It's not only petty, but chances are you don't know the exact salary of that co-worker. Plus, that's not a valid reason for you to score a raise. The co-worker may be more experienced, may have more education – that is, there are countless factors that determine one's salary. Instead, focus your energy on you and your accomplishments.

Once you're armed with information about salaries at competing firms, this is when you determine a specific salary you'd like. Ask for at least $10,000-$20,000 above that level, in the event your employer wants to meet you halfway. Giving yourself some leeway is the best way to push your end of the bargain. So don't lowball your salary – aim a little higher. After all, it's called negotiation for a reason, so expect some back and forth.

Just because your employer doesn't grant you your raise or they won't bump up your salary to join the firm doesn't mean the game is over. It just might take longer. Remember how we talked about timing earlier? Timing is quite elusive so a "no" from your employer might simply mean "not now." So keep your head high, keep the momentum up and your day will come!

If you can't get a better salary, ask for a more prestigious title. A better title will be helpful if you're trying to jump ship and move to another firm. That title may command a higher salary at a competitor. Other alternatives to the green stuff include more vacation days and especially if you have kids, the ability to work from home one day a week or one day every other week. Think about what else it is you want, besides a raise.
Follow Workopolis on Twitter: www.twitter.com/Workopolis