Picking the Right Colours for Your Kitchen
One of the most satisfying home renovations is always the kitchen makeover: we spend so much time there, so although living without one for a few weeks can be tough (I'm going through my own kitchen update right now so I speak from lots of experience!), the process is absolutely worth it in the end. Whether you're getting new cabinets, or still loving old favourites, it can be tricky to know what colour to paint your walls to get the most satisfying effect. For your next culinary overhaul, or even just a DIY weekend refresh, consider my paint colour guide for the top five most common cabinetry styles, complete with hardware suggestions for a complete look you can be confident about.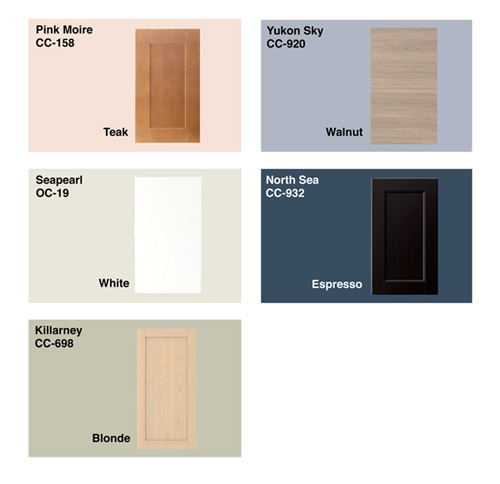 Oak/Maple/Teak: One of the most common cabinet finishes in Canadian homes, warm midtone woods require a paint that will work with the undercurrents of red, but not fight them. Recently I've been inspired by the way very soft pink walls can appear almost neutral, while giving a touch of life to even a modern space. The light red hue works with the cabinetry, but doesn't overwhelm.
Colour: Benjamin Moore's CC-158 Pink Moire
Hardware: Rounded pull (more traditional) or thin extended bar (more modern) in a brass finish. Warm hued metals are a traditional look that's back en vogue -- it's definitely a trend to invest in.
White: Minimal white cabinets are popular in hip condos, but are also a timeless classic, and thus have become a staple for recent kitchen renovations. Your instinct may be to pair them with stark white walls, but matching the white shades exactly is nearly impossible, and the result tends to be cold. Instead, use a pale but warm grey to bring in some depth.
Colour: Benjamin Moore's OC-19 Seapearl
Hardware: Clear glass knobs (in a diamond cut for a jewel inspired effect, or clean simple squares). The colourless colour will add variety without breaking the tone on tone effect.
Blonde: Light, scandinavian woods give a light, airy effect similar to white, with a less minimal character. Rather than pairing them with a total neutral, consider a green-gray to a mixture with some character. Green is paired with wood tones all around us in nature, so we're instinctually attuned to this peaceful combination.
Colour: Benjamin Moore's CC-698 Killarney
Hardware: Playful accent. Take the opportunity to add a fun decorative knob with a punch of colour, such as a brighter green glass, precious stone or patterned porcelain.

Walnut: A favourite modern option, cool, grey toned walnut has incredible exotic character exuding from its dramatic grains. Purple is an excellent compliment, as it likewise balances between warm and cool (a mix of red and blue), and makes a hip statement.
Colour: Benjamin Moore's CC-920 Yukon Sky
Hardware: Extended metal handle. A long thin bar -- running horizontally -- picks up the lines of the grain.
Espresso: Black-brown stains have a masculine quality that works equally well in urban homes and traditional italian style kitchens. Here I would recommend playing against the warmth slightly -- adding any more brown becomes too much, but deep blue creates a sophisticated balance.
Colour: Benjamin Moore's CC-932 North Sea
Hardware: Aged metal knobs in a dark finish. The antiqued metal gives just a hint of character -- the handles don't need to stand out when the scheme is already so strong.
To get more interior inspiration (or a fresh set of eyes on your own kitchen design) visit www.tidg.ca.
10 Projects You Shouldn't DIY
Cutting down trees, or even removing branches requires climbing and working with dangerous tools from a high distance off the ground. This is disaster waiting to happen, and definitely something better left to professionals who are trained and paid to do this!

http://www.flickr.com/photos/brockbuilders/3634078748/Knocking down walls might seem like a simple task, but behind those walls could be electrical wiring, gas pipes and plumbing that can cause huge problems in your home. Rather than taking a chance, consult a contractor first!

Paving stones can turn a boring driveway into a focal point. And while they look relatively simple to install, the reality is that the measuring and positioning of paving stones can be tremendously time-consuming. (Think of it as a game of Tetris on steroids.) But a team of professionals can cut installation down to a day, depending on your driveway size.

It's one thing to flip a fuse switch to the power in your home on or off, but another to attempt to repair faulty wiring or any other electrical issues without professional help. Working with electrical wires can be deadly and the proper precautions and knowledge are crucial.

Unless it's something simple like unclogging a toilet or fixing a drain, messing with plumbing can cause major dilemmas (Just think about an overflowing toilet or unstoppable burst in a pipe...not fun). It's always better to ask a plumber before trying to tackle any plumbing issues on your own.

While we're sure most people wouldn't attempt to tackle a project like this on their own, we figure we should mention that it would be extremely dangerous to make these repairs. All it takes is one loose piece of siding, and the entire pool could collapse.

Besides the fact that working on top of a roof is very risky because one could easily lose their footing and slip, it can also be detrimental to your home's structure if you don't know the proper way to install or repair roofing. If you are going to check the roof for damages or cleaning gutters, bring a friend and proceed with caution.

If done properly, siding can last for years. But if siding is not securely installed, weather conditions can tear it off, or seep underneath, causing harm to the frame of your home. Rather than taking this chance, it's safer to have a professional install it properly.

Specialized tools and methods are required to properly install new windows to make sure they are well insulated and secure. While it can be costly, a professional can ensure that you'll be comfortable in your home for years to come.

We're the first to admit outdoor kitchens are fantastic, but attempting to put one in yourself could be disastrous. It might seem easy enough (a little flooring and a grill-station) but you could end up with a half-finished patio and plumbing gone awry. So while it might be tempting to build one in your backyard, ask yourself if you'll really use the kitchen year-round...and then, of course, call in a pro.
Follow Yanic Simard on Twitter: www.twitter.com/yanicsimard