Tips From Hotels to Make Your Home More Welcoming to Guests
Any time I can fit in a trip to Montreal is an exciting opportunity, but this fall I had an especially momentous reason to visit my old hometown: the launch of the brand new Breakfast Television Montreal, an extension of the City family that I have enjoyed working with for years. I hopped on a Porter flight -- always a fun and refined experience -- and headed to the studio bright and early the next morning to inspire viewers with ways to design for a happy home. (Readers outside Montreal can catch the segment here.)
Between this, some beautiful showroom visits and a few other Cityline shoots, the weekend was certainly packed -- design never sleeps! However, every trip away for me is also an opportunity to visit a new boutique hotel, and after visiting Le Germain Calgary earlier this year I was excited to take a look inside the Montreal edition of the growing boutique chain. Because hotel design is all about making guests feel welcome, here are my tips for how to make your guests feel welcome every day -- including the number one guest: you!
1. People often focus on making spaces feel as large as possible, but it's always important to have a space in your home that feels cozy. Le Germain's lobby uses warm, weighty materials like cement (facing out a wall), stone, rich carpets and deep espresso woods to create zones that envelope you.
TIP: Whether it's a bedroom, den, or even your own foyer space, don't be scared to embrace dark, luxurious finishes where you really want you and your guests to feel the most at home. Le Germain hotels are known for their deep gray ceilings -- paint yours Benjamin Moore's 2121-10 Gray for a more enclosed feeling.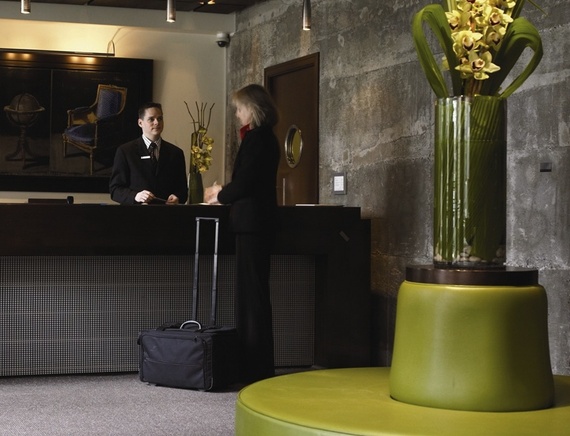 2. The hotel's apartment suite uses a large bookcase instead of a media unit to house the television -- this make a perfect compromise for those who can't resist having a TV in the bedroom but don't want it to dominate.
TIP: Choose a tall, open unit with a mix of large and small shelves and drawers (or baskets), and you can house the TV, media equipment, and also display beautiful objects and books to create a total look (with space left over for guests to store their travel essentials).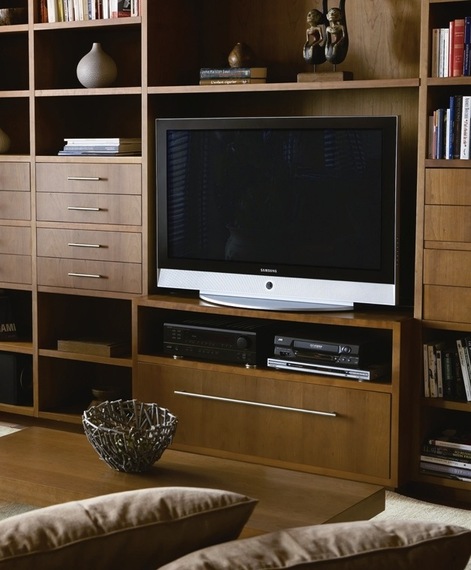 3. Hotel designers know the power of clean, white surfaces: Le Germain uses a lot of deep rich woods in the bedrooms, but broken up with simple white walls, crisp white bedding and sleek free standing wardrobes in a metallic finish (a contrast from the wood built-ins) for visual breaks and a sense of lightness.
TIP: Switching to all white bedding is the fastest way to make a bedroom feel renewed (your guests especially will appreciate it). For a pure white wall colour free of yellow or blue undertones, I recommend Benjamin Moore's OC-65 Chantilly Lace.
4. A traditional style that Le Germain applies in a modern way is the use of beautiful wood shutters -- it's a more clean and architectural look than black-out drapery. Invest in a quality in-window system rather than inexpensive plastic versions and you'll have them for years.
TIP: To both filter and block light, layer sheer curtains in front of in-window shades and get the best of both worlds.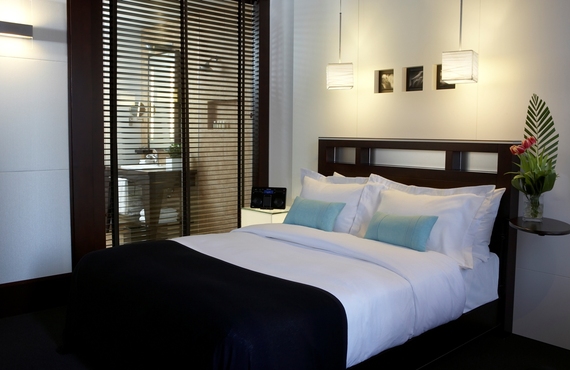 5. Like its sister hotels, Le Germain Montreal creates a design story from the moment you walk in that connects to each of the spaces. This is achieved by repeating materials (such as that espresso wood) and colour palettes in some way in each interior. Variety is important, but resist the urge to create overwhelming "themes" for bedrooms -- you want your guests to feel at home in your home, and not like they're sleeping in an amusement park.
TIP: When considering your design, look at both the big picture and the finishing touches, and carry your plan throughout. Everything you can see from the wall colour to the bedside alarm clock should add beauty -- eliminate or store everything else.
After a full few days, and another relaxing Porter flight to Toronto Island (enjoying the vintage flair of the attendants' tilted hats -- and the complimentary wine), I was right back to my design studio. To see all the great stories we filmed, keep up with Cityline, 9 a.m. weekdays on City. Until then, I hope you found some inspiration to keep your home welcoming every day -- for all your visitors, and yourself.
Hotels To Stay In On 'The World's Most Expensive Trip'
Ciragan Palace is located in Istanbul, Turkey on the European shores of the Bosphorus, also known as the Istanbul Strait. The hotel offers the Sultan Suite, one of the largest suites in Europe, and has its own Turkish bath (hamam) to enjoy, along with a price tag of up to $40,000.

The Emirates Palace is located in the heart of Abu Dhabi and boasts a luxury experience beyond 5 stars. The hotel is located on 1.3 km of pristine white beach, and houses the mystique Anantara Spa, and can cost up to $15,000 for a stay.

The St. Regis is located in Bora Bora, an island within the Society Islands of French Polynesia. The hotel promises a blissful Polynesian paradise experience, and the view alone is breathtaking enough. You can spend a night here for about $1,500.

The Raj Palace is located in Jaipur, India in a city known for its historic palaces and luxury. The hotel has been recognized as one of the world' best heritage hotels and offers a unique historical experience at a price tag of up to $15,000 a night.

The Four Seasons Hotel George V in Paris is already one of the confirmed hotels for the world's most expensive holiday. A typical night here will set you back about $4,000. The hotel is located steps away from the Champs-Elysees, and offers suites with private terraces with spectacular views of the Eiffel Tower.

The MAIA Luxury Resort & Spa is located in the Seychelles, which are known as the most perfect, unspoiled islands in all the oceans. Apart from the luxurious hotel stay, the MAIA spa was recognized as the winner of the 2013 World Luxury Spa Awards. A night on this island will cost you at least $2,000.

This palace-style hotel is located in Marrakech, Morocco and offers a unique beauty as the embodiment of Moroccan living as an art form. This luxury experience will cost up to $6,000 a night.

The Ritz-Carlton is known for luxurious 5-star hotels in destinations around the world. This Tokyo location is in the Roppongi District and known as one of the most dramatic skyscrapers in Tokyo. Though you can stay here for about $400 a night, for the full 5-star luxury experience, you can expect to spend closer to $1,300 a night.

The Wakaya Club & Spa is a luxury private island resort in Fiji. One of their unique features is a beach picnic where guests are guaranteed privacy for a radius of three miles while they are on the beach. For this private island experience, you'll be spending about $2,200.

The Westin Excelsior is located on Rome's prestigious via Veneto and also houses the largest suite in Europe, the Villa Cupola. A luxury suite in this hotel will cost about $5,000.

The Hotel President Wilson is located in Geneva, Switzerland, facing the magnificent panorama of the lake and mont-blanc. Known as the city's most contemporary hotel, a night in one of the luxury suites is about $12,000.

Located in the Gulf of Thailand as one of Cambodia's islands, Song Saa Private Island is a deserted oasis of virgin rainforests, tropical reefs and white beaches in a mostly undeveloped setting. You can be a guest in this untouched paradise for as little as $1,500.

Located in the Maldives, this hotel offers tranquil private villas, underwater dining and boundless horizons. Taking in the scenery in your own private sanctuary in the Maldives, can cost up to $10,000.

This luxurious Canadian destination is located in Northern British Columbia and is accessible only by float plane. The hotel is located in the heart of the Great Bear Rainforest, which is the largest intact temperate rainforest left on Earth. A night here will cost up to $4,000.

Located in Dubai, the luxury destination of the world, the Burj Al Arab boasts itself as the world's most luxurious hotel. A typical night in this distinctive sail-shaped silhouette hotel will cost you about $2,000.
Follow Yanic Simard on Twitter: www.twitter.com/yanicsimard