The Perfect Roommate Is Just A Creative Online Listing Away
Written by Jackie Marchildon
Combing through apartment listings is both aggravating and exciting all at once. Moving can be a good thing, but it's normally stressful, and if you really think about it, apartment hunting is a little weird. You invite yourself into someone's home in person -- or through photos in a listing -- and judge whether it'll work for you.
Looking for roommates is equally as strange. How do you describe yourself? How do you describe what you want in a roommate? How do you encourage someone to choose you over someone else?
Today it's safe to assume most people look online when they are looking for a new place. Listings are easy to get, easy to find and easy to promote. But what's a little trickier is knowing what to write in your listing, whether you're looking to add a new roommate to the household or the one looking to be that new roommate.
Looking for a new home sometimes feels like looking for a job -- the search is long and once you get the interview, you're stressed about how you'll come across. If you want the place, you want to impress your future landlord or roommates with a good job, a promise to be clean and give off generally positive vibes. If you're looking for a new roommate, you want them to like you and you want to make sure they will be a good fit, too. What matters most to you? Someone with the same schedule? Someone clean? Someone you think is cool?
When you're the outsider, should you let your personality shine in your posting?

Or is it more important for the ad poster to show their true colours?

Do you go the route of too much info to really make sure people know what they are getting before they come to visit?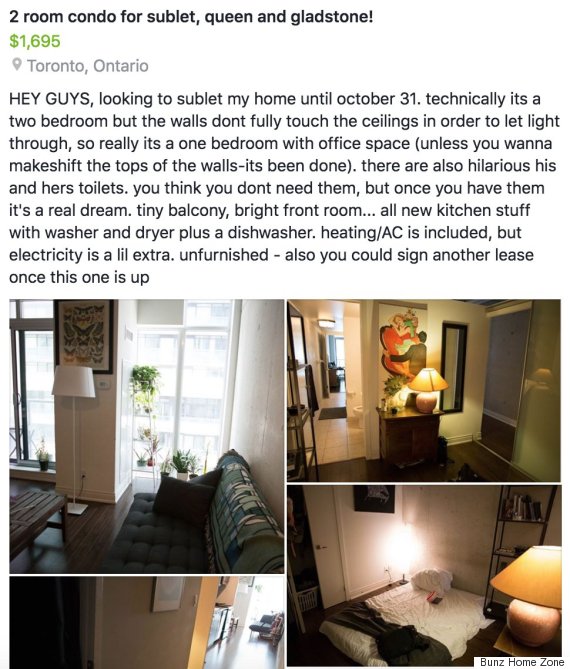 Or do you omit a little information about yourself to get the apartment?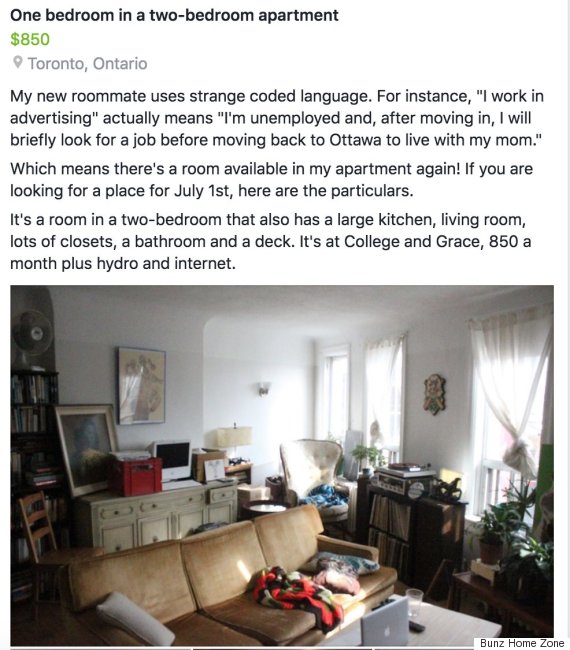 Maybe you find a way to set yourself apart from the competition like Hugh Podmore...?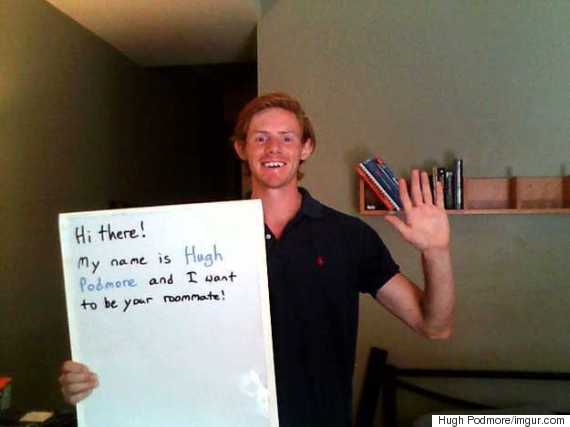 Landlords normally know what they want -- a good, clean tenant that pays on time and doesn't destroy the rental unit. You know what you want if you're looking for your own place. But when you're selling yourself as a roommate, it's a little harder.
Unfortunately, it's pretty easy to lie when you're looking to move in with roommates. And it's easy to leave out the downsides to your apartment, too, when you're desperate to fill a room. At the end of the day, you just need to know what you want and -- maybe more importantly -- what you don't want, and you just have to hope for the best in your hunt!
Read the original story at YPNextHome.ca.
Follow HuffPost Canada Blogs on Facebook
MORE ON HUFFPOST:
5 Tips For Getting To Know Your Roommate
"When you're first talking, don't disclose too much information about yourself," says Rachel Simmons, author of Odd Girl Out (Mariner Books). "Because you're nervous, you're more likely to over-connect and over-share. You'll have plenty of time and endless hours to get to know this person -- you don't need to be her best friend in the first five minutes!"

"Ask your roommate about her habits," says Simmons. "Get a sense of what she expects out of the roommate experience. People feel good when they have an opportunity to share what's on their mind, so your roommate will feel flattered that you care to know what she's thinking or what she wants. Does she have a favorite snack? Offer to pick it up."

"Start with building a strong foundation upfront," says Jenny Blake, author of Life After College (Running Press). "How are you going to split the cleaning responsibilities? What kind of courtesies do you want to have about having friends over or playing music late at night?"

"One of the biggest causes of roommate conflict is 'sexiling,'" says Simmons. "If you have a significant other, have a conversation with your roommate upfront about how much you expect him or her to visit. If you expect privacy in your room every weekend, that's inconsiderate. Strike a balance and find out what your roommate is comfortable with -- be aware that girls will say, 'sure, that's fine,' even though it's not. Treat your roommate the way you would want to be treated, and don't assume that's she's okay with everything just because she says she is."

"Sitting down once a month will create a safe way to talk about how everything's going," says Blake. "In the beginning, be over-communicative. Ask more than you think you need to and check in often until you start to get used to each other's living habits and patterns."
Follow YPNextHome on Twitter: www.twitter.com/YPNextHome