The Worst Thing You Can Call a Union Leader? A Boss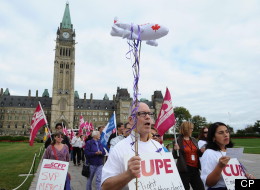 "I am not here to take marching orders from union bosses," said Mr. Poilievre. "I represent taxpayers and frankly taxpayers expect us to keep costs under control so that we can keep taxes down. It is for those taxpayers that we work. Not union bosses." - May 1 Conservative Parliamentary Secretary Pierre Poilievre
Why do the most right-wing politicians and corporate news outlets always use the term "union boss"? Because the worst thing they can think of is to say the leader of a labour organization acts like a capitalist? Or the capitalist's lackey?
Perhaps the irony of insulting a democratically elected representative of workers by calling him/her a boss is beyond the understanding of most of the term's users, but it's interesting to point out nonetheless. Apparently, right wing editorial page or news editors understand (at least at one level) that most working people are dissatisfied with the arbitrary power unelected bosses have over their lives. By associating unions with widely disliked bosses -- the Ottawa Sun, for example, often calls a labour leader "union boss" multiple times in a short article -- they act as if they believe this term will discredit labour leaders.
Strangely, one of the main reasons workers seek to unionize is to protect themselves from the arbitrary power of bosses. Often a desire for rules dealing with seniority and discipline, not better wages and benefits, is what prompts people to unionize. Unions fulfil workers' yearning for some workplace democracy. In the process they challenge capitalists' control over the workplace. And by bringing some organizational structure to the amorphous working class, unions also weaken capitalist power in the political arena. This, of course, displeases media outlet owners, the bosses they hire and the right-wing editors whose job it is to be the sycophants of the rich and powerful one percent who run the world.
So, to please their bosses and the bosses of their bosses, these professional flatterers call union leaders "bosses." Am I the only one who finds this more than a little surreal?
Surely a really good capitalist bootlicker could come up with a more insulting word, one that wasn't in such direct conflict with their professed admiration for our economic system and all the real bosses who run it? But nothing works quite like "boss" precisely because that word challenges the whole idea of workers democratically electing their leaders, which is what happens in most unions.
So, perhaps the epithet "union boss" is not really aimed at the presidents, secretary-treasurers or other heads of unions at all. Rather, it is an insult aimed at all workers, who these right-wing minions think are too stupid to participate in the democratic process of choosing a leader.
These Yes Men of the super rich cannot conceive of workers running their own organizations. When you make your living as a toady you have a hard time imagining anyone else thinking for him or herself. Instead you believe workers always take orders from bosses. After all that's what you do.
Flashpoints In History Of Canadian Labour
Few Canadians realize it, but Labour Day is as Canadian as maple bacon. It all began in 1872, when the Toronto Typographical Union went on strike to demand a nine-hour workday. When Globe and Mail chief George Brown had the protest organizers arrested, Prime Minister John A. Macdonald passed a law legalizing labour unions. Thus, a Conservative prime minister became a hero to the working class, and Canada became among the first countries to limit the workday, doing so decades before the U.S. The typographers' marches became an annual event, eventually being adopted by the U.S., becoming the modern day Labour Day.

The end of World War I brought social instability and economic volatility to Canada. On May 15, 1919, numerous umbrella union groups went out on strike in Winnipeg, grinding the city to a halt. Protesters were attacked in the media with epithets such as "Bolshevik" and "Bohunk," but resistance from the media and government only strengthened the movement. In June, the mayor ordered the Mounties to ride into the protest, prompting violent clashes and the death of two protesters. After protest leaders were arrested, organizers called off the strike. But the federal mediator ended up ruling in favour of the protesters, establishing the Winnipeg General Strike as the most important strike in Canadian history, and a precursor to the country's modern labour movement.

During the Great Depression, the only way for a single male Canadian to get government assistance was to join "relief camps" -- make-work projects set up by the federal government out of concern idle young men were a threat to the nation. The relief camps, with their poor work conditions, became breeding grounds for communists and other radicals. The "On-To-Ottawa Trek" was organized as a protest that would move from Vancouver across the country to Ottawa, to bring workers' grievances to the prime minister. The trek halted in Regina when Prime Minister R.B. Bennett promised to talk to protest organizers. When talks broke down, the RCMP refused to allow the protesters to leave Regina and head for Ottawa, and on June 26, 1935, RCMP riot officers attacked a crowd of protesters. More than 100 people were arrested and two killed -- one protester and one officer.

In May, 1938, unemployed men led by communist organizers occupied a post office and art gallery in downtown Vancouver, protesting over poor work conditions at government-run Depression-era "relief camps." In June, the RCMP moved in to clear out the occupiers, using tear gas inside the post office. The protesters inside smashed windows for air and armed themselves with whatever was available. Forty-two people, including five officers, were injured. When word spread of the evacuation, sympathizers marched through the city's East End, smashing store windows. Further protests against "police terror" would be held in the weeks to come.

In 1992, workers at Royal Oak Mines' Giant Mine in the Northwest Territories went on strike. On September 18, a bomb exploded in a mineshaft deep underground, killing nine replacement workers. Mine worker Roger Warren was convicted of nine counts of second-degree murder. The Giant Mine closed in 2004.

The Canadian Labour Congress, representing numerous labour groups, participated in protests in Toronto during the G20 summit in June, 2010. When a handful of "Black Block" anarchists rioted through the city core, it brought an overwhelming police response that resulted in the largest mass arrests in Canadian history. More than 1,000 people were arrested, with most never charged with any crime. Numerous allegations of police brutality have been made, and the Toronto police are now the target of several multi-million dollar lawsuits. So far, two police officers have been charged with crimes relating to G20 policing, and charges against other police officers are also possible.

When Vancouver-based magazine Adbusters suggested the public "occupy Wall Street" to protest corporate malfeasance, New Yorkers took the suggestion seriously, and occupied Zuccotti Park in Manhattan. Canadians followed suit, sparking copycat occupations in all major Canadian cities in September, 2011. By December, most of the occupations had been cleared, all of them non-violently. Though the protests achieved no specific goals, they did change the political conversation in North America. What their long-term legacy will be remains to be seen.