Housing Plan Can Help End Hidden Crisis Of Women's Homelessness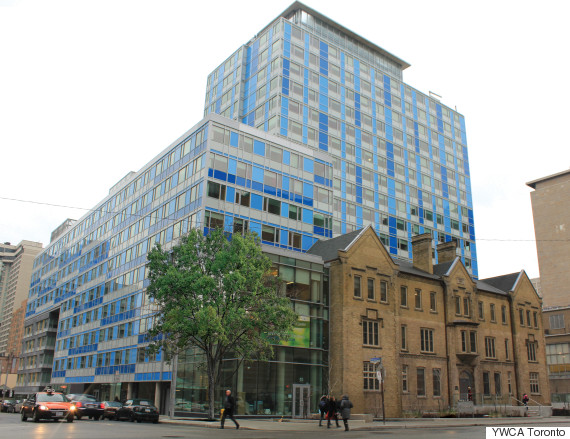 The YWCA Toronto Elm Centre located in the heart of downtown Toronto.
I have an unshakable belief in the resiliency and strength of women. With 20 years under my belt working in the social services sector, this belief keeps me going.
From Vancouver's Downtown Eastside to Toronto's core -- I have worked with women of all races, ages, identities and faiths. I have worked with women coping with trauma and rebuilding after violence; women tackling addictions and mental health challenges; women working to climb out of deep poverty and street-entrenched lives. My efforts always centre on supporting those most in need.
Women's homelessness is a significant, yet often hidden, crisis facing this country. Research shows that for every person who is absolutely homeless, there are at least three more who fall into the hidden homelessness category. This includes women who are trapped in violent situations and women living in precarious, sub-standard housing. These women and their children are often the hardest to reach and support.
The promised national housing strategy is a chance for governments to act on housing. My experience has taught me that women benefit from a continuum of housing options -- there must be new funding for women-only shelters, transitional housing and permanent housing facilities.
For many women, the ability to lock their apartment door means safety and peace of mind.
We need a coordinated plan and appropriate resources to ensure effective support is available for women with complex needs. We need more housing by and for Indigenous women with traditional healing programs. And we must take care of our aging population who require a high level of support that is often not available outside of long-term care facilities.
The government also has an opportunity to learn from existing supportive housing models across Canada. The YWCA Toronto Elm Centre, where I work, is one such model. We have 300 units of permanent housing for women and women-led families in the heart of downtown Toronto. Our model combines affordable housing, rent-geared-to-income housing, supportive housing and 50 units designated for Indigenous women. It is the largest affordable housing facility to be built in Toronto in the last decade.
The Elm Centre is unique. From the moment our tenants walk in the front door, they are welcomed home by our invaluable concierge team. The building is fully accessible and clean, with play areas for children, wonderful green spaces, roof-top gardens and a traditional herbal garden. Our dedicated staff help build community through organizing community kitchens, expressive arts programs, yoga sessions and teaching circles. And the location is central -- close to transit, core services and schools.
Women tell us that they choose to live at the Elm Centre because they like that it is a woman-only space. This is especially important for women in our Elm Centre community who have experienced violence. For many women, the ability to lock their apartment door means safety and peace of mind; to be the sole leaseholder means independence; and to have a fixed address means stability and belonging. What many take for granted means everything to a woman moving into her first true home.
Women also come to the Elm Centre for support. Through a partnership with the Jean Tweed Centre, we provide on-site, individualized, trauma and harm reduction-informed services to women in our supportive housing program. Jean Tweed also provides a sessional nurse practitioner on-site. Through a partnership with Women's College Hospital, we have a primary care physician regularly on-site as well.
Also unique is the Elm Advisory Council, which is made up of social services partners that advise our leadership team. We always strive to grow and learn from expertise in the sector and from the women we work with.
Housing is about so much more than bricks and mortar. It is a social determinant of health. It improves well-being and is key to building better futures. I have seen how safe, affordable, supportive housing helps to transform lives. I work with YWCA Toronto because the entire team understands this. It is critically important that the federal government does as well. Now is the time to act on housing.
Danielle Nakouz is the Manager of YWCA Toronto's Elm Centre Supportive Housing program.
Follow HuffPost Canada Blogs on Facebook
Also on HuffPost:
How To Help A Victim Of Domestic Abuse
NIA suggests: "She needs to know that you're there for her, that you will support her. Don't criticise the decisions that she's made. Remind her that she's not alone, domestic violence affects one in four women in their lives. "Remind her that it's not her fault, that she isn't responsible. Also it isn't her responsibility to make him change or make him stop." Rise adds: "Believe the person, don't say 'Really? They seem so nice.' Say things like 'I believe you' 'this isn't your fault.' Don't say 'why didn't you say something sooner' as that is blaming a 'victim.' It doesn't matter when they tell, just that they do. Say things like 'I am pleased you've told me.'"

NIA says: "it can be really difficult to see that you're in an abusive relationship, as women often minimise or excuse what is happening to them or find ways to think it's their fault. It's also hard to tell someone else, so don't wait for your friend to ask you for help. Ask her, let her know that you're concerned, that you know something is wrong." Rise UK add: "Being direct can help as it takes the responsibility away from the survivor, they will know what you are asking, rather than trying to guess form an ambigious question. 'Are you experiencing abuse?' might also help a survivor feel safe that they can disclose to you; you aren't afraid of what might come out."

Women's Aid says: "Tell her that no one deserves to be threatened or beaten, despite what her abuser has told her. Nothing she does or says justifies the abuser's behaviour."

Women's Aid says: "Acknowledge that it takes strength to talk to someone about experiencing abuse. Give her time to talk, but don't push her to talk if she doesn't want to. "Acknowledge that she is in a frightening and difficult situation."

Don't be afraid to broach difficult questions. Is she safe? Is she afraid? Two women a week are killed in the UK. Domestic violence is serious.

If you know her partner, don't collude. Don't make excuses for him, don't agree with his excuses. Tell him that he, not she is responsible for his actins. If he genuinely wants to change, help is available, advise him to look up an organisation called 'Respect'.

"If you witness a violent incident, call the police," say NIA. Rise adds: "Be aware that doing things; preparing to leave or reporting to the police (etc) can increase risk to survivor and consider how that can be managed; make plans together, have a code word, inform the police, and contact local specialist services."

Rise says: "Ask the survivor what they want to happen or do about the situation, putting them in control. A friend or relative may want to jump in and 'fix' things, which is disempowering. Be aware that the situation probably cannot be resolved quickly, but support is available whilst decisions are made." NIA adds: "Check that she knows where she can get help. Give her the National Domestic Violence Helpline number (0808 2000 247). Also, Women's Aid have an excellent confidential survivors forum, sharing what is happening with other women in abusive relationships can make a huge difference. You can find out where help is available locally from Women's Aid and Rape Crisis's websites."

Finally, don't give up on her if she doesn't tell you the first time you ask, or if she doesn't leave or returns to a violence relationship. Abusers break down our self-confidence. Women often make several attempt to leave a violent and abusive relationship before they make the final break. She isn't being weak, she being strong and brave and trying to escape. You might be her lifeline.

"Don't tell her to leave the relationship if she isn't ready. That's her decision," say Women's Aid.

Ask if she has suffered physical harm. If so, offer to go with her to a hospital or GP.
Follow YWCA Toronto on Twitter: www.twitter.com/YWCAToronto