Recently we travelled with World Vision to Brazil to see the work they're doing there. We got to meet kids who were involved with a variety of different programs that help build their skills and confidence, like soccer, music, and dance. One of the programs we were really impressed with was a financial literacy program. And while this initially didn't seem like the most exciting stop on our itinerary compared to the other things on the agenda, it turned out to be one of the most meaningful.
Here's how the financial literacy program works. About 30 kids from very poor communities gather together regularly to learn about saving and budgeting -- two things Canadians can be notoriously bad at. The children had a ledger where they meticulously recorded any additions to the piggy bank where they kept their savings. They were so proud to show us how much they had saved, and how they record it.
These kids have been saving money from their tiny allowances since January to go to a waterpark. They are half-way there.
A water park might seem like a frivolous goal, in a community that's so poor. But these are children, and they need to play, and to dream. And we could see how many incredible life skills they were learning along the way.
This blew us away. In Canada many people take their kids to waterparks all the time, on any given weekend, without a second thought. But these kids were working so hard, for over a YEAR, to save the equivalent of $10 per person so everyone could go. These kids have a very different sense of the worth of a dollar than we do in Canada. It was so difficult not to offer to fund the rest of their trip (although we did make a small contribution, of course, and watched the Treasurer very carefully add this to the piggy bank)!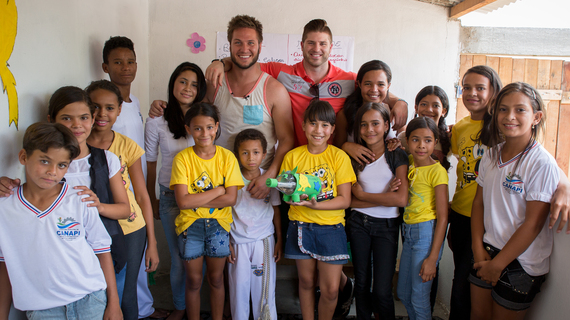 It struck us how difficult it is to save for things in developing countries. After covering their living expenses (which is a challenge), it's very hard to save for anything that would be an investment in the future. How do you get ahead when you are just making ends meet? We met a farmer named Edmilson and his family who were given chickens and goats purchased from World Vision Gifts. World Vision also showed Edmilson how to take care of the chickens and how to turn their egg production into a profitable business. Without receiving these gifts, Edmilson may never have been able to afford chickens.
A caring Canadian made the choice to buy these gifts for someone they would never meet. Now thanks to this donor, Edmilson's family is running a business, and able to provide for themselves by selling the eggs at the market and feeding their children with goat milk. Edmilson gives some of the proceeds from his eggs back to the community, to buy chickens for other farmers.
The holidays are sneaking up on us, and we know you'll soon be headed to the mall to start putting a dent in your gift list and wallet. We've seen how what seems like a small amount to Canadians translates into so much in countries like Brazil. These gifts really do have lasting impact for the recipients, and help families become self-sustaining.
We'd love for Canadians to consider giving something a bit more meaningful this year -- a World Vision Gift will definitely impress anyone on your list. We're pretty confident that anyone you give one of these gifts to would be pretty happy knowing that some of their Holiday present went to something so important.