Earlier this fall, Amazing Race Canada fan favourites Jet and Dave travelled to Brazil with World Vision Canada to meet children whose lives are changing thanks to Canadian donors. While there, Dave got a big surprise: a visit with the girl he's been sponsoring through World Vision for nine years.
For the past nine years I've sponsored Ana through World Vision. (Incidentally, Jet has sponsored a child for about this amount of time also, but this blog is about ME). I picked her for two reasons: One, she was really little so I knew I'd get to be her sponsor for a long time. Two, because she lived in Brazil -- a country I knew I wanted to visit someday. I sponsored Ana with the full intention of meeting her and her family, and learning about her community, and in 2006; I DID! Ana was just four years old when I got to visit and spend the day with her and her family. Having her run up and hug me was the best feeling.
Since that visit, we've exchanged tons of letters and pictures. It's great hearing about her life, her family and her city. Just like many Canadians who sponsor children, I feel like she's really become part of my extended family.
When World Vision asked me and Jet to travel to Brazil with them to meet the kids and families that are benefiting from gift catalogue items, and share our stories with Canadians interested in learning more about these amazing families, I was so excited! I was going to be able to go to Brazil again, one of my favourite countries, with a charity I really believe in, and bring my best friend to see what World Vision is doing there.
Before we went, World Vision told me that we wouldn't get to see Ana while we were there, her community was just too remote. While that was disappointing, I was still really excited about the trip. We spent the three unforgettable days meeting children and families, and seeing how World Vision was helping meet their needs and grow the community. The work we got to see was truly inspiring, but nothing can compare to the last day I was in Brazil and what happened next.
Out of nowhere, Jet rode up to me on a bicycle built for two, with a girl in the passenger seat. At first it seemed really random but then it hit me -- it was Ana! While we weren't able to make it to her community, she was able to come into the city to surprise me. It was a dream come true. I was completely surprised, and totally overwhelmed. Just to set the record straight, I did NOT cry -- I just choked up a little... or a lot... or I maybe cried a tiny bit!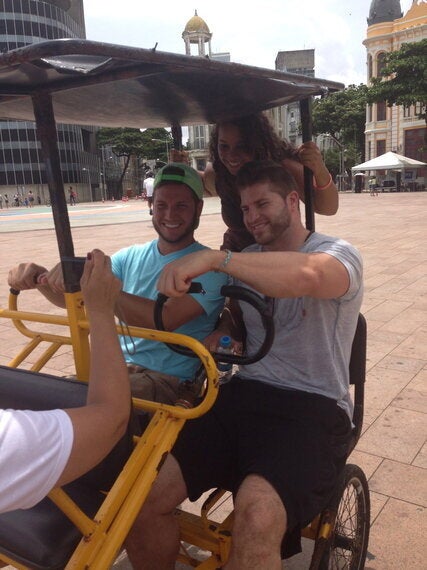 It was so great to see her and to see that she's happy, healthy, and to know that I play a little part in that. She's grown up so much since the last time I've seen her and has blossomed into an amazing young girl. She wants to be a firefighter, and I'm so gratified to know that she's making these kinds of plans for her future.
I got to spend the whole day with Ana and we had a lot of fun. My World Vision friends and I asked her how she wanted to spend the day together. Her response was the beach and the HUGE mall. Turns out 14-year-old girls are the same all around the world. It was a day of firsts for her -- the first time she'd been to a beach and swam in the ocean, and the first time she'd visited a large mall. She LOVED the ocean. It was such an honour to be with her and to watch her experience all of these things. At the end of the day it was sad to say goodbye, but I joked that I will see her again in nine short years.
Most people never have the chance to meet their sponsored child, so I am lucky to have been able to see her twice.
You might think it's hard to connect with a child that lives half-way around the world, and to really know that you're making a difference in their lives, but anyone can write (and now email!) their sponsor child and build this kind of relationship. Ana is like family to me and I know that many Canadians consider their sponsored children part of their families also.
For everyone who has ever thought about sponsoring a child, I can tell you that sponsoring Ana for the past nine years has been one of the most rewarding experiences of my life, and I have seen her grow up into a young lady full of potential. The pure joy I get from knowing she is doing well and feeling that I played a small part in her life makes me so happy.