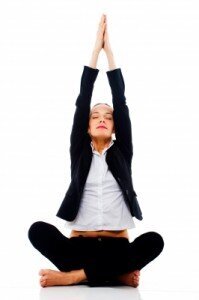 Finding time to exercise can be difficult for a busy person. There is always something more urgent and at the end of a hectic day, the last thing that you want to do is sit-ups and jumping jacks. However, exercise is important to your health, so it is important that you make time for it. Here are some ways that you can squeeze exercise into your day when you're working from home:
Do you take an official lunch break when you work from home or do you just munch on something while plugging away at your computer? When you give yourself a break from your work, you allow your mind to rest and you'll return refreshed and ready to be productive. Since you can eat while you're working when you're at home, use your scheduled lunch break time to get some exercise: Go to the gym, do yoga, join a lunch time basketball league, or go for a swim. Find something that you enjoy that gets your heart beating and your feet moving.
Take a walk while you're handling phone calls.
Some of your business calls can easily be done while taking a brisk walk. If it's not windy, you can even use a Bluetooth so that your hands can be free. In addition to getting exercise, you may find that you're naturally more relaxed and personable when you're talking on the phone outside because you're not staring at your to-do list or your email inbox.
If you have your children at home with you for even part of the day, then you'll want to spend some time with them. Take them to the park, play Frisbee, baseball or soccer. Enjoy your time together. This is the best part about working from home. If necessary, you can always make up an hour or two of work in the evening.
Do your reading on a stationary bike.
Another way to multitask while exercising is to get some reading done while you're riding a stationary bike. You can read emails, reports, or keep on top of industry trends. As long as your feet are pedaling, you're getting your exercise.
When you're working from home there can be a temptation to get into hibernation mode. You work on your computer and some days you may not even interact with anyone besides your family. Break that habit. Force yourself to get out of the house at least once a day to network. Schedule a lunch with one of your networking contacts and instead of taking your car, walk to the restaurant. You can also find and attend events where you meet new people and get a little exercise in the process. Your business will never grow if you don't nurture your network, and it's also a great motivation to get yourself off the couch.
You know that exercise is important but when we're busy, it's often the first thing to be bumped from our schedule. The key is to fit it into your day in a way that doesn't conflict with anything else. Once you make it a habit, it becomes easier; just stick with it.
(Written by: Karen Bivand, Photo by: Ambro/ FreeDigitalPhotos.net)
Previously published on TheMOMpreneur.com